Check out Decks Unique - Hempstead's Exceptional Deck Building Professionals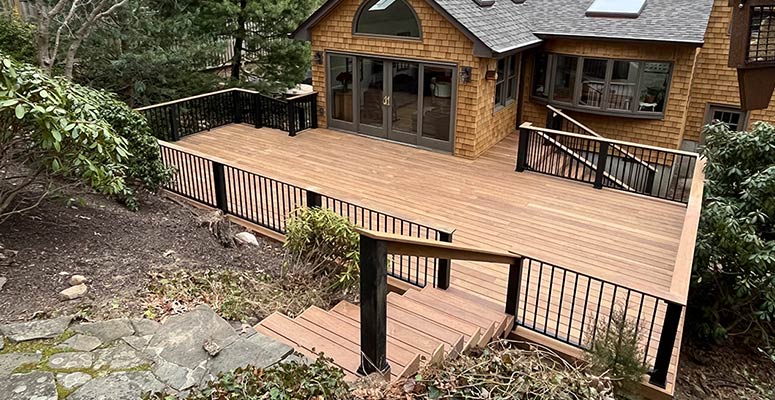 Decks Unique is a family-owned and operated custom deck design and construction company, serving the residents of Long Island and surrounding areas, including Hempstead, for over 20 years. Our zeal for design and unwavering commitment to professionalism, truthfulness, and innovation have propelled us to become the top provider of high-quality decks on Long Island, setting precedence within the industry. We're experts in designing and building custom decks, porches, gazebos, pergolas, timber awnings, and other outdoor features that enhance the value, beauty, and functionality of your home in Long Island.
Expertise and Experience in Deck Building Services in Hempstead
At Decks Unique, we believe that a well-thought-out deck design is a wise investment when considering home improvement. Our highly skilled team of seasoned deck constructors consistently strives for exceptional quality, adheres to effective timetables, and guarantees long-lasting warranties. This resolute commitment to maintaining excellence has garnered numerous fulfilled clients and stunning decks they are thrilled to exhibit for years to come.
All major composite decking products, such as Trex, TimberTech, and Azek, can be installed by our experienced Long Island deck construction teams. We furnish free home-based consultations along with tech-driven deck illustrations, so you can conceptualize your undertaking before its materialization. Why not turn your backyard into our following endeavor?
Increase the Value of Your Home with a Custom-Built Deck
Your Hempstead home's outdoor living space is not only enriched by a fine deck but also experiences a boost in overall worth. Our team at Decks Unique is dedicated to designing and building custom-made decks that perfectly align with every client's individual needs and preferences. No matter if you desire a comfy location for social events or a grand outdoor paradise to savor the charming weather, our staff will partner with you to create your ideal space.
We comprehend that every homeowner has their own unique style and needs when it comes to their outdoor space. To accommodate these diverse preferences, we supply a wide array of materials, styles, and attributes for crafting the ideal deck to harmonize with your home and way of life. We present solutions to suit any budget and preference, ranging from classic wood options like pressure-treated lumber, cedar, and redwood, to the maintenance-free world of composite and PVC decking.
Adherence to Exceptional Quality and Consumer Satisfaction
At Decks Unique, excellent workmanship and gratified clients are what we focus on. Our devotion to first-class materials and engaging the services of experienced contractors guarantees the superior completion of each project we take on.
We're firm believers that strong communication is a major factor in a project's success, and we go above and beyond to maintain clear lines of communication with our clients. Starting with the initial consultation and design phase, continuing through construction, and finishing with the final inspection - our team is dedicated to answering questions, easing worries, and ensuring you're overjoyed with your new deck.
Allow Decks Unique to create a beautiful outdoor living area in your Hempstead backyard. Contact us immediately to set up a complimentary consultation and feel the Decks Unique superiority.
Complete Deck Building Services in Hempstead
A vast array of personalized decking services are available at Decks Unique, aimed at fulfilling the requirements of our clients in Hempstead. Our proficiency extends from designing and constructing tailor-made decks to managing repairs, maintenance, and refinishing tasks. Besides our primary services, we also offer numerous distinctive features and upgrades to improve your outdoor living space. Let's explore further the array of services we provide at Decks Unique.
Custom Deck Design: Turning Your Visionary Deck into Reality
Our skilled deck designers will closely collaborate with you to design a customized deck that showcases your individual taste, enhances your home, and caters to the specific needs of your property. In order to assist you in making knowledgeable choices, our specialists will walk you through the process of selecting materials, guaranteeing lasting attractiveness and resilience.
Outstanding Deck Construction: Unparalleled Craftsmanship for a Gorgeous Open-Air Space
Being the top deck builder, we are dedicated to utilizing only the best materials and ensuring the safety and efficiency of our workmanship. Our experienced crews are authorized installers of major composite deck products, such as Trex, TimberTech, and Azek. With careful scrutiny of detail and a dedication to solid structure, we guarantee that your deck is not only aesthetically pleasing but also long-lasting.
Deck Repair & Maintenance: Safeguarding Your Investment
Regular care is important for preserving both the beauty and functionality of your deck. Our team of specialists delivers thorough maintenance and repair services for both wooden and composite decks. Whether it's thorough inspections to uncover potential issues, or professional repairs for weather-induced damage and wear, we can handle all your deck maintenance demands. Equipped with our scheduled maintenance programs, you can rest easy knowing that your deck will be kept in pristine condition all year long.
Deck Refinishing and Restoration: Breathe New Life Into Your Outdoor Space
With the passage of time, even first-rate decks might show evidence of wear or need refinishing in order to continue looking great. Our experienced team members can renew the visual appeal of your deck via expert cleaning, staining, weatherproofing, and sealing techniques. Furthermore, we can carry out structural upgrades to make sure your deck stays secure and operational in the long term.
Tailored Characteristics and Supplemental Items: Augment Your Deck Adventures
For improving your outdoor living environment, we propose a selection of customized attributes and add-ons intended to supplement your deck. These alternatives feature energy-conserving illumination for decks, inbuilt seating, open-air kitchens, and fire components. Inclusion of these elements within your deck's design enables us to produce a warm and affable space for your enjoyment with family and friends in Hempstead.
Decks Unique is dedicated to providing premium decking services to clients in the surrounding areas. We've established a reputation for being professional, honest, and innovative, with 20 years of industry experience. Whether you are looking to design a new deck or revamp an existing one, our skilled team is here to help. Book a free consultation with us today, and find out how we can revamp your outdoor space into a stunning and functional retreat.
Explore the Perfect Deck Material for Your Needs: Wood and Composite Alternatives
At Decks Unique, we are committed to helping you create the perfect outdoor oasis for your home. That's why we offer a wide variety of decking materials, including both wood and composite options. Each material has its unique advantages, ensuring that you can choose the best option for your specific needs and preferences.
Wood Decking Provides an Ageless Beauty
Offering unparalleled warmth and charm, wood is an eternal and versatile choice for outdoor environments. We offer a range of wood decking options to meet every style and budget.
Treated Lumber: Inexpensive and Strong
Pressure-treated lumber is a popular choice for many homeowners due to its affordability and durability. This decking material receives a distinctive treatment, making it resistant to rotting and insect infestations. Thus, pressure-treated decks provide enduring quality with reduced maintenance efforts.
Cedar and Redwood: Luxurious and Naturally Resistant
We also provide cedar and redwood decking for those wanting a more extravagant option. These refined and deluxe woods come with natural resistance to decomposition and insect activity, making for a long-lasting deck that stands the test of time. Cedar and redwood decks, showcasing rich coloration and individualistic grain patterns, bring a significant accent to any living space.
Exotic Hardwoods: Attractive and Sturdy
For an absolutely unique and luxurious solution, explore the possibility of using exotic hardwoods like Ipe, Tigerwood, or Cumaru. These incredibly dense and durable woods are known for their exceptional longevity and striking appearance. Captivating colors and fascinating patterns of exotic hardwood decks contribute to a magnificent centerpiece for any outdoor environment.
Turn to Composite and PVC Decking for a Low-Maintenance Lifestyle
To find an eco-responsible and low-upkeep choice, take into account composite and PVC decking. These inventive materials amalgamate the natural beauty of wood with the durability of synthetic compounds, bestowing homeowners with a virtually maintenance-free outside setting.
Composite Decking: Benefits and Advantages
Composite decking, which combines recycled wood fibers and plastic, is a sturdy and green choice. This type of decking material is impervious to issues like warping, cracking, and color loss, guaranteeing a stunning and durable deck that needs little attention. Cleaning composite decks is a breeze, as they only require periodic washing to maintain a spotless and inviting outdoor space.
Composite Materials: Industry-Leading Brands
Decks Unique takes great pride in working hand-in-hand with elite composite decking brands, including Trex, TimberTech, and Azek. Being authorized installers of these extraordinary products allows us to give Hempstead homeowners access to the highest quality materials for a gorgeous and long-lasting outdoor living space.
Personalize Your Deck by Exploring Various Color and Texture Options
A major selling point of composite decking is its wide customization choice range. You can put together a custom outdoor setting that reflects your home's aesthetics with the diverse color and texture options available. No matter if you appreciate the visuals of natural wood or a cutting-edge design, you'll find a composite decking solution that fits.
Upgrade Your Deck by Adding Railing and Baluster Choices
A top-notch deck demands the right railing and baluster system to be truly complete. Decks Unique provides an ample range of options to elevate your deck design and warrant your outdoor area's safety and functionality.
Wooden Railing Designs: Everlasting and Traditional
To achieve a timeless and classic appearance, think about using a wood railing system. Wood railing systems work well with both wooden and composite decks, resulting in a harmonious and unified style. By matching the color of your wood railing system to your deck or Hempstead home exterior through painting or staining, a visually stunning result is guaranteed.
Metal and Glass Railing Systems: Chic and Smooth
If you prefer a more modern and sleek aesthetic, consider metal or glass railing systems. These railing systems bring a current flair while enhancing the panorama from your deck, which is highly appreciated by property owners with beautiful surroundings.
Composite Railing Systems: Low-Care and Trendy
For those seeking a low-maintenance option that still offers style and elegance, composite railing systems are a perfect choice. These robust and appealing railings, when used alongside composite decking, create a harmonious appearance and a gorgeous outdoor area with little maintenance needed.
No matter what you prefer, Decks Unique is available to guide you in choosing the best decking materials for your house. Reach out to our team today to discuss your vision and begin shaping the outdoor area you've always imagined.
Take Your Outdoor Living Space to the Next Level with Our Added Services in Hempstead
Our objective at Decks Unique is to transition your outdoor living area into an elegant and useful home extension. Aside from our superior deck building services, we also deliver a variety of extra services, including wooden awnings, cabanas, gazebos, pergolas, and porch construction. Our proficient specialists in Hempstead closely cooperate with you to materialize your vision, ensuring high quality and long-lasting durability.
Wooden Awnings: Increase Shade and Style for Your Outdoor Space
The use of wood awnings can impart both shade and refinement to your outdoor zone. At Decks Unique, our skilled team can assist you in selecting the appropriate design and materials for an attractive and practical wood awning that enhances your home's appearance. These setups not only offer defense against tough weather conditions but also augment the overall market value of your property.
Cabanas: Create a Luxurious Retreat in Your Hempstead Backyard
Cabanas offer a perfect blend of luxury, comfort, and privacy, making them an ideal addition to any outdoor space. Our team of experts will work with you to design and build a custom cabana that meets your specific needs and preferences. Whether you want a cozy space to relax or an elegant area to entertain guests, we can create a cabana that serves as a perfect outdoor retreat.
Gazebos: A Visually Appealing Addition for Your Garden or Patio
A gazebo brings lasting appeal to gardens or patios, creating an inviting central attraction and a shaded space for outdoor downtime. Our expert team assists you in selecting the perfect design, materials, and placement for your gazebo, guaranteeing a smooth blend with your current outdoor environment. With our high-quality craftsmanship, you'll have a gorgeous gazebo that not only complements but also enhances your outdoor space for years to come.
Pergolas: Amplify Your Outdoor Setting's Distinction and Practicality with Architectural Elements
A great way to boost architectural allure and functionality in your outdoor living area is by installing a pergola. These structures provide partial shade while still allowing natural light to filter through, making them perfect for garden walkways, patios, or outdoor dining areas. Choose Decks Unique's experienced team to conceive and erect a made-to-order pergola that reflects your individual style and boosts your property's worth.
Creating a Porch: Upgrade Your Home's Curb Appeal and Outdoor Living Areas
An expertly designed porch not only improves your home's curb appeal but also offers a cozy outdoor space for you and your loved ones to relish. Our skillful staff will coordinate with you to fashion a custom porch that goes well with your home's architecture and addresses your functional requirements. With our thorough consideration for detail and unwavering commitment to superior quality, you can be at ease knowing your porch creation task is entrusted to the right people.
Reach out to Decks Unique to transform your Hempstead outdoor living space
Decks Unique is committed to offering top-tier, made-to-order outdoor living solutions for our Hempstead clients and their neighboring areas. Whether you want to add a wood awning, cabana, gazebo, pergola, or porch to your outdoor area, our team of professionals is here to help. Contact us today to discuss your project and discover how we can transform your outdoor living space into a luxurious and functional extension of your home.
Top-notch Deck Consulting and Design Solutions in Hempstead
At Decks Unique, we pride ourselves on offering personalized consultation and custom deck designs to fit the individual needs of our clients. With over 20 years of industry know-how, our experienced deck designers will work side by side with you to create a deck that amplifies your home's appearance and practicality. Our use of sophisticated 3D modeling and visualization technology ensures that your ideal deck is brought to life, matching your expectations in the final outcome.
First-Rate Deck Materials for Maximum Strength
Decks Unique, the leading deck builder in Long Island, is a certified installer for top composite deck brands like Trex, TimberTech, and Azek. We have a range of wood decking options to cater to your needs, such as pressure-treated boards, cedar, redwood, and imported hardwoods. Our dedication to using top-quality materials guarantees a long-lasting, low-maintenance deck for your home.
First-Rate Deck Building Services in Hempstead
Our skilled deck construction team at Decks Unique is dedicated to providing top-notch craftsmanship and efficiency during the entire building process. Given our considerable insight into building codes, specifications, and permits, you can trust in us to undertake the entire endeavor from inception to completion, providing you a captivating and efficient outdoor area.
Uphold and Revamp Your Deck's Charm
At Decks Unique, we understand the importance of routine maintenance in preserving the beauty and structural integrity of your deck. Our adept team has the ability to check and recognize any damages or potential troubles, executing required repairs to sustain your deck's top-notch condition. Furthermore, we provide deck restoration and refinishing services, which cover cleaning, staining, weatherproofing, and sealing to safeguard and improve your deck's looks.
Elevate Your Open-air Space with Tailor-made Features and Add-ons
To develop your deck into a matchless outdoor hideaway, Decks Unique delivers an abundance of specialized qualities and extensions, like lighting options for deck installations, seating merged with structural design, external kitchen setups, and fire-focused touches. These enhancements not only add functionality but also create a comfortable and inviting atmosphere for you and your guests to enjoy.
All-Inclusive Decking Offerings and Additional Services
Decks Unique, besides being skilled in deck design and construction, is also an expert in crafting other outdoor structures such as wood awnings, cabanas, gazebos, pergolas, and porch construction. These amenities can remarkably enhance your Long Island home's outdoor space, converting it into a perfect haven for relaxation and social gatherings.
Decks Unique is here to help with your Hempstead decking needs. Observe the effect of our commitment to outstanding quality, professionalism, and customer satisfaction on your outdoor living space. Reach out to us today for a free consultation, and let us convert your backyard into an exquisite showpiece.
Delighted to cater to the needs of Hempstead, Glen Cove, Elwood, East Farmingdale, Brentwood, West Islip, Syosset, and other Long Island neighborhoods.
Offering Long Island Quality Deck Designs and Services: