Experience Decks Unique - The Premier Deck Building Service in Hampton Bays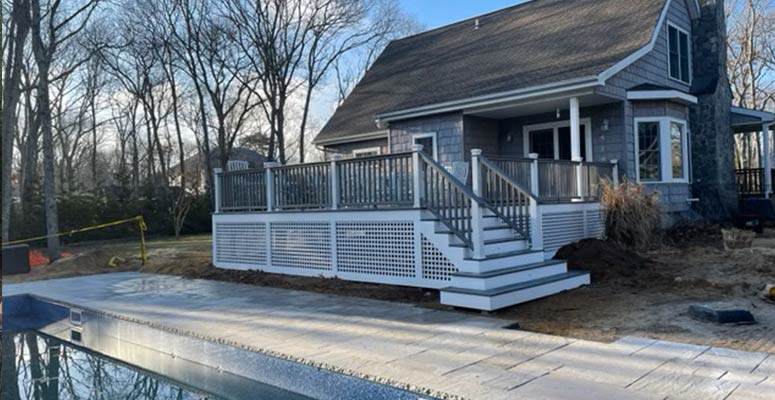 Over the past 20 years, Decks Unique, a family-owned and operated company, has been dedicated to offering custom deck design and construction services in Long Island and the surrounding areas, including Hampton Bays. Driven by our passion for design and a strong commitment to professionalism, honesty, and innovation, we have become the leading producer of top-quality decks in Long Island, setting the standards for our industry. Our proficiency extends to designing and building custom decks, porches, gazebos, pergolas, wood awnings, and other outdoor fixtures that enrich the value, elegance, and usefulness of your dwelling on Long Island.
Leading Expertise and Experience in Deck Building in Hampton Bays
The belief at Decks Unique is that a well planned deck configuration presents a shrewd investment for upgrading one's home. Decks Unique's highly trained team of deck builders pledges to deliver the highest quality, keep up with effective production timeframes, and guarantee that our warranties possess genuine lasting value. This unswerving commitment to unparalleled standards has brought about a hundreds of happy customers and elegant decks they're excited to showcase for years to come.
All major composite decking products, such as Trex, TimberTech, and Azek, can be installed by our experienced Long Island deck construction teams. We provide complimentary in-home consultations and digital deck plans to help you envision your project prior to its completion. Let your backyard be the canvas for our next masterpiece!
Enhance Your Home's Value through a Tailor-Made Deck
Not only does an excellent deck boost your Hampton Bays home's outdoor living area, but it also raises the overall property value. Decks Unique specializes in the planning and building of tailor-made decks that satisfy each of our clients' distinctive needs and inclinations. From a warm and welcoming spot for get-togethers to an elegant outdoor refuge for enjoying the splendid weather, our team will work intimately with you to fashion your desired space.
We comprehend that every homeowner has their own unique style and needs when it comes to their outdoor space. To accommodate these diverse preferences, we supply a wide array of materials, styles, and attributes for crafting the ideal deck to harmonize with your home and way of life. We present solutions to suit any budget and preference, ranging from classic wood options like pressure-treated lumber, cedar, and redwood, to the maintenance-free world of composite and PVC decking.
Unequaled Focus on Superior Standards and Customer Gratification
Decks Unique is deeply committed to delivering top-notch workmanship and ensuring our clients' satisfaction. Every project we tackle meets the highest criteria, thanks to our commitment to using first-rate materials and working with proficient, seasoned builders.
In our experience, consistent communication is the foundation of a successful project, and we never falter in our commitment to keep clients apprised of progress. Our reliable team is there for you, from the initial consultation and design brainstorming, through the construction journey, and even after the final review, to make sure all questions are answered, fears are addressed, and your satisfaction with the new deck is undeniable.
Permit Decks Unique to convert your Hampton Bays backyard into a delightful outdoor living space. Contact us today to schedule a free consultation and experience the Decks Unique difference for yourself.
Exhaustive Decking Offerings in Hampton Bays
At Decks Unique, we pride ourselves on offering a wide range of decking services tailored to meet the needs of our clients in Hampton Bays. Our expertise covers everything from custom deck design and construction to repair, maintenance, and refinishing. Additionally, we provide a variety of unique features and add-ons to enhance your outdoor living experience. Let's delve deeper into the services we have available.
Custom Deck Design: Manifesting Your Dream Deck into Reality
Our skillful deck designers will collaborate intimately with you to assemble a custom-built deck that exemplifies your private style, seamlessly integrates with your home, and meets the peculiar specifications of your property. To help you make informed decisions, our experts will also guide you through material selection, ensuring long-lasting beauty and durability.
Expert Deck Building: Excellent Workmanship for an Impressive Exterior Area
As a prominent deck builder, we are committed to utilizing only top-quality materials and practicing secure, proficient workmanship. Our competent crews are licensed to install top-tier composite decking materials, such as Trex, TimberTech, and Azek. By giving close attention to detail and prioritizing structural strength, we ensure that your deck is not only breathtaking but also withstands the passage of time.
Maintaining and Repairing Decks: Preserving Your Investment
Regular maintenance is essential to preserving the beauty and functionality of your deck. Our team of specialists delivers thorough maintenance and repair services for both wooden and composite decks. From detailed assessments to detect possible problems, to expert damage repairs due to weather or wear, we're the one-stop-shop for all of your deck maintenance requirements. You'll have peace of mind with the knowledge that your deck will remain in exceptional condition year-round, thanks to our regular maintenance programs.
Deck Refinishing and Restoration: Rejuvenate Your Exterior Space
In the course of time, even the most superior decks can reveal signs of wear or call for refinishing to uphold their appearance. Our expert team can restore the beauty of your deck through professional cleaning, staining, weatherproofing, and sealing. In addition, we can perform structural reinforcements, ensuring your deck remains secure and serves its purpose for years to come.
Tailored Characteristics and Supplemental Items: Augment Your Deck Adventures
To heighten your outdoor living space experience, we introduce an array of distinct features and add-on choices devised to augment your deck. Some of the options are energy-efficient light fittings on decks, internal seating, exterior cooking areas, and fire-inspired features. By fusing these elements within the deck design, we cultivate a warm and comfy place for you and your kin to share memorable moments in Hampton Bays.
Decks Unique specializes in offering clients high-quality deck services in their area and beyond. Over our 20 years in the business, we've carved out a reputation for professionalism, dependability, and innovation. If you want to build a new deck or refurbish your existing one, our highly skilled team is on hand to help. Book a free consultation with us today, and find out how we can revamp your outdoor space into a stunning and functional retreat.
Uncover the Ideal Deck Material for You: Comparing Wood and Composite Options
Our commitment at Decks Unique is to help you establish an impeccable outdoor retreat for your dwelling. As a result, we offer numerous decking materials, with options in both timber and composite varieties. Each material has its unique advantages, ensuring that you can choose the best option for your specific needs and preferences.
Wood Decks Radiate Classic Appeal
Wooden materials possess a lasting, adaptable nature that grants a sense of comfort and allure to any outdoor setting. Discover numerous wood decking solutions that cater to each individual's taste and budget requirements.
Pressure-Handled Lumber: Budget-friendly and Enduring
Many homeowners opt for pressure-treated lumber on account of its economical and sturdy features. This decking material undergoes a special treatment process, protecting it against rot and insect infestation. This ensures that pressure-treated decks remain durable and need only minimal maintenance.
Luxury Meets Durability: The Wonders of Cedar and Redwood
If you're in the market for a high-end solution, consider our cedar and redwood decking options. With their inherent resistance to decay and insects, these exquisite and high-end woods offer a deck that endures and ages gracefully. The bold shades and unmatched grain structures of cedar and redwood decks contribute a breathtaking element to any abode.
Exotic Hardwoods: Visually Striking and Rugged
To find an extraordinary and outstanding option, contemplate using exotic hardwoods like Ipe, Tigerwood, or Cumaru. Internationally appreciated for their exceptional endurance and dramatic looks, these woods are notably dense and durable. The stunning shades and complex configurations of exotic hardwood decks act as a captivating centerpiece in every outdoor space.
Turn to Composite and PVC Decking for a Low-Maintenance Lifestyle
Those looking for a low-maintenance and green choice should think about composite and PVC decking. These revolutionary materials marry the elegance of wood with the strength of engineered materials, treating homeowners to a nearly maintenance-free outdoor retreat.
Composite Decking: Exploring Its Benefits and Advantages
Made from recycled wood fibers and plastic, composite decking is a strong and environmentally friendly preference. Warping, cracking, and fading are no match for this decking material, which ensures a beautiful and long-lasting deck with minimal effort required. Cleaning composite decks is hassle-free, as they just need the occasional washing to ensure that the outdoor area stays spotless.
Composite Materials: Industry-Leading Brands
Decks Unique is delighted to cooperate with the foremost brands in composite decking, including Trex, TimberTech, and Azek. As authorized installers of these exceptional products, we can provide Hampton Bays homeowners with the highest quality materials, ensuring a gorgeous and long-lasting outdoor space.
Create a Distinctive Deck with Color and Texture Selections
Composite decking's large selection of customization options is one of its main benefits. Various color and texture options enable you to establish an exceptional outdoor environment that fits your home's aesthetics. Whether your liking leans towards natural wood or a more sophisticated design, composite decking has something for you.
Upgrade Your Deck by Adding Railing and Baluster Choices
An impeccable deck isn't finished without the suitable railing and baluster system. Decks Unique offers an extensive selection of options to work seamlessly with your deck design and promote the safety and usefulness of your exterior area.
Timber Railing Systems: Conventional and Enduring
For a stylish and lasting design, a wood railing system should be considered. Wood railing systems can be used with both wooden and composite decking for a well-coordinated and seamless design. To create a visually appealing result, paint or stain your wood railing system so it complements your deck or the exterior of your Hampton Bays home.
Metal and Glass Railing Systems: Sophisticated and Well-defined
If a cutting-edge and elegant style suits your taste, metal or glass railing systems could be a great option. Metal and glass railing systems not only embody a fresh and modern charm, but they also heighten the visual experience from your deck - a popular choice for those blessed with stunning environments.
Composite Railing Systems: Minimal Upkeep and Fashionable
If you're looking for an elegant option with minimal upkeep, composite railing systems are a superb choice. Pairing these durable, eye-catching railings with composite decking generates a visually consistent look, transforming the area into a striking outdoor haven that requires little care.
No matter your inclinations, Decks Unique is at your service to aid you in picking the perfect decking supplies for your home. Contact us today to discuss your needs and begin designing the outdoor space of your dreams.
Optimize Your Outdoor Living Space with Our Extra Services in Hampton Bays
At Decks Unique, our goal is to transform your outdoor living space into a luxurious, functional extension of your house. Our services extend beyond remarkable deck building, as we also provide a variety of supplementary services such as wood awnings, cabanas, gazebos, pergolas, and porch construction. Our professional experts in Hampton Bays work hand in hand with you to bring your ideas to fruition while ensuring superior quality and lasting durability.
Wood Awnings: Add Fashion and Functionality for Your Outdoor Space
Wood awnings offer an excellent way to create shade and style in your outdoor environment. Our proficient crew at Decks Unique will offer guidance in determining the perfect design and materials for a visually appealing and practical wood awning that goes well with your home's decor. These wood awnings not only serve to protect against harsh weather but also help raise your property's overall value.
Cabanas: Design a Lavish Getaway in Your Hampton Bays Garden
Providing a seamless mix of luxury, comfort, and seclusion, cabanas are an excellent enhancement to any outdoor space. You can count on our team of professionals to design and create a unique cabana that caters to your individual needs and preferences. Whether you're looking for a comfortable nook to unwind or a sophisticated space to entertain visitors, we can fashion a cabana that becomes your ultimate al fresco getaway.
Gazebos: An Idyllic Enhancement for Your Garden or Patio
A gazebo adds a quaint touch to any garden or patio, creating an eye-catching centerpiece and offering shade for outdoor lounging. Our professional team will help you choose the ideal style, materials, and location for your gazebo, ensuring a seamless integration with your existing landscape. Relying on our precision craftsmanship, we present a magnificent gazebo that adds to the charm of your outdoor environment for the long run.
Pergolas: Enhance Your Outdoor Space with Architectural Beauty and Function
For those looking to enhance their outdoor living area's aesthetics and functionality, pergolas are an excellent choice. By combining the benefits of shade with the ability to filter in natural light, these structures are perfect additions to garden walks, patios, and open-air dining spaces. Our specialists at Decks Unique have the expertise to engineer and erect a bespoke pergola that aligns with your design tastes and bolsters your property's worth.
Porches: Enhancing Your Home's Curb Appeal and Expanding Outdoor Living Space
A thoughtfully designed porch not only elevates your home's curb appeal but also supplies a pleasant outdoor living area for you and your family to appreciate. Our professional team will collaborate with you to develop a tailor-made porch that harmonizes with your home's architectural style and fulfills your practical requirements. With our conscientious scrutiny of detail and allegiance to first-rate quality, you can be relaxed knowing that your porch building mission is in expert hands.
Get in contact with Decks Unique for your Hampton Bays outdoor living space renovation
At Decks Unique, we take pride in providing high-quality, custom outdoor living solutions to our clients in Hampton Bays and the surrounding areas. To enhance your outdoor area with a wood awning, cabana, gazebo, pergola, or porch, rely on our team of experienced professionals for help. Discuss your project with us today and find out how we can turn your outdoor living environment into a comfortable and efficient extension of your residence.
Top-notch Deck Consulting and Design Solutions in Hampton Bays
Decks Unique specializes in delivering bespoke consultations and customized deck plans, ensuring that every client's needs are met. With over 20 years of experience, our professional deck designers will work closely with you to create a deck that enhances your home's aesthetics and functionalities. Using advanced 3D modeling and visualization techniques, we'll bring your dream deck to life, ensuring the final product meets your expectations.
Durable Deck Materials for Extended Life Expectancy
Long Island's elite deck builder, Decks Unique, is a licensed installer for all primary composite decking products, such as Trex, TimberTech, and Azek. We also propose a diverse set of wood decking choices to meet your specific preferences, such as pressure-treated building materials, cedar, redwood, and upscale hardwoods. Our commitment to using only the best materials ensures that your new deck will be built to last while requiring minimal maintenance.
Superior Deck Construction Services in Hampton Bays
The competent deck construction crew at Decks Unique is committed to providing first-rate craftsmanship and efficiency across the entire building process. Utilizing our comprehensive knowledge of building codes, laws, and permits, you can have faith in us to handle the entire project from initiation to completion, resulting in an exquisite and functional outdoor living space.
Uphold and Revamp Your Deck's Charm
Decks Unique comprehends the crucial role of ongoing maintenance in preserving your deck's attractiveness and solid construction. The experienced professionals at Decks Unique can survey and determine any issues or prospective challenges, offering crucial repairs to uphold your deck's excellent quality. Furthermore, we provide deck restoration and refinishing services, which cover cleaning, staining, weatherproofing, and sealing to safeguard and improve your deck's looks.
Elevate Your Outdoor Environment with Customized Features and Add-ons
To shape your deck into an unparalleled open-space sanctuary, Decks Unique supplies a multitude of custom attributes and ancillary items, incorporating lights designed for decks, in-built chair arrangements, cooking facilities for open-air settings, and fire-centric highlights. Such improvements not only boost practicality, but they also generate a cozy and welcoming ambiance for you and your visitors to appreciate.
Wide-Ranging Decking Services and Extra Offerings
Decks Unique not only excels in deck designing and construction but also focuses on additional outdoor structures, including wooden awnings, cabanas, gazebos, pergolas, and porch construction. With these extra outdoor installations, your Long Island home's outdoor ambience can be significantly improved, making it the best spot for relaxation and amusement.
Let Decks Unique handle all of your decking needs in Hampton Bays. Find out how our dedication to top-notch quality, professionalism, and customer satisfaction affects your outdoor area. Connect with us immediately to schedule a no-cost consultation, and let us turn your backyard into a brilliant creation.
With pride, offering our assistance to Hampton Bays, Freeport, East Rockaway, Deer Park, Bethpage, Westbury, Stony Brook and additional Long Island locales.
Offering Long Island Quality Deck Designs and Services: