Discover Decks Unique - The Leading Deck Builder in Oceanside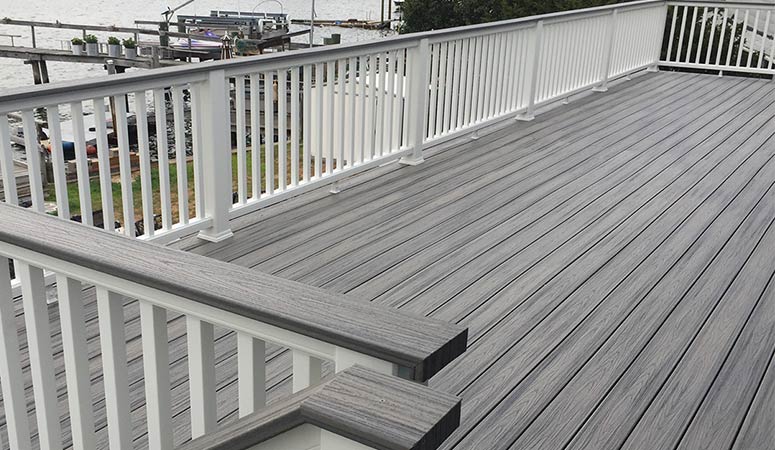 As a family-owned and operated business for over 20 years, Decks Unique has provided custom deck design and construction services to the people of Long Island and neighboring regions, such as Oceanside. Decks Unique's dedication to design, professionalism, integrity, and innovation has elevated us to become the leading producer of high-quality decks in Long Island, defining industry standards. Our proficiency extends to designing and building custom decks, porches, gazebos, pergolas, wood awnings, and other outdoor fixtures that enrich the value, elegance, and usefulness of your dwelling on Long Island.
Highly Skilled and Experienced Deck Construction Services in Oceanside
At Decks Unique, our perspective is that a well-crafted deck layout is an intelligent decision when looking at home upgrades. Our adept squad of professional deck builders aims to achieve exceptional quality, maintain productivity in schedules, and assure our warranties come with true durable value. This unwavering dedication to excellence has manifested in numerous delighted customers and impressive decks they can confidently display for years to follow.
Our Long Island deck building crews are authorized installers of all major composite deck products, such as Trex, TimberTech, and Azek. We present free home evaluations and computerized decking layouts to enable you to picture your project before it becomes reality. Let's tackle your backyard as our next challenge!
Your Oceanside home's outdoor living space is not only enriched by a fine deck but also experiences a boost in overall worth. We, at Decks Unique, focus on the development and creation of bespoke decks that address the specific requirements and tastes of each client. Be it a homely location for entertaining your friends and family or a luxurious outdoor idyll to luxuriate in attractive weather, our team will join forces with you to make your ideal haven a reality.
Each homeowner has specific desires and requirements for their outdoor settings, which we acknowledge. Therefore, we offer a vast array of materials, styles, and qualities to develop the perfect deck that blends with your abode and your daily life. From time-honored wood choices such as pressure-treated lumber, cedar, and redwood to the low-maintenance advantages of composite and PVC decking, we offer an ideal solution for each budget and liking.
Adherence to Exceptional Quality and Consumer Satisfaction
At Decks Unique, we take immense pride in the quality of our workmanship and the satisfaction of our clients. By using only the best materials and partnering with skilled, knowledgeable builders, we can assure that every project we undertake meets the highest quality standards.
For a project to be successful, we believe communication is key, and we place great importance on keeping our clients aware of every development. From the initial consultation and design process through construction and final inspection, our team is always available to answer questions, address concerns, and ensure that you are completely satisfied with your new deck.
Let Decks Unique transform your Oceanside backyard into an outdoor living space you'll love. Contact us immediately to set up a complimentary consultation and feel the Decks Unique superiority.
Thorough Deck Building Solutions in Oceanside
At Decks Unique, we pride ourselves on offering a wide range of decking services tailored to meet the needs of our clients in Oceanside. Our expertise covers everything from custom deck design and construction to repair, maintenance, and refinishing. Besides our primary services, we also offer numerous distinctive features and upgrades to improve your outdoor living space. Join us in taking a closer look at the wide range of solutions we offer.
Custom Deck Design: Materializing Your Dream Deck with Expertise
Our professional deck designers will work closely with you to create a custom deck that reflects your personal style, complements your home, and meets the unique requirements of your property. To help you make informed decisions, our experts will also guide you through material selection, ensuring long-lasting beauty and durability.
Exceptional Deck Creation: Superior Quality in Craftsmanship for an Eye-Catching Outside Space
Being the top deck builder, we are dedicated to utilizing only the best materials and ensuring the safety and efficiency of our workmanship. Our accomplished crew members are qualified installers of renowned composite deck materials, such as Trex, TimberTech, and Azek. With considerable attention to detail and an emphasis on structural stability, we make certain that your deck is not only visually appealing but also durable over time.
Taking Care of Your Deck: Ensuring Your Investment Stays Protected
Routine upkeep is fundamental for preserving your deck's beauty and function. Our devoted team supplies a wide range of repair and maintenance services for wood and composite decks alike. From thorough inspections to identify potential issues, to expert repair of damages caused by weather or wear-and-tear, we are your go-to source for all your deck maintenance needs. Our organized maintenance plans deliver the confidence that your deck will maintain premium quality throughout the entire year.
Deck Renovation and Restoration: Update Your Open-air Retreat
In the course of time, even the most superior decks can reveal signs of wear or call for refinishing to uphold their appearance. Our expert team can restore the beauty of your deck through professional cleaning, staining, weatherproofing, and sealing. Also, we can provide structural modifications, making certain that your deck continues to be safe and practical for many years ahead.
Distinctive Details and Expanded Options: Intensify Your Deck Gratification
In order to uplift your outdoor living space, we extend a series of personalized features and additional components aimed at boosting your deck. Some of the options are energy-efficient light fittings on decks, internal seating, exterior cooking areas, and fire-inspired features. By assimilating these constituents into your deck's blueprint, we construct a charming and relaxing space for you to savor with close ones in Oceanside.
Decks Unique is dedicated to providing premium decking services to clients in the surrounding areas. For more than 20 years, our experience has earned us a reputation for being professional, honest, and groundbreaking. If you want to build a new deck or refurbish your existing one, our highly skilled team is on hand to help. Give us a call today to plan a free consultation, and let us show you how to morph your outdoor area into an impressive, functional refuge.
Discover Your Perfect Deck Material: Wood and Composite Options
We, at Decks Unique, are devoted to aiding you in crafting the ultimate outdoor haven for your abode. As a result, we offer numerous decking materials, with options in both timber and composite varieties. All of the materials come with their distinct advantages, allowing you to handpick the most appropriate alternative based on your specified needs and preferences.
Experience the Classic Charm of Wood Decking
Offering unparalleled warmth and charm, wood is an eternal and versatile choice for outdoor environments. A variety of wood decking options are offered to match each person's style and monetary constraints.
Pressure-Maintained Lumber: Reasonably Priced and Rugged
A significant number of homeowners find pressure-treated lumber appealing for its inexpensive and durable aspects. Protection from wood deterioration and insect issues is provided by a special treatment process for this decking material. Consequently, pressure-treated decks have a lengthy life and demand limited upkeep.
Redwood and Cedar: Top-Notch Luxury with Intrinsic Durability
In case you desire a more opulent alternative, we provide cedar and redwood decking as well. Inherently impervious to decay and insects, these beautiful and premium woods assure a deck that withstands the elements and ages beautifully. Cedar and redwood decks, featuring deep colors and one-of-a-kind grain patterns, add a striking touch to any household.
Exotic Hardwoods: Attractive and Sturdy
When seeking a completely original and classy selection, mull over exotic hardwoods like Ipe, Tigerwood, or Cumaru. These exceptionally dense and robust hardwoods boast impressive durability and a stunning appearance. Captivating colors and fascinating patterns of exotic hardwood decks contribute to a magnificent centerpiece for any outdoor environment.
Discover the Ease of Low-Maintenance Living by Choosing Composite and PVC Decking
For individuals in search of a low-maintenance, environmentally friendly option, composite and PVC decking are worth considering. These state-of-the-art materials join the attractiveness of wood with the resilience of synthetics, supplying homeowners with an outdoor space that requires minimal maintenance.
Advantageous Features and Benefits of Composite Decking
By combining recycled wood fibers and plastic materials, composite decking offers a durable and eco-friendly option. By resisting warping, cracking, and fading, this decking material ensures an attractive and long-lasting deck, while keeping maintenance to a minimum. Additionally, composite decks are easy to clean, requiring only occasional washing to keep your outdoor space looking pristine.
Prominent Brands in Composite Materials Sector
Decks Unique takes pride in collaborating with top-tier composite decking brands like Trex, TimberTech, and Azek. As sanctioned installers of these exceptional products, we're able to provide Oceanside homeowners with top-quality materials for a striking and long-lasting outdoor area.
Personalize Your Deck by Exploring Various Color and Texture Options
One of the major benefits of composite decking is the wide range of customization options. You can design a bespoke outdoor area that matches your home's aesthetic, thanks to various color and texture possibilities. You can find a fitting composite decking solution to satisfy your inclination for natural wood or modern design aesthetics.
Boost Your Deck's Appeal with Railing and Baluster Alternatives
The ultimate deck won't be whole without the fitting railing and baluster system. At Decks Unique, we feature a vast collection of alternatives to match your deck design and ensure your outdoor area remains safe and functional.
Wooden Railing Designs: Everlasting and Traditional
To achieve a timeless and classic appearance, think about using a wood railing system. For a look that complements both wood and composite decking, a wood railing system is an excellent choice, delivering a congruous and refined design. To guarantee a beautiful final product, paint or stain your wood railing system to coordinate with your deck or Oceanside home exterior.
Metal and Glass Railing Systems: Stylish and Streamlined
If a cutting-edge and elegant style suits your taste, metal or glass railing systems could be a great option. These alternatives offer a modern accent and can improve the scenic view from your deck, becoming a favorite selection among those who live in visually stunning locations.
Composite Railing Systems: Minimal Upkeep and Fashionable
For individuals who desire a low-upkeep solution while maintaining sophistication and elegance, composite railing systems make an ideal choice. These robust and appealing railings, when used alongside composite decking, create a harmonious appearance and a gorgeous outdoor area with little maintenance needed.
Regardless of your tastes, Decks Unique can assist you in selecting the ideal decking materials for your residence. Reach out to our team today to discuss your vision and begin shaping the outdoor area you've always imagined.
Revamp Your Outdoor Living Area with Our Additional Services in Oceanside
At Decks Unique, our goal is to transform your outdoor living space into a luxurious, functional extension of your house. Not only do we specialize in deck building services, but we also offer a range of other services like wood awnings, cabanas, gazebos, pergolas, and porch construction. In Oceanside, we have a team of skilled professionals who work closely with you to make your dream outdoor space a reality, while ensuring the highest quality and durability.
Wooden Awnings: Combine Style and Shade in Your Outdoor Space
Through wood awnings, you can effortlessly introduce both shade and grace to your exterior area. At Decks Unique, our adept team will support you in selecting the correct design and materials to build a stunning and effective wood awning that complements your home's appearance. These setups not only offer defense against tough weather conditions but also augment the overall market value of your property.
Cabanas: Design a Lavish Getaway in Your Oceanside Garden
Combining luxury, comfort, and privacy expertly, cabanas are perfect for enhancing any open-air area. Our adept team will cooperate with you in the design and construction of a one-of-a-kind cabana that addresses your particular needs and desires. Whether it's a homely corner for winding down or a polished space for hosting visitors, we can conjure up a cabana that stands as your flawless exterior retreat.
Gazebos: A Stunning Complement to Your Garden or Patio Space
A gazebo remains a cherished inclusion in gardens and patios, lending an appealing visual interest and a comfortable shaded zone for outdoor leisure. With our skilled team's guidance, you'll select the right style, materials, and site for your gazebo, ensuring harmonious integration with your existing surroundings. Through our outstanding craftsmanship, we create a captivating gazebo that augments the splendor of your outdoor area for many years ahead.
Pergolas: Create Eye-catching Architectural Features and Functionality for Your Outdoor Living Area
A great way to boost architectural allure and functionality in your outdoor living area is by installing a pergola. Such structures offer a mix of shade and natural light, making them ideal for garden paths, terrace areas, or al fresco dining spots. Let the skilled experts at Decks Unique craft a bespoke pergola that caters to your style and contributes to your home's overall value.
Porch Development: Elevate Your Home's Curb Appeal and Outdoor Lifestyle
An expertly designed porch not only improves your home's curb appeal but also offers a cozy outdoor space for you and your loved ones to relish. Our experienced team will team up with you to establish a bespoke porch that matches your home's architecture and caters to your functional necessities. With our scrupulous focus on detail and loyalty to top-notch quality, you can relax knowing that your porch construction venture is in adept hands.
Communicate with Decks Unique for your Oceanside outdoor living area transformation
Decks Unique is devoted to providing high-caliber, customized outdoor living possibilities to those in Oceanside and nearby locations. Seeking to integrate a wood awning, cabana, gazebo, pergola, or porch into your outdoor area? Our team of specialists is prepared to help. Let's chat about your project today, and we'll reveal how we can change your outdoor living space into a luxurious and practical component of your home.
High-Quality Deck Consultation and Design in Oceanside
At Decks Unique, we take great pride in providing customized consultations and tailor-made deck designs to cater to the specific requirements of our customers. With over 20 years of industry know-how, our experienced deck designers will work side by side with you to create a deck that amplifies your home's appearance and practicality. Employing cutting-edge 3D modeling and visualization methods, we'll transform your dream deck into reality, making certain the end product aligns with your aspirations.
Durable Deck Materials for Extended Life Expectancy
Decks Unique, the leading deck builder in Long Island, is a certified installer for top composite deck brands like Trex, TimberTech, and Azek. Moreover, we supply a selection of wood decking possibilities to fit your desires, featuring pressure-treated lumber, cedar, redwood, and specialty hardwoods. We are committed to using only superior materials, ensuring the durability of your new deck while keeping maintenance requirements minimal.
Premier Deck Construction Services in Oceanside
Our gifted deck construction professionals at Decks Unique are devoted to ensuring top-tier quality and effectiveness during the full building process. Utilizing our comprehensive knowledge of building codes, laws, and permits, you can have faith in us to handle the entire project from initiation to completion, resulting in an exquisite and functional outdoor living space.
Defend and Resurrect Your Deck's Splendor
The team at Decks Unique knows that consistent care is essential for maintaining the appearance and structural soundness of your deck. The proficient team at Decks Unique can assess and pinpoint any damage or possible issues, carrying out vital repairs to ensure your deck remains in prime condition. At Decks Unique, we also propose deck revamping and restoration amenities, involving cleaning, staining, safeguarding against weather, and sealing to conserve and magnify your deck's appeal.
Custom Features and Add-ons to Elevate Your Outdoor Space
To develop your deck into a matchless outdoor hideaway, Decks Unique delivers an abundance of specialized qualities and extensions, like lighting options for deck installations, seating merged with structural design, external kitchen setups, and fire-focused touches. These additions not only improve operation but also generate a soothing and receptive environment for your enjoyment and your guests.
All-Inclusive Decking Offerings and Additional Services
Apart from our knowledge and experience in deck design and construction, Decks Unique also extends its expertise to additional outdoor structures such as wooden awnings, cabanas, gazebos, pergolas, and porches. These outdoor structures can elevate your Long Island property's outdoor appeal, making it a prime location for enjoying downtime and entertaining guests.
Turn to Decks Unique for addressing all your decking needs in Oceanside. Observe the effect of our commitment to outstanding quality, professionalism, and customer satisfaction on your outdoor living space. Connect with us today to arrange a cost-free consultation, and allow us to transform your outdoor area into a breathtaking masterpiece.
Honored to serve the people of Oceanside, North Bellmore, Mineola, Massapequa Park, Lindenhurst, Huntington, Greenlawn along with other Long Island regions.
Offering Long Island Quality Deck Designs and Services: