Discover Decks Unique - The Leading Deck Builder in Massapequa Park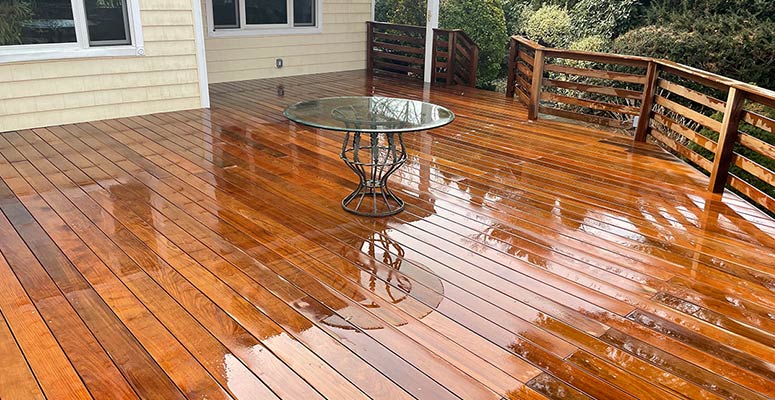 As a family-owned and operated business for over 20 years, Decks Unique has provided custom deck design and construction services to the people of Long Island and neighboring regions, such as Massapequa Park. Our fervor for design, coupled with a strong commitment to professionalism, integrity, and innovation, has positioned us as the foremost manufacturer of high-caliber decks in Long Island, raising the bar for the sector. Our specialization includes creating custom decks, porches, gazebos, pergolas, wooden awnings, and various outdoor structures that contribute to the value, charm, and utility of your Long Island home.
Specialized and Experienced Deck Building Providers in Massapequa Park
Decks Unique upholds the idea that a thoughtfully devised deck design constitutes a wise investment in home improvement. Our adept squad of professional deck builders aims to achieve exceptional quality, maintain productivity in schedules, and assure our warranties come with true durable value. Our steadfast pursuit of excellence has culminated in numerous pleased clients and deck constructions they are proud to exhibit for many years down the line.
On Long Island, our skilled deck builders are qualified to set up all leading composite deck materials, like Trex, TimberTech, and Azek. Our services include no-cost home consultations and computer-generated deck designs, allowing you to see your project before it's brought to life. Why not turn your backyard into our following endeavor?
Add Value to Your Home with a Custom Deck
Not only does an excellent deck boost your Massapequa Park home's outdoor living area, but it also raises the overall property value. Decks Unique is specialized in crafting and assembling personalized decks that fulfill the requirements and appeals of our diverse clientele. Regardless of whether you want an inviting space to entertain loved ones or a haven to appreciate the delightful weather, we will work in harmony with you to actualize your vision.
Each homeowner has specific desires and requirements for their outdoor settings, which we acknowledge. We supply a wide scope of materials, styles, and facets to build the superb deck that goes well with your dwelling and lifestyle. We have suitable solutions for every budget and preference, including traditional wood types like pressure-treated lumber, cedar, and redwood, as well as low-maintenance composite and PVC decking.
Extraordinary Concentration on Outstanding Performance and Customer Happiness
Decks Unique aims to excel in workmanship quality and customer satisfaction. We're committed to employing the finest materials and experienced, talented builders to make certain that all our projects live up to the highest expectations.
We regard transparent communication as a critical component of project success, and we dedicate ourselves to keeping our clients informed at all times. From the initial consultation and design process through construction and final inspection, our team is always available to answer questions, address concerns, and ensure that you are completely satisfied with your new deck.
Give Decks Unique the chance to modify your Massapequa Park backyard into a cozy outdoor living space you'll love. Don't hesitate to contact us today for a free consultation and to witness the Decks Unique experience.
Comprehensive Decking Services in Massapequa Park
Decks Unique takes pride in providing an extensive array of decking services, customized to accommodate the requirements of our Massapequa Park clientele. Our team is skilled in providing a holistic suite of services, from custom deck design and construction to repair, maintenance, and refinishing. Alongside our main services, we offer a selection of unique features and supplementary options to enrich your outdoor living experience. Let's delve deeper into the services we have available.
Custom Deck Design: Materializing Your Dream Deck with Expertise
Our adept deck designers will cooperate with you to create a personalized deck that expresses your distinctive style, accents your home, and accommodates the particular requirements of your property. To empower you to make well-versed decisions, our seasoned consultants will lead you through the material-picking phase, promising sustained grace and durability for your deck.
Expert Deck Building: Excellent Workmanship for an Impressive Exterior Area
As a prominent deck builder, we are committed to utilizing only top-quality materials and practicing secure, proficient workmanship. Our proficient crews are authorized to install well-known composite deck materials, including Trex, TimberTech, and Azek. With careful scrutiny of detail and a dedication to solid structure, we guarantee that your deck is not only aesthetically pleasing but also long-lasting.
Taking Care of Your Deck: Ensuring Your Investment Stays Protected
Keeping your deck beautiful and functional requires regular maintenance. Whether it's a wood or composite deck, our specialized team offers comprehensive repair and upkeep services. Whether you need thorough inspections to flag potential issues or expert repairs for weather-worn or damaged decks, we are the ideal partner for all your deck maintenance necessities. Our timely maintenance programs give you the comfort of knowing that your deck will always be in outstanding condition, no matter the season.
Deck Revamping and Restoration: Transform Your Outdoor Sanctuary
Over time, even the highest quality decks may show signs of wear or require refinishing to maintain their appearance. Our expert group can recover your deck's beauty with the help of professional cleaning, staining, weatherproofing, and sealing services. Also, we can provide structural modifications, making certain that your deck continues to be safe and practical for many years ahead.
Made-to-order Qualities and Accessories: Strengthen Your Deck Recreation
To upgrade your outdoor living space, we present a variety of custom-made elements and additional options meant to enrich your deck. Such choices encompass energy-saving lighting for decks, integrated seating, alfresco kitchens, and fire elements. Embedding these particulars into your deck configuration, we help form a friendly and cozy atmosphere for you to treasure with your dear ones in Massapequa Park.
Decks Unique is dedicated to providing premium decking services to clients in the surrounding areas. Over our 20 years in the business, we've carved out a reputation for professionalism, dependability, and innovation. Whether designing a novel deck or enhancing a current one, our proficient team is available for assistance. Contact us today to schedule a free consultation and discover how we can transform your outdoor space into a stunning and functional retreat.
Identify the Ideal Deck Material: Wood and Composite Choices
Decks Unique is all about empowering you to create an amazing outdoor utopia within your home. Consequently, we supply various decking materials encompassing both wooden and composite choices. Separate materials exhibit specific strengths so that you can determine the best option corresponding to your particular requirements and desires.
Experience the Classic Charm of Wood Decking
Timber brings a classic, adaptable quality while offering organic coziness and appeal for all outside areas. We offer a range of wood decking options to meet every style and budget.
Pressure-Treated Lumber: Affordable and Durable
Many homeowners opt for pressure-treated lumber on account of its economical and sturdy features. Undergoing a unique treatment process, this decking material is protected against decay and bug infestations. As an outcome, decks made from pressure-treated wood last longer and call for lesser maintenance.
High-End and Resilient Cedar and Redwood: A Natural Concoction
In case you desire a more opulent alternative, we provide cedar and redwood decking as well. The eye-catching and high-grade woods are organically immune to decay and bug damage, ensuring a deck that remains sturdy for years to come. Cedar and redwood decks, featuring deep colors and one-of-a-kind grain patterns, add a striking touch to any household.
Exotic Hardwoods: Sophisticated and Long-lived
When seeking a completely original and classy selection, mull over exotic hardwoods like Ipe, Tigerwood, or Cumaru. Internationally appreciated for their exceptional endurance and dramatic looks, these woods are notably dense and durable. The stunning shades and complex configurations of exotic hardwood decks act as a captivating centerpiece in every outdoor space.
Embrace Low-Maintenance Living with the Help of Composite and PVC Decking
For individuals in search of a low-maintenance, environmentally friendly option, composite and PVC decking are worth considering. These advanced materials merge wooden charm with synthetic endurance, offering homeowners an almost maintenance-free open-air space.
Composite Decking: Exploring Its Benefits and Advantages
By combining recycled wood fibers and plastic materials, composite decking offers a durable and eco-friendly option. The decking material's ability to resist warping, cracking, and fading ensures a gorgeous and durable deck with a low level of necessary upkeep. Also, composite decks are notably easy to clean, and a bit of occasional washing is sufficient to maintain a clean outdoor space.
The Best Brands in the World of Composite Materials
Decks Unique is proud of their association with top composite decking brands like Trex, TimberTech, and Azek. As approved installers of these remarkable products, we can furnish Massapequa Park homeowners with premium materials for an elegant and lasting outdoor living area.
Personalize Your Deck by Exploring Various Color and Texture Options
A key benefit of composite decking is the broad spectrum of customization opportunities. With numerous color and texture options, you can design a unique outdoor area tailored to your home's style. Whether your liking leans towards natural wood or a more sophisticated design, composite decking has something for you.
Upgrade Your Deck Experience with Railing and Baluster Possibilities
An impeccable deck isn't finished without the suitable railing and baluster system. We furnish a multitude of choices at Decks Unique to amplify your deck design and confirm the security and utility of your outdoor setting.
Wooden Handrail Systems: Traditional and Timeless
For a look that is both elegant and long-lasting, consider incorporating a wood railing system. Wood and composite decks alike can benefit from the addition of a wood railing system, providing a seamless integration and consistent style. Painting or staining your wood railing system to align with your deck or Massapequa Park home exterior helps ensure a captivating final aesthetic.
Metal and Glass Railing Systems: Modern and Sleek
Opt for metal or glass railing systems if you're inclined towards a sophisticated and current aesthetic. Providing a fresh, up-to-date feel, these options can also boost the visuals enjoyed from your deck, appealing to homeowners who are surrounded by idyllic landscapes.
Composite Railing Systems: Easy-Care and Elegant
For a low-maintenance, stylish, and elegant solution, composite railing systems are the perfect fit. Not only are these railings durable and visually appealing, but they also create a unified appearance when combined with composite decking, resulting in an impressive outdoor area that demands minimal tending.
Regardless of your tastes, Decks Unique can assist you in selecting the ideal decking materials for your residence. Get in contact with us now to outline your requirements and initiate the creation of your perfect outdoor environment.
Elevate Your Outdoor Living Experience with Our Supplementary Services in Massapequa Park
Decks Unique is committed to turning your outdoor living area into a lavish and practical extension of your residence. Our expertise extends beyond exceptional deck building, as we also offer additional services like wood awnings, cabanas, gazebos, pergolas, and porch construction. In Massapequa Park, our skilled team works closely with you to achieve your outdoor vision, guaranteeing top-quality and durable results.
Wood Awnings: Enhance Your Outdoor Area with Shade and Style
Wood awnings are a perfect way to add both shade and elegance to your outdoor area. At Decks Unique, our adept team will support you in selecting the correct design and materials to build a stunning and effective wood awning that complements your home's appearance. These wood awnings not only serve to protect against harsh weather but also help raise your property's overall value.
Cabanas: Construct a High-end Refuge in Your Massapequa Park Yard
Cabanas strike a perfect balance between luxury, comfort, and privacy, making them a great fit for any outdoor space. Our expert team will collaborate with you to develop and construct a bespoke cabana tailored to your requirements and desires. Whether you want a cozy space to relax or an elegant area to entertain guests, we can create a cabana that serves as a perfect outdoor retreat.
Gazebos: A Dreamy Addition to Your Garden or Patio Area
A lasting gazebo makes any garden or patio more appealing, presenting an attractive central feature and a shaded retreat for outdoor recreation. The experienced team at Decks Unique will help you identify the perfect style, materials, and positioning for your gazebo, so it blends seamlessly with your existing landscape. Our top-notch craftsmanship ensures an impressive gazebo that enriches your outdoor area and brings joy for numerous years.
Pergolas: Improve Your Outdoor Oasis with Striking Architectural Design and Function
Pergolas provide a superb means of incorporating architectural charm and practicality to your outdoor space. These constructions supply a blend of shadow and natural brightness, thus perfectly complementing garden pathways, external platforms, or open dining zones. Decks Unique's team of seasoned professionals will custom-design and craft a pergola to suit your preferences, contributing to your home's value.
Porches: Enhancing Your Home's Curb Appeal and Expanding Outdoor Living Space
A well-planned porch not only heightens your home's curb appeal but also furnishes a snug outdoor living environment for you and your kin to relish. Our talented team will combine efforts with you to craft a unique porch that parallels your home's architectural appearance and serves your functional prerequisites. With our rigorous attentiveness to detail and unyielding dedication to exceptional quality, you can rest easy knowing your porch fabrication assignment is in trustworthy hands.
Contact Decks Unique for Your Massapequa Park Outdoor Living Space Transformation
At Decks Unique, we take pride in providing high-quality, custom outdoor living solutions to our clients in Massapequa Park and the surrounding areas. Whether it's a wood awning, cabana, gazebo, pergola, or porch you want to incorporate into your outdoor space, our professional team stands ready to help. Give us a call today to discuss your vision, and we'll show you how we can upgrade your outdoor living area into a deluxe and useful extension of your home.
Top-notch Deck Consulting and Design Solutions in Massapequa Park
Decks Unique is renowned for providing individualized consultations and custom deck plans to fulfill the particular desires of our customers. With over 20 years of know-how, our expert deck designers will cooperate closely with you to devise a deck that elevates your home's looks and utility. Using advanced 3D modeling and visualization techniques, we'll bring your dream deck to life, ensuring the final product meets your expectations.
High-Quality Deck Materials for Lasting Durability
Long Island's foremost deck builder, Decks Unique, is an officially recognized installer of major composite deck materials, including brands like Trex, TimberTech, and Azek. We also propose a diverse set of wood decking choices to meet your specific preferences, such as pressure-treated building materials, cedar, redwood, and upscale hardwoods. With a commitment to using only exceptional materials, you can trust that your new deck will be long-lasting and require minimal maintenance.
Reliable Deck Construction Services in Massapequa Park
Decks Unique's seasoned deck construction team is all about offering unparalleled artistry and streamlining efficiency throughout the entire construction process. With our exceptional understanding of building codes, requirements, and permits, you can count on us to navigate the entire project from its inception to culmination, leaving you with a stunning and functional outdoor living space.
Uphold and Revamp Your Deck's Charm
At Decks Unique, we understand the importance of routine maintenance in preserving the beauty and structural integrity of your deck. Decks Unique's expert team can scrutinize and discover any issues or possible concerns, providing the necessary solutions to preserve your deck in peak condition. Apart from that, we deliver deck refinishing and refurbishment services, including cleaning, staining, weather-resistant treatments, and sealing to preserve and augment your deck's attractiveness.
Upgrade Your Outdoor Area with Custom Features and Add-ons
To truly make your deck a unique outdoor oasis, Decks Unique offers a variety of custom features and add-ons such as deck lighting, built-in seating, outdoor kitchens, and fire features. These enhancements not only add functionality but also create a comfortable and inviting atmosphere for you and your guests to enjoy.
All-Inclusive Decking Offerings and Additional Services
Decks Unique specializes not only in deck design and building but also in constructing other outdoor structures such as wooden awnings, cabanas, gazebos, pergolas, and porches. These additional structures can greatly contribute to the charm of your Long Island home's outdoor environment, turning it into an ideal place for relaxation and festivities.
Decks Unique can tackle your entire Massapequa Park decking necessities. Feel the distinction our devotion to quality, professionalism, and customer contentment makes in your outdoor setting. Connect with us immediately to schedule a no-cost consultation, and let us turn your backyard into a brilliant creation.
Delighted to cater to the needs of Massapequa Park, Locust Valley, Islip, Hampton Bays, Franklin Square, East Norwich, Copiague, and other Long Island neighborhoods.
Offering Long Island Quality Deck Designs and Services: