Uncover Decks Unique - The Leading Deck Construction Solution in Lindenhurst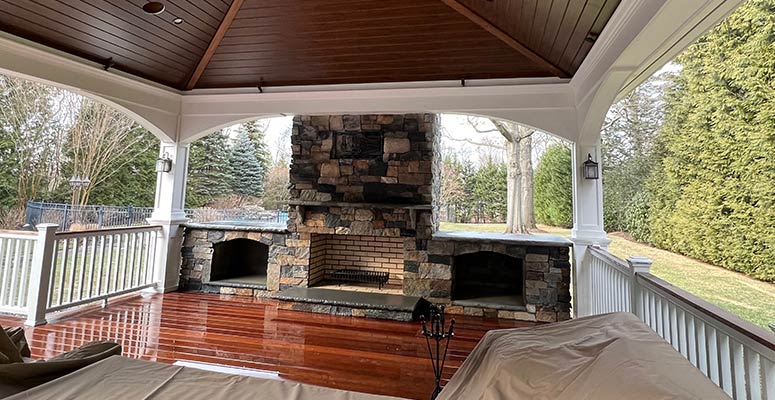 Decks Unique, a family-owned and operated custom deck design and construction business, has catered to the residents of Long Island and nearby areas, like Lindenhurst, for more than 20 years. Decks Unique's dedication to design, professionalism, integrity, and innovation has elevated us to become the leading producer of high-quality decks in Long Island, defining industry standards. Our area of expertise involves creating and building custom decks, verandas, gazebos, pergolas, wooden awnings, and other external structures that add worth, allure, and functionality to your Long Island abode.
Highly Skilled and Experienced Deck Construction Services in Lindenhurst
At Decks Unique, our perspective is that a well-crafted deck layout is an intelligent decision when looking at home upgrades. At Decks Unique, our skilled professionals in deck building are devoted to providing superior quality, working towards efficient scheduling, and making sure that our warranties retain true long-term value. Our unwavering dedication to outstanding results has produced countless satisfied clients and striking decks they can be proud of for years.
Long Island-based deck building crews have authorization to use all major composite deck products, including Trex, TimberTech, and Azek. We present free home evaluations and computerized decking layouts to enable you to picture your project before it becomes reality. Let us make your backyard our next project!
Upgrade Your Home and Its Value with a Custom-Designed Deck
Your Lindenhurst home's outdoor living space is not only enriched by a fine deck but also experiences a boost in overall worth. Our area of expertise at Decks Unique lies in conceiving and erecting individualized decks that accommodate the unique necessities and preferences of our clients. Whether a comfortable venue for socializing or a plush outdoor getaway to experience the terrific weather, our committed personnel will closely cooperate with you to manifest your ideal vision.
In regards to outdoor areas, we understand that each homeowner has unique tastes and requirements. That's why we have a diverse array of materials, styles, and features to help you create a deck that fits your home and life. From time-honored wood choices such as pressure-treated lumber, cedar, and redwood to the low-maintenance advantages of composite and PVC decking, we offer an ideal solution for each budget and liking.
Exceptional Attention to Premium Quality and Client Pleasure
High-quality workmanship and customer satisfaction are at the heart of what we do at Decks Unique. We're committed to employing the finest materials and experienced, talented builders to make certain that all our projects live up to the highest expectations.
In our view, clear communication is essential to a project's success, and we're committed to keeping our clients up-to-date at every stage. From beginning to end - initial consultation, design planning, construction, and final examination - our team stays engaged, ready to answer any questions you have, address any concerns, and wholeheartedly ensure you are delighted with your new deck.
Give Decks Unique the chance to modify your Lindenhurst backyard into a cozy outdoor living space you'll love. Contact us right away to plan a free consultation and see the Decks Unique difference in person.
Thorough Deck Building Solutions in Lindenhurst
We take great pride in delivering a diverse range of decking services at Decks Unique, all tailored to meet the expectations of our Lindenhurst clientele. Our expertise covers everything from custom deck design and construction to repair, maintenance, and refinishing. Moreover, Decks Unique furnishes an array of distinctive options and add-ons to enrich your outdoor living environment. Let us examine the range of services we provide in greater detail.
Custom Deck Design: Materializing Your Dream Deck with Expertise
Our proficient deck designers will partner with you to develop a bespoke deck that embodies your personal preferences, augments your home, and fulfills the distinct requisites of your property. For the sake of assisting you in making confident choices, our expert personnel will take you through material assessments, guaranteeing sustained refinement and stability in your deck.
Outstanding Deck Construction: Unparalleled Craftsmanship for a Gorgeous Open-Air Space
As an elite deck builder, we are resolved to use only high-quality materials and employ safe, efficient craftsmanship. Our highly-experienced teams have the approval to install leading composite decking brands like Trex, TimberTech, and Azek. With thorough attention to detail and a concentration on sound construction, we ascertain that your deck is not only eye-catching but also resilient throughout the years.
Deck Upkeep and Restoration: Guarding Your Investment
Regular maintenance is essential to preserving the beauty and functionality of your deck. When it comes to wood or composite decks, our committed team covers all aspects of repair and maintenance. From exhaustive assessments aimed at spotting potential concerns, to professional repair of damages resulting from weather or age, consider us your all-encompassing deck maintenance provider. Equipped with our scheduled maintenance programs, you can rest easy knowing that your deck will be kept in pristine condition all year long.
Deck Resurfacing and Restoration: Refresh Your Outside Area
In the course of time, even the most superior decks can reveal signs of wear or call for refinishing to uphold their appearance. Our proficient team can revive your deck's splendor by means of professional cleaning, staining, weatherproofing, and sealing. We can also effectuate structural refinements, thereby ensuring your deck remains protected and functional for years.
Personal Customizations and Upgrades: Enrich Your Deck Leisure
To upgrade your outdoor living space, we present a variety of custom-made elements and additional options meant to enrich your deck. Among these selections are energy-effective deck lights, inherent seating, kitchens designed for outdoor use, and features involving fire. Through integrating these attributes into your deck plan, we'll establish a congenial and snug environment for you and your companions in Lindenhurst.
We, at Decks Unique, excel in delivering the finest decking solutions to our customers and areas nearby. Our distinguished reputation has been built on 20 years of professionalism, integrity, and novel thinking. If you're interested in designing a new deck or renovating your current one, our experienced team can help. Contact us today to schedule a free consultation and discover how we can transform your outdoor space into a stunning and functional retreat.
Choose the Right Deck Material for Your Home: Wood and Composite Selections
At Decks Unique, we are committed to helping you create the perfect outdoor oasis for your home. That's why we offer a wide variety of decking materials, including both wood and composite options. Every decking material has its attractive features, ascertaining that you find the perfect choice addressing your individual essentials and partialities.
Discover the Classic Appeal of Wood Decking
Wood is a timeless and versatile material, providing natural warmth and charm to any outdoor space. Numerous wood decking choices are available, suiting various tastes and budgetary requirements.
Treated Lumber: Inexpensive and Strong
Because of its budget-friendliness and lasting quality, pressure-treated lumber is popular among numerous homeowners. A certain treatment process ensures this decking material remains resistant to rot and insect infiltrations. As a result, pressure-treated decks are long-lasting and require minimal maintenance.
Cedar and Redwood: Nature's Luxury with Built-In Resistance
In case you desire a more opulent alternative, we provide cedar and redwood decking as well. These attractive and upscale woods have innate resistance to rot and infestation, resulting in a long-lasting deck that weathers beautifully. Exhibiting rich color palettes and peculiar grain motifs, cedar and redwood decks present a marvelous addition to any domestic setting.
Exotic Hardwoods: Beautiful and Durable
If you want an exceptional and one-of-a-kind option, look into using exotic hardwoods like Ipe, Tigerwood, or Cumaru for your project. These woods, with their incredible density and toughness, are recognized for their lasting quality and remarkable aesthetics. Exotic hardwood decks, with their vibrant hues and elaborate designs, serve as breathtaking focal points in any outdoor area.
Discover the Ease of Low-Maintenance Living by Choosing Composite and PVC Decking
To find an eco-responsible and low-upkeep choice, take into account composite and PVC decking. These state-of-the-art materials join the attractiveness of wood with the resilience of synthetics, supplying homeowners with an outdoor space that requires minimal maintenance.
Why Choose Composite Decking: Benefits and Advantages
Composite decking, composed of both reused wood fibers and plastic, presents a robust and eco-friendly alternative. The decking material's ability to resist warping, cracking, and fading ensures a gorgeous and durable deck with a low level of necessary upkeep. Another benefit is the effortless cleaning of composite decks, needing only an occasional wash to retain the freshness of the outdoor environment.
Top Brands in the Composite Materials Industry
Decks Unique takes pride in collaborating with top-tier composite decking brands like Trex, TimberTech, and Azek. Being certified installers of these outstanding products, we're able to supply Lindenhurst residents with top-notch materials for stunning and durable outdoor spaces.
Personalize Your Deck by Choosing Color and Texture Alternatives
Composite decking comes with the advantage of a plethora of customization options. Choose from many color and texture combinations to create a singular outdoor area that harmonizes with your home's décor. Regardless of your preference for natural wood's appearance or modern designs, composite decking provides a suitable option.
Revamp Your Deck Using Different Railing and Baluster Combinations
An ideal deck requires the appropriate railing and baluster system to be complete. At Decks Unique, we provide numerous choices to augment your deck design and maintain the security and practicality of your outdoor living space.
Wood Railing Solutions: Ageless and Time-honored
When aiming for a classic and perpetual style, a wood railing system might be the perfect choice. Seamlessly blending with both wood and composite decks, a wood railing system offers a clean and unified design. By matching the color of your wood railing system to your deck or Lindenhurst home exterior through painting or staining, a visually stunning result is guaranteed.
Metal and Glass Railing Systems: Chic and Smooth
If you prefer a more modern and sleek aesthetic, consider metal or glass railing systems. These railing systems bring a current flair while enhancing the panorama from your deck, which is highly appreciated by property owners with beautiful surroundings.
Composite Railing Systems: Hassle-Free and Modern
For those seeking a low-maintenance option that still offers style and elegance, composite railing systems are a perfect choice. The combination of durability and beauty in these railings, alongside composite decking, fosters a cohesive design and a breathtaking outdoor setting with minimal maintenance efforts.
No matter what you like, Decks Unique is here to offer assistance in selecting the perfect deck materials for your abode. Connect with us today to explore your desires and kick off the design of the outdoor oasis you have always wanted.
Raise the Bar for Your Outdoor Living Space with Our Additional Services in Lindenhurst
At Decks Unique, we believe in transforming your outdoor living space into a luxurious and functional extension of your home. In addition to top-notch deck building services, we also offer various other services, such as installing wood awnings, cabanas, gazebos, pergolas, and constructing porches. The skilled professionals at Lindenhurst diligently collaborate with you in order to transform your vision into reality while ensuring top-notch quality and durability.
Wooden Awnings: Increase Shade and Style for Your Outdoor Space
Wood awnings are an outstanding means of providing both shade and sophistication to your outdoor setting. Our team of experts at Decks Unique is here to help you decide on the right design and materials, ensuring a stunning and functional wood awning that fits your home's look. These setups not only offer defense against tough weather conditions but also augment the overall market value of your property.
Cabanas: Assemble a Sophisticated Retreat in Your Lindenhurst Outdoor Space
Cabanas are a fantastic combination of luxury, convenience, and privacy, making them the perfect addition to any outside area. Our expert team will collaborate with you to develop and construct a bespoke cabana tailored to your requirements and desires. Regardless of whether you want an intimate hideaway for unwinding or an upscale space for entertaining company, we can construct a cabana that serves as your ideal outdoor sanctuary.
Gazebos: A Stunning Complement to Your Garden or Patio Space
A gazebo adds a quaint touch to any garden or patio, creating an eye-catching centerpiece and offering shade for outdoor lounging. Our knowledgeable team guides you through the process of choosing the perfect style, materials, and location for your gazebo, guaranteeing harmonious fusion with your existing landscape. With our high-quality craftsmanship, you'll have a gorgeous gazebo that not only complements but also enhances your outdoor space for years to come.
Pergolas: Boost Your Outdoor Environment's Appeal and Functionality with Architectural Flair
Pergolas provide a superb means of incorporating architectural charm and practicality to your outdoor space. By combining the benefits of shade with the ability to filter in natural light, these structures are perfect additions to garden walks, patios, and open-air dining spaces. Decks Unique's team of seasoned professionals will custom-design and craft a pergola to suit your preferences, contributing to your home's value.
Porch Construction: Enhance Your Home's Curb Appeal and Outdoor Living Space
A smartly designed porch not only strengthens your home's curb appeal but also delivers a cozy exterior living area for you and your household to revel in. Our efficient group will work jointly with you to conceive a made-to-order porch that corresponds with your home's architecture and satisfies your conducive needs. With our attention to detail and commitment to quality, you can rest assured knowing your porch construction project is in good hands.
Get in contact with Decks Unique for your Lindenhurst outdoor living space renovation
At Decks Unique, providing superior, custom-made outdoor living options for our clients in Lindenhurst and the adjacent areas is our mission. To enhance your outdoor area with a wood awning, cabana, gazebo, pergola, or porch, rely on our team of experienced professionals for help. Reach out to us today for a discussion about your project, and let us demonstrate how we can reshape your outdoor living area into a high-end and functional home extension.
Professional Deck Planning and Creation in Lindenhurst
At Decks Unique, personalizing consultations and crafting custom deck designs to align with the individual requirements of our clients is our top priority. Our seasoned deck designers, with over 20 years in the field, will partner with you to develop a deck that improves both your home's appearance and functionality. Using advanced 3D modeling and visualization techniques, we'll bring your dream deck to life, ensuring the final product meets your expectations.
High-Quality Deck Materials for Lasting Durability
As the premier deck builder on Long Island, Decks Unique is an authorized installer of popular composite deck products like Trex, TimberTech, and Azek. Moreover, we supply a selection of wood decking possibilities to fit your desires, featuring pressure-treated lumber, cedar, redwood, and specialty hardwoods. Our dedication to using top-quality materials guarantees a long-lasting, low-maintenance deck for your home.
Exceptional Deck Construction Services in Lindenhurst
The competent deck construction crew at Decks Unique is committed to providing first-rate craftsmanship and efficiency across the entire building process. Due to our profound expertise in building codes, standards, and permits, you can depend on us to oversee the complete project from inception to completion, delivering a striking and functional outdoor area.
Sustain and Renew Your Deck's Appeal
At Decks Unique, we appreciate the importance of consistent care in retaining the aesthetics and strength of your deck. Our capable team can investigate and identify any harm or likely complications, delivering needed repairs to keep your deck in superior condition. We additionally present deck refurbishing and restoration offerings, consisting of cleaning, staining, weatherproofing, and sealing strategies to fortify and boost your deck's visual quality.
Enhance Your Exterior Living Space with Bespoke Additions and Features
To genuinely convert your deck into an exceptional exterior retreat, Decks Unique presents a range of custom characteristics and additions, including deck lights, built-in benches, alfresco kitchens, and features involving fire. These enhancements not only add functionality but also create a comfortable and inviting atmosphere for you and your guests to enjoy.
Exhaustive Deck Installation and Additional Features
Besides being proficient in deck design and construction, Decks Unique provides services in creating additional outdoor structures like wood awnings, cabanas, gazebos, pergolas, and porch construction. By adding these structures, you can further enhance your Long Island house's outdoor space, creating an idyllic area for relaxing and entertaining.
For all your decking desires in Lindenhurst, choose Decks Unique. Find out how our dedication to top-notch quality, professionalism, and customer satisfaction affects your outdoor area. Connect with us immediately to schedule a no-cost consultation, and let us turn your backyard into a brilliant creation.
Delighted to cater to the needs of Lindenhurst, Islip, Hampton Bays, Franklin Square, East Patchogue, Copiague, Baldwin, and other Long Island neighborhoods.
Offering Long Island Quality Deck Designs and Services: