Introducing Decks Unique - Huntington's Top-Rated Deck Construction Company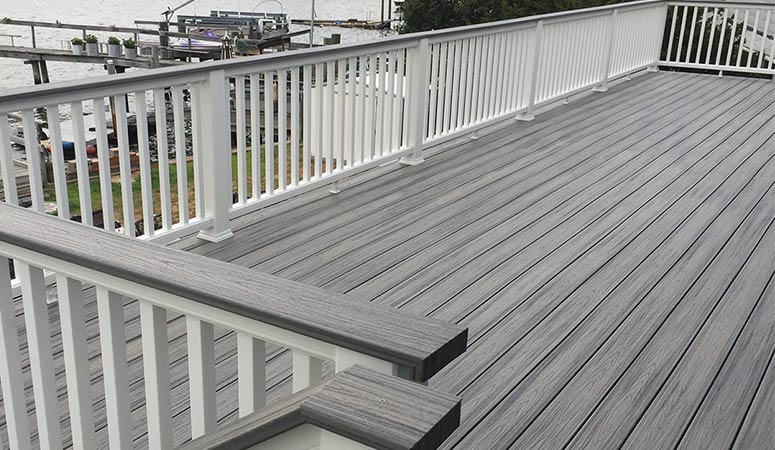 Over the past 20 years, Decks Unique, a family-owned and operated company, has been dedicated to offering custom deck design and construction services in Long Island and the surrounding areas, including Huntington. Our passion for design and commitment to professionalism, honesty, and innovation have made us the largest producer of high-quality decks on Long Island, setting the standards for the industry. Decks Unique is skilled in designing and constructing tailor-made decks, porches, gazebos, pergolas, wood awnings, and other exterior structures that increase the value, attractiveness, and practicality of your Long Island residence.
Leading Expertise and Experience in Deck Building in Huntington
At Decks Unique, our perspective is that a well-crafted deck layout is an intelligent decision when looking at home upgrades. Our expert team of professional deck builders is dedicated to delivering superior quality, maintaining efficient production schedules, and ensuring that our warranties have true lasting value. This commitment to excellence has resulted in countless satisfied customers, and decks that they are proud to show off for many years to come.
Our certified Long Island decking contractors can install all popular composite decking brands, including Trex, TimberTech, and Azek. We provide complimentary in-home consultations and digital deck plans to help you envision your project prior to its completion. Why not turn your backyard into our following endeavor?
Raise Your Home's Value by Installing a Bespoke Deck
With a high-quality deck, your Huntington house can see its outdoor living area improved and its property value significantly raised. Our area of expertise at Decks Unique lies in conceiving and erecting individualized decks that accommodate the unique necessities and preferences of our clients. No matter if you desire a comfy location for social events or a grand outdoor paradise to savor the charming weather, our staff will partner with you to create your ideal space.
We recognize that every homeowner has unique preferences and needs for their outdoor areas. Therefore, we offer a vast array of materials, styles, and qualities to develop the perfect deck that blends with your abode and your daily life. Whether you prefer classic wood choices like pressure-treated lumber, cedar, and redwood, or easy-care composite and PVC decking options, we have the perfect solution for every budget and style.
Dedication to Fantastic Quality and Client Satisfaction
At Decks Unique, excellent workmanship and gratified clients are what we focus on. We are dedicated to utilizing only top-grade materials and partnering with expert, seasoned builders to guarantee our projects meet the most stringent standards.
We think that effective communication is crucial for project success, and it's our top priority to keep clients in the loop throughout the process. From beginning to end - initial consultation, design planning, construction, and final examination - our team stays engaged, ready to answer any questions you have, address any concerns, and wholeheartedly ensure you are delighted with your new deck.
Give Decks Unique the chance to modify your Huntington backyard into a cozy outdoor living space you'll love. Reach out to us today to set up a no-cost consultation and feel the Decks Unique distinction yourself.
Total Deck Construction Solutions in Huntington
A vast array of personalized decking services are available at Decks Unique, aimed at fulfilling the requirements of our clients in Huntington. From custom deck design and construction to maintenance and refinishing, our expertise encompasses every aspect of deck services. We also offer a variety of exclusive features and extras designed to upgrade and enhance your outdoor living space. Let us examine the range of services we provide in greater detail.
Custom Deck Design: Constructing Your Dream Deck for Your Enjoyment
Our expert deck designers will work hand-in-hand with you to produce a tailored deck that mirrors your personal flair, complements your residence, and addresses the exclusive demands of your property. Our masters will help you make discerning selections by providing guidance on material options, ensuring that your deck possesses long-lasting allure and hardiness.
Outstanding Deck Construction: Unparalleled Craftsmanship for a Gorgeous Open-Air Space
Being the top deck builder, we are dedicated to utilizing only the best materials and ensuring the safety and efficiency of our workmanship. Our seasoned teams are approved installers of leading composite decking materials, including Trex, TimberTech, and Azek. By giving close attention to detail and prioritizing structural strength, we ensure that your deck is not only breathtaking but also withstands the passage of time.
Maintaining and Repairing Decks: Preserving Your Investment
Regular maintenance is essential to preserving the beauty and functionality of your deck. Our devoted team supplies a wide range of repair and maintenance services for wood and composite decks alike. Whether you need thorough inspections to flag potential issues or expert repairs for weather-worn or damaged decks, we are the ideal partner for all your deck maintenance necessities. Equipped with our scheduled maintenance programs, you can rest easy knowing that your deck will be kept in pristine condition all year long.
Deck Revamping and Restoration: Transform Your Outdoor Sanctuary
As time passes, even the most excellent decks could show indications of wear or demand refinishing to sustain their visual allure. Our expert team can restore the beauty of your deck through professional cleaning, staining, weatherproofing, and sealing. In addition, we can perform structural reinforcements, ensuring your deck remains secure and serves its purpose for years to come.
Bespoke Features and Additions: Boost Your Deck Experiences
To step up your outdoor living zone, we bring forth a multitude of bespoke aspects and add-ons fashioned to amplify your deck. These possibilities entail energy-sparing deck lights, incorporated seating, outdoor cooking spaces, and fiery aspects. Incorporating these aspects into the deck design, we generate a welcoming and snug habitat for you and your acquaintances to revel in Huntington.
Decks Unique specializes in offering clients high-quality deck services in their area and beyond. Boasting over 20 years of experience, we are known for our professionalism, trustworthiness, and innovative approach. If you want to build a new deck or refurbish your existing one, our highly skilled team is on hand to help. Reach out to us now to book a cost-free consultation and find out how we can turn your outdoor area into a visually striking and practical haven.
Compare Wood and Composite Options to Discover Your Perfect Deck Material
At Decks Unique, we are committed to helping you create the perfect outdoor oasis for your home. This is why we have an expansive array of decking materials at our disposal, featuring both wood and composite options. Every decking material has its attractive features, ascertaining that you find the perfect choice addressing your individual essentials and partialities.
Experience the Classic Charm of Wood Decking
Being both ageless and flexible, wood imbues a sense of inviting warmth and elegance to outdoor spaces. Numerous wood decking choices are available, suiting various tastes and budgetary requirements.
Treated Timber: Low-cost and Sturdy
Due to its cost efficiency and resilience, pressure-treated lumber appeals to a lot of homeowners. This decking material undergoes a special treatment process, protecting it against rot and insect infestation. As an outcome, decks made from pressure-treated wood last longer and call for lesser maintenance.
Cedar and Redwood: The Epitome of Luxurious and Resistant Materials
For people looking for an upscale option, we offer cedar and redwood decking too. These elegant and premium woods possess natural resistance to decay and pests, guaranteeing a durable deck that matures with elegance. With their rich colors and unique grain patterns, cedar and redwood decks make a stunning addition to any home.
Exotic Hardwoods: Sophisticated and Long-lived
If you desire a truly rare and refined option, think of using exotic hardwoods like Ipe, Tigerwood, or Cumaru. These remarkable hardwoods are extremely dense and strong, making them known for their outstanding longevity and striking visual charm. Exotic hardwood decks, featuring their bold colors and detailed patterns, make for an impressive centerpiece in any outdoor setting.
Composite and PVC Decking: Your Path to Low-Maintenance Living
For individuals in search of a low-maintenance, environmentally friendly option, composite and PVC decking are worth considering. These advanced materials merge wooden charm with synthetic endurance, offering homeowners an almost maintenance-free open-air space.
Benefits and Advantages of Composite Decking
Made from recycled wood fibers and plastic, composite decking is a strong and environmentally friendly preference. Warping, cracking, and fading are no match for this decking material, which ensures a beautiful and long-lasting deck with minimal effort required. Cleaning composite decks is a breeze, as they only require periodic washing to maintain a spotless and inviting outdoor space.
The Foremost Brands in Composite Materials Industry
Teaming up with prominent composite decking brands like Trex, TimberTech, and Azek is a matter of pride for Decks Unique. Being certified installers of these outstanding products, we're able to supply Huntington residents with top-notch materials for stunning and durable outdoor spaces.
Personalize Your Deck by Exploring Various Color and Texture Options
A major selling point of composite decking is its wide customization choice range. The assortment of color and texture choices enables you to construct an unparalleled outdoor space that adheres to your home's visual appeal. No matter if you appreciate the visuals of natural wood or a cutting-edge design, you'll find a composite decking solution that fits.
Revamp Your Deck Using Different Railing and Baluster Combinations
The perfect deck isn't complete without the right railing and baluster system. With Decks Unique, you have access to a variety of options that enhance your deck design while guaranteeing safety and functionality in your outdoor area.
Wood Railing Systems: Traditional and Timeless
A wood railing system is an excellent choice for a classic and never-outdated appearance. Both wood and composite decks can be perfectly matched by a wood railing system, ensuring a smooth and integrated look. By matching the color of your wood railing system to your deck or Huntington home exterior through painting or staining, a visually stunning result is guaranteed.
Metal and Glass Railing Systems: Fashionable and Uncluttered
Desiring a more current and polished appearance, you might want to look into metal or glass railing systems. Providing a fresh, up-to-date feel, these options can also boost the visuals enjoyed from your deck, appealing to homeowners who are surrounded by idyllic landscapes.
Composite Railing Systems: Effortless Maintenance and Stylish
Those in search of a stylish yet low-maintenance alternative will find composite railing systems to be an excellent selection. When combined with composite decking, these rugged and elegant railings contribute to a seamless appearance, crafting a striking outdoor sanctuary with minimal required maintenance.
No matter what you prefer, Decks Unique is available to guide you in choosing the best decking materials for your house. Reach out to our team today to discuss your vision and begin shaping the outdoor area you've always imagined.
Enhance Your Outdoor Living Space with Our Additional Services in Huntington
We at Decks Unique are dedicated to converting your outdoor living space into an opulent and functional part of your home. Besides our excellent deck building services, we also deliver a wide array of extra services, including wood awnings, cabanas, gazebos, pergolas, and porch construction. Our proficient specialists in Huntington closely cooperate with you to materialize your vision, ensuring high quality and long-lasting durability.
Wood Awnings: Enhance Your Outdoor Area with Shade and Style
Wood awnings serve as an effective way to integrate both shade and elegance into your outdoor surroundings. The proficient staff at Decks Unique will guide you in picking the perfect design and materials to fashion an appealing and functional wood awning that suits your home's style. These timber structures not only shield you from adverse weather but also enhance the total value of your property.
Cabanas: Put together a Plush Solace in Your Huntington Garden
Providing a seamless mix of luxury, comfort, and seclusion, cabanas are an excellent enhancement to any outdoor space. Our team of experts will work with you to design and build a custom cabana that meets your specific needs and preferences. Be it a warm, inviting spot for rest or a refined space for social engagements, we can build a cabana that becomes your dream outdoor getaway.
Gazebos: An Idyllic Enhancement for Your Garden or Patio
A timeless gazebo enhances both gardens and patios, delivering a delightful focus and a sheltered area for outdoor rest. Our proficient team aids you in picking the optimal aesthetics, materials, and location to incorporate your gazebo seamlessly into your current landscape. Our top-notch craftsmanship ensures an impressive gazebo that enriches your outdoor area and brings joy for numerous years.
Pergolas: Combine Architectural Aesthetics and Utility for Your Outdoor Retreat
One effective way to enrich your outdoor living space with architectural appeal and utility is by constructing a pergola. These structures provide partial shade while still allowing natural light to filter through, making them perfect for garden walkways, patios, or outdoor dining areas. At Decks Unique, our qualified experts are capable of designing and constructing a personalized pergola that fits your aesthetic desires and adds worth to your residence.
Creating a Porch: Upgrade Your Home's Curb Appeal and Outdoor Living Areas
A proficiently designed porch not only increases your home's curb appeal but also presents a comfortable open-air living space for you and your family to take pleasure in. Our expert team will work with you to create a custom-designed porch that complements your home's architecture and meets your functional needs. With our precise eye for detail and resolute passion for top-quality work, you can be sure that your porch erection project is in safe hands.
Approach Decks Unique to enhance your Huntington outdoor living area
At Decks Unique, we take pride in providing high-quality, custom outdoor living solutions to our clients in Huntington and the surrounding areas. If you're interested in incorporating a wood awning, cabana, gazebo, pergola, or porch to your exterior space, our team of experts is ready to assist. Discuss your project with us today and find out how we can turn your outdoor living environment into a comfortable and efficient extension of your residence.
Expert Deck Consultation and Design in Huntington
At Decks Unique, we pride ourselves on offering personalized consultation and custom deck designs to fit the individual needs of our clients. Boasting more than two decades of expertise, our skilled deck designers collaborate with you to design a deck that augments your home's visual appeal and practicality. Leveraging the latest 3D modeling and visualization processes, we'll actualize your dream deck and ensure the completed product is in line with your desired expectations.
Top-Notch Decking Materials to Ensure Longevity
Long Island's foremost deck builder, Decks Unique, is an officially recognized installer of major composite deck materials, including brands like Trex, TimberTech, and Azek. We also put forward various wood decking options to conform to your preferences, like pressure-treated wood pieces, cedar, redwood, and luxurious hardwoods. Our promise to use only top-of-the-line materials ensures your new deck's durability with the added benefit of low maintenance.
Premier Deck Construction Services in Huntington
At Decks Unique, our highly trained deck construction crew is dedicated to upholding superior craftsmanship and optimal efficiency during the complete building venture. With our expert knowledge of building codes, regulations, and permits, you can trust us to handle the entire project from start to finish, leaving you with a stunning and functional outdoor living space.
Maintaining & Restoring the Beauty of Your Deck
At Decks Unique, we appreciate the importance of consistent care in retaining the aesthetics and strength of your deck. The experienced professionals at Decks Unique can survey and determine any issues or prospective challenges, offering crucial repairs to uphold your deck's excellent quality. In addition, Decks Unique offers deck renewal and refinishing services, featuring cleaning, staining, weatherproofing, and sealing procedures to defend and enrich your deck's visual appeal.
Elevate Your Outdoor Environment with Customized Features and Add-ons
To genuinely convert your deck into an exceptional exterior retreat, Decks Unique presents a range of custom characteristics and additions, including deck lights, built-in benches, alfresco kitchens, and features involving fire. These enhancements not only add functionality but also create a comfortable and inviting atmosphere for you and your guests to enjoy.
Complete Decking Solutions and Beyond
Apart from our knowledge and experience in deck design and construction, Decks Unique also extends its expertise to additional outdoor structures such as wooden awnings, cabanas, gazebos, pergolas, and porches. These amenities can remarkably enhance your Long Island home's outdoor space, converting it into a perfect haven for relaxation and social gatherings.
Let Decks Unique take care of all your decking needs in Huntington. Uncover the change our pledge of quality, professionalism, and customer delight brings to your outdoor environment. Get in touch right away to arrange a free consultation and let us transform your backyard into an impressive work.
Honored to serve the people of Huntington, Greenvale, Fort Salonga, East Norwich, Copiague, Babylon, Wantagh along with other Long Island regions.
Offering Long Island Quality Deck Designs and Services: