Introducing Decks Unique - Greenlawn's Top-Rated Deck Construction Company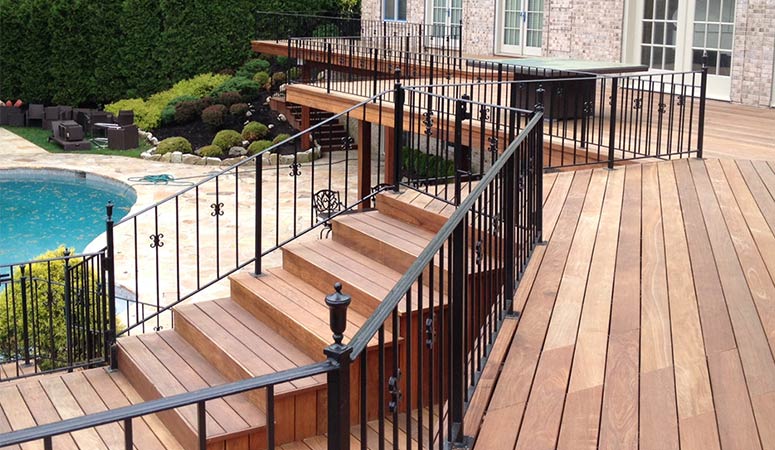 Decks Unique is a family-owned and operated custom deck design and construction company, serving the residents of Long Island and surrounding areas, including Greenlawn, for over 20 years. Thanks to our enthusiasm for design and steadfast commitment to professionalism, integrity, and innovation, we've emerged as the top producer of premium decks on Long Island, setting the benchmark for the industry. We pride ourselves on developing and constructing custom decks, porches, gazebos, pergolas, wood awnings, and assorted outdoor structures that bolster the appeal, worth, and function of your Long Island home.
In Greenlawn, Proficient and Knowledgeable Deck Building Services
Decks Unique upholds the idea that a thoughtfully devised deck design constitutes a wise investment in home improvement. At Decks Unique, our skilled professionals in deck building are devoted to providing superior quality, working towards efficient scheduling, and making sure that our warranties retain true long-term value. Our devotion to superior standards has led to innumerable content clients and decks they can happily display for the foreseeable future.
Our Long Island decking crews are accredited to fit all primary composite deck options, such as Trex, TimberTech, and Azek. We offer free home consultations and computerized deck designs so that you can visualize your project before it comes to life. Give us the chance to make your backyard our succeeding project!
Raise Your Home's Value by Installing a Bespoke Deck
A top-quality deck serves to enhance the open-air living quarters of your Greenlawn dwelling while also heightening its value. Decks Unique is specialized in crafting and assembling personalized decks that fulfill the requirements and appeals of our diverse clientele. If you want a casual space for hosting gatherings or an upscale oasis to soak up the beautiful weather, our professionals will diligently work alongside you to realize your vision.
For outdoor spaces, we understand that each homeowner has their own distinct tastes and necessities. That is why we offer a wide range of materials, styles, and features to create the perfect deck that complements your home and lifestyle. Starting from conventional wood materials like pressure-treated lumber, cedar, and redwood, through to the low-maintenance compound and PVC decking options, we cater to every budget and predilection.
Unequaled Focus on Superior Standards and Customer Gratification
At Decks Unique, our focus is on exceptional workmanship and happy customers. Every project we tackle meets the highest criteria, thanks to our commitment to using first-rate materials and working with proficient, seasoned builders.
For a project to be successful, we believe communication is key, and we place great importance on keeping our clients aware of every development. Starting with the initial consultation, through the design and construction phases, all the way to the final inspection, our team remains accessible to answer any questions, alleviate concerns, and guarantee complete satisfaction with your new deck.
Let Decks Unique change your Greenlawn backyard into an attractive outdoor living area you'll cherish. Contact us immediately to set up a complimentary consultation and feel the Decks Unique superiority.
Extensive Deck Construction Services in Greenlawn
In Greenlawn, Decks Unique boasts a comprehensive variety of decking services, all geared towards satisfying the unique demands of our clients. From creating custom decks and construction to repair, maintenance, and refinishing, Decks Unique offers a wide range of expert services. Additionally, we provide a variety of unique features and add-ons to enhance your outdoor living experience. Let's take a closer look at the services we offer.
Custom Deck Design: Constructing Your Dream Deck for Your Enjoyment
Our proficient deck designers will partner with you to develop a bespoke deck that embodies your personal preferences, augments your home, and fulfills the distinct requisites of your property. By assisting you in making informed choices, our connoisseurs will facilitate your material selection journey, assuring lasting charm and toughness.
Masterful Deck Fabrication: Impressive Craftsmanship for an Elegant Exterior Space
Being an esteemed deck builder, we dedicate ourselves to using only first-class materials and ensuring safe, efficient labor. Our accomplished crew members are qualified installers of renowned composite deck materials, such as Trex, TimberTech, and Azek. With careful scrutiny of detail and a dedication to solid structure, we guarantee that your deck is not only aesthetically pleasing but also long-lasting.
Repairing and Maintaining Decks: Retaining the Value of Your Investment
Regular upkeep is vital for maintaining your deck's aesthetics and functionality. For both wood and composite decks, our committed team provides extensive maintenance and repair services. Providing extensive inspections to identify possible challenges, coupled with expert repairs tackling weather or wear-and-tear damages, we serve as your primary choice for all deck maintenance tasks. You'll have peace of mind with the knowledge that your deck will remain in exceptional condition year-round, thanks to our regular maintenance programs.
Deck Refinishing and Renewal: Bring Freshness to Your Outdoor Environment
As time passes, even the most excellent decks could show indications of wear or demand refinishing to sustain their visual allure. Our team of specialists can reinstate the aesthetic charm of your deck through professional cleaning, staining, weatherproofing, and sealing procedures. We can also effectuate structural refinements, thereby ensuring your deck remains protected and functional for years.
Adapted Facets and Complementary Elements: Optimize Your Deck Satisfaction
To refine your outdoor living space, we offer a collection of custom-fitted elements and added features conceived to elevate your deck. The available options consist of energy-efficient illumination on decks, embedded seating, exterior kitchens, and fire amenities. By blending these factors into your deck's design, we fashion a hospitable and cozy setting for you to relish alongside your loved ones in Greenlawn.
Decks Unique is dedicated to providing premium decking services to clients in the surrounding areas. With over 20 years of experience in the industry, we have built a reputation for professionalism, honesty, and innovation. No matter if you're seeking to create a new deck or update your current one, our knowledgeable team is prepared to assist. Connect with us today to set up a no-charge consultation and learn how your outdoor space can become a gorgeous, practical escape.
Compare Wood and Composite Options to Discover Your Perfect Deck Material
At Decks Unique, our mission is to guide you in designing your dream outdoor refuge for your house. This is the reason we provide an extensive array of decking materials, encompassing wood and composite selections. Each of the materials has its own merits, helping you to decide on the top option that matches your distinct demands and inclinations.
Discover the Classic Appeal of Wood Decking
The flexibility and timelessness of wood provides a pleasant warmth and beauty to all kinds of outdoor spaces. Our collection of wood deck possibilities is tailored to fit all styles and financial considerations.
Treated Lumber: Inexpensive and Strong
For many homeowners, pressure-treated lumber is a preferred option because of its budget-friendly and tough nature. This type of decking material goes through a particular treatment, helping it resist decay and insect infestations. Thus, pressure-treated decks provide enduring quality with reduced maintenance efforts.
Premium and Resistant: Cedar and Redwood's Natural Features
For individuals searching for a lavish choice, cedar and redwood decking are additionally available. These gorgeous and top-tier woods boast natural resistance to rot and insect infestations, offering a lasting deck that matures gracefully. Exhibiting rich color palettes and peculiar grain motifs, cedar and redwood decks present a marvelous addition to any domestic setting.
Exotic Hardwoods: Beautiful and Durable
If you're looking for a truly unique and exquisite option, consider exotic hardwoods like Ipe, Tigerwood, or Cumaru. These incredibly dense and durable woods are known for their exceptional longevity and striking appearance. With vivid colors and detailed patterns, exotic hardwood decks provide a striking focal point for outdoor spaces.
Pursue a Low-Maintenance Lifestyle with Composite and PVC Decking Options
For individuals in search of a low-maintenance, environmentally friendly option, composite and PVC decking are worth considering. These state-of-the-art materials join the attractiveness of wood with the resilience of synthetics, supplying homeowners with an outdoor space that requires minimal maintenance.
Advantages and Benefits of Composite Decking
By combining recycled wood fibers and plastic materials, composite decking offers a durable and eco-friendly option. Thanks to its resistance to warping, cracking, and fading, this decking material yields an eye-catching, long-lasting deck that demands minimal maintenance. Another benefit is the effortless cleaning of composite decks, needing only an occasional wash to retain the freshness of the outdoor environment.
Top Brands in the Composite Materials Industry
Working with industry-leading composite decking brands such as Trex, TimberTech, and Azek is a source of pride for Decks Unique. As accredited installers of these extraordinary products, we offer Greenlawn homeowners the finest materials to create beautiful and enduring outdoor areas.
Make Your Deck Unique with Color and Texture Choices
A significant advantage of composite decking is the vast array of personalization possibilities. Various color and texture options enable you to establish an exceptional outdoor environment that fits your home's aesthetics. You can find a fitting composite decking solution to satisfy your inclination for natural wood or modern design aesthetics.
Elevate Your Deck with a Variety of Railing and Baluster Options
To be complete, the perfect deck calls for the appropriate railing and baluster system. Decks Unique presents a broad array of possibilities to enrich your deck's design and guarantee the safety and efficiency of your outdoor space.
Wooden Handrail Systems: Traditional and Timeless
A wood railing system is an excellent choice for a classic and never-outdated appearance. For a look that complements both wood and composite decking, a wood railing system is an excellent choice, delivering a congruous and refined design. By matching the color of your wood railing system to your deck or Greenlawn home exterior through painting or staining, a visually stunning result is guaranteed.
Metal and Glass Railing Systems: Innovative and Graceful
For those who appreciate a stylish and up-to-date feel, metal or glass railing systems can be a wise choice. Both metal and glass railing systems deliver a contemporary feel while also augmenting the viewpoint from your deck area, winning over homeowners with captivating settings.
Composite Railing Systems: Low-Maintenance, Aesthetic Appeal
People searching for a low-maintenance solution that doesn't compromise on style and elegance should consider composite railing systems. When combined with composite decking, these rugged and elegant railings contribute to a seamless appearance, crafting a striking outdoor sanctuary with minimal required maintenance.
No matter what you like, Decks Unique is here to offer assistance in selecting the perfect deck materials for your abode. Reach out to us today to discuss your goals and commence the design of your ideal outdoor space.
Revamp Your Outdoor Living Area with Our Additional Services in Greenlawn
We believe in transforming your outside living space into a luxurious and functional part of your home at Decks Unique. Aside from our superior deck building services, we also deliver a variety of extra services, including wooden awnings, cabanas, gazebos, pergolas, and porch construction. Our adept experts in Greenlawn collaborate with you to manifest your vision, while guaranteeing exceptional quality and enduring durability.
Wooden Awnings: Combine Style and Shade in Your Outdoor Space
The addition of wood awnings provides both shade and a touch of elegance to your exterior living area. The knowledgeable professionals at Decks Unique can help you determine the best design and materials to construct a gorgeous and useful wood awning that aligns with your home's aesthetic. The wood awnings not only ensure protection from extreme weather conditions but also improve your property's overall worth.
Cabanas: Develop a Posh Hideaway in Your Greenlawn Outdoor Area
Combining luxury, comfort, and privacy expertly, cabanas are perfect for enhancing any open-air area. With the assistance of our expert team, we will design and build for you a customized cabana that aligns with your specific needs and preferences. Whether your desire is a welcoming respite for relaxation or an elegant setting for entertaining guests, we can create a cabana that presents an idyllic outdoor escape.
Gazebos: A Visually Appealing Addition for Your Garden or Patio
In any garden or patio, a gazebo is an enduring addition that supplies an appealing focal point and a cool refuge for outdoor leisure. Our knowledgeable team guides you through the process of choosing the perfect style, materials, and location for your gazebo, guaranteeing harmonious fusion with your existing landscape. Relying on our precision craftsmanship, we present a magnificent gazebo that adds to the charm of your outdoor environment for the long run.
Pergolas: Boost Your Outdoor Environment's Appeal and Functionality with Architectural Flair
Integrating a pergola into your outdoor living area is an outstanding approach for increasing architectural attractiveness and functionality. The interplay of sun and shade that pergolas provide makes them a great choice for garden pathways, outdoor terrace spaces, or al fresco dining venues. Decks Unique's team of seasoned professionals will custom-design and craft a pergola to suit your preferences, contributing to your home's value.
Porch Creation: Boost Your Home's Curb Appeal and Outdoor Living Space
A skillfully designed porch not only boosts your home's curb appeal but also gives a welcoming outdoor living space for you and your family to savor. Our seasoned group will join forces with you to execute a customized porch design that suits your home's architecture and meets your purposeful needs. With our comprehensive attention to even the smallest detail and steadfast pledge to premium quality, you can breathe easy knowing your porch assembly project is in proficient hands.
Reach out to Decks Unique to transform your Greenlawn outdoor living space
We pride ourselves on bringing top-quality, tailored outdoor living solutions to our customers in Greenlawn and the neighboring regions at Decks Unique. If adding a wood awning, cabana, gazebo, pergola, or porch to your outdoor space is what you're after, our proficient team is here to guide you. Reach out to us today for a discussion about your project, and let us demonstrate how we can reshape your outdoor living area into a high-end and functional home extension.
Proven Deck Design and Consultation Excellence in Greenlawn
We, at Decks Unique, pride ourselves on delivering custom-tailored consultation and deck designs to suit the individual preferences of our clients. Boasting more than two decades of expertise, our skilled deck designers collaborate with you to design a deck that augments your home's visual appeal and practicality. Using advanced 3D modeling and visualization techniques, we'll bring your dream deck to life, ensuring the final product meets your expectations.
Premium Deck Construction Materials for Extended Durability
Decks Unique, the top Long Island-based deck builder, is an approved installer for all major composite decking brands, including Trex, TimberTech, and Azek. Additionally, we provide various wood decking choices tailored to your taste, including pressure-treated wood, cedar, redwood, and unique hardwoods. With a commitment to using only exceptional materials, you can trust that your new deck will be long-lasting and require minimal maintenance.
Superior Deck Construction Services in Greenlawn
Our adept deck construction personnel at Decks Unique are passionate about maintaining top-of-the-line workmanship and efficiency in the entire building process. Leveraging our deep expertise in building codes, norms, and permits, you can entrust us with the full project from beginning to end, yielding an eye-catching and practical outdoor environment.
Defend and Resurrect Your Deck's Splendor
We, at Decks Unique, grasp the necessity of regular maintenance to uphold your deck's beauty and structural resilience. Our proficient staff at Decks Unique can inspect and uncover any damages or potential problems, administering essential repairs to maintain your deck in an optimal state. Additionally, we offer deck refinishing and restoration services, including cleaning, staining, weatherproofing, and sealing to protect and enhance your deck's appearance.
Elevate Your Outdoor Environment with Customized Features and Add-ons
To actually turn your deck into a remarkable outside getaway, Decks Unique offers numerous customized details and enhancements like decking illumination, seating built into the structure, kitchens suited for the exterior, and accents centered around fire. These modifications not only enhance the function, but they also shape a hospitable and relaxed atmosphere for you and your attendees to delight in.
Wide-Ranging Decking Services and Extra Offerings
In addition to our proficiency in deck design and building, Decks Unique also provides expertise in constructing supplementary outdoor structures like wooden awnings, cabanas, gazebos, pergolas, and porches. With these extra outdoor installations, your Long Island home's outdoor ambience can be significantly improved, making it the best spot for relaxation and amusement.
For all your decking desires in Greenlawn, choose Decks Unique. Explore the difference our devotion to high-quality work, professionalism, and happy customers brings to your outdoor space. Reach out to us today for a free consultation, and let us convert your backyard into an exquisite showpiece.
Proudly serving Greenlawn, Fort Salonga, East Norwich, Copiague, Baldwin, Wantagh, South Huntington and other Long Island communities.
Offering Long Island Quality Deck Designs and Services: