Get to know Decks Unique - North Wantagh's Trusted Deck Building Specialists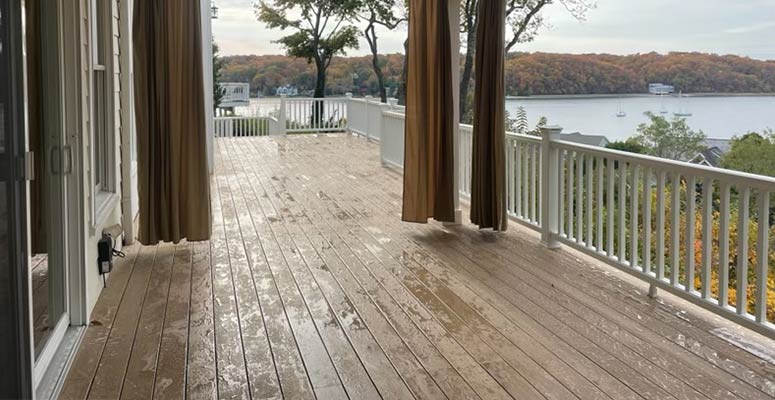 Decks Unique, a family-owned and operated custom deck design and construction business, has catered to the residents of Long Island and nearby areas, like North Wantagh, for more than 20 years. Thanks to our enthusiasm for design and steadfast commitment to professionalism, integrity, and innovation, we've emerged as the top producer of premium decks on Long Island, setting the benchmark for the industry. We specialize in designing and building custom decks, porches, gazebos, pergolas, wood awnings, and other outdoor structures that add value, beauty, and functionality to your Long Island home.
Highly Skilled and Experienced Deck Construction Services in North Wantagh
At Decks Unique, we believe that a well-thought-out deck design is a wise investment when considering home improvement. The Decks Unique team of master deck builders is resolute in offering optimum quality, sticking to smooth production schedules, and safeguarding the lasting merit of our warranties. Our steadfast pursuit of excellence has culminated in numerous pleased clients and deck constructions they are proud to exhibit for many years down the line.
Our Long Island decking crews are accredited to fit all primary composite deck options, such as Trex, TimberTech, and Azek. We present free home evaluations and computerized decking layouts to enable you to picture your project before it becomes reality. Allow us to transform your backyard into our upcoming venture!
Heighten Your Home's Worth with Your Own Custom Deck
With a high-quality deck, your North Wantagh house can see its outdoor living area improved and its property value significantly raised. Decks Unique excels at creating and constructing tailor-made decks that cater to the distinct demands and desires of every customer. If you want a casual space for hosting gatherings or an upscale oasis to soak up the beautiful weather, our professionals will diligently work alongside you to realize your vision.
In regards to outdoor areas, we understand that each homeowner has unique tastes and requirements. This is the basis for our extensive variety of materials, styles, and elements to establish the flawless deck that lines up with your home and lifestyle. We present solutions to suit any budget and preference, ranging from classic wood options like pressure-treated lumber, cedar, and redwood, to the maintenance-free world of composite and PVC decking.
Incomparable Devotion to High Quality and Customer Fulfillment
Decks Unique aims to excel in workmanship quality and customer satisfaction. Every project we tackle meets the highest criteria, thanks to our commitment to using first-rate materials and working with proficient, seasoned builders.
We're firm believers that strong communication is a major factor in a project's success, and we go above and beyond to maintain clear lines of communication with our clients. From the initial consultation and design process through construction and final inspection, our team is always available to answer questions, address concerns, and ensure that you are completely satisfied with your new deck.
Let Decks Unique change your North Wantagh backyard into an attractive outdoor living area you'll cherish. Reach out to us today to set up a no-cost consultation and feel the Decks Unique distinction yourself.
Thorough Deck Building Solutions in North Wantagh
We take great pride in delivering a diverse range of decking services at Decks Unique, all tailored to meet the expectations of our North Wantagh clientele. Our team possesses the skills necessary for every step of the process, from designing and constructing custom decks to repairs, upkeep, and refinishing. We also offer a variety of exclusive features and extras designed to upgrade and enhance your outdoor living space. Take a closer look at the comprehensive list of services we have to offer.
Custom Deck Design: Constructing Your Dream Deck for Your Enjoyment
Our professional deck designers will work closely with you to create a custom deck that reflects your personal style, complements your home, and meets the unique requirements of your property. To help you make informed decisions, our experts will also guide you through material selection, ensuring long-lasting beauty and durability.
Top-Notch Deck Construction: High-Quality Craftsmanship for a Beautiful Outdoor Living Space
As a prominent deck builder, we are committed to utilizing only top-quality materials and practicing secure, proficient workmanship. Our expert staff are certified installers of top composite decking brands, such as Trex, TimberTech, and Azek. By giving close attention to detail and prioritizing structural strength, we ensure that your deck is not only breathtaking but also withstands the passage of time.
Taking Care of Your Deck: Ensuring Your Investment Stays Protected
Regular maintenance is essential to preserving the beauty and functionality of your deck. For wood and composite decks, our diligent team offers complete maintenance and repair solutions. Whether it's thorough inspections to uncover potential issues, or professional repairs for weather-induced damage and wear, we can handle all your deck maintenance demands. With the help of our consistent maintenance plans, rest assured that your deck will continually be kept in superb condition, regardless of the time of year.
Deck Refinishing and Restoration: Renew Your Outdoor Oasis
With the passage of time, even first-rate decks might show evidence of wear or need refinishing in order to continue looking great. Our team of experts is capable of revitalizing your deck's beauty through thorough cleaning, staining, weatherproofing, and sealing. Further, we can administer structural optimizations, keeping your deck safe and efficient for a considerable duration.
Made-to-order Qualities and Accessories: Strengthen Your Deck Recreation
In order to uplift your outdoor living space, we extend a series of personalized features and additional components aimed at boosting your deck. Included options involve energy-preserving lighting for your deck, integrated seating arrangements, outside kitchens, and fire facilities. Incorporating these aspects into the deck design, we generate a welcoming and snug habitat for you and your acquaintances to revel in North Wantagh.
At Decks Unique, we take pride in delivering outstanding decking services to customers and surrounding regions. Our 20-plus years of experience in the field have earned us a name for professionalism, integrity, and creativity. Should you need assistance in designing a new deck or improving a current one, our competent team has your back. Reach out to us now to book a cost-free consultation and find out how we can turn your outdoor area into a visually striking and practical haven.
Choose the Right Deck Material for Your Home: Wood and Composite Selections
Decks Unique is all about empowering you to create an amazing outdoor utopia within your home. For this purpose, we deliver a wide range of decking materials that include wooden and composite solutions. Every material comes with distinct benefits, guaranteeing the optimal option tailored to your individual requirements and tastes.
Classic Beauty with Wood Decking
Wood is a timeless and versatile material, providing natural warmth and charm to any outdoor space. Discover numerous wood decking solutions that cater to each individual's taste and budget requirements.
Treated Timber: Low-cost and Sturdy
For many homeowners, pressure-treated lumber is a preferred option because of its budget-friendly and tough nature. The decking material is treated specially to guard against wood rot and insect invasion. This ensures that pressure-treated decks remain durable and need only minimal maintenance.
Premium and Resistant: Cedar and Redwood's Natural Features
We also provide cedar and redwood decking for those wanting a more extravagant option. These beautiful and high-end woods are naturally resistant to decay and insects, ensuring a long-lasting deck that ages gracefully. Cedar and redwood decks, adorned with intense colors and characteristic grain appearances, deliver an awe-inspiring aspect to any house.
Exotic Hardwoods: Gorgeous and Long-lasting
If you desire a truly rare and refined option, think of using exotic hardwoods like Ipe, Tigerwood, or Cumaru. These dense and hard-wearing woods are famous for their amazing durability and striking visual appeal. Captivating colors and fascinating patterns of exotic hardwood decks contribute to a magnificent centerpiece for any outdoor environment.
Pursue a Low-Maintenance Lifestyle with Composite and PVC Decking Options
Should you desire an environmentally-friendly and low-maintenance option, look into composite and PVC decking. These contemporary materials integrate the appeal of wood and the sturdiness of synthetic elements, endowing homeowners with a largely maintenance-free outdoor living area.
Benefits and Advantages of Composite Decking
Made from recycled wood fibers and plastic, composite decking is a strong and environmentally friendly preference. This decking option can withstand warping, cracking, and fading, leading to a beautiful and resilient deck that requires little care. In addition, maintaining the cleanliness of composite decks is quite simple, requiring only a periodic wash to keep your outdoor area in pristine condition.
Top Brands in the Composite Materials Industry
Decks Unique takes great pride in working hand-in-hand with elite composite decking brands, including Trex, TimberTech, and Azek. As approved installers of these remarkable products, we can furnish North Wantagh homeowners with premium materials for an elegant and lasting outdoor living area.
Personalize Your Deck by Choosing Color and Texture Alternatives
A major selling point of composite decking is its wide customization choice range. Various color and texture options enable you to establish an exceptional outdoor environment that fits your home's aesthetics. You can find a fitting composite decking solution to satisfy your inclination for natural wood or modern design aesthetics.
Boost Your Deck's Appeal with Railing and Baluster Alternatives
The perfect deck isn't complete without the right railing and baluster system. Decks Unique provides an ample range of options to elevate your deck design and warrant your outdoor area's safety and functionality.
Wooden Railing Systems: Classic and Everlasting
For a look that is both elegant and long-lasting, consider incorporating a wood railing system. The use of a wood railing system can create a harmonious, unified design for both wood and composite decks. Painting or staining your wood railing system to align with your deck or North Wantagh home exterior helps ensure a captivating final aesthetic.
Metal and Glass Railing Systems: Current and Refined
Opt for metal or glass railing systems if you're inclined towards a sophisticated and current aesthetic. These alternatives offer a modern accent and can improve the scenic view from your deck, becoming a favorite selection among those who live in visually stunning locations.
Composite Railing Systems: Low-Maintenance, Chic Design
People searching for a low-maintenance solution that doesn't compromise on style and elegance should consider composite railing systems. These strong and stylish railings, when matched with composite decking, bring about a cohesive appearance, resulting in a stunning low-maintenance outdoor space.
No matter your inclinations, Decks Unique is at your service to aid you in picking the perfect decking supplies for your home. Communicate with us today to express your needs and start crafting the outdoor haven of your dreams.
Optimize Your Outdoor Living Space with Our Extra Services in North Wantagh
Our objective at Decks Unique is to transition your outdoor living area into an elegant and useful home extension. Aside from our superior deck building services, we also deliver a variety of extra services, including wooden awnings, cabanas, gazebos, pergolas, and porch construction. Our skilled professionals in North Wantagh work closely with you to bring your vision to life while ensuring the highest quality and durability.
Wood Awnings: Bring Both Shade and Style to Your Outdoor Living Space
Wood awnings are an outstanding means of providing both shade and sophistication to your outdoor setting. The experienced specialists at Decks Unique will aid you in choosing the ideal design and materials for creating a charming and efficient wood awning that matches your home's visual appeal. These wood awnings not only serve to protect against harsh weather but also help raise your property's overall value.
Cabanas: Develop a Posh Hideaway in Your North Wantagh Outdoor Area
Cabanas offer a perfect blend of luxury, comfort, and privacy, making them an ideal addition to any outdoor space. Our adept team will cooperate with you in the design and construction of a one-of-a-kind cabana that addresses your particular needs and desires. No matter if you're seeking a snug haven for relaxation or a stylish area for hosting gatherings, we can design a cabana that is the ideal outdoor escape.
Gazebos: An Elegant Inclusion in Your Garden or Patio
A gazebo serves as a classic element in any garden or patio, offering an attractive centerpiece and a sheltered space for enjoying the outdoors. Our adept team works with you to find the ideal appearance, materials, and setting for your gazebo, assuring flawless integration into your current garden or patio. With our expert craftsmanship, you can enjoy a stunning gazebo that enhances the beauty of your outdoor space for years to come.
Pergolas: Upgrade Your Exterior Area by Adding Architectural Intrigue and Purpose
Pergolas are an excellent way to add architectural interest and functionality to your outdoor living space. Pergolas inherently deliver a mix of shaded areas and sunlit spaces, ideally suiting them for the likes of garden promenades, terraces, or eateries outdoors. Let the skilled experts at Decks Unique craft a bespoke pergola that caters to your style and contributes to your home's overall value.
Porch Assembly: Augment Your Home's Curb Appeal and Outdoor Living Space
A well-planned porch not only heightens your home's curb appeal but also furnishes a snug outdoor living environment for you and your kin to relish. Our adept squad will come together with you to formulate a distinctive porch that integrates with your home's architectural layout and meets your functional preferences. With our keen eye for detail and dedication to excellence, you can have peace of mind knowing your porch construction endeavor is well taken care of.
Communicate with Decks Unique for your North Wantagh outdoor living area transformation
Decks Unique takes pride in giving first-rate, personalized outdoor living solutions to people in North Wantagh and the surrounding communities. To enhance your outdoor area with a wood awning, cabana, gazebo, pergola, or porch, rely on our team of experienced professionals for help. Reach out to us today to talk about your project and find out how we can turn your outdoor living space into an opulent and functional addition to your home.
Specialist Deck Consultation and Design Services in North Wantagh
At Decks Unique, personalizing consultations and crafting custom deck designs to align with the individual requirements of our clients is our top priority. Possessing over 20 years of experience, our proficient deck designers will work hand-in-hand with you to create a deck that complements your home's aesthetics and usefulness. With state-of-the-art 3D modeling and visualization tools, we'll actualize your vision of the perfect deck, guaranteeing that the completed project satisfies your requirements.
Superior Quality Deck Components for Prolonged Endurance
As the premier deck builder on Long Island, Decks Unique is an authorized installer of popular composite deck products like Trex, TimberTech, and Azek. We also furnish an assortment of wooden decking options to match your likings, including pressure-treated planks, cedar, redwood, and high-quality hardwoods. We guarantee that, by using only the best materials, your new deck will be durable and require minimal upkeep.
Professional Deck Construction Services in North Wantagh
The competent deck construction crew at Decks Unique is committed to providing first-rate craftsmanship and efficiency across the entire building process. With our expert knowledge of building codes, regulations, and permits, you can trust us to handle the entire project from start to finish, leaving you with a stunning and functional outdoor living space.
Preserving and Rejuvenating Your Deck's Aesthetics
At Decks Unique, we are conscious of the pivotal role regular maintenance plays in preserving your deck's visual charm and solid framework. Our knowledgeable team can evaluate and detect any damage or potential risks, undertaking necessary repairs to retain your deck in the best possible condition. Moreover, we render deck rejuvenation and refinishing solutions, such as cleaning, staining, weatherproofing, and sealing operations to maintain and enhance your deck's facade.
Boost Your Outdoor Setting with Custom Solutions and Add-ons
To design your deck into a distinctive open-air living space, Decks Unique proposes a wide selection of made-to-order facets and additions, such as lighting specifically for decks, seating integrated within the deck's design, kitchen areas meant for outdoor use, and fire-involved features. These additions not only improve operation but also generate a soothing and receptive environment for your enjoyment and your guests.
Full-Scale Decking Services and More
Not only do we excel in deck design and construction at Decks Unique, but we also specialize in creating extra outdoor structures, including wood awnings, cabanas, gazebos, pergolas, and porch construction. Such structures can augment the beauty of your Long Island home's exterior, transforming it into an excellent space for leisure and socializing.
Let Decks Unique handle all of your decking needs in North Wantagh. See how our commitment to excellence, professionalism, and customer satisfaction enhances your outdoor space. Contact us today to book a free assessment and let us change your backyard into an astonishing piece of art.
Taking great pleasure in assisting North Wantagh, North Bay Shore, Miller Place, Massapequa, Levittown, Holtsville, Great Neck and other Long Island districts.
Offering Long Island Quality Deck Designs and Services: