Visit Decks Unique - Miller Place's Most Reliable Deck Builder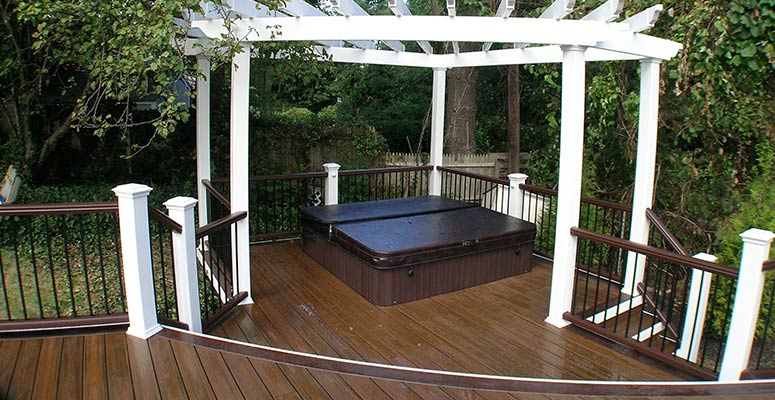 Decks Unique, a family-run business specializing in custom deck design and construction, has been serving the Long Island community and surrounding regions, including Miller Place, for more than two decades. Our enthusiasm for design, coupled with our dedication to professionalism, honesty, and innovation, has established us as the premier producer of top-notch decks throughout Long Island, and we've set industry benchmarks. Our expertise lies in crafting custom decks, porches, gazebos, pergolas, wooden awnings, and other outdoor amenities that enhance the appeal, value, and practicality of your residence in Long Island.
Highly Skilled and Experienced Deck Construction Services in Miller Place
At Decks Unique, we are convinced that a well-organized deck layout offers a sensible investment in home improvement projects. Our proficient group of skilled deck craftspeople prioritizes first-rate quality, adheres to streamlined production timelines, and lets you rest assured knowing our warranties carry lasting worth. This commitment to excellence has resulted in countless satisfied customers, and decks that they are proud to show off for many years to come.
Our Long Island deck building specialists are licensed to install all top composite deck brands, such as Trex, TimberTech, and Azek. We deliver cost-free home assessments and computer-modeled deck schemes for visualizing your project before it takes shape. Make your backyard the site for our subsequent project!
Elevate Your House's Worth by Adding a Custom Deck
A well-crafted deck contributes to both an increase in your Miller Place home's outdoor living environment and the enhancement of its value. Decks Unique excels at creating and constructing tailor-made decks that cater to the distinct demands and desires of every customer. If you want a casual space for hosting gatherings or an upscale oasis to soak up the beautiful weather, our professionals will diligently work alongside you to realize your vision.
In regards to outdoor areas, we understand that each homeowner has unique tastes and requirements. To accommodate these diverse preferences, we supply a wide array of materials, styles, and attributes for crafting the ideal deck to harmonize with your home and way of life. Whether you prefer classic wood choices like pressure-treated lumber, cedar, and redwood, or easy-care composite and PVC decking options, we have the perfect solution for every budget and style.
Adherence to Exceptional Quality and Consumer Satisfaction
At Decks Unique, we take immense pride in the quality of our workmanship and the satisfaction of our clients. To ensure that all our projects are up to the highest standards, we are devoted to using only top-quality materials and hiring expert builders with a wealth of experience.
We're firm believers that strong communication is a major factor in a project's success, and we go above and beyond to maintain clear lines of communication with our clients. From beginning to end - initial consultation, design planning, construction, and final examination - our team stays engaged, ready to answer any questions you have, address any concerns, and wholeheartedly ensure you are delighted with your new deck.
Trust Decks Unique to morph your Miller Place backyard into an impressive outdoor living space you'll enjoy for years. Don't hesitate to contact us today for a free consultation and to witness the Decks Unique experience.
All-inclusive Decking Solutions in Miller Place
Decks Unique, located in Miller Place, is proud to offer an extensive range of tailored decking services, designed to cater to client needs. Our proficiency extends from designing and constructing tailor-made decks to managing repairs, maintenance, and refinishing tasks. Decks Unique also offers an assortment of standout features and add-ons to improve and elevate your outdoor living area. Allow us to provide you with a more in-depth overview of our services.
Custom Deck Design: Manifesting Your Dream Deck into Reality
Our accomplished deck designers will join forces with you to devise a custom-made deck that captures your unique fashion, enriches your home, and satisfies the exceptional criteria of your property. To enable you to make sound decisions, our adept advisors will steer you through the process of selecting the right materials, safeguarding enduring sophistication and solidity.
Expert Deck Construction: Quality Craftsmanship for a Stunning Outdoor Space
As the leading deck builder, we pledge to use only top-notch materials and practice secure, effective workmanship. Our proficient crews are authorized to install well-known composite deck materials, including Trex, TimberTech, and Azek. With thorough attention to detail and a concentration on sound construction, we ascertain that your deck is not only eye-catching but also resilient throughout the years.
Deck Upkeep and Restoration: Guarding Your Investment
To preserve the beauty and functionality of your deck, regular maintenance is crucial. Our devoted team supplies a wide range of repair and maintenance services for wood and composite decks alike. We cover everything from in-depth inspections for identifying possible issues, to skilled repairs for weather-related damage and everyday wear, making us your go-to resource for deck maintenance. Our systematic maintenance programs ensure that you can trust your deck to maintain its excellence all year long.
Deck Refinishing and Renewal: Bring Freshness to Your Outdoor Environment
With time, even top-notch decks can exhibit signs of wear or necessitate refinishing in order to keep their aesthetic appeal. Our expert group can recover your deck's beauty with the help of professional cleaning, staining, weatherproofing, and sealing services. Also, we can provide structural modifications, making certain that your deck continues to be safe and practical for many years ahead.
Personalized Attributes and Extras: Improve Your Deck Enjoyment
To elevate your outdoor living space, we offer a range of custom features and add-ons designed to complement your deck. Such choices encompass energy-saving lighting for decks, integrated seating, alfresco kitchens, and fire elements. We merge these features into your deck's overall structure, creating an inviting and pleasant ambiance for you to cherish with family and friends in Miller Place.
Decks Unique specializes in offering clients high-quality deck services in their area and beyond. With two decades of industry experience, we have cultivated a reputation for professionalism, genuineness, and forward thinking. Whether designing a novel deck or enhancing a current one, our proficient team is available for assistance. Contact us today to schedule a no-cost consultation and see how we can elevate your outdoor space into an elegant, functional sanctuary.
Compare Wood and Composite Options to Discover Your Perfect Deck Material
Decks Unique is all about empowering you to create an amazing outdoor utopia within your home. Consequently, we supply various decking materials encompassing both wooden and composite choices. Each material has its unique advantages, ensuring that you can choose the best option for your specific needs and preferences.
Wood Decking Exudes an Everlasting Grace
Wood's timeless versatility makes it an ideal material for adding warmth and charm to outdoor environments. Numerous wood decking choices are available, suiting various tastes and budgetary requirements.
Pressure-Handled Lumber: Budget-friendly and Enduring
Affordability and durability make pressure-treated lumber a favorite choice for numerous homeowners. The decking material benefits from a specific treatment, safeguarding it from rot and insects. Because of this, pressure-treated decks offer enduring performance with low maintenance requirements.
Elegance and Resilience: Cedar and Redwood's Natural Qualities
We also provide cedar and redwood decking for those wanting a more extravagant option. These elegant and premium woods possess natural resistance to decay and pests, guaranteeing a durable deck that matures with elegance. Cedar and redwood decks, showcasing rich coloration and individualistic grain patterns, bring a significant accent to any living space.
Exotic Hardwoods: Beautiful and Durable
If you desire a truly rare and refined option, think of using exotic hardwoods like Ipe, Tigerwood, or Cumaru. These exceptionally dense and robust hardwoods boast impressive durability and a stunning appearance. An exotic hardwood deck's dazzling colors and intricate designs make it a standout centerpiece in any outside space.
Embrace Low-Maintenance Living with the Help of Composite and PVC Decking
In case you're searching for a low-maintenance and eco-centric alternative, give composite and PVC decking some thought. These modern materials unite the wood's aesthetic qualities with the hardiness of synthetics, presenting homeowners with an almost maintenance-free outdoor zone.
Composite Decking: Exploring Its Benefits and Advantages
Composite decking is made from a combination of recycled wood fibers and plastic, offering a highly durable and eco-friendly option. Unaffected by warping, cracking, and fading, the material used for this decking provides a long-lasting and beautiful deck that's easy to maintain. Composite decks also have an advantage in their ease of cleaning, with only sporadic washing needed to keep the outdoor area immaculate.
Key Players in the Composite Materials Market
Decks Unique is pleased to join forces with leading composite decking brands, such as Trex, TimberTech, and Azek. We can supply Miller Place homeowners with high-quality materials for an attractive, long-lasting outdoor environment as authorized installers of these superior products.
Tailor Your Deck through Selecting Color and Texture Varieties
A major selling point of composite decking is its wide customization choice range. With a variety of color and texture choices, you can create a one-of-a-kind outdoor space that perfectly suits your home's aesthetic. No matter if you appreciate the visuals of natural wood or a cutting-edge design, you'll find a composite decking solution that fits.
Revamp Your Deck Using Different Railing and Baluster Combinations
A top-notch deck demands the right railing and baluster system to be truly complete. Decks Unique delivers a wide variety of solutions to boost your deck design and uphold the safety and effectiveness of your outdoor space.
Wood Railing Systems: Traditional and Timeless
If you're after a classic and eternal look, a wood railing system could be the way to go. For a look that complements both wood and composite decking, a wood railing system is an excellent choice, delivering a congruous and refined design. Create a breathtaking finished look by painting or staining your wood railing system to complement your deck or the exterior of your Miller Place home.
Metal and Glass Railing Systems: Innovative and Graceful
If modern sophistication and sleekness catch your eye, metal or glass railing systems might be just the thing. Providing a fresh, up-to-date feel, these options can also boost the visuals enjoyed from your deck, appealing to homeowners who are surrounded by idyllic landscapes.
Composite Railing Systems: Low-Maintenance and Stylish
Composite railing systems provide a great option for those who seek low-maintenance alternatives without sacrificing style and elegance. These robust and appealing railings, when used alongside composite decking, create a harmonious appearance and a gorgeous outdoor area with little maintenance needed.
No matter your design preferences, Decks Unique is on hand to provide guidance in choosing the best decking materials for your home. Communicate with us today to express your needs and start crafting the outdoor haven of your dreams.
Take Your Outdoor Living Space to the Next Level with Our Added Services in Miller Place
Decks Unique is committed to turning your outdoor living area into a lavish and practical extension of your residence. We don't just provide exemplary deck building services; we also have a variety of extra services like wood awnings, cabanas, gazebos, pergolas, and porch construction. In Miller Place, our expert professionals collaborate with you to realize your dream while maintaining exceptional quality and durability.
Wooden Awnings: Combine Style and Shade in Your Outdoor Space
The use of wood awnings can impart both shade and refinement to your outdoor zone. At Decks Unique, our adept team will support you in selecting the correct design and materials to build a stunning and effective wood awning that complements your home's appearance. These setups not only offer defense against tough weather conditions but also augment the overall market value of your property.
Cabanas: Develop a Posh Hideaway in Your Miller Place Outdoor Area
Cabanas boast a unique mix of lavishness, relaxation, and privacy, making them an attractive addition to any outside environment. Together with our expert team, you'll design and build a tailor-made cabana that perfectly suits your requirements and taste. Be it a warm, inviting spot for rest or a refined space for social engagements, we can build a cabana that becomes your dream outdoor getaway.
Gazebos: A Stunning Complement to Your Garden or Patio Space
A gazebo brings lasting appeal to gardens or patios, creating an inviting central attraction and a shaded space for outdoor downtime. Our accomplished team makes it easy for you to choose the most suitable style, materials, and location for your gazebo, ensuring that it merges seamlessly with your existing outdoor area. Relying on our precision craftsmanship, we present a magnificent gazebo that adds to the charm of your outdoor environment for the long run.
Pergolas: Boost Your Outdoor Environment's Appeal and Functionality with Architectural Flair
A great way to boost architectural allure and functionality in your outdoor living area is by installing a pergola. These structures provide partial shade while still allowing natural light to filter through, making them perfect for garden walkways, patios, or outdoor dining areas. Our adept professionals at Decks Unique are here to design and construct a custom-built pergola that suits your preferences, adding value to your living space.
Porch Assembly: Augment Your Home's Curb Appeal and Outdoor Living Space
A skillfully designed porch not only boosts your home's curb appeal but also gives a welcoming outdoor living space for you and your family to savor. Our experienced team will team up with you to establish a bespoke porch that matches your home's architecture and caters to your functional necessities. With our attention to detail and commitment to quality, you can rest assured knowing your porch construction project is in good hands.
Reach out to Decks Unique to transform your Miller Place outdoor living space
Decks Unique is devoted to providing high-caliber, customized outdoor living possibilities to those in Miller Place and nearby locations. Our knowledgeable team is eager to assist if you're considering adding a wood awning, cabana, gazebo, pergola, or porch to your outdoor area. Let's chat about your project today, and we'll reveal how we can change your outdoor living space into a luxurious and practical component of your home.
Specialist Deck Consultation and Design Services in Miller Place
At Decks Unique, we pride ourselves on offering personalized consultation and custom deck designs to fit the individual needs of our clients. Our highly skilled deck designers, with over two decades of experience, will work intimately with you to build a deck that enhances your home's visual allure and features. We'll employ top-tier 3D modeling and visualization strategies to turn your dream deck into a reality, guaranteeing that the resulting product lives up to your anticipations.
Premium Deck Construction Materials for Extended Durability
Long Island's foremost deck builder, Decks Unique, is an officially recognized installer of major composite deck materials, including brands like Trex, TimberTech, and Azek. We also present an array of wooden decking alternatives to accommodate your preferences, like pressure-treated timber, cedarwood, redwood, and rare hardwoods. We are committed to using only superior materials, ensuring the durability of your new deck while keeping maintenance requirements minimal.
Professional Deck Construction Services in Miller Place
Our adept deck construction personnel at Decks Unique are passionate about maintaining top-of-the-line workmanship and efficiency in the entire building process. With our exceptional understanding of building codes, requirements, and permits, you can count on us to navigate the entire project from its inception to culmination, leaving you with a stunning and functional outdoor living space.
Retain and Rehabilitate Your Deck's Elegance
Decks Unique is well aware of the value of routine maintenance in sustaining both the visual allure and durability of your deck. Our knowledgeable team can evaluate and detect any damage or potential risks, undertaking necessary repairs to retain your deck in the best possible condition. Furthermore, we provide deck restoration and refinishing services, which cover cleaning, staining, weatherproofing, and sealing to safeguard and improve your deck's looks.
Augment Your Alfresco Space with Customized Enhancements and Features
In order to transform your deck into a distinctive outdoor haven, Decks Unique provides an array of personalized options and extras like deck illumination, integrated seating, open-air cooking areas, and fire elements. These additions not only improve operation but also generate a soothing and receptive environment for your enjoyment and your guests.
Wide-Ranging Decking Services and Extra Offerings
Beyond our expertise in deck design and construction, Decks Unique also specializes in additional outdoor structures such as wood awnings, cabanas, gazebos, pergolas, and porch construction. These additions can greatly improve your Long Island residence's outdoor area, turning it into an ideal spot for unwinding and entertaining guests.
Decks Unique is here to help with your Miller Place decking needs. Experience the difference that our commitment to quality, professionalism, and customer satisfaction brings to your outdoor living space. Message us today to plan a free meetup, and let us make your backyard into a stunning display.
Taking great pleasure in assisting Miller Place, Massapequa Park, Lindenhurst, Huntington Station, Greenvale, Floral Park, East Northport and other Long Island districts.
Offering Long Island Quality Deck Designs and Services: