Experience Decks Unique - The Premier Deck Building Service in Great Neck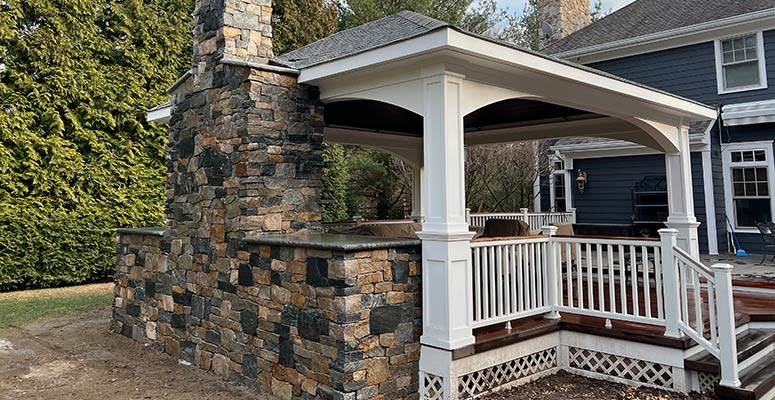 Decks Unique, a family-owned and operated custom deck design and construction business, has catered to the residents of Long Island and nearby areas, like Great Neck, for more than 20 years. Decks Unique's dedication to design, professionalism, integrity, and innovation has elevated us to become the leading producer of high-quality decks in Long Island, defining industry standards. We're experts in designing and building custom decks, porches, gazebos, pergolas, timber awnings, and other outdoor features that enhance the value, beauty, and functionality of your home in Long Island.
Great Neck's Expert and Experienced Deck Builders
At Decks Unique, we believe that a well-thought-out deck design is a wise investment when considering home improvement. Our knowledgeable assembly of expert deck builders is determined to ensure top-quality outcomes, preserve efficiency in production, and ascertain that our warranties hold significant enduring value. Our steadfast pursuit of excellence has culminated in numerous pleased clients and deck constructions they are proud to exhibit for many years down the line.
All major composite decking products, such as Trex, TimberTech, and Azek, can be installed by our experienced Long Island deck construction teams. Our services include no-cost home consultations and computer-generated deck designs, allowing you to see your project before it's brought to life. Let your backyard be the canvas for our next masterpiece!
Upgrade Your Home and Its Value with a Custom-Designed Deck
Besides improving the exterior living area of your Great Neck residence, an exceptional deck can also drive up property value. We, at Decks Unique, focus on the development and creation of bespoke decks that address the specific requirements and tastes of each client. Be it a snug spot to accommodate get-togethers or an opulent open-air retreat to bask in lovely weather, our crew will work hand-in-hand with you to materialize your aspirations.
We comprehend that every homeowner has their own unique style and needs when it comes to their outdoor space. To accommodate these diverse preferences, we supply a wide array of materials, styles, and attributes for crafting the ideal deck to harmonize with your home and way of life. We have suitable solutions for every budget and preference, including traditional wood types like pressure-treated lumber, cedar, and redwood, as well as low-maintenance composite and PVC decking.
Unmatched Dedication to Excellence and Client Contentment
At Decks Unique, excellent workmanship and gratified clients are what we focus on. To ensure that all our projects are up to the highest standards, we are devoted to using only top-quality materials and hiring expert builders with a wealth of experience.
To us, seamless communication is the backbone of successful projects, and we work diligently to ensure our clients are always in the know. Starting with the initial consultation and design phase, continuing through construction, and finishing with the final inspection - our team is dedicated to answering questions, easing worries, and ensuring you're overjoyed with your new deck.
Give Decks Unique the chance to modify your Great Neck backyard into a cozy outdoor living space you'll love. Don't hesitate to contact us today for a free consultation and to witness the Decks Unique experience.
All-inclusive Decking Solutions in Great Neck
At Decks Unique, we pride ourselves on offering a wide range of decking services tailored to meet the needs of our clients in Great Neck. Our proficiency extends from designing and constructing tailor-made decks to managing repairs, maintenance, and refinishing tasks. We further supply a range of special features and add-ons designed to elevate your outdoor living quality. Let's delve deeper into the services we have available.
Custom Deck Design: Bringing Your Dream Deck to Life
Our masterful deck designers will work in conjunction with you to construct a made-to-order deck that reflects your individual panache, harmonizes with your home, and caters to the distinct prerequisites of your property. In order to assist you in making knowledgeable choices, our specialists will walk you through the process of selecting materials, guaranteeing lasting attractiveness and resilience.
Top-Notch Deck Construction: High-Quality Craftsmanship for a Beautiful Outdoor Living Space
As the preeminent deck builder, our commitment is to use solely premium materials and execute safe, effective workmanship. Our skilled personnel are licensed installers of prominent composite deck products, like Trex, TimberTech, and Azek. By paying attention to every detail and maintaining a focus on structural reliability, we secure that your deck not only looks remarkable but also endures the test of time.
Deck Care and Repairs: Keeping Your Investment Secure
Regular care is important for preserving both the beauty and functionality of your deck. For wood and composite decks, our diligent team offers complete maintenance and repair solutions. We cover everything from in-depth inspections for identifying possible issues, to skilled repairs for weather-related damage and everyday wear, making us your go-to resource for deck maintenance. With our regular maintenance schedules, you can relax, confident that your deck will be well-maintained and preserved year-round.
Deck Refinishing and Renewal: Bring Freshness to Your Outdoor Environment
Over time, even the highest quality decks may show signs of wear or require refinishing to maintain their appearance. Our knowledgeable team can recuperate your deck's attractiveness by utilizing expert cleaning, staining, weatherproofing, and sealing techniques. We can also effectuate structural refinements, thereby ensuring your deck remains protected and functional for years.
Bespoke Features and Additions: Boost Your Deck Experiences
To refine your outdoor living space, we offer a collection of custom-fitted elements and added features conceived to elevate your deck. These options include energy-efficient deck lighting, built-in seating, outdoor kitchens, and fire features. Embedding these particulars into your deck configuration, we help form a friendly and cozy atmosphere for you to treasure with your dear ones in Great Neck.
Expertise in delivering prime decking services to clients and surrounding locations sets Decks Unique apart. Boasting over 20 years of experience, we are known for our professionalism, trustworthiness, and innovative approach. Our adept team is eager to assist you with designing a brand-new deck or revamping your old one. Book a free consultation with us today, and find out how we can revamp your outdoor space into a stunning and functional retreat.
Uncover the Ideal Deck Material for You: Comparing Wood and Composite Options
At Decks Unique, we are committed to helping you create the perfect outdoor oasis for your home. For this purpose, we deliver a wide range of decking materials that include wooden and composite solutions. Each decking material possesses its advantages, which allows you to select the most suitable option for your particular necessity and preference.
Embrace the Timeless Beauty of Wooden Decks
With a classic, versatile nature, wood gives an organic warmth and stylish appeal to open-air spaces. We have an extensive range of wood deck choices designed to address every aesthetic and budget.
Pressure-Treated Wood: Cost-effective and Long-lasting
Pressure-treated lumber is a popular choice for many homeowners due to its affordability and durability. This decking material receives a distinctive treatment, making it resistant to rotting and insect infestations. Pressure-treated decks, as a consequence, stand the test of time and demand little maintenance.
High-End and Resilient Cedar and Redwood: A Natural Concoction
We also provide cedar and redwood decking for those wanting a more extravagant option. These attractive and upscale woods have innate resistance to rot and infestation, resulting in a long-lasting deck that weathers beautifully. Cedar and redwood decks, adorned with intense colors and characteristic grain appearances, deliver an awe-inspiring aspect to any house.
Exotic Hardwoods: Attractive and Sturdy
For those in search of a genuinely distinctive and splendid option, ponder over selecting exotic hardwoods like Ipe, Tigerwood, or Cumaru. These uncommonly sturdy and enduring woods are well known for their amazing long-lasting qualities and gorgeous appearance. With vivid colors and detailed patterns, exotic hardwood decks provide a striking focal point for outdoor spaces.
Experience Low-Maintenance Living through Composite and PVC Decking
For anyone interested in an eco-friendly and easy-to-maintain alternative, explore composite and PVC decking. These pioneering materials blend the allure of wood with the toughness of man-made substances, affording homeowners a near maintenance-free al fresco space.
Advantageous Features and Benefits of Composite Decking
Made from recycled wood fibers and plastic, composite decking is a strong and environmentally friendly preference. This decking option can withstand warping, cracking, and fading, leading to a beautiful and resilient deck that requires little care. Composite decks also have an advantage in their ease of cleaning, with only sporadic washing needed to keep the outdoor area immaculate.
A Look at Industry-Leading Composite Materials Brands
Decks Unique takes pride in collaborating with top-tier composite decking brands like Trex, TimberTech, and Azek. We can supply Great Neck homeowners with high-quality materials for an attractive, long-lasting outdoor environment as authorized installers of these superior products.
Design Your Deck with a Variety of Color and Texture Possibilities
A major selling point of composite decking is its wide customization choice range. You can put together a custom outdoor setting that reflects your home's aesthetics with the diverse color and texture options available. Your preference for natural wood visuals or a more state-of-the-art design can both be met with a composite decking option.
Elevate Your Deck with a Variety of Railing and Baluster Options
An impeccable deck isn't finished without the suitable railing and baluster system. Decks Unique presents a broad array of possibilities to enrich your deck's design and guarantee the safety and efficiency of your outdoor space.
Wood Railing Solutions: Ageless and Time-honored
For a look that is both elegant and long-lasting, consider incorporating a wood railing system. Wood railing systems can be used with both wooden and composite decking for a well-coordinated and seamless design. A remarkable final appearance can be achieved by painting or staining a wood railing system to correspond with your deck or the exterior of your Great Neck home.
Metal and Glass Railing Systems: Sophisticated and Well-defined
Desiring a more current and polished appearance, you might want to look into metal or glass railing systems. Metal and glass railing systems not only embody a fresh and modern charm, but they also heighten the visual experience from your deck - a popular choice for those blessed with stunning environments.
Composite Railing Systems: Minimal Upkeep and Fashionable
If you're looking for an elegant option with minimal upkeep, composite railing systems are a superb choice. When combined with composite decking, these rugged and elegant railings contribute to a seamless appearance, crafting a striking outdoor sanctuary with minimal required maintenance.
No matter your design preferences, Decks Unique is on hand to provide guidance in choosing the best decking materials for your home. Connect with us today to explore your desires and kick off the design of the outdoor oasis you have always wanted.
Upgrade Your Outdoor Living Environment with Our Extra Services in Great Neck
Decks Unique strives to change your outdoor living space into a lavish and efficient extension of your home. In addition to our outstanding deck construction services, we also provide a range of supplementary services like wooden awnings, cabanas, gazebos, pergolas, and building porches. Our talented experts in Great Neck partner with you to create your desired outdoor space, ensuring the utmost quality and lasting durability.
Wooden Awnings: Combine Style and Shade in Your Outdoor Space
Through wood awnings, you can effortlessly introduce both shade and grace to your exterior area. Our experienced team at Decks Unique will help you choose the right design and materials to create a beautiful and functional wood awning that complements your home's aesthetic. These installations not only safeguard you from harsh weather but also contribute to the overall appreciation of your property's value.
Cabanas: Design a Lavish Getaway in Your Great Neck Garden
With a remarkable marriage of luxury, ease, and privacy, cabanas make for an outstanding complement to any outdoor space. We'll have our team of specialists work closely with you to create and build a custom-made cabana in line with your specific requirements and inclinations. Whether it's a homely corner for winding down or a polished space for hosting visitors, we can conjure up a cabana that stands as your flawless exterior retreat.
Gazebos: A Dreamy Addition to Your Garden or Patio Area
A lasting gazebo makes any garden or patio more appealing, presenting an attractive central feature and a shaded retreat for outdoor recreation. The experienced team at Decks Unique will help you identify the perfect style, materials, and positioning for your gazebo, so it blends seamlessly with your existing landscape. With our expert craftsmanship, you can enjoy a stunning gazebo that enhances the beauty of your outdoor space for years to come.
Pergolas: Upgrade Your Exterior Area by Adding Architectural Intrigue and Purpose
Pergolas are an excellent way to add architectural interest and functionality to your outdoor living space. The design of these structures allows for a combination of shade and sunlight, which makes them perfect for garden trails, patio spaces, and open-air eating areas. Let Decks Unique's knowledgeable professionals plan and build a customized pergola to match your style, and in doing so, increase your home's value.
Porch Creation: Boost Your Home's Curb Appeal and Outdoor Living Space
A tastefully designed porch not only enriches your home's curb appeal but also bestows a cozy alfresco living area for you and your family to enjoy. Our knowledgeable team will partner with you to build a personalized porch that fits your home's architectural theme and adheres to your functional demands. With our comprehensive attention to even the smallest detail and steadfast pledge to premium quality, you can breathe easy knowing your porch assembly project is in proficient hands.
Contact Decks Unique for Your Great Neck Outdoor Living Space Transformation
Decks Unique is devoted to providing high-caliber, customized outdoor living possibilities to those in Great Neck and nearby locations. Should you desire to add a wood awning, cabana, gazebo, pergola, or porch to your outdoor living environment, our adept team is here for support. Reach out to us today to talk about your project and find out how we can turn your outdoor living space into an opulent and functional addition to your home.
Great Neck's Expert Deck Design and Consultation
We, at Decks Unique, pride ourselves on delivering custom-tailored consultation and deck designs to suit the individual preferences of our clients. Our seasoned deck designers, with over 20 years in the field, will partner with you to develop a deck that improves both your home's appearance and functionality. Through the use of progressive 3D modeling and visualization practices, we'll breathe life into your dream deck, ensuring the end product surpasses your expectations.
First-Rate Deck Materials for Maximum Strength
As the premier deck builder on Long Island, Decks Unique is an authorized installer of popular composite deck products like Trex, TimberTech, and Azek. We also propose a diverse set of wood decking choices to meet your specific preferences, such as pressure-treated building materials, cedar, redwood, and upscale hardwoods. Our promise to use only top-of-the-line materials ensures your new deck's durability with the added benefit of low maintenance.
First-Rate Deck Building Services in Great Neck
The competent deck construction crew at Decks Unique is committed to providing first-rate craftsmanship and efficiency across the entire building process. Given our vast knowledge of building codes, regulations, and permits, you can trust us to execute the full project from start to finish, creating a beautiful and efficient outdoor living area.
Hold and Re-establish Your Deck's Gorgeousness
The team at Decks Unique knows that consistent care is essential for maintaining the appearance and structural soundness of your deck. Our experienced team can inspect and identify any damages or potential issues, providing necessary repairs to keep your deck in top condition. Besides, we make available deck refinishing and restoration conveniences, like cleaning, staining, defending against harsh weather, and sealing techniques to uphold and heighten your deck's aesthetic value.
Upgrade Your Outdoor Area with Custom Features and Add-ons
To actually turn your deck into a remarkable outside getaway, Decks Unique offers numerous customized details and enhancements like decking illumination, seating built into the structure, kitchens suited for the exterior, and accents centered around fire. These augmentations not only amplify effectiveness, but they also cultivate a friendly and cozy aura for you and your company to enjoy.
Thorough Decking Services and More
Decks Unique not only excels in deck designing and construction but also focuses on additional outdoor structures, including wooden awnings, cabanas, gazebos, pergolas, and porch construction. These extra structures will considerably enrich your Long Island home's outdoor area, providing the perfect space for both relaxation and entertainment.
Rely on Decks Unique for all of your decking demands in Great Neck. See how our commitment to excellence, professionalism, and customer satisfaction enhances your outdoor space. Get in touch right away to arrange a free consultation and let us transform your backyard into an impressive work.
Eager to accommodate the residents of Great Neck, Floral Park, East Northport, Commack, Babylon, Valley Stream, South Farmingdale, and other Long Island territories.
Offering Long Island Quality Deck Designs and Services: