Welcome to Decks Unique - Holtsville's Premier Deck Builder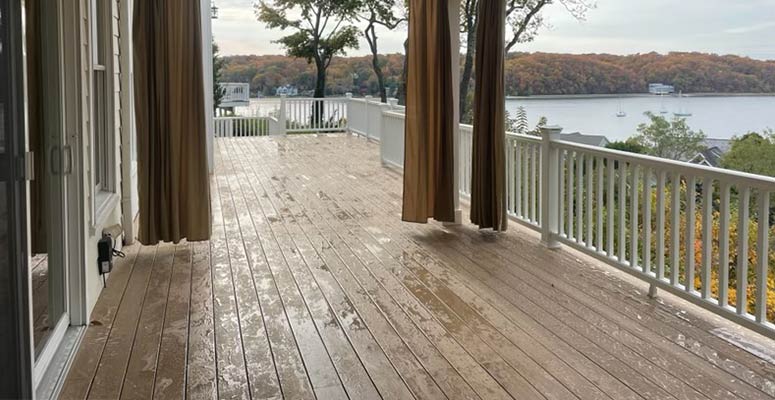 Decks Unique, a family-run business specializing in custom deck design and construction, has been serving the Long Island community and surrounding regions, including Holtsville, for more than two decades. Our fervor for design, coupled with a strong commitment to professionalism, integrity, and innovation, has positioned us as the foremost manufacturer of high-caliber decks in Long Island, raising the bar for the sector. We specialize in designing and building custom decks, porches, gazebos, pergolas, wood awnings, and other outdoor structures that add value, beauty, and functionality to your Long Island home.
Highly Skilled and Experienced Deck Construction Services in Holtsville
At Decks Unique, our perspective is that a well-crafted deck layout is an intelligent decision when looking at home upgrades. Decks Unique's highly trained team of deck builders pledges to deliver the highest quality, keep up with effective production timeframes, and guarantee that our warranties possess genuine lasting value. Our devotion to superior standards has led to innumerable content clients and decks they can happily display for the foreseeable future.
Long Island-based deck building crews have authorization to use all major composite deck products, including Trex, TimberTech, and Azek. We present free home evaluations and computerized decking layouts to enable you to picture your project before it becomes reality. Permit us to create an amazing transformation in your backyard for our next project!
Add Value to Your Home with a Custom Deck
The addition of a fantastic deck not only expands your Holtsville home's outdoor living space but also amplifies its market value. Decks Unique specializes in the planning and building of tailor-made decks that satisfy each of our clients' distinctive needs and inclinations. Be it a snug spot to accommodate get-togethers or an opulent open-air retreat to bask in lovely weather, our crew will work hand-in-hand with you to materialize your aspirations.
In regards to outdoor areas, we understand that each homeowner has unique tastes and requirements. This is the basis for our extensive variety of materials, styles, and elements to establish the flawless deck that lines up with your home and lifestyle. We present solutions to suit any budget and preference, ranging from classic wood options like pressure-treated lumber, cedar, and redwood, to the maintenance-free world of composite and PVC decking.
Incomparable Devotion to High Quality and Customer Fulfillment
Decks Unique's commitment to first-class workmanship and customer happiness is unwavering. Focusing on the employment of top-notch materials and the engagement of experienced, adept builders allows us to complete each project to the highest standards.
We're firm believers that strong communication is a major factor in a project's success, and we go above and beyond to maintain clear lines of communication with our clients. Starting with the initial consultation, through the design and construction phases, all the way to the final inspection, our team remains accessible to answer any questions, alleviate concerns, and guarantee complete satisfaction with your new deck.
Allow Decks Unique to create a beautiful outdoor living area in your Holtsville backyard. Get ahold of us today to schedule an obligation-free consultation and explore the Decks Unique benefits.
All-inclusive Decking Solutions in Holtsville
We at Decks Unique are proud to offer a broad selection of decking services, designed to address the specific needs of our customers in Holtsville. At Decks Unique, we excel in everything from creating custom deck designs and constructions to carrying out repairs, maintenance, and refinishing. Moreover, Decks Unique furnishes an array of distinctive options and add-ons to enrich your outdoor living environment. Allow us to provide you with a more in-depth overview of our services.
Custom Deck Design: Turning Your Visionary Deck into Reality
Our exceptional deck designers will work side-by-side with you to fashion a tailor-made deck that conveys your personal touch, perfectly matches your home, and handles the unique expectations of your property. Our professionals are here to support you in making educated judgments by guiding you through the material selection process, ensuring the enduring appeal and robustness of your deck.
Expert Deck Assembly: Fine Craftsmanship for an Attractive External Space
Being the top deck builder, we are dedicated to utilizing only the best materials and ensuring the safety and efficiency of our workmanship. Our experienced crews are authorized installers of major composite deck products, such as Trex, TimberTech, and Azek. With rigorous attention to detail and a commitment to structural robustness, we confirm that your deck is not only striking but also stands firm for years to come.
Keeping Your Deck in Tip-Top Shape: Defending Your Investment
Regular upkeep is vital for maintaining your deck's aesthetics and functionality. Our devoted team supplies a wide range of repair and maintenance services for wood and composite decks alike. From detailed assessments to detect possible problems, to expert damage repairs due to weather or wear, we're the one-stop-shop for all of your deck maintenance requirements. With our regular maintenance schedules, you can relax, confident that your deck will be well-maintained and preserved year-round.
Deck Refinishing and Restoration: Revive Your Outdoor Living Area
With the passage of time, even first-rate decks might show evidence of wear or need refinishing in order to continue looking great. Our knowledgeable team can recuperate your deck's attractiveness by utilizing expert cleaning, staining, weatherproofing, and sealing techniques. Besides, we can execute structural adjustments, assuring that your deck maintains its safety and functionality in the years to come.
Customized Elements and Added Components: Elevate Your Deck Pleasures
To upgrade your outdoor living space, we present a variety of custom-made elements and additional options meant to enrich your deck. These possibilities entail energy-sparing deck lights, incorporated seating, outdoor cooking spaces, and fiery aspects. Through integrating these attributes into your deck plan, we'll establish a congenial and snug environment for you and your companions in Holtsville.
Decks Unique focuses on offering unparalleled decking assistance to customers and areas close by. For more than 20 years, our experience has earned us a reputation for being professional, honest, and groundbreaking. Our adept team is eager to assist you with designing a brand-new deck or revamping your old one. Arrange a no-obligation consultation with us today, and learn how we can help turn your outside area into an amazing, functional hideaway.
Discover Your Perfect Deck Material: Wood and Composite Options
Decks Unique is all about empowering you to create an amazing outdoor utopia within your home. That's the advantage of our extensive choice of decking materials, including both wood composite variants. Each of the materials has its own merits, helping you to decide on the top option that matches your distinct demands and inclinations.
Wood Decking Exudes an Everlasting Grace
Wooden materials possess a lasting, adaptable nature that grants a sense of comfort and allure to any outdoor setting. We present a wide assortment of wood deck options, ensuring compatibility with any style and budget.
Treated Wood: Budget-conscious and Long-lasting
A significant number of homeowners find pressure-treated lumber appealing for its inexpensive and durable aspects. A certain treatment process ensures this decking material remains resistant to rot and insect infiltrations. Because of this, pressure-treated decks offer enduring performance with low maintenance requirements.
High-End and Resilient Cedar and Redwood: A Natural Concoction
We also provide cedar and redwood decking for those wanting a more extravagant option. These attractive and upscale woods have innate resistance to rot and infestation, resulting in a long-lasting deck that weathers beautifully. Cedar and redwood decks, adorned with intense colors and characteristic grain appearances, deliver an awe-inspiring aspect to any house.
Exotic Hardwoods: Strikingly Attractive and Durable
To find an extraordinary and outstanding option, contemplate using exotic hardwoods like Ipe, Tigerwood, or Cumaru. These dense and hard-wearing woods are famous for their amazing durability and striking visual appeal. Exotic hardwood decks, known for their brilliant colors and involved patterns, act as show-stopping centerpieces in all outdoor spaces.
Pursue a Low-Maintenance Lifestyle with Composite and PVC Decking Options
Should you desire an environmentally-friendly and low-maintenance option, look into composite and PVC decking. These state-of-the-art materials join the attractiveness of wood with the resilience of synthetics, supplying homeowners with an outdoor space that requires minimal maintenance.
Understanding the Benefits and Advantages of Composite Decking
By combining recycled wood fibers and plastic materials, composite decking offers a durable and eco-friendly option. This type of decking material is impervious to issues like warping, cracking, and color loss, guaranteeing a stunning and durable deck that needs little attention. Composite decks also have an advantage in their ease of cleaning, with only sporadic washing needed to keep the outdoor area immaculate.
Leading Brands in the Field of Composite Materials
Working with industry-leading composite decking brands such as Trex, TimberTech, and Azek is a source of pride for Decks Unique. We can deliver the best quality materials for an attractive and long-lasting outdoor space to Holtsville homeowners, as we are authorized installers of these first-rate products.
Tailor Your Deck through Selecting Color and Texture Varieties
The extensive array of personalization options is a crucial benefit of composite decking. Various color and texture options enable you to establish an exceptional outdoor environment that fits your home's aesthetics. Your preference for natural wood visuals or a more state-of-the-art design can both be met with a composite decking option.
Amplify Your Deck's Look with Railing and Baluster Additions
An ideal deck requires the appropriate railing and baluster system to be complete. Decks Unique delivers a wide variety of solutions to boost your deck design and uphold the safety and effectiveness of your outdoor space.
Wood Railing Solutions: Ageless and Time-honored
For a classic and timeless look, consider a wood railing system. Seamlessly blending with both wood and composite decks, a wood railing system offers a clean and unified design. For a striking finale, customize your wood railing system by painting or staining it to match your deck or the exterior of your Holtsville home.
Metal and Glass Railing Systems: Up-to-date and Polished
When a refined and modern vibe is what you're after, metal or glass railing systems may be perfect for you. These railing systems bring a current flair while enhancing the panorama from your deck, which is highly appreciated by property owners with beautiful surroundings.
Composite Railing Systems: Minimal Upkeep and Fashionable
Composite railing systems present an exceptional option for those who want style and elegance without the hassle of constant maintenance. Featuring both durability and charm, these railings, when paired with composite decking, establish an attractive and consistent look, ultimately constructing a beautiful outdoor living area requiring limited upkeep.
No matter your style preferences, Decks Unique is prepared to support you in determining the perfect decking materials for your domicile. Communicate with us today to express your needs and start crafting the outdoor haven of your dreams.
Boost Your Outdoor Living Space with Our Additional Services in Holtsville
Decks Unique aims to turn your outdoor living space into a charming and functional extension of your dwelling. We don't just provide exemplary deck building services; we also have a variety of extra services like wood awnings, cabanas, gazebos, pergolas, and porch construction. Our proficient specialists in Holtsville closely cooperate with you to materialize your vision, ensuring high quality and long-lasting durability.
Wooden Awnings: Infuse Style and Shade into Your Outdoor Space
Wood awnings are a perfect way to add both shade and elegance to your outdoor area. The experienced specialists at Decks Unique will aid you in choosing the ideal design and materials for creating a charming and efficient wood awning that matches your home's visual appeal. Such structures offer protection from inclement weather while simultaneously increasing your property's overall value.
Cabanas: Set up a Deluxe Oasis in Your Holtsville Backyard
Cabanas boast a unique mix of lavishness, relaxation, and privacy, making them an attractive addition to any outside environment. Our experienced team will work alongside you to plan and erect a unique cabana that caters to your distinct needs and preferences. Whether you need a soothing oasis for leisure or a fashionable area for entertaining guests, we shall produce a cabana that acts as the consummate outdoor refuge.
Gazebos: A Beautiful Addition for Your Outdoor Garden or Patio
Adding a gazebo to a garden or patio creates an ageless charm, providing a striking focal point, and a covered spot for outdoor relaxation. With our skilled team's guidance, you'll select the right style, materials, and site for your gazebo, ensuring harmonious integration with your existing surroundings. Our top-notch craftsmanship ensures an impressive gazebo that enriches your outdoor area and brings joy for numerous years.
Pergolas: Add Architectural Interest and Functionality to Your Outdoor Area
Pergolas offer a brilliant solution for infusing architectural style and practical purposes into your outdoor environment. Such structures offer a mix of shade and natural light, making them ideal for garden paths, terrace areas, or al fresco dining spots. At Decks Unique, our qualified experts are capable of designing and constructing a personalized pergola that fits your aesthetic desires and adds worth to your residence.
Porch Creation: Boost Your Home's Curb Appeal and Outdoor Living Space
A thoughtfully designed porch not only elevates your home's curb appeal but also supplies a pleasant outdoor living area for you and your family to appreciate. Our professional team will collaborate with you to develop a tailor-made porch that harmonizes with your home's architectural style and fulfills your practical requirements. With our scrupulous focus on detail and loyalty to top-notch quality, you can relax knowing that your porch construction venture is in adept hands.
Get in contact with Decks Unique for your Holtsville outdoor living space renovation
We pride ourselves on bringing top-quality, tailored outdoor living solutions to our customers in Holtsville and the neighboring regions at Decks Unique. Should you desire to add a wood awning, cabana, gazebo, pergola, or porch to your outdoor living environment, our adept team is here for support. Reach out to us today to talk about your project and find out how we can turn your outdoor living space into an opulent and functional addition to your home.
Skillful Deck Design and Consultation Services in Holtsville
At Decks Unique, we take great pride in providing customized consultations and tailor-made deck designs to cater to the specific requirements of our customers. With over 20 years of experience, our professional deck designers will work closely with you to create a deck that enhances your home's aesthetics and functionalities. Leveraging the latest 3D modeling and visualization processes, we'll actualize your dream deck and ensure the completed product is in line with your desired expectations.
First-Rate Deck Materials for Maximum Strength
Decks Unique, the preeminent deck builder on Long Island, is authorized to install all renowned composite decking products, featuring brands like Trex, TimberTech, and Azek. We also furnish an assortment of wooden decking options to match your likings, including pressure-treated planks, cedar, redwood, and high-quality hardwoods. We are committed to using only superior materials, ensuring the durability of your new deck while keeping maintenance requirements minimal.
First-Rate Deck Building Services in Holtsville
Our team of skilled deck builders at Decks Unique is focused on providing high-quality craftsmanship and effective execution during the whole construction journey. Armed with our extensive understanding of building codes, rules, and permits, you can rely on us to manage the whole project from beginning to end, resulting in a breathtaking and practical outdoor space.
Uphold and Revamp Your Deck's Charm
The team at Decks Unique knows that consistent care is essential for maintaining the appearance and structural soundness of your deck. Our seasoned team can conduct inspections and find any damages or potential problems, performing essential repairs to maintain your deck's prime state. Apart from that, we deliver deck refinishing and refurbishment services, including cleaning, staining, weather-resistant treatments, and sealing to preserve and augment your deck's attractiveness.
Transform Your Outside Space with Personalized Additions and Features
To honestly create a one-of-a-kind backyard sanctuary with your deck, Decks Unique makes available a selection of bespoke aspects and supplements, encompassing deck light systems, incorporated chairs, outdoor culinary spaces, and fire-based amenities. These modifications not only enhance the function, but they also shape a hospitable and relaxed atmosphere for you and your attendees to delight in.
Extensive Decking Solutions and Supplementary Services
Decks Unique is well-versed in both deck design and construction as well as additional outdoor structures like wood awnings, cabanas, gazebos, pergolas, and porch construction. These outdoor structures can elevate your Long Island property's outdoor appeal, making it a prime location for enjoying downtime and entertaining guests.
Entrust all your Holtsville decking needs to Decks Unique. Discover the impact our dedication to quality, professionalism, and customer satisfaction has on your outdoor area. Contact us today to book a free assessment and let us change your backyard into an astonishing piece of art.
Proudly serving Holtsville, Greenlawn, Floral Park, East Northport, Commack, Albertson, Valley Stream and other Long Island communities.
Offering Long Island Quality Deck Designs and Services: