Welcome to Decks Unique - Levittown's Premier Deck Builder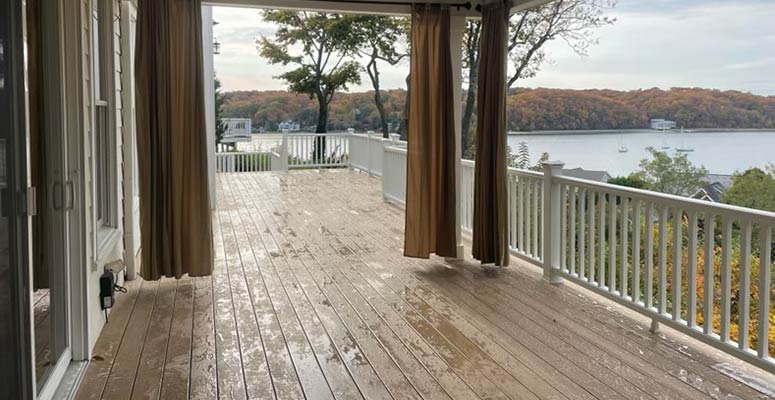 As a family-owned and operated business for over 20 years, Decks Unique has provided custom deck design and construction services to the people of Long Island and neighboring regions, such as Levittown. Driven by our passion for design and a strong commitment to professionalism, honesty, and innovation, we have become the leading producer of top-quality decks in Long Island, setting the standards for our industry. At Decks Unique, we excel in constructing custom decks, porches, gazebos, pergolas, wood awnings, and additional outdoor structures that augment the aesthetics, worth, and functionality of your Long Island property.
Levittown's Expert and Experienced Deck Builders
The belief at Decks Unique is that a well planned deck configuration presents a shrewd investment for upgrading one's home. The Decks Unique team of experienced deck builders is committed to providing top-notch quality, keeping effective production timelines, and ensuring that our warranties offer enduring value. Our steadfast pursuit of excellence has culminated in numerous pleased clients and deck constructions they are proud to exhibit for many years down the line.
Our Long Island decking crews are accredited to fit all primary composite deck options, such as Trex, TimberTech, and Azek. We extend free residential consultations and digitally-crafted deck layouts for you to preview your project before it gets underway. Let's tackle your backyard as our next challenge!
Improve Your Dwelling's Value by Constructing a Custom Deck
Not only does an excellent deck boost your Levittown home's outdoor living area, but it also raises the overall property value. Decks Unique is specialized in crafting and assembling personalized decks that fulfill the requirements and appeals of our diverse clientele. Be it a homely location for entertaining your friends and family or a luxurious outdoor idyll to luxuriate in attractive weather, our team will join forces with you to make your ideal haven a reality.
Each homeowner has specific desires and requirements for their outdoor settings, which we acknowledge. We supply a wide scope of materials, styles, and facets to build the superb deck that goes well with your dwelling and lifestyle. Whether you prefer classic wood choices like pressure-treated lumber, cedar, and redwood, or easy-care composite and PVC decking options, we have the perfect solution for every budget and style.
Unrivaled Persistence in Upholding Quality and Ensuring Customer Delight
Providing exceptional workmanship and keeping our clients satisfied is our top priority at Decks Unique. Utilizing premium materials and employing accomplished builders allows us to uphold the highest standards in every project we handle.
The crux of a project's success, in our opinion, is effective communication; as such, we prioritize keeping our clients constantly informed. From the initial consultation and design process through construction and final inspection, our team is always available to answer questions, address concerns, and ensure that you are completely satisfied with your new deck.
Let Decks Unique transform your Levittown backyard into an outdoor living space you'll love. Connect with us today to book a free consultation and find out what sets Decks Unique apart.
Comprehensive Decking Services in Levittown
A vast array of personalized decking services are available at Decks Unique, aimed at fulfilling the requirements of our clients in Levittown. Our expertise covers everything from custom deck design and construction to repair, maintenance, and refinishing. We also offer a variety of exclusive features and extras designed to upgrade and enhance your outdoor living space. Let's take a closer look at the services we offer.
Custom Deck Design: Developing Your Picture-Perfect Dream Deck
Our adept deck designers will cooperate with you to create a personalized deck that expresses your distinctive style, accents your home, and accommodates the particular requirements of your property. To help you make informed decisions, our experts will also guide you through material selection, ensuring long-lasting beauty and durability.
Top-Notch Deck Construction: High-Quality Craftsmanship for a Beautiful Outdoor Living Space
As a distinguished deck builder, our commitment lies in using only outstanding materials and implementing safe, effective work methods. Our competent crews are licensed to install top-tier composite decking materials, such as Trex, TimberTech, and Azek. By meticulously focusing on details and emphasizing structural quality, we make sure your deck is not only attractive but also withstands time's challenges.
Deck Preservation and Fixing: Sustaining Your Investment's Worth
Keeping your deck beautiful and functional requires regular maintenance. For wood and composite decks, our diligent team offers complete maintenance and repair solutions. We cover everything from in-depth inspections for identifying possible issues, to skilled repairs for weather-related damage and everyday wear, making us your go-to resource for deck maintenance. With the help of our consistent maintenance plans, rest assured that your deck will continually be kept in superb condition, regardless of the time of year.
Deck Restoration and Refinishing: Reimagine Your Outdoor Sphere
With time, even top-notch decks can exhibit signs of wear or necessitate refinishing in order to keep their aesthetic appeal. Our expert team can restore the beauty of your deck through professional cleaning, staining, weatherproofing, and sealing. Plus, we can undertake structural alterations, confirming that your deck stays safe and usable for an extended period.
Bespoke Features and Additions: Boost Your Deck Experiences
To enrich your outdoor living quarters, we supply a wide range of specialized characteristics and extras designed to improve your deck. Some of the options are energy-efficient light fittings on decks, internal seating, exterior cooking areas, and fire-inspired features. By incorporating these elements into your deck design, we create a welcoming and comfortable space for you to enjoy with family and friends in Levittown.
At Decks Unique, our expertise lies in providing exceptional decking services to clients and neighboring regions. Our distinguished reputation has been built on 20 years of professionalism, integrity, and novel thinking. When it comes to designing a fresh deck or improving an existing one, our expert team is at your service. Contact us today to schedule a no-cost consultation and see how we can elevate your outdoor space into an elegant, functional sanctuary.
Uncover the Ideal Deck Material for You: Comparing Wood and Composite Options
At Decks Unique, our mission is to guide you in designing your dream outdoor refuge for your house. Hence, we put forth a broad selection of decking materials, consisting of wood and composite possibilities. Individual materials offer distinct advantages, making certain that you have the capability to pick the ideal option that aligns with your needs and likes.
Wood Decking Offers Timeless Elegance
Being both ageless and flexible, wood imbues a sense of inviting warmth and elegance to outdoor spaces. A variety of wood decking options are offered to match each person's style and monetary constraints.
Treated Timber: Low-cost and Sturdy
Due to its cost efficiency and resilience, pressure-treated lumber appeals to a lot of homeowners. This type of decking material goes through a particular treatment, helping it resist decay and insect infestations. Minimal maintenance is needed for these durable, pressure-treated decks as a result of the treatment.
Elegance and Resilience: Cedar and Redwood's Natural Qualities
For individuals searching for a lavish choice, cedar and redwood decking are additionally available. These refined and deluxe woods come with natural resistance to decomposition and insect activity, making for a long-lasting deck that stands the test of time. The strong colors and exclusive grain formations of cedar and redwood decks make them a visually appealing complement to any home.
Exotic Hardwoods: Strikingly Attractive and Durable
If you desire a truly rare and refined option, think of using exotic hardwoods like Ipe, Tigerwood, or Cumaru. These incredibly dense and durable woods are known for their exceptional longevity and striking appearance. Exotic hardwood decks, featuring their bold colors and detailed patterns, make for an impressive centerpiece in any outdoor setting.
Experience Low-Maintenance Living through Composite and PVC Decking
Those looking for a low-maintenance and green choice should think about composite and PVC decking. These state-of-the-art materials join the attractiveness of wood with the resilience of synthetics, supplying homeowners with an outdoor space that requires minimal maintenance.
Benefits and Advantages of Composite Decking
With a mixture of repurposed wood fibers and plastic, composite decking is a resilient and Earth-friendly selection. By resisting warping, cracking, and fading, this decking material ensures an attractive and long-lasting deck, while keeping maintenance to a minimum. Another benefit is the effortless cleaning of composite decks, needing only an occasional wash to retain the freshness of the outdoor environment.
Composite Materials: Industry-Leading Brands
Teaming up with prominent composite decking brands like Trex, TimberTech, and Azek is a matter of pride for Decks Unique. We can supply Levittown homeowners with high-quality materials for an attractive, long-lasting outdoor environment as authorized installers of these superior products.
Personalize Your Deck by Choosing Color and Texture Alternatives
A major selling point of composite decking is its wide customization choice range. Various color and texture options enable you to establish an exceptional outdoor environment that fits your home's aesthetics. No matter if you appreciate the visuals of natural wood or a cutting-edge design, you'll find a composite decking solution that fits.
Improve Your Deck through Railing and Baluster Selections
To be complete, the perfect deck calls for the appropriate railing and baluster system. Decks Unique delivers a wide variety of solutions to boost your deck design and uphold the safety and effectiveness of your outdoor space.
Wooden Railing Designs: Everlasting and Traditional
A wood railing system is worth considering for a classic and ageless look. Wood railing systems work well with both wooden and composite decks, resulting in a harmonious and unified style. Wood railing systems can be painted or stained to match your deck or Levittown home exterior, ensuring a stunning final result.
Metal and Glass Railing Systems: Trendy and Slick
If a cutting-edge and elegant style suits your taste, metal or glass railing systems could be a great option. These modern possibilities not only offer an up-to-date appeal but also amplify the sights from your deck, making them a top choice for homeowners immersed in picturesque backdrops.
Composite Railing Systems: Low-Care and Trendy
Composite railing systems present an exceptional option for those who want style and elegance without the hassle of constant maintenance. Not only are these railings durable and visually appealing, but they also create a unified appearance when combined with composite decking, resulting in an impressive outdoor area that demands minimal tending.
No matter what you prefer, Decks Unique is available to guide you in choosing the best decking materials for your house. Communicate with us today to express your needs and start crafting the outdoor haven of your dreams.
Transform Your Outdoor Living Space with Our Extra Offerings in Levittown
Our objective at Decks Unique is to transition your outdoor living area into an elegant and useful home extension. Besides our excellent deck building services, we also deliver a wide array of extra services, including wood awnings, cabanas, gazebos, pergolas, and porch construction. Our proficient specialists in Levittown closely cooperate with you to materialize your vision, ensuring high quality and long-lasting durability.
Wooden Awnings: Infuse Style and Shade into Your Outdoor Space
The addition of wood awnings provides both shade and a touch of elegance to your exterior living area. The knowledgeable professionals at Decks Unique can help you determine the best design and materials to construct a gorgeous and useful wood awning that aligns with your home's aesthetic. These installations not only safeguard you from harsh weather but also contribute to the overall appreciation of your property's value.
Cabanas: Build an Opulent Sanctuary in Your Levittown Yard
Blending luxury, relaxation, and privacy perfectly, cabanas are an exceptional choice for upgrading any outdoor area. We'll have our team of specialists work closely with you to create and build a custom-made cabana in line with your specific requirements and inclinations. Regardless of whether you want an intimate hideaway for unwinding or an upscale space for entertaining company, we can construct a cabana that serves as your ideal outdoor sanctuary.
Gazebos: A Beautiful Addition for Your Outdoor Garden or Patio
Adding a gazebo to a garden or patio creates an ageless charm, providing a striking focal point, and a covered spot for outdoor relaxation. Our accomplished team makes it easy for you to choose the most suitable style, materials, and location for your gazebo, ensuring that it merges seamlessly with your existing outdoor area. Due to our excellent craftsmanship, you can experience a remarkable gazebo that improves the visual appeal of your outdoor space throughout the years.
Pergolas: Combine Architectural Aesthetics and Utility for Your Outdoor Retreat
For those looking to enhance their outdoor living area's aesthetics and functionality, pergolas are an excellent choice. Pergolas offer a balance of shading and natural illumination, which suits them well for use in garden walkways, outdoor patios, or dining areas. Our specialists at Decks Unique have the expertise to engineer and erect a bespoke pergola that aligns with your design tastes and bolsters your property's worth.
Porch Development: Elevate Your Home's Curb Appeal and Outdoor Lifestyle
A proficiently designed porch not only increases your home's curb appeal but also presents a comfortable open-air living space for you and your family to take pleasure in. Our talented team will combine efforts with you to craft a unique porch that parallels your home's architectural appearance and serves your functional prerequisites. With our rigorous attentiveness to detail and unyielding dedication to exceptional quality, you can rest easy knowing your porch fabrication assignment is in trustworthy hands.
Contact Decks Unique for Your Levittown Outdoor Living Space Transformation
At Decks Unique, we take pride in providing high-quality, custom outdoor living solutions to our clients in Levittown and the surrounding areas. Whether you want to add a wood awning, cabana, gazebo, pergola, or porch to your outdoor area, our team of professionals is here to help. Get in touch with us now to chat about your project and learn how we can convert your outdoor living area into a lavish and practical extension of your residence.
Levittown's Expert Deck Design and Consultation
Decks Unique is renowned for providing individualized consultations and custom deck plans to fulfill the particular desires of our customers. With over 20 years of industry know-how, our experienced deck designers will work side by side with you to create a deck that amplifies your home's appearance and practicality. Utilizing innovative 3D modeling and visualization approaches, we'll make your dream deck a reality, confirming that the finished result meets your standards.
Durable Deck Materials for Extended Life Expectancy
On Long Island, Decks Unique is the top deck builder and authorized installer for leading composite deck products such as Trex, TimberTech, and Azek. We also offer a variety of wood decking options to suit your preferences, such as pressure-treated lumber, cedar, redwood, and exotic hardwoods. Our resolve to employ only high-quality materials ensures a long-lasting, easy-to-maintain deck for your property.
Outstanding Deck Building Services in Levittown
At Decks Unique, our highly trained deck construction crew is dedicated to upholding superior craftsmanship and optimal efficiency during the complete building venture. With our expert knowledge of building codes, regulations, and permits, you can trust us to handle the entire project from start to finish, leaving you with a stunning and functional outdoor living space.
Maintaining and Restoring Your Deck's Beauty
At Decks Unique, we understand the importance of routine maintenance in preserving the beauty and structural integrity of your deck. Our adept team has the ability to check and recognize any damages or potential troubles, executing required repairs to sustain your deck's top-notch condition. Additionally, we offer deck refinishing and restoration services, including cleaning, staining, weatherproofing, and sealing to protect and enhance your deck's appearance.
Transform Your Outside Space with Personalized Additions and Features
To truly make your deck a unique outdoor oasis, Decks Unique offers a variety of custom features and add-ons such as deck lighting, built-in seating, outdoor kitchens, and fire features. These augmentations not only amplify effectiveness, but they also cultivate a friendly and cozy aura for you and your company to enjoy.
Wide-Ranging Decking Services and Extra Offerings
Besides being proficient in deck design and construction, Decks Unique provides services in creating additional outdoor structures like wood awnings, cabanas, gazebos, pergolas, and porch construction. Such structures can augment the beauty of your Long Island home's exterior, transforming it into an excellent space for leisure and socializing.
Turn to Decks Unique for addressing all your decking needs in Levittown. Find out how our dedication to top-notch quality, professionalism, and customer satisfaction affects your outdoor area. Reach out to us today for a free consultation, and let us convert your backyard into an exquisite showpiece.
Joyfully helping the citizens in Levittown, Huntington Station, Greenvale, Fort Salonga, East Norwich, Commack, Babylon, and other Long Island vicinities.
Offering Long Island Quality Deck Designs and Services: