Get to know Decks Unique - Massapequa's Trusted Deck Building Specialists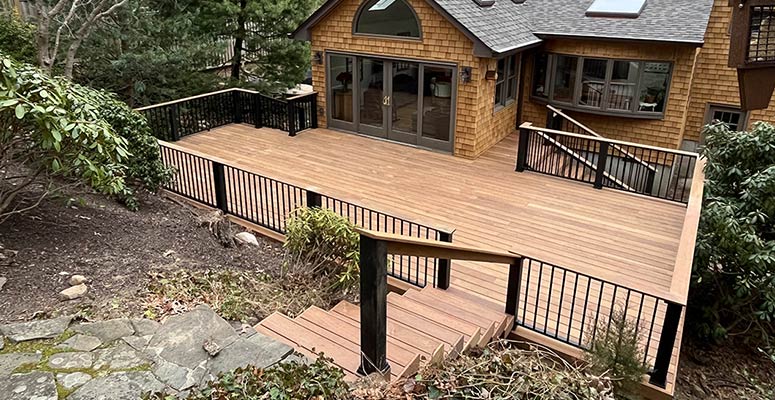 As a family-owned and operated business for over 20 years, Decks Unique has provided custom deck design and construction services to the people of Long Island and neighboring regions, such as Massapequa. Thanks to our enthusiasm for design and steadfast commitment to professionalism, integrity, and innovation, we've emerged as the top producer of premium decks on Long Island, setting the benchmark for the industry. At Decks Unique, we excel in constructing custom decks, porches, gazebos, pergolas, wood awnings, and additional outdoor structures that augment the aesthetics, worth, and functionality of your Long Island property.
Comprehensive and Experienced Deck Building Services in Massapequa
Decks Unique advocates that a meticulously designed deck is a sound investment when evaluating home improvement options. Our proficient group of skilled deck craftspeople prioritizes first-rate quality, adheres to streamlined production timelines, and lets you rest assured knowing our warranties carry lasting worth. This unyielding determination to achieve the best has yielded thousands of happy customers and decks they are eager to showcase, now and in the future.
On Long Island, our professional decking installers are approved to work with all major composite decking materials, like Trex, TimberTech, and Azek. We extend free residential consultations and digitally-crafted deck layouts for you to preview your project before it gets underway. Choose your backyard as the focus of our next enterprise!
Add Value to Your Home with a Custom Deck
Not only does an excellent deck boost your Massapequa home's outdoor living area, but it also raises the overall property value. We, at Decks Unique, focus on the development and creation of bespoke decks that address the specific requirements and tastes of each client. No matter if you desire a comfy location for social events or a grand outdoor paradise to savor the charming weather, our staff will partner with you to create your ideal space.
We appreciate that every homeowner has distinct preferences and needs for their outdoor environments. Therefore, we offer a vast array of materials, styles, and qualities to develop the perfect deck that blends with your abode and your daily life. Starting from conventional wood materials like pressure-treated lumber, cedar, and redwood, through to the low-maintenance compound and PVC decking options, we cater to every budget and predilection.
Exceptional Attention to Premium Quality and Client Pleasure
Decks Unique is deeply committed to delivering top-notch workmanship and ensuring our clients' satisfaction. By using only the best materials and partnering with skilled, knowledgeable builders, we can assure that every project we undertake meets the highest quality standards.
The crux of a project's success, in our opinion, is effective communication; as such, we prioritize keeping our clients constantly informed. Throughout the entire journey, from the initial consultation and design to construction and the final inspection, our team is committed to being there to assuage any doubts, allay concerns, and ascertain your utmost satisfaction with your new deck.
Let Decks Unique remodel your Massapequa backyard into an outdoor living oasis you'll relish. Get ahold of us today to schedule an obligation-free consultation and explore the Decks Unique benefits.
Thorough Deck Building Solutions in Massapequa
Decks Unique, located in Massapequa, is proud to offer an extensive range of tailored decking services, designed to cater to client needs. From creating custom decks and construction to repair, maintenance, and refinishing, Decks Unique offers a wide range of expert services. Besides our standard services, Decks Unique provides an assortment of unique features and add-ons to elevate your outdoor living experience. Let us examine the range of services we provide in greater detail.
Custom Deck Design: Creating the Perfect Dream Deck for You
Our skillful deck designers will collaborate intimately with you to assemble a custom-built deck that exemplifies your private style, seamlessly integrates with your home, and meets the peculiar specifications of your property. By assisting you in making informed choices, our connoisseurs will facilitate your material selection journey, assuring lasting charm and toughness.
Superior Deck Construction: Exceptional Expertise for a Breathtaking Outdoor Area
As a prominent deck builder, we are committed to utilizing only top-quality materials and practicing secure, proficient workmanship. Our seasoned teams are approved installers of leading composite decking materials, including Trex, TimberTech, and Azek. With careful scrutiny of detail and a dedication to solid structure, we guarantee that your deck is not only aesthetically pleasing but also long-lasting.
Deck Care and Repairs: Keeping Your Investment Secure
To preserve the beauty and functionality of your deck, regular maintenance is crucial. Our devoted team supplies a wide range of repair and maintenance services for wood and composite decks alike. Offering complete inspections to uncover potential issues and expert repair services for damages due to the elements or wear, we are your ultimate destination for all things related to deck maintenance. Our scheduled maintenance programs provide peace of mind, knowing that your deck will remain in excellent condition year-round.
Deck Refinishing and Restoration: Renew Your Outdoor Oasis
As time passes, even the most excellent decks could show indications of wear or demand refinishing to sustain their visual allure. Our team of specialists can reinstate the aesthetic charm of your deck through professional cleaning, staining, weatherproofing, and sealing procedures. Further, we can administer structural optimizations, keeping your deck safe and efficient for a considerable duration.
Individualized Aspects and Additional Pieces: Refine Your Deck Encounters
To upgrade your outdoor living space, we present a variety of custom-made elements and additional options meant to enrich your deck. These possibilities entail energy-sparing deck lights, incorporated seating, outdoor cooking spaces, and fiery aspects. By incorporating these elements into your deck design, we create a welcoming and comfortable space for you to enjoy with family and friends in Massapequa.
We, at Decks Unique, excel in delivering the finest decking solutions to our customers and areas nearby. We have established a strong reputation for professionalism, reliability, and originality, thanks to our 20 years in the industry. Our capable team is eager to help you with planning a new deck or upgrading an old one. Connect with us today to set up a no-charge consultation and learn how your outdoor space can become a gorgeous, practical escape.
Track Down the Best Deck Material for You: Weighing Wood and Composite Options
Decks Unique is all about empowering you to create an amazing outdoor utopia within your home. That's why we offer a wide variety of decking materials, including both wood and composite options. Each material has its unique advantages, ensuring that you can choose the best option for your specific needs and preferences.
Embrace the Timeless Beauty of Wooden Decks
Wooden materials possess a lasting, adaptable nature that grants a sense of comfort and allure to any outdoor setting. We present a wide assortment of wood deck options, ensuring compatibility with any style and budget.
Treated Lumber: Inexpensive and Strong
Due to its cost efficiency and resilience, pressure-treated lumber appeals to a lot of homeowners. This type of decking material goes through a particular treatment, helping it resist decay and insect infestations. Pressure-treated decks, as a consequence, stand the test of time and demand little maintenance.
High-End and Resilient Cedar and Redwood: A Natural Concoction
For people looking for an upscale option, we offer cedar and redwood decking too. These gorgeous and top-tier woods boast natural resistance to rot and insect infestations, offering a lasting deck that matures gracefully. The bold shades and unmatched grain structures of cedar and redwood decks contribute a breathtaking element to any abode.
Exotic Hardwoods: Visually Striking and Rugged
For a truly unparalleled and elegant choice, give some thought to exotic hardwoods such as Ipe, Tigerwood, or Cumaru. Thanks to their substantial density and ruggedness, these woods are celebrated for their incredible durability and strikingly beautiful appearance. With their striking colors and intricate patterns, exotic hardwood decks are a show-stopping centerpiece for any outdoor space.
Turn to Composite and PVC Decking for a Low-Maintenance Lifestyle
If you're seeking an eco-conscious, low-maintenance solution, contemplate composite and PVC decking. These revolutionary materials marry the elegance of wood with the strength of engineered materials, treating homeowners to a nearly maintenance-free outdoor retreat.
Pros and Perks of Composite Decking
Composite decking, composed of both reused wood fibers and plastic, presents a robust and eco-friendly alternative. The decking material's ability to resist warping, cracking, and fading ensures a gorgeous and durable deck with a low level of necessary upkeep. Composite decks also have an advantage in their ease of cleaning, with only sporadic washing needed to keep the outdoor area immaculate.
Leading Brands in the Field of Composite Materials
Decks Unique is proud to work with the leading brands in composite decking, including Trex, TimberTech, and Azek. Being licensed installers of these impressive products, we can equip Massapequa homeowners with the finest materials to ensure an exquisite and durable outdoor setting.
Create a Distinctive Deck with Color and Texture Selections
A key benefit of composite decking is the broad spectrum of customization opportunities. Choose from many color and texture combinations to create a singular outdoor area that harmonizes with your home's décor. Your preference for natural wood visuals or a more state-of-the-art design can both be met with a composite decking option.
Upgrade Your Deck by Adding Railing and Baluster Choices
The ultimate deck won't be whole without the fitting railing and baluster system. Decks Unique provides an ample range of options to elevate your deck design and warrant your outdoor area's safety and functionality.
Wood Railing Solutions: Ageless and Time-honored
For a stylish and lasting design, a wood railing system should be considered. The use of a wood railing system can create a harmonious, unified design for both wood and composite decks. Painting or staining your wood railing system to align with your deck or Massapequa home exterior helps ensure a captivating final aesthetic.
Metal and Glass Railing Systems: Fashionable and Uncluttered
If you prefer a more modern and sleek aesthetic, consider metal or glass railing systems. Metal and glass railing systems not only embody a fresh and modern charm, but they also heighten the visual experience from your deck - a popular choice for those blessed with stunning environments.
Composite Railing Systems: Hassle-Free and Modern
For individuals who desire a low-upkeep solution while maintaining sophistication and elegance, composite railing systems make an ideal choice. These strong and stylish railings, when matched with composite decking, bring about a cohesive appearance, resulting in a stunning low-maintenance outdoor space.
No matter your design preferences, Decks Unique is on hand to provide guidance in choosing the best decking materials for your home. Contact us today to discuss your needs and begin designing the outdoor space of your dreams.
Elevate Your Outdoor Living Experience with Our Supplementary Services in Massapequa
We at Decks Unique are dedicated to converting your outdoor living space into an opulent and functional part of your home. Our services extend beyond remarkable deck building, as we also provide a variety of supplementary services such as wood awnings, cabanas, gazebos, pergolas, and porch construction. In Massapequa, we have a team of skilled professionals who work closely with you to make your dream outdoor space a reality, while ensuring the highest quality and durability.
Wood Awnings: Enhance Your Outdoor Area with Shade and Style
The use of wood awnings can impart both shade and refinement to your outdoor zone. The experienced specialists at Decks Unique will aid you in choosing the ideal design and materials for creating a charming and efficient wood awning that matches your home's visual appeal. These setups not only offer defense against tough weather conditions but also augment the overall market value of your property.
Cabanas: Set up a Deluxe Oasis in Your Massapequa Backyard
Cabanas strike a perfect balance between luxury, comfort, and privacy, making them a great fit for any outdoor space. Our adept team will cooperate with you in the design and construction of a one-of-a-kind cabana that addresses your particular needs and desires. From a cozy sanctuary for relaxation to a chic locale for socializing with friends, we can craft a cabana that makes for the perfect open-air haven.
Gazebos: A Beautiful Addition for Your Outdoor Garden or Patio
A gazebo adds a quaint touch to any garden or patio, creating an eye-catching centerpiece and offering shade for outdoor lounging. Our adept team works with you to find the ideal appearance, materials, and setting for your gazebo, assuring flawless integration into your current garden or patio. Due to our excellent craftsmanship, you can experience a remarkable gazebo that improves the visual appeal of your outdoor space throughout the years.
Pergolas: Improve Your Outdoor Oasis with Striking Architectural Design and Function
Adding a pergola is a fantastic method for enhancing your outdoor area's architectural appeal and usefulness. By combining the benefits of shade with the ability to filter in natural light, these structures are perfect additions to garden walks, patios, and open-air dining spaces. Our specialists at Decks Unique have the expertise to engineer and erect a bespoke pergola that aligns with your design tastes and bolsters your property's worth.
Constructing a Porch: Improve Your Home's Exterior Attractiveness and Outdoor Living Area
A well-designed porch not only enhances your home's curb appeal but also provides a comfortable outdoor living area for you and your family to enjoy. Our seasoned group will join forces with you to execute a customized porch design that suits your home's architecture and meets your purposeful needs. With our scrupulous focus on detail and loyalty to top-notch quality, you can relax knowing that your porch construction venture is in adept hands.
Approach Decks Unique to enhance your Massapequa outdoor living area
At Decks Unique, we're committed to supplying our Massapequa clients and those in the surrounding areas with outstanding, customized outdoor living solutions. Our team of skilled professionals is here to help you enhance your outdoor space with a wood awning, cabana, gazebo, pergola, or porch. Give us a call today to discuss your vision, and we'll show you how we can upgrade your outdoor living area into a deluxe and useful extension of your home.
Professional Deck Planning and Creation in Massapequa
Decks Unique prides itself on presenting custom consultations and deck designs, designed to cater to the distinctive needs of our clientele. With over 20 years of experience, our professional deck designers will work closely with you to create a deck that enhances your home's aesthetics and functionalities. Using advanced 3D modeling and visualization techniques, we'll bring your dream deck to life, ensuring the final product meets your expectations.
Premium Deck Construction Materials for Extended Durability
As the premier deck builder on Long Island, Decks Unique is an authorized installer of popular composite deck products like Trex, TimberTech, and Azek. We also propose a diverse set of wood decking choices to meet your specific preferences, such as pressure-treated building materials, cedar, redwood, and upscale hardwoods. We guarantee that, by using only the best materials, your new deck will be durable and require minimal upkeep.
Reliable Deck Construction Services in Massapequa
Our adept deck construction personnel at Decks Unique are passionate about maintaining top-of-the-line workmanship and efficiency in the entire building process. Given our considerable insight into building codes, specifications, and permits, you can trust in us to undertake the entire endeavor from inception to completion, providing you a captivating and efficient outdoor area.
Secure and Reinstate Your Deck's Grace
Decks Unique comprehends the crucial role of ongoing maintenance in preserving your deck's attractiveness and solid construction. Our proficient staff at Decks Unique can inspect and uncover any damages or potential problems, administering essential repairs to maintain your deck in an optimal state. Additionally, we offer deck refinishing and restoration services, including cleaning, staining, weatherproofing, and sealing to protect and enhance your deck's appearance.
Raise the Standard of Your Outside Area with Unique Features and Add-ons
For authentically crafting your deck into a standout alfresco haven, Decks Unique brings you a variety of individualized elements and add-ins, featuring lighting systems for decks, seats embedded within the layout, cooking zones suitable for outdoor use, and fire-related fixtures. These enhancements not only add functionality but also create a comfortable and inviting atmosphere for you and your guests to enjoy.
Comprehensive Decking Services and More
In addition to our proficiency in deck design and building, Decks Unique also provides expertise in constructing supplementary outdoor structures like wooden awnings, cabanas, gazebos, pergolas, and porches. Such structures can augment the beauty of your Long Island home's exterior, transforming it into an excellent space for leisure and socializing.
Let Decks Unique take care of all your decking needs in Massapequa. Feel the distinction our devotion to quality, professionalism, and customer contentment makes in your outdoor setting. Reach out to us today for a free consultation, and let us convert your backyard into an exquisite showpiece.
Eager to accommodate the residents of Massapequa, Lindenhurst, Huntington Station, Greenvale, Fort Salonga, East Northport, Commack, and other Long Island territories.
Offering Long Island Quality Deck Designs and Services: