Introducing Decks Unique - North Bay Shore's Top-Rated Deck Construction Company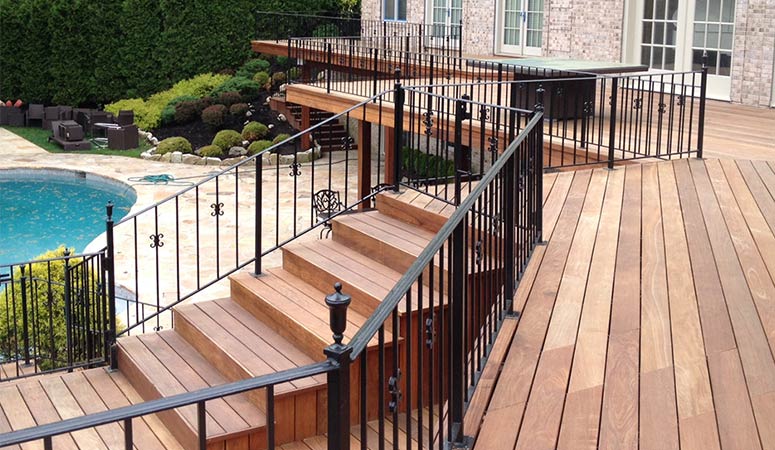 Over the past 20 years, Decks Unique, a family-owned and operated company, has been dedicated to offering custom deck design and construction services in Long Island and the surrounding areas, including North Bay Shore. Owing to our zeal for design and unwavering dedication to professionalism, honesty, and innovation, we've become the largest producer of high-end decks on Long Island, establishing industry standards. We pride ourselves on developing and constructing custom decks, porches, gazebos, pergolas, wood awnings, and assorted outdoor structures that bolster the appeal, worth, and function of your Long Island home.
North Bay Shore Deck Building Services with Expertise and Experience
At Decks Unique, our conviction is that a carefully planned deck design serves as a smart investment for home enhancements. The Decks Unique team of experienced deck builders is committed to providing top-notch quality, keeping effective production timelines, and ensuring that our warranties offer enduring value. This unyielding determination to achieve the best has yielded thousands of happy customers and decks they are eager to showcase, now and in the future.
On Long Island, our professional decking installers are approved to work with all major composite decking materials, like Trex, TimberTech, and Azek. We furnish free home-based consultations along with tech-driven deck illustrations, so you can conceptualize your undertaking before its materialization. Let's tackle your backyard as our next challenge!
Augment the Value of Your Residence with a Unique Deck
With a high-quality deck, your North Bay Shore house can see its outdoor living area improved and its property value significantly raised. Our area of expertise at Decks Unique lies in conceiving and erecting individualized decks that accommodate the unique necessities and preferences of our clients. Be it a snug spot to accommodate get-togethers or an opulent open-air retreat to bask in lovely weather, our crew will work hand-in-hand with you to materialize your aspirations.
We are aware that individual homeowners have varying preferences and demands for their external spaces. For this reason, we provide an extensive selection of materials, designs, and options to build the ideal deck to enhance your home and way of life. From standard wood options like pressure-treated lumber, cedar, and redwood to the easy upkeep of composite and PVC decking, we provide the right answer to accommodate every budget and personal taste.
Extraordinary Concentration on Outstanding Performance and Customer Happiness
Providing exceptional workmanship and keeping our clients satisfied is our top priority at Decks Unique. By using only the best materials and partnering with skilled, knowledgeable builders, we can assure that every project we undertake meets the highest quality standards.
We're firm believers that strong communication is a major factor in a project's success, and we go above and beyond to maintain clear lines of communication with our clients. From the initial consultation and design process through construction and final inspection, our team is always available to answer questions, address concerns, and ensure that you are completely satisfied with your new deck.
Allow Decks Unique to turn your North Bay Shore backyard into an outdoor living area you'll adore. Connect with us today to book a free consultation and find out what sets Decks Unique apart.
Complete Deck Building Services in North Bay Shore
We take great pride in delivering a diverse range of decking services at Decks Unique, all tailored to meet the expectations of our North Bay Shore clientele. From creating custom decks and construction to repair, maintenance, and refinishing, Decks Unique offers a wide range of expert services. We also offer a variety of exclusive features and extras designed to upgrade and enhance your outdoor living space. Take a more detailed look at the assortment of services we proudly offer.
Custom Deck Design: Realizing Your Dream Deck through Expert Design
Our proficient deck designers will partner with you to develop a bespoke deck that embodies your personal preferences, augments your home, and fulfills the distinct requisites of your property. In order to assist you in making knowledgeable choices, our specialists will walk you through the process of selecting materials, guaranteeing lasting attractiveness and resilience.
Professional Deck Development: Skillful Artisanship for a Captivating Outdoor Oasis
Being the top deck builder, we are dedicated to utilizing only the best materials and ensuring the safety and efficiency of our workmanship. Our seasoned teams are approved installers of leading composite decking materials, including Trex, TimberTech, and Azek. With thorough attention to detail and a concentration on sound construction, we ascertain that your deck is not only eye-catching but also resilient throughout the years.
Repairing and Maintaining Decks: Retaining the Value of Your Investment
To keep your deck beautiful and functional, regular maintenance is essential. We have a dedicated team that offers all-inclusive repair and upkeep services for both wood and composite decks. From meticulous inspections that reveal potential problems, to adept repairs for any damages stemming from weather or wear patterns, we are the comprehensive source for all your deck upkeep needs. Our organized maintenance plans deliver the confidence that your deck will maintain premium quality throughout the entire year.
Deck Refinishing and Revitalization: Energize Your Exterior Living Space
As the years go by, even the highest-grade decks can demonstrate signs of wear or ask for refinishing to retain their attractiveness. Our experienced team members can renew the visual appeal of your deck via expert cleaning, staining, weatherproofing, and sealing techniques. In addition, we can perform structural reinforcements, ensuring your deck remains secure and serves its purpose for years to come.
Custom Features and Add-ons: Enhance Your Deck Experience
In order to uplift your outdoor living space, we extend a series of personalized features and additional components aimed at boosting your deck. These options include energy-efficient deck lighting, built-in seating, outdoor kitchens, and fire features. Embedding these particulars into your deck configuration, we help form a friendly and cozy atmosphere for you to treasure with your dear ones in North Bay Shore.
Decks Unique excels in furnishing clients and the surrounding communities with superior-quality decking services. We've established a reputation for being professional, honest, and innovative, with 20 years of industry experience. No matter if you're seeking to create a new deck or update your current one, our knowledgeable team is prepared to assist. Get in touch with us today to arrange a complimentary consultation and uncover how we can convert your exterior space into an attractive, useful oasis.
Uncover the Ideal Deck Material for You: Comparing Wood and Composite Options
Here at Decks Unique, we are passionate about collaborating with you to develop the perfect outdoor hideaway for your house. That's why we offer a wide variety of decking materials, including both wood and composite options. Each decking material possesses its advantages, which allows you to select the most suitable option for your particular necessity and preference.
Wood Decking Exudes an Everlasting Grace
Timber brings a classic, adaptable quality while offering organic coziness and appeal for all outside areas. We offer a range of wood decking options to meet every style and budget.
Pressure-Treated Lumber: Affordable and Durable
For many homeowners, pressure-treated lumber is a preferred option because of its budget-friendly and tough nature. This decking material undergoes a special treatment process, protecting it against rot and insect infestation. Pressure-treated decks last a long time and necessitate minimal care due to this treatment.
Cedar and Redwood: Nature's Luxury with Built-In Resistance
If you're interested in a more sophisticated solution, we also have cedar and redwood decking available. These refined and deluxe woods come with natural resistance to decomposition and insect activity, making for a long-lasting deck that stands the test of time. Cedar and redwood decks, showcasing rich coloration and individualistic grain patterns, bring a significant accent to any living space.
Exotic Hardwoods: Exquisite and Hardwearing
If a truly unique and remarkable choice is what you're after, think about using exotic hardwoods such as Ipe, Tigerwood, or Cumaru. These dense and hard-wearing woods are famous for their amazing durability and striking visual appeal. The vivid colors and elaborate patterns of exotic hardwood decks create an awe-inspiring centerpiece for your outdoor living space.
The Benefits of Low-Maintenance Living: Composite and PVC Decking
If you're after a green and low-maintenance substitute, evaluate the merits of composite and PVC decking. These modern materials unite the wood's aesthetic qualities with the hardiness of synthetics, presenting homeowners with an almost maintenance-free outdoor zone.
Understanding the Benefits and Advantages of Composite Decking
Composite decking is made from a combination of recycled wood fibers and plastic, offering a highly durable and eco-friendly option. Warping, cracking, and fading are no match for this decking material, which ensures a beautiful and long-lasting deck with minimal effort required. Additionally, composite decks are easy to clean, requiring only occasional washing to keep your outdoor space looking pristine.
Key Players in the Composite Materials Market
Decks Unique is honored to partner with renowned composite decking brands, including Trex, TimberTech, and Azek. As sanctioned installers of these exceptional products, we're able to provide North Bay Shore homeowners with top-quality materials for a striking and long-lasting outdoor area.
Custom-build Your Deck with a Range of Color and Texture Combinations
Composite decking comes with the advantage of a plethora of customization options. Various color and texture options enable you to establish an exceptional outdoor environment that fits your home's aesthetics. No matter if you appreciate the visuals of natural wood or a cutting-edge design, you'll find a composite decking solution that fits.
Upgrade Your Deck Experience with Railing and Baluster Possibilities
The ultimate deck won't be whole without the fitting railing and baluster system. At Decks Unique, we provide numerous choices to augment your deck design and maintain the security and practicality of your outdoor living space.
Wooden Handrail Systems: Traditional and Timeless
For a stylish and lasting design, a wood railing system should be considered. Both wood and composite decks can be perfectly matched by a wood railing system, ensuring a smooth and integrated look. By painting or staining a wood railing system, you can create a perfect match for your deck or your North Bay Shore home's exterior, delivering an impressive outcome.
Metal and Glass Railing Systems: Sophisticated and Well-defined
If a cutting-edge and elegant style suits your taste, metal or glass railing systems could be a great option. Providing a fresh, up-to-date feel, these options can also boost the visuals enjoyed from your deck, appealing to homeowners who are surrounded by idyllic landscapes.
Composite Railing Systems: Low-Care and Trendy
For a low-maintenance, stylish, and elegant solution, composite railing systems are the perfect fit. These durable and attractive railings provide a cohesive look when paired with composite decking, creating a stunning outdoor space that requires minimal upkeep.
No matter what you like, Decks Unique is here to offer assistance in selecting the perfect deck materials for your abode. Get in touch with us now to talk about your requirements and start creating your dream outdoor area.
Elevate Your Outdoor Living Experience with Our Supplementary Services in North Bay Shore
Our objective at Decks Unique is to transition your outdoor living area into an elegant and useful home extension. Besides our excellent deck building services, we also deliver a wide array of extra services, including wood awnings, cabanas, gazebos, pergolas, and porch construction. Our adept experts in North Bay Shore collaborate with you to manifest your vision, while guaranteeing exceptional quality and enduring durability.
Wooden Awnings: Increase Shade and Style for Your Outdoor Space
Installing wood awnings is a fantastic approach to enhance your outdoor area with both shade and elegance. Our experienced team at Decks Unique will help you choose the right design and materials to create a beautiful and functional wood awning that complements your home's aesthetic. Such structures offer protection from inclement weather while simultaneously increasing your property's overall value.
Cabanas: Set up a Deluxe Oasis in Your North Bay Shore Backyard
Cabanas are a fantastic combination of luxury, convenience, and privacy, making them the perfect addition to any outside area. Our expert team will collaborate with you to develop and construct a bespoke cabana tailored to your requirements and desires. Looking for a comfortable retreat to relax or a classy space to host events, we can design a cabana that transforms into your perfect outdoor haven.
Gazebos: A Stunning Complement to Your Garden or Patio Space
Incorporating a gazebo in a garden or patio lends perpetual elegance, offering an alluring centerpiece and a cool alcove for outdoor unwinding. With the help of our skilled team, you'll be able to decide on the ideal style, materials, and placement for your gazebo, ensuring it integrates smoothly with your current outdoor space. Our skilled craftsmanship ensures a breathtaking gazebo that will elevate the appeal of your outdoor environment for years in the future.
Pergolas: Bring Architectural Charm and Functionality to Your Outdoor Domain
Adding a pergola is a fantastic method for enhancing your outdoor area's architectural appeal and usefulness. Pergolas offer a balance of shading and natural illumination, which suits them well for use in garden walkways, outdoor patios, or dining areas. Let the skilled experts at Decks Unique craft a bespoke pergola that caters to your style and contributes to your home's overall value.
Build a Porch: Increase Your Home's Curb Appeal and Outdoor Living Environment
A tastefully designed porch not only enriches your home's curb appeal but also bestows a cozy alfresco living area for you and your family to enjoy. Our expert team will work with you to create a custom-designed porch that complements your home's architecture and meets your functional needs. With our meticulous attention to detail and devotion to high standards, you can feel confident that your porch building project is in capable hands.
Get in touch with Decks Unique for transforming your North Bay Shore outdoor living area
Decks Unique is committed to offering top-tier, made-to-order outdoor living solutions for our North Bay Shore clients and their neighboring areas. If you'd like to include a wood awning, cabana, gazebo, pergola, or porch in your outdoor living area, our expert team is on hand to help. Contact us today to discuss your project and discover how we can transform your outdoor living space into a luxurious and functional extension of your home.
Proven Deck Design and Consultation Excellence in North Bay Shore
We, at Decks Unique, pride ourselves on delivering custom-tailored consultation and deck designs to suit the individual preferences of our clients. With a solid background of 20 years, our adept deck designers will collaborate with you in designing a deck that boosts your home's beauty and function. Using advanced 3D modeling and visualization techniques, we'll bring your dream deck to life, ensuring the final product meets your expectations.
Durable Deck Materials for Extended Life Expectancy
Decks Unique, the top Long Island-based deck builder, is an approved installer for all major composite decking brands, including Trex, TimberTech, and Azek. Additionally, we offer a wide range of wood decking alternatives that suit your personal tastes, such as pressure-treated materials, cedar, redwood, and exclusive hardwoods. The use of only premium materials in our work reflects our commitment to building durable, low-maintenance decks.
Top-Notch Deck Building Services in North Bay Shore
At Decks Unique, our talented deck building professionals are devoted to ensuring exceptional quality and efficiency in all phases of the construction process. Leveraging our deep expertise in building codes, norms, and permits, you can entrust us with the full project from beginning to end, yielding an eye-catching and practical outdoor environment.
Uphold and Revamp Your Deck's Charm
Decks Unique understands how vital routine upkeep is in protecting the appeal and infrastructure of your deck. Our experienced team can inspect and identify any damages or potential issues, providing necessary repairs to keep your deck in top condition. We additionally present deck refurbishing and restoration offerings, consisting of cleaning, staining, weatherproofing, and sealing strategies to fortify and boost your deck's visual quality.
Elevate Your Open-air Space with Tailor-made Features and Add-ons
In order to transform your deck into a distinctive outdoor haven, Decks Unique provides an array of personalized options and extras like deck illumination, integrated seating, open-air cooking areas, and fire elements. These modifications not only enhance the function, but they also shape a hospitable and relaxed atmosphere for you and your attendees to delight in.
Comprehensive Decking Services and More
Not only do we excel in deck design and construction at Decks Unique, but we also specialize in creating extra outdoor structures, including wood awnings, cabanas, gazebos, pergolas, and porch construction. These extra structures will considerably enrich your Long Island home's outdoor area, providing the perfect space for both relaxation and entertainment.
Decks Unique can tackle your entire North Bay Shore decking necessities. Observe the effect of our commitment to outstanding quality, professionalism, and customer satisfaction on your outdoor living space. Connect with us today to arrange a cost-free consultation, and allow us to transform your outdoor area into a breathtaking masterpiece.
Honored to serve the people of North Bay Shore, Mineola, Massapequa Park, Lindenhurst, Huntington Station, Greenlawn, Floral Park along with other Long Island regions.
Offering Long Island Quality Deck Designs and Services: