Check out Decks Unique - Garden City's Exceptional Deck Building Professionals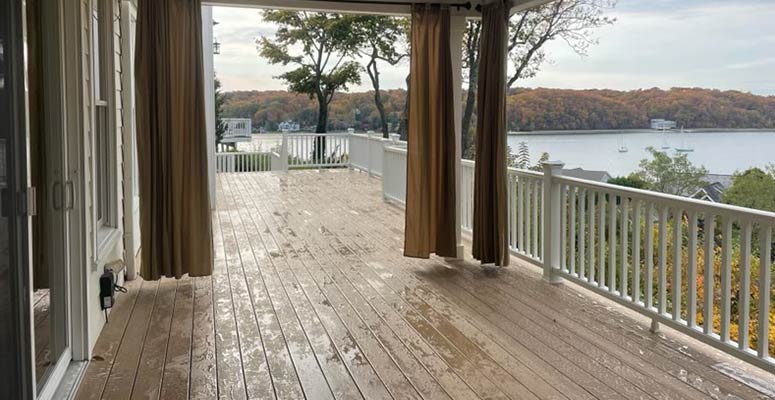 Over the past 20 years, Decks Unique, a family-owned and operated company, has been dedicated to offering custom deck design and construction services in Long Island and the surrounding areas, including Garden City. Our fervor for design, coupled with a strong commitment to professionalism, integrity, and innovation, has positioned us as the foremost manufacturer of high-caliber decks in Long Island, raising the bar for the sector. We're experts in designing and building custom decks, porches, gazebos, pergolas, timber awnings, and other outdoor features that enhance the value, beauty, and functionality of your home in Long Island.
Specialized and Experienced Deck Building Providers in Garden City
Decks Unique upholds the idea that a thoughtfully devised deck design constitutes a wise investment in home improvement. Our highly skilled team of seasoned deck constructors consistently strives for exceptional quality, adheres to effective timetables, and guarantees long-lasting warranties. This unyielding determination to achieve the best has yielded thousands of happy customers and decks they are eager to showcase, now and in the future.
Our certified Long Island decking contractors can install all popular composite decking brands, including Trex, TimberTech, and Azek. We furnish free home-based consultations along with tech-driven deck illustrations, so you can conceptualize your undertaking before its materialization. Make your backyard the site for our subsequent project!
Elevate Your House's Worth by Adding a Custom Deck
An outstanding deck can both improve the exterior living area of your Garden City residence and substantially increase its worth. Our area of expertise at Decks Unique lies in conceiving and erecting individualized decks that accommodate the unique necessities and preferences of our clients. Regardless of whether you want an inviting space to entertain loved ones or a haven to appreciate the delightful weather, we will work in harmony with you to actualize your vision.
We understand that each homeowner in has different tastes and requirements for their outdoor spaces. To accommodate these diverse preferences, we supply a wide array of materials, styles, and attributes for crafting the ideal deck to harmonize with your home and way of life. With options spanning from traditional wood varieties such as pressure-treated lumber, cedar, and redwood, to low-maintenance composite and PVC decking alternatives, we have the perfect solution for every financial plan and preference.
Unequaled Focus on Superior Standards and Customer Gratification
Decks Unique's commitment to first-class workmanship and customer happiness is unwavering. Focusing on the employment of top-notch materials and the engagement of experienced, adept builders allows us to complete each project to the highest standards.
In our experience, consistent communication is the foundation of a successful project, and we never falter in our commitment to keep clients apprised of progress. Starting with the initial consultation, through the design and construction phases, all the way to the final inspection, our team remains accessible to answer any questions, alleviate concerns, and guarantee complete satisfaction with your new deck.
Allow Decks Unique to turn your Garden City backyard into an outdoor living area you'll adore. Contact us immediately to set up a complimentary consultation and feel the Decks Unique superiority.
In-depth Decking Assistance in Garden City
Decks Unique takes pride in providing an extensive array of decking services, customized to accommodate the requirements of our Garden City clientele. Our team is skilled in providing a holistic suite of services, from custom deck design and construction to repair, maintenance, and refinishing. We also offer a variety of exclusive features and extras designed to upgrade and enhance your outdoor living space. Take a closer look at the comprehensive list of services we have to offer.
Custom Deck Design: Developing Your Picture-Perfect Dream Deck
Our talented deck designers will team up with you to generate a one-of-a-kind deck that represents your signature style, blends well with your home, and meets the special requirements of your property. In order to assist you in making knowledgeable choices, our specialists will walk you through the process of selecting materials, guaranteeing lasting attractiveness and resilience.
Expert Deck Building: Excellent Workmanship for an Impressive Exterior Area
As the superior deck builder, we are determined to use only exceptional materials and adhere to safe, efficient workmanship. Our competent crews are licensed to install top-tier composite decking materials, such as Trex, TimberTech, and Azek. By paying attention to every detail and maintaining a focus on structural reliability, we secure that your deck not only looks remarkable but also endures the test of time.
Deck Maintenance & Repairs: Shielding Your Investment
Regular maintenance is essential to preserving the beauty and functionality of your deck. Whether it's a wood or composite deck, our specialized team offers comprehensive repair and upkeep services. From meticulous inspections that reveal potential problems, to adept repairs for any damages stemming from weather or wear patterns, we are the comprehensive source for all your deck upkeep needs. Equipped with our scheduled maintenance programs, you can rest easy knowing that your deck will be kept in pristine condition all year long.
Deck Restoration and Refinishing: Reimagine Your Outdoor Sphere
Over time, even the highest quality decks may show signs of wear or require refinishing to maintain their appearance. Our skilled team can rejuvenate your deck's appearance with professional cleaning, staining, weatherproofing, and sealing. Moreover, we can implement structural enhancements, guaranteeing your deck's safety and function for the foreseeable future.
Personalized Attributes and Extras: Improve Your Deck Enjoyment
With the goal of elevating your outdoor living area, we put forth numerous individualized aspects and add-ons intended to accent your deck. Some of the options are energy-efficient light fittings on decks, internal seating, exterior cooking areas, and fire-inspired features. Embedding these particulars into your deck configuration, we help form a friendly and cozy atmosphere for you to treasure with your dear ones in Garden City.
Decks Unique specializes in offering clients high-quality deck services in their area and beyond. With two decades of industry experience, we have cultivated a reputation for professionalism, genuineness, and forward thinking. Whether you are looking to design a new deck or revamp an existing one, our skilled team is here to help. Reach out to us now to book a cost-free consultation and find out how we can turn your outdoor area into a visually striking and practical haven.
Uncover the Ideal Deck Material for You: Comparing Wood and Composite Options
Decks Unique is all about empowering you to create an amazing outdoor utopia within your home. Hence, we put forth a broad selection of decking materials, consisting of wood and composite possibilities. Every decking material has its attractive features, ascertaining that you find the perfect choice addressing your individual essentials and partialities.
Discover the Classic Appeal of Wood Decking
Wood's timeless versatility makes it an ideal material for adding warmth and charm to outdoor environments. We provide an assortment of wooden decking alternatives that can accommodate any design preference and budget.
Pressure-Treated Lumber: Affordable and Durable
Because of its budget-friendliness and lasting quality, pressure-treated lumber is popular among numerous homeowners. The decking material is treated specially to guard against wood rot and insect invasion. Consequently, pressure-treated decks have a lengthy life and demand limited upkeep.
Cedar and Redwood: Luxurious and Naturally Resistant
For those pursuing a deluxe option, we feature cedar and redwood decking in our offerings. The stunning and high-quality woods are naturally resistant to deterioration and bug infestations, ensuring a deck that lasts and ages with charm. With their rich colors and unique grain patterns, cedar and redwood decks make a stunning addition to any home.
Exotic Hardwoods: Gorgeous and Long-lasting
If you desire a truly rare and refined option, think of using exotic hardwoods like Ipe, Tigerwood, or Cumaru. These uncommonly sturdy and enduring woods are well known for their amazing long-lasting qualities and gorgeous appearance. Accentuating any outdoor area, exotic hardwood decks offer eye-catching colors and ornate patterns as a stunning centerpiece.
Low-Maintenance Living with Composite and PVC Decking
Should you desire an environmentally-friendly and low-maintenance option, look into composite and PVC decking. These pioneering materials blend the allure of wood with the toughness of man-made substances, affording homeowners a near maintenance-free al fresco space.
Composite Decking: Exploring Its Benefits and Advantages
Composite decking, which combines recycled wood fibers and plastic, is a sturdy and green choice. This decking material is resistant to warping, cracking, and fading, ensuring a beautiful and long-lasting deck with minimal upkeep. Also, composite decks are notably easy to clean, and a bit of occasional washing is sufficient to maintain a clean outdoor space.
Leading Brands in the Field of Composite Materials
It is an honor for Decks Unique to collaborate with the best composite decking brands, including Trex, TimberTech, and Azek. Being authorized installers of these extraordinary products allows us to give Garden City homeowners access to the highest quality materials for a gorgeous and long-lasting outdoor living space.
Upgrade Your Deck with Various Color and Texture Choices
One of the major benefits of composite decking is the wide range of customization options. You can put together a custom outdoor setting that reflects your home's aesthetics with the diverse color and texture options available. Regardless of your preference for natural wood's appearance or modern designs, composite decking provides a suitable option.
Upgrade Your Deck Experience with Railing and Baluster Possibilities
A flawless deck needs the correct railing and baluster system to be fully realized. At Decks Unique, we offer a wide range of options to complement your deck design and ensure the safety and functionality of your outdoor space.
Wooden Barrier Systems: Timeless and Classic
A wood railing system is an excellent choice for a classic and never-outdated appearance. Wood railing systems can be used with both wooden and composite decking for a well-coordinated and seamless design. By painting or staining a wood railing system, you can create a perfect match for your deck or your Garden City home's exterior, delivering an impressive outcome.
Metal and Glass Railing Systems: Up-to-date and Polished
If you prefer a more modern and sleek aesthetic, consider metal or glass railing systems. These modern possibilities not only offer an up-to-date appeal but also amplify the sights from your deck, making them a top choice for homeowners immersed in picturesque backdrops.
Composite Railing Systems: Hassle-Free and Modern
For a low-maintenance, stylish, and elegant solution, composite railing systems are the perfect fit. Pairing these durable, eye-catching railings with composite decking generates a visually consistent look, transforming the area into a striking outdoor haven that requires little care.
No matter what you like, Decks Unique is here to offer assistance in selecting the perfect deck materials for your abode. Connect with us today to explore your desires and kick off the design of the outdoor oasis you have always wanted.
Optimize Your Outdoor Living Space with Our Extra Services in Garden City
Our objective at Decks Unique is to transition your outdoor living area into an elegant and useful home extension. We don't just provide exemplary deck building services; we also have a variety of extra services like wood awnings, cabanas, gazebos, pergolas, and porch construction. The skilled professionals at Garden City diligently collaborate with you in order to transform your vision into reality while ensuring top-notch quality and durability.
Wood Awnings: Add Fashion and Functionality for Your Outdoor Space
Wooden awnings present an ideal solution for incorporating both shade and sophistication to your outdoor space. Our proficient crew at Decks Unique will offer guidance in determining the perfect design and materials for a visually appealing and practical wood awning that goes well with your home's decor. Not only do these structures shield you from extreme weather, but they also boost your property's overall worth.
Cabanas: Build an Opulent Sanctuary in Your Garden City Yard
Cabanas are unparalleled in providing luxury, comfort, and privacy, making them a top choice for inclusion in any exterior space. Our expert team will collaborate with you to develop and construct a bespoke cabana tailored to your requirements and desires. Looking for a comfortable retreat to relax or a classy space to host events, we can design a cabana that transforms into your perfect outdoor haven.
Gazebos: A Picturesque Addition for Your Backyard Garden or Patio
A gazebo adds a quaint touch to any garden or patio, creating an eye-catching centerpiece and offering shade for outdoor lounging. With the help of our skilled team, you'll be able to decide on the ideal style, materials, and placement for your gazebo, ensuring it integrates smoothly with your current outdoor space. Our top-notch craftsmanship ensures an impressive gazebo that enriches your outdoor area and brings joy for numerous years.
Pergolas: Upgrade Your Exterior Area by Adding Architectural Intrigue and Purpose
Pergolas offer a brilliant solution for infusing architectural style and practical purposes into your outdoor environment. Such structures offer a mix of shade and natural light, making them ideal for garden paths, terrace areas, or al fresco dining spots. At Decks Unique, our experienced professionals will design and build a custom pergola that matches your style and adds value to your home.
Porches: Enhancing Your Home's Curb Appeal and Expanding Outdoor Living Space
An artfully designed porch not only advances your home's curb appeal but also serves up a comfy outdoor living spot for you and your family to cherish. Our knowledgeable team will partner with you to build a personalized porch that fits your home's architectural theme and adheres to your functional demands. With our keen eye for detail and dedication to excellence, you can have peace of mind knowing your porch construction endeavor is well taken care of.
Reach out to Decks Unique to transform your Garden City outdoor living space
We pride ourselves on bringing top-quality, tailored outdoor living solutions to our customers in Garden City and the neighboring regions at Decks Unique. Whether you want to add a wood awning, cabana, gazebo, pergola, or porch to your outdoor area, our team of professionals is here to help. Contact us right away to go over your project and learn how we can transform your outdoor area into a plush and purposeful extension of your living space.
Professional Deck Planning and Creation in Garden City
Delivering personalized consultations and tailor-made deck designs that satisfy every client's specific needs is what sets Decks Unique apart. With over 20 years of industry know-how, our experienced deck designers will work side by side with you to create a deck that amplifies your home's appearance and practicality. With state-of-the-art 3D modeling and visualization tools, we'll actualize your vision of the perfect deck, guaranteeing that the completed project satisfies your requirements.
High-Quality Deck Materials for Lasting Durability
Decks Unique, the preeminent deck builder on Long Island, is authorized to install all renowned composite decking products, featuring brands like Trex, TimberTech, and Azek. Additionally, we provide various wood decking choices tailored to your taste, including pressure-treated wood, cedar, redwood, and unique hardwoods. The use of only premium materials in our work reflects our commitment to building durable, low-maintenance decks.
Reliable Deck Construction Services in Garden City
At Decks Unique, our talented deck building professionals are devoted to ensuring exceptional quality and efficiency in all phases of the construction process. Due to our profound expertise in building codes, standards, and permits, you can depend on us to oversee the complete project from inception to completion, delivering a striking and functional outdoor area.
Uphold and Revamp Your Deck's Charm
At Decks Unique, we appreciate the importance of consistent care in retaining the aesthetics and strength of your deck. Our seasoned team can conduct inspections and find any damages or potential problems, performing essential repairs to maintain your deck's prime state. Besides, we make available deck refinishing and restoration conveniences, like cleaning, staining, defending against harsh weather, and sealing techniques to uphold and heighten your deck's aesthetic value.
Boost Your Outdoor Setting with Custom Solutions and Add-ons
To truly make your deck a unique outdoor oasis, Decks Unique offers a variety of custom features and add-ons such as deck lighting, built-in seating, outdoor kitchens, and fire features. Such improvements not only boost practicality, but they also generate a cozy and welcoming ambiance for you and your visitors to appreciate.
Comprehensive Decking Services and More
Besides being proficient in deck design and construction, Decks Unique provides services in creating additional outdoor structures like wood awnings, cabanas, gazebos, pergolas, and porch construction. These extra structures will considerably enrich your Long Island home's outdoor area, providing the perfect space for both relaxation and entertainment.
Rely on Decks Unique for all of your decking demands in Garden City. Find out how our dedication to top-notch quality, professionalism, and customer satisfaction affects your outdoor area. Message us today to plan a free meetup, and let us make your backyard into a stunning display.
Joyfully helping the citizens in Garden City, Elwood, East Farmingdale, Brentwood, Woodmere, Syosset, Shirley, and other Long Island vicinities.
Offering Long Island Quality Deck Designs and Services: