Uncover Decks Unique - The Leading Deck Construction Solution in Lake Grove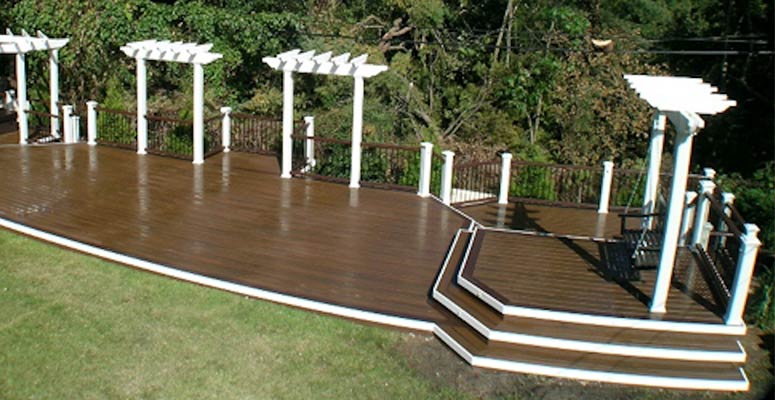 Decks Unique, a family-owned and operated company specializing in custom deck design and construction, has served the communities of Long Island and the surrounding areas, such as Lake Grove, for over two decades. Owing to our zeal for design and unwavering dedication to professionalism, honesty, and innovation, we've become the largest producer of high-end decks on Long Island, establishing industry standards. Decks Unique is skilled in designing and constructing tailor-made decks, porches, gazebos, pergolas, wood awnings, and other exterior structures that increase the value, attractiveness, and practicality of your Long Island residence.
Lake Grove's Expert and Experienced Deck Builders
At Decks Unique, we believe that a well-thought-out deck design is a wise investment when considering home improvement. At Decks Unique, our skilled professionals in deck building are devoted to providing superior quality, working towards efficient scheduling, and making sure that our warranties retain true long-term value. This unswerving commitment to unparalleled standards has brought about a hundreds of happy customers and elegant decks they're excited to showcase for years to come.
On Long Island, our skilled deck builders are qualified to set up all leading composite deck materials, like Trex, TimberTech, and Azek. We present free home evaluations and computerized decking layouts to enable you to picture your project before it becomes reality. Choose your backyard as the focus of our next enterprise!
Elevate Your House's Worth by Adding a Custom Deck
An outstanding deck can both improve the exterior living area of your Lake Grove residence and substantially increase its worth. We, at Decks Unique, focus on the development and creation of bespoke decks that address the specific requirements and tastes of each client. If you're seeking an intimate area for hosting gatherings or a lavish exterior sanctuary to revel in pleasant weather, we will collaborate closely with you to make your dream a reality.
We know that each property owner has their own distinct taste and requirements for their outdoor living areas. This is the reason we present various materials, styles, and characteristics to craft the ultimate deck that suits your house and lifestyle. We present solutions to suit any budget and preference, ranging from classic wood options like pressure-treated lumber, cedar, and redwood, to the maintenance-free world of composite and PVC decking.
Dedication to Fantastic Quality and Client Satisfaction
Decks Unique's commitment to first-class workmanship and customer happiness is unwavering. We are dedicated to utilizing only top-grade materials and partnering with expert, seasoned builders to guarantee our projects meet the most stringent standards.
For a project to be successful, we believe communication is key, and we place great importance on keeping our clients aware of every development. Throughout the entire journey, from the initial consultation and design to construction and the final inspection, our team is committed to being there to assuage any doubts, allay concerns, and ascertain your utmost satisfaction with your new deck.
Give Decks Unique the chance to modify your Lake Grove backyard into a cozy outdoor living space you'll love. Don't hesitate to contact us today for a free consultation and to witness the Decks Unique experience.
Full-range Decking Services in Lake Grove
At Decks Unique, our goal is to offer a vast selection of tailored decking services, tailored to meet the needs of our Lake Grove clients. Our expertise covers everything from custom deck design and construction to repair, maintenance, and refinishing. Besides our primary services, we also offer numerous distinctive features and upgrades to improve your outdoor living space. Take a closer look at the comprehensive list of services we have to offer.
Custom Deck Design: Crafting Your Dream Deck with Precision
Our professional deck designers will work closely with you to create a custom deck that reflects your personal style, complements your home, and meets the unique requirements of your property. Our professionals are here to support you in making educated judgments by guiding you through the material selection process, ensuring the enduring appeal and robustness of your deck.
Outstanding Deck Construction: Unparalleled Craftsmanship for a Gorgeous Open-Air Space
As the premier deck builder, we are committed to using only high-quality materials and employing safe, efficient workmanship. Our competent crews are licensed to install top-tier composite decking materials, such as Trex, TimberTech, and Azek. With rigorous attention to detail and a commitment to structural robustness, we confirm that your deck is not only striking but also stands firm for years to come.
Repairing and Maintaining Decks: Retaining the Value of Your Investment
To preserve the beauty and functionality of your deck, regular maintenance is crucial. When it comes to wood or composite decks, our committed team covers all aspects of repair and maintenance. From exhaustive assessments aimed at spotting potential concerns, to professional repair of damages resulting from weather or age, consider us your all-encompassing deck maintenance provider. With our regular maintenance schedules, you can relax, confident that your deck will be well-maintained and preserved year-round.
Deck Refinishing and Restoration: Renew Your Outdoor Oasis
As time elapses, even the most exceptional decks can present signs of wear or need refinishing to maintain their aesthetic. Our proficient team can revive your deck's splendor by means of professional cleaning, staining, weatherproofing, and sealing. Furthermore, we can carry out structural upgrades to make sure your deck stays secure and operational in the long term.
Adapted Facets and Complementary Elements: Optimize Your Deck Satisfaction
To refine your outdoor living space, we offer a collection of custom-fitted elements and added features conceived to elevate your deck. Such choices encompass energy-saving lighting for decks, integrated seating, alfresco kitchens, and fire elements. By incorporating these elements into your deck design, we create a welcoming and comfortable space for you to enjoy with family and friends in Lake Grove.
Decks Unique focuses on offering unparalleled decking assistance to customers and areas close by. For more than 20 years, our experience has earned us a reputation for being professional, honest, and groundbreaking. Our capable team is eager to help you with planning a new deck or upgrading an old one. Connect with us today to set up a no-charge consultation and learn how your outdoor space can become a gorgeous, practical escape.
Discover Your Perfect Deck Material: Wood and Composite Options
At Decks Unique, our mission is to guide you in designing your dream outdoor refuge for your house. Thus, we have a vast assortment of decking materials, including alternatives made of wood and composite materials. Individual materials offer distinct advantages, making certain that you have the capability to pick the ideal option that aligns with your needs and likes.
Wood Decking Provides an Ageless Beauty
Timber brings a classic, adaptable quality while offering organic coziness and appeal for all outside areas. We present a wide assortment of wood deck options, ensuring compatibility with any style and budget.
Pressure-Treated Wood: Cost-effective and Long-lasting
Pressure-treated wood is a sought-after choice among many homeowners owing to its reasonably priced and enduring characteristics. This decking material receives a distinctive treatment, making it resistant to rotting and insect infestations. Pressure-treated decks last a long time and necessitate minimal care due to this treatment.
Naturally Resistant Cedar and Redwood: A Grand Luxury
Should you seek a more sumptuous choice, we also present cedar and redwood decking. These beautiful and high-end woods are naturally resistant to decay and insects, ensuring a long-lasting deck that ages gracefully. With their rich colors and unique grain patterns, cedar and redwood decks make a stunning addition to any home.
Exotic Hardwoods: Exquisite and Long-Lasting
When seeking a completely original and classy selection, mull over exotic hardwoods like Ipe, Tigerwood, or Cumaru. These dense and hard-wearing woods are famous for their amazing durability and striking visual appeal. Captivating colors and fascinating patterns of exotic hardwood decks contribute to a magnificent centerpiece for any outdoor environment.
Discover the Ease of Low-Maintenance Living by Choosing Composite and PVC Decking
Should you desire an environmentally-friendly and low-maintenance option, look into composite and PVC decking. These innovative materials combine the beauty of wood with the durability of synthetic materials, providing homeowners with a nearly maintenance-free outdoor space.
Benefits and Advantages of Composite Decking
Composite decking, a fusion of recycled wood fibers and plastic, yields a durable and eco-conscious option. This type of decking material is impervious to issues like warping, cracking, and color loss, guaranteeing a stunning and durable deck that needs little attention. Composite decks also have an advantage in their ease of cleaning, with only sporadic washing needed to keep the outdoor area immaculate.
A Look at Industry-Leading Composite Materials Brands
Working with industry-leading composite decking brands such as Trex, TimberTech, and Azek is a source of pride for Decks Unique. We can deliver the best quality materials for an attractive and long-lasting outdoor space to Lake Grove homeowners, as we are authorized installers of these first-rate products.
Design Your Deck with a Variety of Color and Texture Possibilities
Composite decking comes with the advantage of a plethora of customization options. With a variety of color and texture choices, you can create a one-of-a-kind outdoor space that perfectly suits your home's aesthetic. Whether you prefer the look of natural wood or a more contemporary design, there's a composite decking option for you.
Enhance Your Deck with Railing and Baluster Options
To be complete, the perfect deck calls for the appropriate railing and baluster system. At Decks Unique, we feature a vast collection of alternatives to match your deck design and ensure your outdoor area remains safe and functional.
Wood Railing Solutions: Ageless and Time-honored
A wood railing system is an excellent choice for a classic and never-outdated appearance. This option pairs beautifully with both wood and composite decks, creating a seamless and cohesive design. By matching the color of your wood railing system to your deck or Lake Grove home exterior through painting or staining, a visually stunning result is guaranteed.
Metal and Glass Railing Systems: Up-to-date and Polished
When a refined and modern vibe is what you're after, metal or glass railing systems may be perfect for you. Such choices add a modern twist and can elevate the vista from your outdoor space, making them an attractive option for homeowners with striking scenery.
Composite Railing Systems: Low-Care and Trendy
If you're looking for an elegant option with minimal upkeep, composite railing systems are a superb choice. The resilient and captivating railings offer a consistent aesthetic when used in conjunction with composite decking, cultivating an exquisite outdoor space with low maintenance needs.
No matter your inclinations, Decks Unique is at your service to aid you in picking the perfect decking supplies for your home. Touch base with us today to present your needs and launch the design of the outdoor sanctuary of your dreams.
Elevate Your Outdoor Living Experience with Our Supplementary Services in Lake Grove
We believe in transforming your outside living space into a luxurious and functional part of your home at Decks Unique. Apart from our exceptional deck building services, we also offer a variety of additional services such as wood awnings, cabanas, gazebos, pergolas, and porch construction. The skilled professionals at Lake Grove diligently collaborate with you in order to transform your vision into reality while ensuring top-notch quality and durability.
Wood Awnings: Enhance Your Outdoor Area with Shade and Style
The use of wood awnings can impart both shade and refinement to your outdoor zone. Our proficient crew at Decks Unique will offer guidance in determining the perfect design and materials for a visually appealing and practical wood awning that goes well with your home's decor. These structures not only protect you from harsh weather conditions but also enhance the overall value of your property.
Cabanas: Create a Luxurious Retreat in Your Lake Grove Backyard
Cabanas deliver a flawless fusion of opulence, comfort, and seclusion, making them the ultimate addition to any outdoor setting. Collaborating with our expert team, you'll be able to design and build a cabana customized to your precise needs and tastes. No matter if you're seeking a snug haven for relaxation or a stylish area for hosting gatherings, we can design a cabana that is the ideal outdoor escape.
Gazebos: A Visually Appealing Addition for Your Garden or Patio
Incorporating a gazebo in a garden or patio lends perpetual elegance, offering an alluring centerpiece and a cool alcove for outdoor unwinding. Our proficient team aids you in picking the optimal aesthetics, materials, and location to incorporate your gazebo seamlessly into your current landscape. Through our outstanding craftsmanship, we create a captivating gazebo that augments the splendor of your outdoor area for many years ahead.
Pergolas: Improve Your Outdoor Oasis with Striking Architectural Design and Function
Adding a pergola is a fantastic method for enhancing your outdoor area's architectural appeal and usefulness. These structures adeptly merge shadow and light, creating an idyllic atmosphere for walkways in gardens, patios, or outdoor dining places. Let Decks Unique's knowledgeable professionals plan and build a customized pergola to match your style, and in doing so, increase your home's value.
Creating a Porch: Upgrade Your Home's Curb Appeal and Outdoor Living Areas
A proficiently designed porch not only increases your home's curb appeal but also presents a comfortable open-air living space for you and your family to take pleasure in. Our skillful staff will coordinate with you to fashion a custom porch that goes well with your home's architecture and addresses your functional requirements. With our rigorous attentiveness to detail and unyielding dedication to exceptional quality, you can rest easy knowing your porch fabrication assignment is in trustworthy hands.
Connect with Decks Unique for your Lake Grove outdoor living space makeover
We pride ourselves on bringing top-quality, tailored outdoor living solutions to our customers in Lake Grove and the neighboring regions at Decks Unique. Our team of skilled professionals is here to help you enhance your outdoor space with a wood awning, cabana, gazebo, pergola, or porch. Contact us right away to go over your project and learn how we can transform your outdoor area into a plush and purposeful extension of your living space.
Lake Grove's Premier Deck Consultation and Design Experts
At Decks Unique, we take great pride in providing customized consultations and tailor-made deck designs to cater to the specific requirements of our customers. Our seasoned deck designers, with over 20 years in the field, will partner with you to develop a deck that improves both your home's appearance and functionality. By harnessing the power of advanced 3D modeling and visualization techniques, we'll materialize your dream deck, while ensuring the final version fulfills your expectations.
Outstanding Decking Materials for Long-lasting Resilience
Long Island's foremost deck builder, Decks Unique, is an officially recognized installer of major composite deck materials, including brands like Trex, TimberTech, and Azek. Furthermore, we extend a multitude of wooden decking options geared to your tastes, including pressure-treated beams, cedar, redwood, and superior hardwoods. With a commitment to using only exceptional materials, you can trust that your new deck will be long-lasting and require minimal maintenance.
Exceptional Deck Construction Services in Lake Grove
Our gifted deck construction professionals at Decks Unique are devoted to ensuring top-tier quality and effectiveness during the full building process. Utilizing our comprehensive knowledge of building codes, laws, and permits, you can have faith in us to handle the entire project from initiation to completion, resulting in an exquisite and functional outdoor living space.
Preserving and Rejuvenating Your Deck's Aesthetics
At Decks Unique, we are conscious of the pivotal role regular maintenance plays in preserving your deck's visual charm and solid framework. The proficient team at Decks Unique can assess and pinpoint any damage or possible issues, carrying out vital repairs to ensure your deck remains in prime condition. Additionally, we offer deck refinishing and restoration services, including cleaning, staining, weatherproofing, and sealing to protect and enhance your deck's appearance.
Augment Your Alfresco Space with Customized Enhancements and Features
For authentically crafting your deck into a standout alfresco haven, Decks Unique brings you a variety of individualized elements and add-ins, featuring lighting systems for decks, seats embedded within the layout, cooking zones suitable for outdoor use, and fire-related fixtures. These augmentations not only amplify effectiveness, but they also cultivate a friendly and cozy aura for you and your company to enjoy.
Wide-Ranging Decking Services and Extra Offerings
In addition to our proficiency in deck design and building, Decks Unique also provides expertise in constructing supplementary outdoor structures like wooden awnings, cabanas, gazebos, pergolas, and porches. These amenities can remarkably enhance your Long Island home's outdoor space, converting it into a perfect haven for relaxation and social gatherings.
Entrust all your Lake Grove decking needs to Decks Unique. Find out how our dedication to top-notch quality, professionalism, and customer satisfaction affects your outdoor area. Reach out to us now for a complimentary discussion and let us convert your outdoor space into a mesmerizing marvel.
Eager to accommodate the residents of Lake Grove, Holbrook, Glen Head, Farmingdale, East Islip, Brentwood, Woodmere, and other Long Island territories.
Offering Long Island Quality Deck Designs and Services: