Experience Decks Unique - The Premier Deck Building Service in North Lindenhurst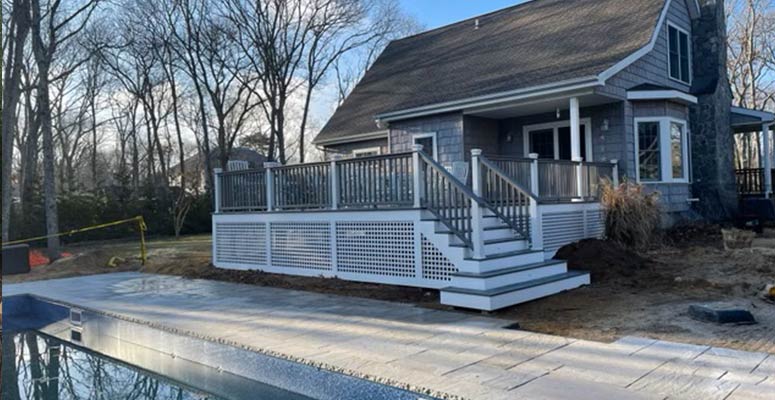 Decks Unique, a family-owned and operated custom deck design and construction business, has catered to the residents of Long Island and nearby areas, like North Lindenhurst, for more than 20 years. Decks Unique's dedication to design, professionalism, integrity, and innovation has elevated us to become the leading producer of high-quality decks in Long Island, defining industry standards. Our proficiency extends to designing and building custom decks, porches, gazebos, pergolas, wood awnings, and other outdoor fixtures that enrich the value, elegance, and usefulness of your dwelling on Long Island.
Comprehensive and Experienced Deck Building Services in North Lindenhurst
At Decks Unique, we are convinced that a well-organized deck layout offers a sensible investment in home improvement projects. The Decks Unique team of experienced deck builders is committed to providing top-notch quality, keeping effective production timelines, and ensuring that our warranties offer enduring value. Our allegiance to exceptional quality has borne fruit in the form of myriad satisfied clients and beautifully crafted decks they can flaunt for the years ahead.
On Long Island, our professional decking installers are approved to work with all major composite decking materials, like Trex, TimberTech, and Azek. We present free home evaluations and computerized decking layouts to enable you to picture your project before it becomes reality. Let us make your backyard our next project!
Heighten Your Home's Worth with Your Own Custom Deck
A top-quality deck serves to enhance the open-air living quarters of your North Lindenhurst dwelling while also heightening its value. Our area of expertise at Decks Unique lies in conceiving and erecting individualized decks that accommodate the unique necessities and preferences of our clients. Be it a homely location for entertaining your friends and family or a luxurious outdoor idyll to luxuriate in attractive weather, our team will join forces with you to make your ideal haven a reality.
We appreciate that every homeowner has distinct preferences and needs for their outdoor environments. That's why we make available a large range of materials, designs, and components to fashion the perfect deck that aligns with your house and personal routines. From standard wood options like pressure-treated lumber, cedar, and redwood to the easy upkeep of composite and PVC decking, we provide the right answer to accommodate every budget and personal taste.
Unmatched Commitment to Awe-inspiring Quality and Client Comfort
Delivering outstanding workmanship and ensuring client contentment are of utmost importance at Decks Unique. Our devotion to first-class materials and engaging the services of experienced contractors guarantees the superior completion of each project we take on.
To us, seamless communication is the backbone of successful projects, and we work diligently to ensure our clients are always in the know. Throughout the entire journey, from the initial consultation and design to construction and the final inspection, our team is committed to being there to assuage any doubts, allay concerns, and ascertain your utmost satisfaction with your new deck.
Let Decks Unique remodel your North Lindenhurst backyard into an outdoor living oasis you'll relish. Message us today to secure a free consultation and experience the exceptional Decks Unique service.
Extensive Deck Construction Services in North Lindenhurst
Decks Unique specializes in providing a wide assortment of decking services, designed to suit the preferences of our North Lindenhurst customers. Our team is skilled in providing a holistic suite of services, from custom deck design and construction to repair, maintenance, and refinishing. Alongside our main services, we offer a selection of unique features and supplementary options to enrich your outdoor living experience. Let's explore further the array of services we provide at Decks Unique.
Custom Deck Design: Turning Your Visionary Deck into Reality
Our exceptional deck designers will work side-by-side with you to fashion a tailor-made deck that conveys your personal touch, perfectly matches your home, and handles the unique expectations of your property. To aid you in making well-informed decisions, our authorities will guide you in choosing appropriate materials, promising enduring elegance and sturdiness.
Top-Notch Deck Construction: High-Quality Craftsmanship for a Beautiful Outdoor Living Space
As a prominent deck builder, we are committed to utilizing only top-quality materials and practicing secure, proficient workmanship. Our accomplished crew members are qualified installers of renowned composite deck materials, such as Trex, TimberTech, and Azek. With rigorous attention to detail and a commitment to structural robustness, we confirm that your deck is not only striking but also stands firm for years to come.
Deck Preservation and Fixing: Sustaining Your Investment's Worth
Keeping your deck beautiful and functional requires regular maintenance. We have a dedicated team that offers all-inclusive repair and upkeep services for both wood and composite decks. Offering complete inspections to uncover potential issues and expert repair services for damages due to the elements or wear, we are your ultimate destination for all things related to deck maintenance. Through our pre-scheduled maintenance programs, you can enjoy the certainty that your deck's outstanding condition will be sustained year-round.
Deck Refinishing and Revitalization: Energize Your Exterior Living Space
Over an extended period, even the outstanding quality decks might exhibit symptoms of wear or require refinishing to preserve their attractiveness. Our knowledgeable team can recuperate your deck's attractiveness by utilizing expert cleaning, staining, weatherproofing, and sealing techniques. Moreover, we can implement structural enhancements, guaranteeing your deck's safety and function for the foreseeable future.
Personalized Attributes and Extras: Improve Your Deck Enjoyment
To enhance your outdoor living area, we provide an assortment of tailor-made features and extras crafted to accentuate your deck. Among these selections are energy-effective deck lights, inherent seating, kitchens designed for outdoor use, and features involving fire. By fusing these elements within the deck design, we cultivate a warm and comfy place for you and your kin to share memorable moments in North Lindenhurst.
We, at Decks Unique, excel in delivering the finest decking solutions to our customers and areas nearby. Boasting over 20 years of experience, we are known for our professionalism, trustworthiness, and innovative approach. If you're interested in designing a new deck or renovating your current one, our experienced team can help. Schedule a complimentary consultation with us today, and explore the possibilities to transform your outdoor space into a beautifully functional sanctuary.
Find Your Ultimate Deck Material: Wood vs. Composite Choices
Decks Unique is dedicated to assisting you in developing the ideal outdoor sanctuary for your residence. That is why we present a diverse range of decking materials, featuring wooden and composite alternatives. Separate materials exhibit specific strengths so that you can determine the best option corresponding to your particular requirements and desires.
Wood Decking: A Refined Classic Look
Offering unparalleled warmth and charm, wood is an eternal and versatile choice for outdoor environments. We provide an assortment of wooden decking alternatives that can accommodate any design preference and budget.
Pressure-Treated Boards: Economically Viable and Robust
Many homeowners opt for pressure-treated lumber on account of its economical and sturdy features. This decking material undergoes a special treatment process, protecting it against rot and insect infestation. Pressure-treated decks, as a consequence, stand the test of time and demand little maintenance.
Cedar and Redwood: Nature's Luxury with Built-In Resistance
If you're in the market for a high-end solution, consider our cedar and redwood decking options. The stunning and high-quality woods are naturally resistant to deterioration and bug infestations, ensuring a deck that lasts and ages with charm. The vibrant hues and distinct grain designs of cedar and redwood decks create an impressive enhancement to any residence.
Exotic Hardwoods: Attractive and Sturdy
If you want an exceptional and one-of-a-kind option, look into using exotic hardwoods like Ipe, Tigerwood, or Cumaru for your project. These exceedingly solid and long-lasting woods stand out due to their commendable longevity and stunning appearance. With vivid colors and detailed patterns, exotic hardwood decks provide a striking focal point for outdoor spaces.
The Benefits of Low-Maintenance Living: Composite and PVC Decking
For those seeking a low-maintenance and eco-friendly alternative, consider composite and PVC decking. These modern materials unite the wood's aesthetic qualities with the hardiness of synthetics, presenting homeowners with an almost maintenance-free outdoor zone.
Composite Decking: Exploring Its Benefits and Advantages
Constructed from a mix of repurposed wood fibers and plastic, composite decking provides a strong, environmentally conscious choice. This decking material is resistant to warping, cracking, and fading, ensuring a beautiful and long-lasting deck with minimal upkeep. Another benefit is the effortless cleaning of composite decks, needing only an occasional wash to retain the freshness of the outdoor environment.
Top Brands in the Composite Materials Industry
Decks Unique is proud of their association with top composite decking brands like Trex, TimberTech, and Azek. As authorized installation experts of these unparalleled products, we can offer North Lindenhurst homeowners the highest-grade materials for an appealing, durable outdoor space.
Customize Your Deck with Color and Texture Options
One of the major benefits of composite decking is the wide range of customization options. With a variety of color and texture choices, you can create a one-of-a-kind outdoor space that perfectly suits your home's aesthetic. Composite decking caters to your taste, whether you favor traditional wood or a more up-to-date design.
Enhance Your Deck with Railing and Baluster Options
An ideal deck requires the appropriate railing and baluster system to be complete. Decks Unique presents a broad array of possibilities to enrich your deck's design and guarantee the safety and efficiency of your outdoor space.
Wooden Railing Designs: Everlasting and Traditional
Opt for a wood railing system if you desire a timeless and sophisticated feel. Both wood and composite decks can be perfectly matched by a wood railing system, ensuring a smooth and integrated look. Create a breathtaking finished look by painting or staining your wood railing system to complement your deck or the exterior of your North Lindenhurst home.
Metal and Glass Railing Systems: Chic and Smooth
If modern sophistication and sleekness catch your eye, metal or glass railing systems might be just the thing. These alternatives offer a modern accent and can improve the scenic view from your deck, becoming a favorite selection among those who live in visually stunning locations.
Composite Railing Systems: Low-Maintenance, Chic Design
If you're looking for an elegant option with minimal upkeep, composite railing systems are a superb choice. The combination of durability and beauty in these railings, alongside composite decking, fosters a cohesive design and a breathtaking outdoor setting with minimal maintenance efforts.
No matter your style preferences, Decks Unique is prepared to support you in determining the perfect decking materials for your domicile. Get in contact with us now to outline your requirements and initiate the creation of your perfect outdoor environment.
Boost Your Outdoor Living Space with Our Additional Services in North Lindenhurst
Our objective at Decks Unique is to transition your outdoor living area into an elegant and useful home extension. Apart from our exceptional deck building services, we also offer a variety of additional services such as wood awnings, cabanas, gazebos, pergolas, and porch construction. In North Lindenhurst, we have a team of skilled professionals who work closely with you to make your dream outdoor space a reality, while ensuring the highest quality and durability.
Wood Awnings: Add Shade and Style to Your Outdoor Space
The use of wood awnings can impart both shade and refinement to your outdoor zone. The knowledgeable professionals at Decks Unique can help you determine the best design and materials to construct a gorgeous and useful wood awning that aligns with your home's aesthetic. These wood awnings not only serve to protect against harsh weather but also help raise your property's overall value.
Cabanas: Put together a Plush Solace in Your North Lindenhurst Garden
With a remarkable marriage of luxury, ease, and privacy, cabanas make for an outstanding complement to any outdoor space. Our team of experts will work with you to design and build a custom cabana that meets your specific needs and preferences. Whether your desire is a welcoming respite for relaxation or an elegant setting for entertaining guests, we can create a cabana that presents an idyllic outdoor escape.
Gazebos: A Beautiful Addition for Your Outdoor Garden or Patio
A gazebo serves as a classic element in any garden or patio, offering an attractive centerpiece and a sheltered space for enjoying the outdoors. Our expert team assists you in selecting the perfect design, materials, and placement for your gazebo, guaranteeing a smooth blend with your current outdoor environment. Thanks to our masterful craftsmanship, you can delight in a splendid gazebo that boosts the allure of your outdoor space for many years to come.
Pergolas: Elevate Your Outdoor Living Space's Interest and Utility through Architecture
One effective way to enrich your outdoor living space with architectural appeal and utility is by constructing a pergola. The design of these structures allows for a combination of shade and sunlight, which makes them perfect for garden trails, patio spaces, and open-air eating areas. Our adept professionals at Decks Unique are here to design and construct a custom-built pergola that suits your preferences, adding value to your living space.
Patio Construction: Raise Your Home's Curb Appeal and Outdoor Living Space
A proficiently designed porch not only increases your home's curb appeal but also presents a comfortable open-air living space for you and your family to take pleasure in. Our skillful staff will coordinate with you to fashion a custom porch that goes well with your home's architecture and addresses your functional requirements. With our attention to detail and commitment to quality, you can rest assured knowing your porch construction project is in good hands.
Approach Decks Unique to enhance your North Lindenhurst outdoor living area
We at Decks Unique are dedicated to offering exceptional, bespoke outdoor living solutions for our North Lindenhurst clientele and the neighboring areas. Whether you want to add a wood awning, cabana, gazebo, pergola, or porch to your outdoor area, our team of professionals is here to help. Give us a call today to discuss your vision, and we'll show you how we can upgrade your outdoor living area into a deluxe and useful extension of your home.
Expert Deck Consultation and Design in North Lindenhurst
Decks Unique is renowned for providing individualized consultations and custom deck plans to fulfill the particular desires of our customers. With over 20 years of industry know-how, our experienced deck designers will work side by side with you to create a deck that amplifies your home's appearance and practicality. Using advanced 3D modeling and visualization techniques, we'll bring your dream deck to life, ensuring the final product meets your expectations.
Durable Deck Materials for Extended Life Expectancy
Decks Unique, the leading deck builder in Long Island, is a certified installer for top composite deck brands like Trex, TimberTech, and Azek. We also propose a diverse set of wood decking choices to meet your specific preferences, such as pressure-treated building materials, cedar, redwood, and upscale hardwoods. We are committed to using only superior materials, ensuring the durability of your new deck while keeping maintenance requirements minimal.
Premier Deck Construction Services in North Lindenhurst
At Decks Unique, our highly trained deck construction crew is dedicated to upholding superior craftsmanship and optimal efficiency during the complete building venture. With our extensive know-how of building codes, statutes, and permits, you can rely on us to steer the whole project from its start to finish, leaving you with a visually striking and practical outdoor living area.
Keep and Restore Your Deck's Attractiveness
At Decks Unique, we recognize the significance of regular upkeep in maintaining your deck's aesthetic appeal and structural stability. Our proficient staff at Decks Unique can inspect and uncover any damages or potential problems, administering essential repairs to maintain your deck in an optimal state. Furthermore, we provide deck restoration and refinishing services, which cover cleaning, staining, weatherproofing, and sealing to safeguard and improve your deck's looks.
Upgrade Your Outdoor Area with Custom Features and Add-ons
For authentically crafting your deck into a standout alfresco haven, Decks Unique brings you a variety of individualized elements and add-ins, featuring lighting systems for decks, seats embedded within the layout, cooking zones suitable for outdoor use, and fire-related fixtures. These enhancements not only add functionality but also create a comfortable and inviting atmosphere for you and your guests to enjoy.
Broad Decking Options and Additional Support
Decks Unique is well-versed in both deck design and construction as well as additional outdoor structures like wood awnings, cabanas, gazebos, pergolas, and porch construction. These amenities can remarkably enhance your Long Island home's outdoor space, converting it into a perfect haven for relaxation and social gatherings.
Let Decks Unique take care of all your decking needs in North Lindenhurst. Experience the difference that our commitment to quality, professionalism, and customer satisfaction brings to your outdoor living space. Message us today to plan a free meetup, and let us make your backyard into a stunning display.
Proudly serving North Lindenhurst, Nesconset, Mastic Beach, Long Beach, Jericho, Hampton Bays, Franklin Square and other Long Island communities.
Offering Long Island Quality Deck Designs and Services: