Explore Decks Unique - Your Go-To Deck Building Experts in Franklin Square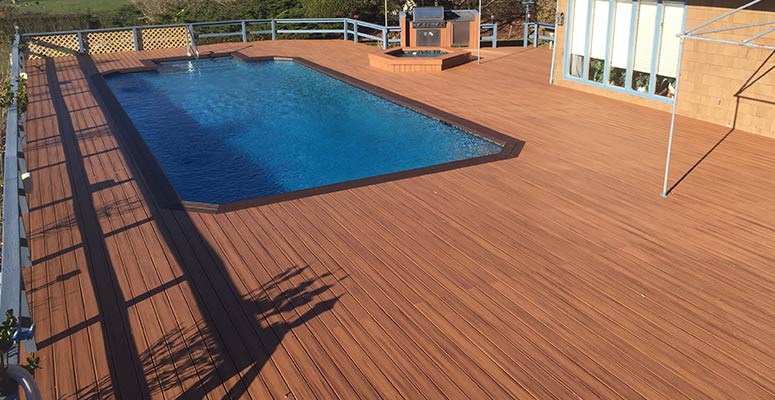 Decks Unique, a family-owned and operated custom deck design and construction business, has catered to the residents of Long Island and nearby areas, like Franklin Square, for more than 20 years. Thanks to our enthusiasm for design and steadfast commitment to professionalism, integrity, and innovation, we've emerged as the top producer of premium decks on Long Island, setting the benchmark for the industry. Decks Unique is skilled in designing and constructing tailor-made decks, porches, gazebos, pergolas, wood awnings, and other exterior structures that increase the value, attractiveness, and practicality of your Long Island residence.
Expertise and Experience in Deck Building Services in Franklin Square
Decks Unique maintains that a well-designed deck is a smart investment when thinking about ways to improve your home. At Decks Unique, our skilled professionals in deck building are devoted to providing superior quality, working towards efficient scheduling, and making sure that our warranties retain true long-term value. Our devotion to superior standards has led to innumerable content clients and decks they can happily display for the foreseeable future.
Our Long Island decking crews are accredited to fit all primary composite deck options, such as Trex, TimberTech, and Azek. We present free home evaluations and computerized decking layouts to enable you to picture your project before it becomes reality. Permit us to create an amazing transformation in your backyard for our next project!
An outstanding deck can both improve the exterior living area of your Franklin Square residence and substantially increase its worth. Decks Unique specializes in the planning and building of tailor-made decks that satisfy each of our clients' distinctive needs and inclinations. Regardless of whether you want an inviting space to entertain loved ones or a haven to appreciate the delightful weather, we will work in harmony with you to actualize your vision.
We comprehend that every homeowner has their own unique style and needs when it comes to their outdoor space. That's why we have a diverse array of materials, styles, and features to help you create a deck that fits your home and life. We have suitable solutions for every budget and preference, including traditional wood types like pressure-treated lumber, cedar, and redwood, as well as low-maintenance composite and PVC decking.
Unmatched Dedication to Excellence and Client Contentment
We take great pride in our high-quality workmanship and client satisfaction at Decks Unique. By using only the best materials and partnering with skilled, knowledgeable builders, we can assure that every project we undertake meets the highest quality standards.
We consider open communication to be the cornerstone of a successful project, and we strive to keep our clients well-informed every step of the way. Our team is at your service, from the very beginning with the consultation and design stage, throughout construction, and up until the final inspection, to address any queries or concerns and to make certain you are fully satisfied with your deck.
Let Decks Unique enhance your Franklin Square backyard with an outdoor living space you'll be proud of. Don't hesitate to contact us today for a free consultation and to witness the Decks Unique experience.
Comprehensive Decking Services in Franklin Square
We at Decks Unique are proud to offer a broad selection of decking services, designed to address the specific needs of our customers in Franklin Square. Our team possesses the skills necessary for every step of the process, from designing and constructing custom decks to repairs, upkeep, and refinishing. At Decks Unique, we also supply a variety of distinct features and additional options to augment your outdoor living enjoyment. Allow us to provide you with a more in-depth overview of our services.
Custom Deck Design: Making Your Dream Deck Come True
Our skilled deck designers will closely collaborate with you to design a customized deck that showcases your individual taste, enhances your home, and caters to the specific needs of your property. Our professionals are here to support you in making educated judgments by guiding you through the material selection process, ensuring the enduring appeal and robustness of your deck.
Masterful Deck Fabrication: Impressive Craftsmanship for an Elegant Exterior Space
As the leading deck builder, we pledge to use only top-notch materials and practice secure, effective workmanship. Our highly-experienced teams have the approval to install leading composite decking brands like Trex, TimberTech, and Azek. By meticulously focusing on details and emphasizing structural quality, we make sure your deck is not only attractive but also withstands time's challenges.
Deck Repair and Maintenance: Protecting Your Investment
Routine maintenance is necessary for preserving the attractiveness and usefulness of your deck. When it comes to wood or composite decks, our committed team covers all aspects of repair and maintenance. From meticulous inspections that reveal potential problems, to adept repairs for any damages stemming from weather or wear patterns, we are the comprehensive source for all your deck upkeep needs. With our regular maintenance schedules, you can relax, confident that your deck will be well-maintained and preserved year-round.
Deck Refinishing and Restoration: Rejuvenate Your Exterior Space
Over time, even the highest quality decks may show signs of wear or require refinishing to maintain their appearance. Our expert group can recover your deck's beauty with the help of professional cleaning, staining, weatherproofing, and sealing services. In addition, we can perform structural reinforcements, ensuring your deck remains secure and serves its purpose for years to come.
Personal Customizations and Upgrades: Enrich Your Deck Leisure
To refine your outdoor living space, we offer a collection of custom-fitted elements and added features conceived to elevate your deck. The available options consist of energy-efficient illumination on decks, embedded seating, exterior kitchens, and fire amenities. Incorporating these aspects into the deck design, we generate a welcoming and snug habitat for you and your acquaintances to revel in Franklin Square.
Decks Unique is dedicated to providing premium decking services to clients in the surrounding areas. Boasting over 20 years of experience, we are known for our professionalism, trustworthiness, and innovative approach. Our capable team is eager to help you with planning a new deck or upgrading an old one. Get in touch with us today to arrange a complimentary consultation and uncover how we can convert your exterior space into an attractive, useful oasis.
Uncover the Ideal Deck Material for You: Comparing Wood and Composite Options
Decks Unique prides itself on helping you construct an exceptional outdoor sanctuary for your living space. That is why we present a diverse range of decking materials, featuring wooden and composite alternatives. Various materials have unique positive aspects, ensuring your ability to opt for the finest choice that caters to your personal necessities and proclivities.
Wood Decking: A Refined Classic Look
Offering unparalleled warmth and charm, wood is an eternal and versatile choice for outdoor environments. A variety of wood decking options are offered to match each person's style and monetary constraints.
Pressure-Handled Lumber: Budget-friendly and Enduring
Due to its cost efficiency and resilience, pressure-treated lumber appeals to a lot of homeowners. Undergoing a unique treatment process, this decking material is protected against decay and bug infestations. This ensures that pressure-treated decks remain durable and need only minimal maintenance.
Redwood and Cedar: Top-Notch Luxury with Intrinsic Durability
For those pursuing a deluxe option, we feature cedar and redwood decking in our offerings. These attractive and upscale woods have innate resistance to rot and infestation, resulting in a long-lasting deck that weathers beautifully. Sporting vivid tones and extraordinary grain textures, cedar and redwood decks serve as a remarkable addition to any dwelling.
Exotic Hardwoods: Stunning and Enduring
For those in search of a genuinely distinctive and splendid option, ponder over selecting exotic hardwoods like Ipe, Tigerwood, or Cumaru. These uncommonly sturdy and enduring woods are well known for their amazing long-lasting qualities and gorgeous appearance. Exotic hardwood decks, featuring their bold colors and detailed patterns, make for an impressive centerpiece in any outdoor setting.
The Benefits of Low-Maintenance Living: Composite and PVC Decking
Those looking for a low-maintenance and green choice should think about composite and PVC decking. These innovative materials combine the beauty of wood with the durability of synthetic materials, providing homeowners with a nearly maintenance-free outdoor space.
Composite Decking: Benefits and Advantages
Composite decking, which combines recycled wood fibers and plastic, is a sturdy and green choice. Warping, cracking, and fading are no match for this decking material, which ensures a beautiful and long-lasting deck with minimal effort required. Also, composite decks are notably easy to clean, and a bit of occasional washing is sufficient to maintain a clean outdoor space.
Premier Composite Material Brands in the Industry
Decks Unique is proud of their association with top composite decking brands like Trex, TimberTech, and Azek. As authorized installation experts of these unparalleled products, we can offer Franklin Square homeowners the highest-grade materials for an appealing, durable outdoor space.
Upgrade Your Deck with Various Color and Texture Choices
Composite decking comes with the advantage of a plethora of customization options. You can design a bespoke outdoor area that matches your home's aesthetic, thanks to various color and texture possibilities. You can find a fitting composite decking solution to satisfy your inclination for natural wood or modern design aesthetics.
Optimize Your Deck's Design with Railing and Baluster Options
The ideal deck isn't all it can be without the proper railing and baluster system. Decks Unique provides an ample range of options to elevate your deck design and warrant your outdoor area's safety and functionality.
Wooden Barrier Systems: Timeless and Classic
For a classic and timeless look, consider a wood railing system. Seamlessly blending with both wood and composite decks, a wood railing system offers a clean and unified design. To guarantee a beautiful final product, paint or stain your wood railing system to coordinate with your deck or Franklin Square home exterior.
Metal and Glass Railing Systems: Stylish and Streamlined
If a cutting-edge and elegant style suits your taste, metal or glass railing systems could be a great option. These options provide a contemporary touch and can enhance the view from your deck, making them a popular choice for homeowners with picturesque surroundings.
Composite Railing Systems: Low-Maintenance, Chic Design
If you're looking for an elegant option with minimal upkeep, composite railing systems are a superb choice. Not only are these railings durable and visually appealing, but they also create a unified appearance when combined with composite decking, resulting in an impressive outdoor area that demands minimal tending.
No matter what your tastes are, Decks Unique is committed to helping you find the perfect decking materials for your living quarters. Contact us today to discuss your needs and begin designing the outdoor space of your dreams.
Raise the Bar for Your Outdoor Living Space with Our Additional Services in Franklin Square
Our mission at Decks Unique is to convert your outdoor living area into a deluxe and practical extension of your abode. We don't just provide exemplary deck building services; we also have a variety of extra services like wood awnings, cabanas, gazebos, pergolas, and porch construction. Our skilled professionals in Franklin Square work closely with you to bring your vision to life while ensuring the highest quality and durability.
Wooden Awnings: Increase Shade and Style for Your Outdoor Space
Through wood awnings, you can effortlessly introduce both shade and grace to your exterior area. The experienced specialists at Decks Unique will aid you in choosing the ideal design and materials for creating a charming and efficient wood awning that matches your home's visual appeal. Not only do these structures shield you from extreme weather, but they also boost your property's overall worth.
Cabanas: Design a Lavish Getaway in Your Franklin Square Garden
Cabanas offer a perfect blend of luxury, comfort, and privacy, making them an ideal addition to any outdoor space. Our experienced team will work alongside you to plan and erect a unique cabana that caters to your distinct needs and preferences. Regardless of whether you want an intimate hideaway for unwinding or an upscale space for entertaining company, we can construct a cabana that serves as your ideal outdoor sanctuary.
Gazebos: A Dreamy Addition to Your Garden or Patio Area
A gazebo remains a cherished inclusion in gardens and patios, lending an appealing visual interest and a comfortable shaded zone for outdoor leisure. With our skilled team's guidance, you'll select the right style, materials, and site for your gazebo, ensuring harmonious integration with your existing surroundings. Our top-notch craftsmanship ensures an impressive gazebo that enriches your outdoor area and brings joy for numerous years.
Pergolas: Combine Architectural Aesthetics and Utility for Your Outdoor Retreat
For those looking to enhance their outdoor living area's aesthetics and functionality, pergolas are an excellent choice. These structures provide partial shade while still allowing natural light to filter through, making them perfect for garden walkways, patios, or outdoor dining areas. Decks Unique's team of seasoned professionals will custom-design and craft a pergola to suit your preferences, contributing to your home's value.
Build a Porch: Increase Your Home's Curb Appeal and Outdoor Living Environment
A well-planned porch not only heightens your home's curb appeal but also furnishes a snug outdoor living environment for you and your kin to relish. Our adept squad will come together with you to formulate a distinctive porch that integrates with your home's architectural layout and meets your functional preferences. With our keen eye for detail and dedication to excellence, you can have peace of mind knowing your porch construction endeavor is well taken care of.
Contact Decks Unique to revamp your Franklin Square outdoor living area
At Decks Unique, we take pride in providing high-quality, custom outdoor living solutions to our clients in Franklin Square and the surrounding areas. Whether you want to add a wood awning, cabana, gazebo, pergola, or porch to your outdoor area, our team of professionals is here to help. Discuss your project with us today and find out how we can turn your outdoor living environment into a comfortable and efficient extension of your residence.
Franklin Square's Expert Deck Design and Consultation
At Decks Unique, we take great pride in providing customized consultations and tailor-made deck designs to cater to the specific requirements of our customers. Drawing from our 20-plus years of experience, our professional deck designers will closely collaborate with you to construct a deck that enriches your home's aesthetics and functions. Utilizing innovative 3D modeling and visualization approaches, we'll make your dream deck a reality, confirming that the finished result meets your standards.
Superior Quality Deck Components for Prolonged Endurance
Long Island's foremost deck builder, Decks Unique, is an officially recognized installer of major composite deck materials, including brands like Trex, TimberTech, and Azek. We also propose a diverse set of wood decking choices to meet your specific preferences, such as pressure-treated building materials, cedar, redwood, and upscale hardwoods. We guarantee that, by using only the best materials, your new deck will be durable and require minimal upkeep.
Professional Deck Construction Services in Franklin Square
Our team of skilled deck builders at Decks Unique is focused on providing high-quality craftsmanship and effective execution during the whole construction journey. With our exceptional understanding of building codes, requirements, and permits, you can count on us to navigate the entire project from its inception to culmination, leaving you with a stunning and functional outdoor living space.
Sustain and Renew Your Deck's Appeal
At Decks Unique, we are conscious of the pivotal role regular maintenance plays in preserving your deck's visual charm and solid framework. Decks Unique's expert team can scrutinize and discover any issues or possible concerns, providing the necessary solutions to preserve your deck in peak condition. At Decks Unique, we also propose deck revamping and restoration amenities, involving cleaning, staining, safeguarding against weather, and sealing to conserve and magnify your deck's appeal.
Augment Your Alfresco Space with Customized Enhancements and Features
To design your deck into a distinctive open-air living space, Decks Unique proposes a wide selection of made-to-order facets and additions, such as lighting specifically for decks, seating integrated within the deck's design, kitchen areas meant for outdoor use, and fire-involved features. These refinements not only contribute to usefulness, but they also establish a warm and alluring environment for you and your guests' enjoyment.
Complete Decking Solutions and Beyond
Decks Unique, known for its expertise in deck design and construction, also offers expertise in other outdoor structures, including wood awnings, cabanas, gazebos, pergolas, and porch construction. With these extra outdoor installations, your Long Island home's outdoor ambience can be significantly improved, making it the best spot for relaxation and amusement.
Decks Unique can tackle your entire Franklin Square decking necessities. Uncover the change our pledge of quality, professionalism, and customer delight brings to your outdoor environment. Get in touch with us now to set up a complimentary consultation and watch us turn your backyard into a beautiful work of art.
Taking great pleasure in assisting Franklin Square, East Rockaway, Deer Park, Bethpage, West Hempstead, Stony Brook, Seaford and other Long Island districts.
Offering Long Island Quality Deck Designs and Services: