Check out Decks Unique - Jericho's Exceptional Deck Building Professionals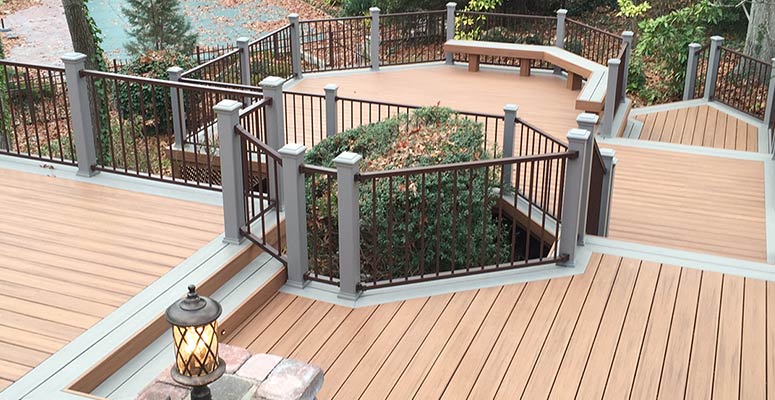 Over the past 20 years, Decks Unique, a family-owned and operated company, has been dedicated to offering custom deck design and construction services in Long Island and the surrounding areas, including Jericho. Our zeal for design and unwavering commitment to professionalism, truthfulness, and innovation have propelled us to become the top provider of high-quality decks on Long Island, setting precedence within the industry. We're experts in designing and building custom decks, porches, gazebos, pergolas, timber awnings, and other outdoor features that enhance the value, beauty, and functionality of your home in Long Island.
Deck Building Services with Expertise and Experience in Jericho
At Decks Unique, our conviction is that a carefully planned deck design serves as a smart investment for home enhancements. The Decks Unique team of expert deck builders holds a steadfast commitment to delivering unparalleled quality, upholding efficient production schedules, and guaranteeing the lasting value of our warranties. Our steadfast pursuit of excellence has culminated in numerous pleased clients and deck constructions they are proud to exhibit for many years down the line.
All major composite decking products, such as Trex, TimberTech, and Azek, can be installed by our experienced Long Island deck construction teams. We deliver cost-free home assessments and computer-modeled deck schemes for visualizing your project before it takes shape. Let us make your backyard our next project!
Not only does an excellent deck boost your Jericho home's outdoor living area, but it also raises the overall property value. Decks Unique excels at creating and constructing tailor-made decks that cater to the distinct demands and desires of every customer. If you want a casual space for hosting gatherings or an upscale oasis to soak up the beautiful weather, our professionals will diligently work alongside you to realize your vision.
Each homeowner has specific desires and requirements for their outdoor settings, which we acknowledge. To accommodate these diverse preferences, we supply a wide array of materials, styles, and attributes for crafting the ideal deck to harmonize with your home and way of life. From standard wood options like pressure-treated lumber, cedar, and redwood to the easy upkeep of composite and PVC decking, we provide the right answer to accommodate every budget and personal taste.
Dedication to Fantastic Quality and Client Satisfaction
At Decks Unique, our focus is on exceptional workmanship and happy customers. To ensure that all our projects are up to the highest standards, we are devoted to using only top-quality materials and hiring expert builders with a wealth of experience.
For a project to be successful, we believe communication is key, and we place great importance on keeping our clients aware of every development. Throughout the entire process - from initial consultation and design to construction and final inspection - our team is on hand to field questions, respond to any worries, and ensure ultimate satisfaction with your finished deck.
Enable Decks Unique to make your Jericho backyard into an inviting outdoor living environment you'll appreciate. Contact us right away to plan a free consultation and see the Decks Unique difference in person.
Full-range Decking Services in Jericho
A vast array of personalized decking services are available at Decks Unique, aimed at fulfilling the requirements of our clients in Jericho. From custom deck design and construction to maintenance and refinishing, our expertise encompasses every aspect of deck services. In addition to our core offerings, Decks Unique provides a variety of exceptional enhancements and additions to upgrade your outdoor living. Let's delve deeper into the services we have available.
Custom Deck Design: Realizing Your Dream Deck through Expert Design
Our skilled deck designers will closely collaborate with you to design a customized deck that showcases your individual taste, enhances your home, and caters to the specific needs of your property. To enable you to make sound decisions, our adept advisors will steer you through the process of selecting the right materials, safeguarding enduring sophistication and solidity.
Superior Deck Construction: Exceptional Expertise for a Breathtaking Outdoor Area
As the foremost deck builder, we are devoted to employing first-rate materials and maintaining secure, productive workmanship. Our seasoned teams are approved installers of leading composite decking materials, including Trex, TimberTech, and Azek. With extreme care for details and keeping structural sturdiness in mind, we ensure your deck is not only visually stunning but also built to last.
Deck Care and Repairs: Keeping Your Investment Secure
Routine upkeep is fundamental for preserving your deck's beauty and function. Our skilled team is available to provide detailed repair and maintenance services for wood and composite decks. We cover everything from in-depth inspections for identifying possible issues, to skilled repairs for weather-related damage and everyday wear, making us your go-to resource for deck maintenance. Our timely maintenance programs give you the comfort of knowing that your deck will always be in outstanding condition, no matter the season.
Deck Revamping and Restoration: Transform Your Outdoor Sanctuary
Over the years, even the finest decks might manifest signs of wear or ask for refinishing to conserve their visual charm. Our skilled team can rejuvenate your deck's appearance with professional cleaning, staining, weatherproofing, and sealing. Further, we can administer structural optimizations, keeping your deck safe and efficient for a considerable duration.
Adapted Facets and Complementary Elements: Optimize Your Deck Satisfaction
To enrich your outdoor living quarters, we supply a wide range of specialized characteristics and extras designed to improve your deck. Among these selections are energy-effective deck lights, inherent seating, kitchens designed for outdoor use, and features involving fire. By fusing these elements within the deck design, we cultivate a warm and comfy place for you and your kin to share memorable moments in Jericho.
Decks Unique specializes in offering clients high-quality deck services in their area and beyond. With two decades of industry experience, we have cultivated a reputation for professionalism, genuineness, and forward thinking. Our capable team is eager to help you with planning a new deck or upgrading an old one. Book a free consultation with us today, and find out how we can revamp your outdoor space into a stunning and functional retreat.
Explore the Perfect Deck Material for Your Needs: Wood and Composite Alternatives
Assisting you in creating the ultimate outdoor getaway for your home is our commitment at Decks Unique. Hence, we put forth a broad selection of decking materials, consisting of wood and composite possibilities. Each of the materials has its own merits, helping you to decide on the top option that matches your distinct demands and inclinations.
Wood Decks Radiate Classic Appeal
The flexibility and timelessness of wood provides a pleasant warmth and beauty to all kinds of outdoor spaces. Our selection of wooden deck options caters to an array of preferences and financial plans.
Pressure-Treated Boards: Economically Viable and Robust
Because of its budget-friendliness and lasting quality, pressure-treated lumber is popular among numerous homeowners. This decking material receives a distinctive treatment, making it resistant to rotting and insect infestations. This ensures that pressure-treated decks remain durable and need only minimal maintenance.
Redwood and Cedar: Top-Notch Luxury with Intrinsic Durability
For individuals searching for a lavish choice, cedar and redwood decking are additionally available. These gorgeous and top-tier woods boast natural resistance to rot and insect infestations, offering a lasting deck that matures gracefully. The vibrant hues and distinct grain designs of cedar and redwood decks create an impressive enhancement to any residence.
Exotic Hardwoods: Attractive and Sturdy
If you're looking for a truly unique and exquisite option, consider exotic hardwoods like Ipe, Tigerwood, or Cumaru. Thanks to their substantial density and ruggedness, these woods are celebrated for their incredible durability and strikingly beautiful appearance. Exotic hardwood decks, with their vibrant hues and elaborate designs, serve as breathtaking focal points in any outdoor area.
Pursue a Low-Maintenance Lifestyle with Composite and PVC Decking Options
To find an eco-responsible and low-upkeep choice, take into account composite and PVC decking. These advanced materials merge wooden charm with synthetic endurance, offering homeowners an almost maintenance-free open-air space.
The Upsides and Benefits of Composite Decking
Composite decking, which combines recycled wood fibers and plastic, is a sturdy and green choice. Warping, cracking, and fading are no match for this decking material, which ensures a beautiful and long-lasting deck with minimal effort required. Furthermore, composite decks are simple to maintain, needing just infrequent washing to preserve the cleanliness of your outdoor area.
Key Players in the Composite Materials Market
Working with industry-leading composite decking brands such as Trex, TimberTech, and Azek is a source of pride for Decks Unique. As authorized installation experts of these unparalleled products, we can offer Jericho homeowners the highest-grade materials for an appealing, durable outdoor space.
Tailor Your Deck through Selecting Color and Texture Varieties
One of the major benefits of composite decking is the wide range of customization options. With a multitude of color and texture alternatives, you can create a distinctive outdoor space that aligns with your home's ambiance. Whether your liking leans towards natural wood or a more sophisticated design, composite decking has something for you.
Amplify Your Deck's Look with Railing and Baluster Additions
The ultimate deck won't be whole without the fitting railing and baluster system. At Decks Unique, we provide numerous choices to augment your deck design and maintain the security and practicality of your outdoor living space.
Wooden Balustrade Systems: Classic and Eternal
For a classic and timeless look, consider a wood railing system. This option pairs beautifully with both wood and composite decks, creating a seamless and cohesive design. By painting or staining a wood railing system, you can create a perfect match for your deck or your Jericho home's exterior, delivering an impressive outcome.
Metal and Glass Railing Systems: Sophisticated and Well-defined
Contemporary and sleek styles might lead you to consider metal or glass railing systems. These alternatives offer a modern accent and can improve the scenic view from your deck, becoming a favorite selection among those who live in visually stunning locations.
Composite Railing Systems: Easy-Care and Elegant
Those in search of a stylish yet low-maintenance alternative will find composite railing systems to be an excellent selection. Not only are these railings durable and visually appealing, but they also create a unified appearance when combined with composite decking, resulting in an impressive outdoor area that demands minimal tending.
No matter what you like, Decks Unique is here to offer assistance in selecting the perfect deck materials for your abode. Connect with us today to explore your desires and kick off the design of the outdoor oasis you have always wanted.
Enhance Your Outdoor Living Space with Our Additional Services in Jericho
We believe in transforming your outside living space into a luxurious and functional part of your home at Decks Unique. Not only do we specialize in deck building services, but we also offer a range of other services like wood awnings, cabanas, gazebos, pergolas, and porch construction. In Jericho, we have a team of skilled professionals who work closely with you to make your dream outdoor space a reality, while ensuring the highest quality and durability.
Wooden Awnings: Increase Shade and Style for Your Outdoor Space
Adding wood awnings is a superb method to introduce shade and elegance to your outdoor space. At Decks Unique, our skilled team can assist you in selecting the appropriate design and materials for an attractive and practical wood awning that enhances your home's appearance. The wood awnings not only ensure protection from extreme weather conditions but also improve your property's overall worth.
Cabanas: Assemble a Sophisticated Retreat in Your Jericho Outdoor Space
Cabanas boast a unique mix of lavishness, relaxation, and privacy, making them an attractive addition to any outside environment. Our experienced team will work alongside you to plan and erect a unique cabana that caters to your distinct needs and preferences. Regardless of whether you want an intimate hideaway for unwinding or an upscale space for entertaining company, we can construct a cabana that serves as your ideal outdoor sanctuary.
Gazebos: An Idyllic Enhancement for Your Garden or Patio
A gazebo brings lasting appeal to gardens or patios, creating an inviting central attraction and a shaded space for outdoor downtime. Our knowledgeable team guides you through the process of choosing the perfect style, materials, and location for your gazebo, guaranteeing harmonious fusion with your existing landscape. Our skilled craftsmanship ensures a breathtaking gazebo that will elevate the appeal of your outdoor environment for years in the future.
Pergolas: Improve Your Outdoor Oasis with Striking Architectural Design and Function
Integrating a pergola into your outdoor living area is an outstanding approach for increasing architectural attractiveness and functionality. Such structures offer a mix of shade and natural light, making them ideal for garden paths, terrace areas, or al fresco dining spots. Our specialists at Decks Unique have the expertise to engineer and erect a bespoke pergola that aligns with your design tastes and bolsters your property's worth.
Porches: Enhancing Your Home's Curb Appeal and Expanding Outdoor Living Space
An artfully designed porch not only advances your home's curb appeal but also serves up a comfy outdoor living spot for you and your family to cherish. Our knowledgeable team will partner with you to build a personalized porch that fits your home's architectural theme and adheres to your functional demands. With our attention to detail and commitment to quality, you can rest assured knowing your porch construction project is in good hands.
Get in contact with Decks Unique for your Jericho outdoor living space renovation
Decks Unique is devoted to providing high-caliber, customized outdoor living possibilities to those in Jericho and nearby locations. Should you desire to add a wood awning, cabana, gazebo, pergola, or porch to your outdoor living environment, our adept team is here for support. Reach out to us today for a discussion about your project, and let us demonstrate how we can reshape your outdoor living area into a high-end and functional home extension.
Jericho's Expert Deck Design and Consultation
We, at Decks Unique, pride ourselves on delivering custom-tailored consultation and deck designs to suit the individual preferences of our clients. With over 20 years of experience, our professional deck designers will work closely with you to create a deck that enhances your home's aesthetics and functionalities. By harnessing the power of advanced 3D modeling and visualization techniques, we'll materialize your dream deck, while ensuring the final version fulfills your expectations.
Finest Quality Deck Materials to Guarantee Durability
Decks Unique, a top-notch deck builder in Long Island, is a sanctioned installer of all well-known composite deck materials, featuring Trex, TimberTech, and Azek. Furthermore, we extend a multitude of wooden decking options geared to your tastes, including pressure-treated beams, cedar, redwood, and superior hardwoods. Our resolve to employ only high-quality materials ensures a long-lasting, easy-to-maintain deck for your property.
Expert Deck Construction Services in Jericho
Our team of skilled deck builders at Decks Unique is focused on providing high-quality craftsmanship and effective execution during the whole construction journey. With our extensive know-how of building codes, statutes, and permits, you can rely on us to steer the whole project from its start to finish, leaving you with a visually striking and practical outdoor living area.
Hold and Re-establish Your Deck's Gorgeousness
We, at Decks Unique, grasp the necessity of regular maintenance to uphold your deck's beauty and structural resilience. Our skilled team can examine and detect any problems or potential concerns, offering required fixes to maintain your deck in excellent shape. We extend deck restoration and refinishing assistance, comprising cleaning, staining, weather protection, and sealing measures to secure and amplify your deck's appearance.
Upgrade Your Outdoor Area with Custom Features and Add-ons
To develop your deck into a matchless outdoor hideaway, Decks Unique delivers an abundance of specialized qualities and extensions, like lighting options for deck installations, seating merged with structural design, external kitchen setups, and fire-focused touches. These additions not only improve operation but also generate a soothing and receptive environment for your enjoyment and your guests.
Exhaustive Deck Installation and Additional Features
In addition to our proficiency in deck design and building, Decks Unique also provides expertise in constructing supplementary outdoor structures like wooden awnings, cabanas, gazebos, pergolas, and porches. With these extra outdoor installations, your Long Island home's outdoor ambience can be significantly improved, making it the best spot for relaxation and amusement.
For all your decking desires in Jericho, choose Decks Unique. Notice the transformation our dedication to quality, expertise, and client satisfaction creates in your outdoor living area. Get in touch right away to arrange a free consultation and let us transform your backyard into an impressive work.
Happy to support the communities of Jericho, Hempstead, Garden City, Elmont, Dix Hills, Bethpage, West Hempstead, and other areas throughout Long Island.
Offering Long Island Quality Deck Designs and Services: