Welcome to Decks Unique - Lawrence's Premier Deck Builder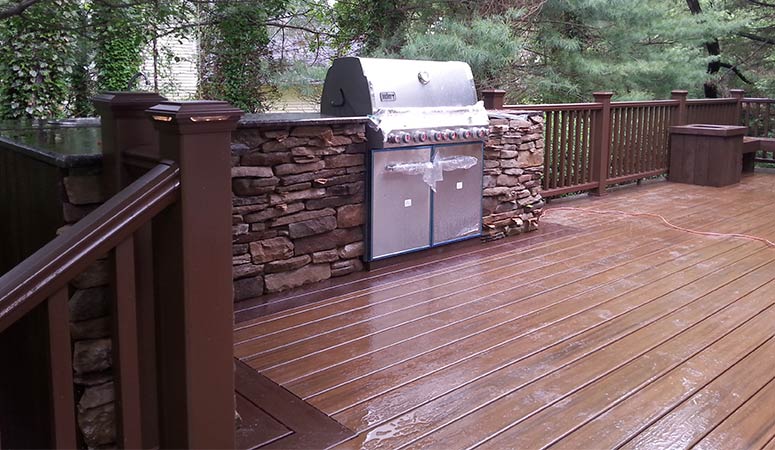 Family-owned and operated Decks Unique provides custom deck design and construction services to the people of Long Island and its surrounding areas, including Lawrence, and has done so for over 20 years. Our enthusiasm for design, coupled with our dedication to professionalism, honesty, and innovation, has established us as the premier producer of top-notch decks throughout Long Island, and we've set industry benchmarks. Our area of expertise involves creating and building custom decks, verandas, gazebos, pergolas, wooden awnings, and other external structures that add worth, allure, and functionality to your Long Island abode.
Lawrence Deck Building Services with Expertise and Experience
At Decks Unique, we are convinced that a well-organized deck layout offers a sensible investment in home improvement projects. Our highly skilled team of seasoned deck constructors consistently strives for exceptional quality, adheres to effective timetables, and guarantees long-lasting warranties. Our devotion to superior standards has led to innumerable content clients and decks they can happily display for the foreseeable future.
In Long Island, our expert deck builders have approval to install all chief composite decking choices, including Trex, TimberTech, and Azek. We offer free home consultations and computerized deck designs so that you can visualize your project before it comes to life. Why not turn your backyard into our following endeavor?
Elevate Your House's Worth by Adding a Custom Deck
A great deck not only enhances the outdoor living space of your Lawrence home but also adds significant value to your property. Our team at Decks Unique is dedicated to designing and building custom-made decks that perfectly align with every client's individual needs and preferences. Whether a comfortable venue for socializing or a plush outdoor getaway to experience the terrific weather, our committed personnel will closely cooperate with you to manifest your ideal vision.
We are aware that individual homeowners have varying preferences and demands for their external spaces. This is the basis for our extensive variety of materials, styles, and elements to establish the flawless deck that lines up with your home and lifestyle. Whether you prefer classic wood choices like pressure-treated lumber, cedar, and redwood, or easy-care composite and PVC decking options, we have the perfect solution for every budget and style.
Unparalleled Commitment to Quality and Customer Satisfaction
Decks Unique's commitment to first-class workmanship and customer happiness is unwavering. By using only the best materials and partnering with skilled, knowledgeable builders, we can assure that every project we undertake meets the highest quality standards.
To us, seamless communication is the backbone of successful projects, and we work diligently to ensure our clients are always in the know. Our team is at your service, from the very beginning with the consultation and design stage, throughout construction, and up until the final inspection, to address any queries or concerns and to make certain you are fully satisfied with your deck.
Permit Decks Unique to convert your Lawrence backyard into a delightful outdoor living space. Don't hesitate to contact us today for a free consultation and to witness the Decks Unique experience.
Complete Deck Building Services in Lawrence
In Lawrence, Decks Unique boasts a comprehensive variety of decking services, all geared towards satisfying the unique demands of our clients. Our expertise at Decks Unique ranges from crafting custom deck designs and construction to handling repair work, maintenance, and refinishing projects. In addition to our core offerings, Decks Unique provides a variety of exceptional enhancements and additions to upgrade your outdoor living. Let's take a closer look at the services we offer.
Custom Deck Design: Manifesting Your Dream Deck into Reality
Our accomplished deck designers will join forces with you to devise a custom-made deck that captures your unique fashion, enriches your home, and satisfies the exceptional criteria of your property. For the sake of assisting you in making confident choices, our expert personnel will take you through material assessments, guaranteeing sustained refinement and stability in your deck.
Exceptional Deck Creation: Superior Quality in Craftsmanship for an Eye-Catching Outside Space
As a distinguished deck builder, our commitment lies in using only outstanding materials and implementing safe, effective work methods. Our skilled personnel are licensed installers of prominent composite deck products, like Trex, TimberTech, and Azek. With meticulous attention to detail and a focus on structural integrity, we ensure that your deck not only looks stunning but also stands the test of time.
Keeping Your Deck in Tip-Top Shape: Defending Your Investment
To keep your deck beautiful and functional, regular maintenance is essential. Our dedicated team offers comprehensive repair and maintenance services for both wood and composite decks. Our services range from comprehensive inspections to pinpoint potential problems, to expert repairs for weather or wear damage, ensuring we're the ultimate solution for all your deck maintenance needs. Through our pre-scheduled maintenance programs, you can enjoy the certainty that your deck's outstanding condition will be sustained year-round.
Deck Resurfacing and Restoration: Refresh Your Outside Area
Eventually, even the best quality decks might display signs of wear and might need refinishing to preserve their look. Our capable team can reestablish the gorgeousness of your deck using professional cleaning, staining, weatherproofing, and sealing methods. We can also effectuate structural refinements, thereby ensuring your deck remains protected and functional for years.
Adapted Facets and Complementary Elements: Optimize Your Deck Satisfaction
With the goal of elevating your outdoor living area, we put forth numerous individualized aspects and add-ons intended to accent your deck. These alternatives feature energy-conserving illumination for decks, inbuilt seating, open-air kitchens, and fire components. Incorporating these components into your deck layout, we'll develop a warm and inviting area for you, your family, and friends to relish in Lawrence.
At Decks Unique, we specialize in providing top-quality decking services to clients and the surrounding areas. With two decades of industry experience, we have cultivated a reputation for professionalism, genuineness, and forward thinking. When it comes to designing a fresh deck or improving an existing one, our expert team is at your service. Schedule a complimentary consultation with us today, and explore the possibilities to transform your outdoor space into a beautifully functional sanctuary.
Choose the Right Deck Material for Your Home: Wood and Composite Selections
Decks Unique is dedicated to assisting you in developing the ideal outdoor sanctuary for your residence. This is the reason we provide an extensive array of decking materials, encompassing wood and composite selections. Each of the materials has its own merits, helping you to decide on the top option that matches your distinct demands and inclinations.
Wood Decking Provides an Ageless Beauty
As a versatile and enduring substance, wood imparts a sense of warmth and attractiveness to every open-air space. We present a wide assortment of wood deck options, ensuring compatibility with any style and budget.
Pressure-Treated Wood: Cost-effective and Long-lasting
A significant number of homeowners find pressure-treated lumber appealing for its inexpensive and durable aspects. This decking material undergoes a special treatment process, protecting it against rot and insect infestation. Thus, pressure-treated decks provide enduring quality with reduced maintenance efforts.
Cedar and Redwood: Nature's Luxury with Built-In Resistance
If you're interested in a more sophisticated solution, we also have cedar and redwood decking available. With their inherent resistance to decay and insects, these exquisite and high-end woods offer a deck that endures and ages gracefully. The vibrant hues and distinct grain designs of cedar and redwood decks create an impressive enhancement to any residence.
Exotic Hardwoods: Attractive and Sturdy
For an absolutely unique and luxurious solution, explore the possibility of using exotic hardwoods like Ipe, Tigerwood, or Cumaru. Internationally appreciated for their exceptional endurance and dramatic looks, these woods are notably dense and durable. Accentuating any outdoor area, exotic hardwood decks offer eye-catching colors and ornate patterns as a stunning centerpiece.
Discover the Ease of Low-Maintenance Living by Choosing Composite and PVC Decking
If you're seeking an eco-conscious, low-maintenance solution, contemplate composite and PVC decking. These state-of-the-art materials join the attractiveness of wood with the resilience of synthetics, supplying homeowners with an outdoor space that requires minimal maintenance.
Discover the Benefits and Advantages of Composite Decking
Using a blend of reclaimed wood fibers and plastic, composite decking delivers a long-lasting and environmentally friendly solution. This decking material is resistant to warping, cracking, and fading, ensuring a beautiful and long-lasting deck with minimal upkeep. Composite decks also have an advantage in their ease of cleaning, with only sporadic washing needed to keep the outdoor area immaculate.
The Best Brands in the World of Composite Materials
Decks Unique is proud to work with the leading brands in composite decking, including Trex, TimberTech, and Azek. As authorized installers of these exceptional products, we can provide Lawrence homeowners with the highest quality materials, ensuring a gorgeous and long-lasting outdoor space.
Make Your Deck Unique with Color and Texture Choices
The extensive array of personalization options is a crucial benefit of composite decking. A range of color and texture selections allows you to craft an outdoor space that complements your home's appearance. Regardless of your preference for natural wood's appearance or modern designs, composite decking provides a suitable option.
Improve Your Deck through Railing and Baluster Selections
The perfect deck isn't complete without the right railing and baluster system. With Decks Unique, you have access to a variety of options that enhance your deck design while guaranteeing safety and functionality in your outdoor area.
Wooden Railing Designs: Everlasting and Traditional
If you want a classic and enduring aesthetic, contemplate a wood railing system. By integrating a wood railing system with either a wood or composite deck, you can achieve a smooth and consistent design. Wood railing systems can be painted or stained to match your deck or Lawrence home exterior, ensuring a stunning final result.
Metal and Glass Railing Systems: Up-to-date and Polished
In case a modern and sleek design appeals to you, take into account utilizing metal or glass railing systems. These modern possibilities not only offer an up-to-date appeal but also amplify the sights from your deck, making them a top choice for homeowners immersed in picturesque backdrops.
Composite Railing Systems: Low Fuss and Attractive
Those in search of a stylish yet low-maintenance alternative will find composite railing systems to be an excellent selection. These robust and appealing railings, when used alongside composite decking, create a harmonious appearance and a gorgeous outdoor area with little maintenance needed.
Regardless of your personal preferences, Decks Unique stands ready to help you decide on the most suitable decking materials for your living space. Contact our team today to share your needs and initiate the planning process for your dream outdoor living space.
Upgrade Your Outdoor Living Environment with Our Extra Services in Lawrence
Our objective at Decks Unique is to transition your outdoor living area into an elegant and useful home extension. Not only do we specialize in deck building services, but we also offer a range of other services like wood awnings, cabanas, gazebos, pergolas, and porch construction. In Lawrence, we have a team of skilled professionals who work closely with you to make your dream outdoor space a reality, while ensuring the highest quality and durability.
Wood Awnings: Add Fashion and Functionality for Your Outdoor Space
Installing wood awnings is a fantastic approach to enhance your outdoor area with both shade and elegance. Our experienced team at Decks Unique will help you choose the right design and materials to create a beautiful and functional wood awning that complements your home's aesthetic. These structures not only protect you from harsh weather conditions but also enhance the overall value of your property.
Cabanas: Create a Luxurious Retreat in Your Lawrence Backyard
Cabanas boast a unique mix of lavishness, relaxation, and privacy, making them an attractive addition to any outside environment. Our expert team will collaborate with you to develop and construct a bespoke cabana tailored to your requirements and desires. Whether you're looking for a comfortable nook to unwind or a sophisticated space to entertain visitors, we can fashion a cabana that becomes your ultimate al fresco getaway.
Gazebos: A Picture-Perfect Addition for Your Garden or Patio
Adding a gazebo to a garden or patio creates an ageless charm, providing a striking focal point, and a covered spot for outdoor relaxation. With the help of our skilled team, you'll be able to decide on the ideal style, materials, and placement for your gazebo, ensuring it integrates smoothly with your current outdoor space. Thanks to our masterful craftsmanship, you can delight in a splendid gazebo that boosts the allure of your outdoor space for many years to come.
Pergolas: Elevate Your Outdoor Living Space's Interest and Utility through Architecture
Integrating a pergola into your outdoor living area is an outstanding approach for increasing architectural attractiveness and functionality. Pergolas inherently deliver a mix of shaded areas and sunlit spaces, ideally suiting them for the likes of garden promenades, terraces, or eateries outdoors. Let Decks Unique's knowledgeable professionals plan and build a customized pergola to match your style, and in doing so, increase your home's value.
Porch Development: Elevate Your Home's Curb Appeal and Outdoor Lifestyle
A tastefully designed porch not only enriches your home's curb appeal but also bestows a cozy alfresco living area for you and your family to enjoy. Our talented team will combine efforts with you to craft a unique porch that parallels your home's architectural appearance and serves your functional prerequisites. With our attention to detail and commitment to quality, you can rest assured knowing your porch construction project is in good hands.
Contact Decks Unique for Your Lawrence Outdoor Living Space Transformation
Decks Unique is devoted to providing high-caliber, customized outdoor living possibilities to those in Lawrence and nearby locations. Whether it's a wood awning, cabana, gazebo, pergola, or porch you want to incorporate into your outdoor space, our professional team stands ready to help. Contact us today to discuss your project and discover how we can transform your outdoor living space into a luxurious and functional extension of your home.
Professional Deck Planning and Creation in Lawrence
We, at Decks Unique, pride ourselves on delivering custom-tailored consultation and deck designs to suit the individual preferences of our clients. Drawing from our 20-plus years of experience, our professional deck designers will closely collaborate with you to construct a deck that enriches your home's aesthetics and functions. Our use of sophisticated 3D modeling and visualization technology ensures that your ideal deck is brought to life, matching your expectations in the final outcome.
Premium Deck Construction Materials for Extended Durability
Decks Unique, a top-notch deck builder in Long Island, is a sanctioned installer of all well-known composite deck materials, featuring Trex, TimberTech, and Azek. We also present an array of wooden decking alternatives to accommodate your preferences, like pressure-treated timber, cedarwood, redwood, and rare hardwoods. Our resolve to employ only high-quality materials ensures a long-lasting, easy-to-maintain deck for your property.
High-Quality Deck Construction Services in Lawrence
At Decks Unique, our highly trained deck construction crew is dedicated to upholding superior craftsmanship and optimal efficiency during the complete building venture. Leveraging our deep expertise in building codes, norms, and permits, you can entrust us with the full project from beginning to end, yielding an eye-catching and practical outdoor environment.
Preserving and Rejuvenating Your Deck's Aesthetics
Decks Unique is well aware of the value of routine maintenance in sustaining both the visual allure and durability of your deck. Our adept team has the ability to check and recognize any damages or potential troubles, executing required repairs to sustain your deck's top-notch condition. We also supply deck resurfacing and revitalization services, encompassing cleaning, staining, protecting against the elements, and sealing for the preservation and enhancement of your deck's aesthetics.
Upgrade Your Outdoor Area with Custom Features and Add-ons
To genuinely convert your deck into an exceptional exterior retreat, Decks Unique presents a range of custom characteristics and additions, including deck lights, built-in benches, alfresco kitchens, and features involving fire. These upgrades not only increase utility, but they also foster an inviting and comfortable setting for you and those you invite to relish.
Exhaustive Deck Installation and Additional Features
Decks Unique, known for its expertise in deck design and construction, also offers expertise in other outdoor structures, including wood awnings, cabanas, gazebos, pergolas, and porch construction. Such structures can augment the beauty of your Long Island home's exterior, transforming it into an excellent space for leisure and socializing.
Allow Decks Unique to manage all your decking requirements in Lawrence. See how our commitment to excellence, professionalism, and customer satisfaction enhances your outdoor space. Drop us a line today to set up a free consultation, and let us turn your backyard into a gorgeous masterpiece.
Delighted to cater to the needs of Lawrence, Huntington, Greenlawn, Floral Park, East Northport, Central Islip, Albertson, and other Long Island neighborhoods.
Offering Long Island Quality Deck Designs and Services: