Get to know Decks Unique - Middle Island's Trusted Deck Building Specialists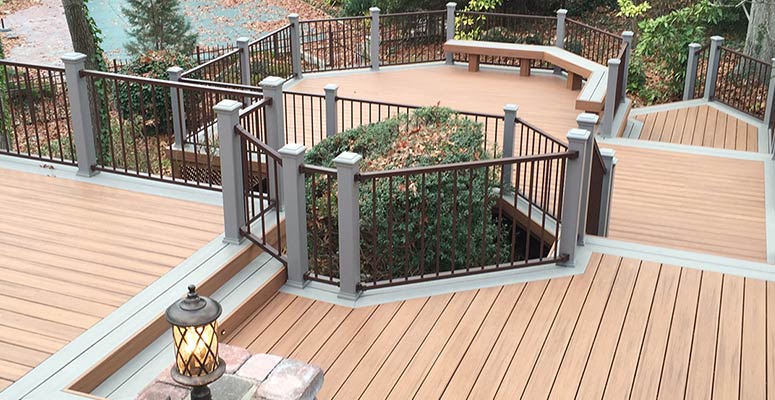 For over 20 years, Decks Unique, an establishment that is family-owned and operated, has been providing custom deck design and construction services to the residents of Long Island and surrounding locations, including Middle Island. Our fervor for design, coupled with a strong commitment to professionalism, integrity, and innovation, has positioned us as the foremost manufacturer of high-caliber decks in Long Island, raising the bar for the sector. Decks Unique is skilled in designing and constructing tailor-made decks, porches, gazebos, pergolas, wood awnings, and other exterior structures that increase the value, attractiveness, and practicality of your Long Island residence.
Deck Building Services with Expertise and Experience in Middle Island
We at Decks Unique hold the belief that a well-considered deck plan makes for a prudent choice in the realm of home improvement. Our expert team of professional deck builders is dedicated to delivering superior quality, maintaining efficient production schedules, and ensuring that our warranties have true lasting value. This unswerving commitment to unparalleled standards has brought about a hundreds of happy customers and elegant decks they're excited to showcase for years to come.
Our deck construction crews on Long Island are endorsed to deploy all renowned composite deck products, including Trex, TimberTech, and Azek. We furnish free home-based consultations along with tech-driven deck illustrations, so you can conceptualize your undertaking before its materialization. Entrust us with your backyard as our forthcoming assignment!
Improve Your Dwelling's Value by Constructing a Custom Deck
Your Middle Island home's outdoor living space is not only enriched by a fine deck but also experiences a boost in overall worth. Our team at Decks Unique is dedicated to designing and building custom-made decks that perfectly align with every client's individual needs and preferences. Regardless of whether you want an inviting space to entertain loved ones or a haven to appreciate the delightful weather, we will work in harmony with you to actualize your vision.
For outdoor spaces, we understand that each homeowner has their own distinct tastes and necessities. Consequently, we offer a broad assortment of materials, designs, and aspects to construct the perfect deck that matches your residence and your living habits. From traditional wood options like pressure-treated lumber, cedar, and redwood to low-maintenance composite and PVC decking, we have the right solution for every budget and preference.
Extraordinary Concentration on Outstanding Performance and Customer Happiness
At Decks Unique, our focus is on exceptional workmanship and happy customers. To ensure that all our projects are up to the highest standards, we are devoted to using only top-quality materials and hiring expert builders with a wealth of experience.
We believe that communication is the key to a successful project, and we make it a priority to keep our clients informed every step of the way. Our team is at your service, from the very beginning with the consultation and design stage, throughout construction, and up until the final inspection, to address any queries or concerns and to make certain you are fully satisfied with your deck.
Allow Decks Unique to create a beautiful outdoor living area in your Middle Island backyard. Contact us today to schedule a free consultation and experience the Decks Unique difference for yourself.
In-depth Decking Assistance in Middle Island
We at Decks Unique are proud to offer a broad selection of decking services, designed to address the specific needs of our customers in Middle Island. Our team possesses the skills necessary for every step of the process, from designing and constructing custom decks to repairs, upkeep, and refinishing. Besides our standard services, Decks Unique provides an assortment of unique features and add-ons to elevate your outdoor living experience. Let's explore further the array of services we provide at Decks Unique.
Custom Deck Design: Constructing Your Dream Deck for Your Enjoyment
Our expert deck designers will work hand-in-hand with you to produce a tailored deck that mirrors your personal flair, complements your residence, and addresses the exclusive demands of your property. For the sake of assisting you in making confident choices, our expert personnel will take you through material assessments, guaranteeing sustained refinement and stability in your deck.
Expert Deck Building: Excellent Workmanship for an Impressive Exterior Area
As a distinguished deck builder, our commitment lies in using only outstanding materials and implementing safe, effective work methods. Our competent crews are licensed to install top-tier composite decking materials, such as Trex, TimberTech, and Azek. With considerable attention to detail and an emphasis on structural stability, we make certain that your deck is not only visually appealing but also durable over time.
Repairing and Maintaining Decks: Retaining the Value of Your Investment
Regular upkeep is vital for maintaining your deck's aesthetics and functionality. For both wood and composite decks, our committed team provides extensive maintenance and repair services. From meticulous inspections that reveal potential problems, to adept repairs for any damages stemming from weather or wear patterns, we are the comprehensive source for all your deck upkeep needs. Our systematic maintenance programs ensure that you can trust your deck to maintain its excellence all year long.
Deck Revamping and Restoration: Transform Your Outdoor Sanctuary
With the passage of time, even first-rate decks might show evidence of wear or need refinishing in order to continue looking great. Our capable team can reestablish the gorgeousness of your deck using professional cleaning, staining, weatherproofing, and sealing methods. Additionally, we can make structural improvements, ensuring that your deck remains safe and functional for years to come.
Tailored Characteristics and Supplemental Items: Augment Your Deck Adventures
To enrich your outdoor living quarters, we supply a wide range of specialized characteristics and extras designed to improve your deck. These alternatives feature energy-conserving illumination for decks, inbuilt seating, open-air kitchens, and fire components. By assimilating these constituents into your deck's blueprint, we construct a charming and relaxing space for you to savor with close ones in Middle Island.
Decks Unique focuses on offering unparalleled decking assistance to customers and areas close by. With over 20 years of experience in the industry, we have built a reputation for professionalism, honesty, and innovation. Our adept team is eager to assist you with designing a brand-new deck or revamping your old one. Schedule a complimentary consultation with us today, and explore the possibilities to transform your outdoor space into a beautifully functional sanctuary.
Track Down the Best Deck Material for You: Weighing Wood and Composite Options
Decks Unique is all about empowering you to create an amazing outdoor utopia within your home. That's the advantage of our extensive choice of decking materials, including both wood composite variants. All of the materials come with their distinct advantages, allowing you to handpick the most appropriate alternative based on your specified needs and preferences.
Wood Decking Provides an Ageless Beauty
Being both ageless and flexible, wood imbues a sense of inviting warmth and elegance to outdoor spaces. We have an extensive range of wood deck choices designed to address every aesthetic and budget.
Pressure-Treated Lumber: Affordable and Durable
Many homeowners prefer pressure-treated lumber because it is cost-effective and long-lasting. Protection from wood deterioration and insect issues is provided by a special treatment process for this decking material. Thus, pressure-treated decks provide enduring quality with reduced maintenance efforts.
The Luxury of Cedar and Redwood: A Natural Resistance
For individuals searching for a lavish choice, cedar and redwood decking are additionally available. Inherently impervious to decay and insects, these beautiful and premium woods assure a deck that withstands the elements and ages beautifully. The strong colors and exclusive grain formations of cedar and redwood decks make them a visually appealing complement to any home.
Exotic Hardwoods: Exquisite and Hardwearing
If you're looking for a truly unique and exquisite option, consider exotic hardwoods like Ipe, Tigerwood, or Cumaru. These exceedingly solid and long-lasting woods stand out due to their commendable longevity and stunning appearance. With vivid colors and detailed patterns, exotic hardwood decks provide a striking focal point for outdoor spaces.
Low-Maintenance Living with Composite and PVC Decking
For those seeking a low-maintenance and eco-friendly alternative, consider composite and PVC decking. These cutting-edge materials meld the aesthetics of wood with the longevity of artificial materials, giving homeowners a virtually maintenance-free exterior area.
Discover the Benefits and Advantages of Composite Decking
Composite decking, a fusion of recycled wood fibers and plastic, yields a durable and eco-conscious option. This decking material is resistant to warping, cracking, and fading, ensuring a beautiful and long-lasting deck with minimal upkeep. Also, composite decks are notably easy to clean, and a bit of occasional washing is sufficient to maintain a clean outdoor space.
The Best Brands in the World of Composite Materials
Teaming up with prominent composite decking brands like Trex, TimberTech, and Azek is a matter of pride for Decks Unique. Being certified installers of these outstanding products, we're able to supply Middle Island residents with top-notch materials for stunning and durable outdoor spaces.
Custom-build Your Deck with a Range of Color and Texture Combinations
A major selling point of composite decking is its wide customization choice range. With a variety of color and texture choices, you can create a one-of-a-kind outdoor space that perfectly suits your home's aesthetic. Whether you prefer the look of natural wood or a more contemporary design, there's a composite decking option for you.
Transform Your Deck with Various Railing and Baluster Choices
The perfect deck is incomplete without the proper railing and baluster system. We furnish a multitude of choices at Decks Unique to amplify your deck design and confirm the security and utility of your outdoor setting.
Wooden Barrier Systems: Timeless and Classic
A wood railing system is worth considering for a classic and ageless look. Seamlessly blending with both wood and composite decks, a wood railing system offers a clean and unified design. For a striking finale, customize your wood railing system by painting or staining it to match your deck or the exterior of your Middle Island home.
Metal and Glass Railing Systems: Innovative and Graceful
If you prefer a more modern and sleek aesthetic, consider metal or glass railing systems. These alternatives offer a modern accent and can improve the scenic view from your deck, becoming a favorite selection among those who live in visually stunning locations.
Composite Railing Systems: Simple Maintenance and Sophisticated
For an ideal blend of style, elegance, and low-maintenance, composite railing systems are an excellent option. When combined with composite decking, these rugged and elegant railings contribute to a seamless appearance, crafting a striking outdoor sanctuary with minimal required maintenance.
Regardless of your tastes, Decks Unique can assist you in selecting the ideal decking materials for your residence. Communicate with us today to express your needs and start crafting the outdoor haven of your dreams.
Upgrade Your Outdoor Living Environment with Our Extra Services in Middle Island
Decks Unique is committed to turning your outdoor living area into a lavish and practical extension of your residence. Apart from our exceptional deck building services, we also offer a variety of additional services such as wood awnings, cabanas, gazebos, pergolas, and porch construction. Our talented experts in Middle Island partner with you to create your desired outdoor space, ensuring the utmost quality and lasting durability.
Wood Awnings: Bring Both Shade and Style to Your Outdoor Living Space
Wooden awnings present an ideal solution for incorporating both shade and sophistication to your outdoor space. Our team of experts at Decks Unique is here to help you decide on the right design and materials, ensuring a stunning and functional wood awning that fits your home's look. Such structures offer protection from inclement weather while simultaneously increasing your property's overall value.
Cabanas: Set up a Deluxe Oasis in Your Middle Island Backyard
Providing a seamless mix of luxury, comfort, and seclusion, cabanas are an excellent enhancement to any outdoor space. You can count on our team of professionals to design and create a unique cabana that caters to your individual needs and preferences. Whether it's a homely corner for winding down or a polished space for hosting visitors, we can conjure up a cabana that stands as your flawless exterior retreat.
Gazebos: A Captivating Addition to Your Garden or Patio Environment
Incorporating a gazebo in a garden or patio lends perpetual elegance, offering an alluring centerpiece and a cool alcove for outdoor unwinding. Our professional team will help you choose the ideal style, materials, and location for your gazebo, ensuring a seamless integration with your existing landscape. Thanks to our superior craftsmanship, your gazebo will be a beautiful addition to your outdoor area and provide enjoyment for many years.
Pergolas: Combine Architectural Aesthetics and Utility for Your Outdoor Retreat
To elevate the visual interest and practicality of your outdoor space, consider adding a pergola. Pergolas inherently deliver a mix of shaded areas and sunlit spaces, ideally suiting them for the likes of garden promenades, terraces, or eateries outdoors. The proficient staff at Decks Unique can develop and assemble a custom-designed pergola to harmonize with your tastes and augment your home's value.
Porches: Enhancing Your Home's Curb Appeal and Expanding Outdoor Living Space
A well-designed porch not only enhances your home's curb appeal but also provides a comfortable outdoor living area for you and your family to enjoy. Our qualified team will cooperate with you to construct an exclusive porch that blends with your home's architectural design and accommodates your functional needs. With our keen eye for detail and dedication to excellence, you can have peace of mind knowing your porch construction endeavor is well taken care of.
Contact Decks Unique to revamp your Middle Island outdoor living area
Decks Unique takes pride in giving first-rate, personalized outdoor living solutions to people in Middle Island and the surrounding communities. To enhance your outdoor area with a wood awning, cabana, gazebo, pergola, or porch, rely on our team of experienced professionals for help. Don't hesitate to get in touch with us today to talk about your project and unveil how we can morph your outdoor living space into a sumptuous and functional part of your home.
Expertly Crafted Deck Plans and Designs in Middle Island
At Decks Unique, personalizing consultations and crafting custom deck designs to align with the individual requirements of our clients is our top priority. With over 20 years of know-how, our expert deck designers will cooperate closely with you to devise a deck that elevates your home's looks and utility. Employing cutting-edge 3D modeling and visualization methods, we'll transform your dream deck into reality, making certain the end product aligns with your aspirations.
Outstanding Decking Materials for Long-lasting Resilience
Long Island's foremost deck builder, Decks Unique, is an officially recognized installer of major composite deck materials, including brands like Trex, TimberTech, and Azek. Additionally, we offer a wide range of wood decking alternatives that suit your personal tastes, such as pressure-treated materials, cedar, redwood, and exclusive hardwoods. Our devotion to employing only first-class materials ensures your new deck's longevity and minimal upkeep.
Expert Deck Construction Services in Middle Island
Decks Unique's seasoned deck construction team is all about offering unparalleled artistry and streamlining efficiency throughout the entire construction process. Leveraging our deep expertise in building codes, norms, and permits, you can entrust us with the full project from beginning to end, yielding an eye-catching and practical outdoor environment.
Retain and Rehabilitate Your Deck's Elegance
We, at Decks Unique, grasp the necessity of regular maintenance to uphold your deck's beauty and structural resilience. Our seasoned team can conduct inspections and find any damages or potential problems, performing essential repairs to maintain your deck's prime state. At Decks Unique, we also propose deck revamping and restoration amenities, involving cleaning, staining, safeguarding against weather, and sealing to conserve and magnify your deck's appeal.
Elevate Your Open-air Space with Tailor-made Features and Add-ons
For authentically crafting your deck into a standout alfresco haven, Decks Unique brings you a variety of individualized elements and add-ins, featuring lighting systems for decks, seats embedded within the layout, cooking zones suitable for outdoor use, and fire-related fixtures. These advancements not only heighten practical use, but they also build a pleasant and convivial milieu for you and your visitors to take pleasure in.
Wide-Ranging Decking Services and Extra Offerings
Apart from our knowledge and experience in deck design and construction, Decks Unique also extends its expertise to additional outdoor structures such as wooden awnings, cabanas, gazebos, pergolas, and porches. These outdoor structures can elevate your Long Island property's outdoor appeal, making it a prime location for enjoying downtime and entertaining guests.
Let Decks Unique handle all of your decking needs in Middle Island. Uncover the change our pledge of quality, professionalism, and customer delight brings to your outdoor environment. Drop us a line today to set up a free consultation, and let us turn your backyard into a gorgeous masterpiece.
Joyfully helping the citizens in Middle Island, Massapequa, Levittown, Huntington, Greenlawn, Farmingville, East Meadow, and other Long Island vicinities.
Offering Long Island Quality Deck Designs and Services: