Get to know Decks Unique - Glen Head's Trusted Deck Building Specialists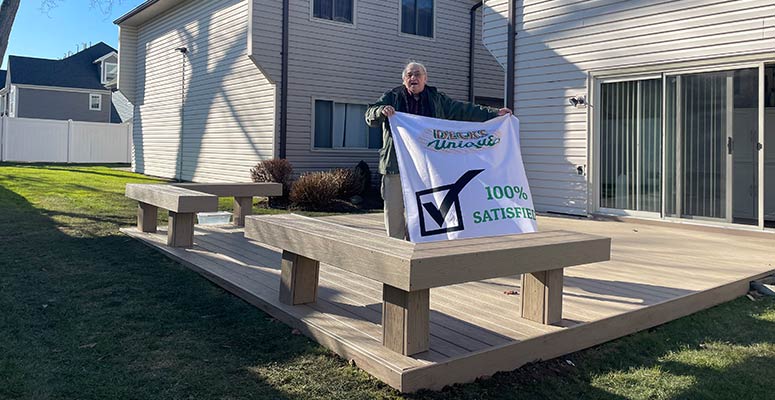 For over 20 years, Decks Unique, an establishment that is family-owned and operated, has been providing custom deck design and construction services to the residents of Long Island and surrounding locations, including Glen Head. Our zeal for design and unwavering commitment to professionalism, truthfulness, and innovation have propelled us to become the top provider of high-quality decks on Long Island, setting precedence within the industry. We pride ourselves on developing and constructing custom decks, porches, gazebos, pergolas, wood awnings, and assorted outdoor structures that bolster the appeal, worth, and function of your Long Island home.
Glen Head Deck Building Services with Expertise and Experience
We at Decks Unique hold the belief that a well-considered deck plan makes for a prudent choice in the realm of home improvement. Our knowledgeable assembly of expert deck builders is determined to ensure top-quality outcomes, preserve efficiency in production, and ascertain that our warranties hold significant enduring value. Our allegiance to exceptional quality has borne fruit in the form of myriad satisfied clients and beautifully crafted decks they can flaunt for the years ahead.
On Long Island, our skilled deck builders are qualified to set up all leading composite deck materials, like Trex, TimberTech, and Azek. We offer free home consultations and computerized deck designs so that you can visualize your project before it comes to life. Make your backyard the site for our subsequent project!
Improve Your Dwelling's Value by Constructing a Custom Deck
With a high-quality deck, your Glen Head house can see its outdoor living area improved and its property value significantly raised. At Decks Unique, our team is committed to conceiving and constructing custom decks that match the individual requirements and predilections of every client. If you want a casual space for hosting gatherings or an upscale oasis to soak up the beautiful weather, our professionals will diligently work alongside you to realize your vision.
We understand that each homeowner in has different tastes and requirements for their outdoor spaces. To accommodate these diverse preferences, we supply a wide array of materials, styles, and attributes for crafting the ideal deck to harmonize with your home and way of life. From time-honored wood choices such as pressure-treated lumber, cedar, and redwood to the low-maintenance advantages of composite and PVC decking, we offer an ideal solution for each budget and liking.
Extraordinary Concentration on Outstanding Performance and Customer Happiness
At Decks Unique, excellent workmanship and gratified clients are what we focus on. Our dedication to the use of high-caliber materials and collaboration with skilled, seasoned builders guarantees each project we undertake is of the finest quality.
In our experience, consistent communication is the foundation of a successful project, and we never falter in our commitment to keep clients apprised of progress. From the initial consultation and design process through construction and final inspection, our team is always available to answer questions, address concerns, and ensure that you are completely satisfied with your new deck.
Trust Decks Unique to morph your Glen Head backyard into an impressive outdoor living space you'll enjoy for years. Get ahold of us today to schedule an obligation-free consultation and explore the Decks Unique benefits.
Total Deck Construction Solutions in Glen Head
Decks Unique, located in Glen Head, is proud to offer an extensive range of tailored decking services, designed to cater to client needs. Our team is skilled in providing a holistic suite of services, from custom deck design and construction to repair, maintenance, and refinishing. Moreover, Decks Unique furnishes an array of distinctive options and add-ons to enrich your outdoor living environment. Let's explore further the array of services we provide at Decks Unique.
Custom Deck Design: Creating the Perfect Dream Deck for You
Our talented deck designers will team up with you to generate a one-of-a-kind deck that represents your signature style, blends well with your home, and meets the special requirements of your property. To enable you to make sound decisions, our adept advisors will steer you through the process of selecting the right materials, safeguarding enduring sophistication and solidity.
Exceptional Deck Creation: Superior Quality in Craftsmanship for an Eye-Catching Outside Space
Being an esteemed deck builder, we dedicate ourselves to using only first-class materials and ensuring safe, efficient labor. Our accomplished crew members are qualified installers of renowned composite deck materials, such as Trex, TimberTech, and Azek. With meticulous attention to detail and a focus on structural integrity, we ensure that your deck not only looks stunning but also stands the test of time.
Deck Upkeep and Restoration: Guarding Your Investment
Routine upkeep is fundamental for preserving your deck's beauty and function. Our expert team provides full repair and maintenance services for both wooden and composite decks. From thorough inspections to identify potential issues, to expert repair of damages caused by weather or wear-and-tear, we are your go-to source for all your deck maintenance needs. Equipped with our scheduled maintenance programs, you can rest easy knowing that your deck will be kept in pristine condition all year long.
Deck Restoration and Refinishing: Reimagine Your Outdoor Sphere
Over time, even the highest quality decks may show signs of wear or require refinishing to maintain their appearance. Our expert team can restore the beauty of your deck through professional cleaning, staining, weatherproofing, and sealing. In addition, we can perform structural reinforcements, ensuring your deck remains secure and serves its purpose for years to come.
Distinctive Details and Expanded Options: Intensify Your Deck Gratification
To elevate your outdoor living space, we offer a range of custom features and add-ons designed to complement your deck. The available options consist of energy-efficient illumination on decks, embedded seating, exterior kitchens, and fire amenities. Incorporating these components into your deck layout, we'll develop a warm and inviting area for you, your family, and friends to relish in Glen Head.
Decks Unique excels in furnishing clients and the surrounding communities with superior-quality decking services. For more than 20 years, our experience has earned us a reputation for being professional, honest, and groundbreaking. No matter if you're seeking to create a new deck or update your current one, our knowledgeable team is prepared to assist. Get in touch with us today to arrange a complimentary consultation and uncover how we can convert your exterior space into an attractive, useful oasis.
Determine the Best Deck Material for Your Space: Wood and Composite Possibilities
We, at Decks Unique, are devoted to aiding you in crafting the ultimate outdoor haven for your abode. Thus, we have a vast assortment of decking materials, including alternatives made of wood and composite materials. Individual materials offer distinct advantages, making certain that you have the capability to pick the ideal option that aligns with your needs and likes.
Wood Decking Exudes an Everlasting Grace
Wood's timeless versatility makes it an ideal material for adding warmth and charm to outdoor environments. Numerous wood decking choices are available, suiting various tastes and budgetary requirements.
Pressure-Treated Lumber: Affordable and Durable
Many homeowners opt for pressure-treated lumber on account of its economical and sturdy features. The decking material benefits from a specific treatment, safeguarding it from rot and insects. This makes pressure-treated decks not only durable but also low-maintenance.
Premium and Resistant: Cedar and Redwood's Natural Features
For people looking for an upscale option, we offer cedar and redwood decking too. The stunning and high-quality woods are naturally resistant to deterioration and bug infestations, ensuring a deck that lasts and ages with charm. The bold shades and unmatched grain structures of cedar and redwood decks contribute a breathtaking element to any abode.
Exotic Hardwoods: Gorgeous and Long-lasting
If you're on the hunt for a genuinely distinct and sophisticated alternative, consider utilizing exotic hardwoods like Ipe, Tigerwood, or Cumaru. These exceedingly solid and long-lasting woods stand out due to their commendable longevity and stunning appearance. Captivating colors and fascinating patterns of exotic hardwood decks contribute to a magnificent centerpiece for any outdoor environment.
Composite and PVC Decking: Your Path to Low-Maintenance Living
If you're after a green and low-maintenance substitute, evaluate the merits of composite and PVC decking. These modern materials unite the wood's aesthetic qualities with the hardiness of synthetics, presenting homeowners with an almost maintenance-free outdoor zone.
Pros and Perks of Composite Decking
Composite decking, which combines recycled wood fibers and plastic, is a sturdy and green choice. This decking option can withstand warping, cracking, and fading, leading to a beautiful and resilient deck that requires little care. Also, composite decks are notably easy to clean, and a bit of occasional washing is sufficient to maintain a clean outdoor space.
The Foremost Brands in Composite Materials Industry
Decks Unique is delighted to cooperate with the foremost brands in composite decking, including Trex, TimberTech, and Azek. As accredited installers of these extraordinary products, we offer Glen Head homeowners the finest materials to create beautiful and enduring outdoor areas.
Create a Distinctive Deck with Color and Texture Selections
A significant advantage of composite decking is the vast array of personalization possibilities. Choose from many color and texture combinations to create a singular outdoor area that harmonizes with your home's décor. You can find a fitting composite decking solution to satisfy your inclination for natural wood or modern design aesthetics.
Optimize Your Deck's Design with Railing and Baluster Options
The ideal deck isn't all it can be without the proper railing and baluster system. At Decks Unique, we feature a vast collection of alternatives to match your deck design and ensure your outdoor area remains safe and functional.
Wooden Handrail Systems: Traditional and Timeless
A wood railing system is an excellent choice for a classic and never-outdated appearance. By integrating a wood railing system with either a wood or composite deck, you can achieve a smooth and consistent design. To create a visually appealing result, paint or stain your wood railing system so it complements your deck or the exterior of your Glen Head home.
Metal and Glass Railing Systems: Innovative and Graceful
When a refined and modern vibe is what you're after, metal or glass railing systems may be perfect for you. These railing systems bring a current flair while enhancing the panorama from your deck, which is highly appreciated by property owners with beautiful surroundings.
Composite Railing Systems: Easy-Care and Elegant
For individuals who desire a low-upkeep solution while maintaining sophistication and elegance, composite railing systems make an ideal choice. The combination of durability and beauty in these railings, alongside composite decking, fosters a cohesive design and a breathtaking outdoor setting with minimal maintenance efforts.
Regardless of your tastes, Decks Unique can assist you in selecting the ideal decking materials for your residence. Contact us today to discuss your needs and begin designing the outdoor space of your dreams.
Upgrade Your Outdoor Living Environment with Our Extra Services in Glen Head
Decks Unique aims to turn your outdoor living space into a charming and functional extension of your dwelling. Not only do we specialize in deck building services, but we also offer a range of other services like wood awnings, cabanas, gazebos, pergolas, and porch construction. The skilled professionals at Glen Head diligently collaborate with you in order to transform your vision into reality while ensuring top-notch quality and durability.
Wooden Awnings: Increase Shade and Style for Your Outdoor Space
Wooden awnings present an ideal solution for incorporating both shade and sophistication to your outdoor space. The proficient staff at Decks Unique will guide you in picking the perfect design and materials to fashion an appealing and functional wood awning that suits your home's style. These installations not only safeguard you from harsh weather but also contribute to the overall appreciation of your property's value.
Cabanas: Put together a Plush Solace in Your Glen Head Garden
Combining luxury, comfort, and privacy expertly, cabanas are perfect for enhancing any open-air area. Our expert team will collaborate with you to develop and construct a bespoke cabana tailored to your requirements and desires. Whether you want a cozy space to relax or an elegant area to entertain guests, we can create a cabana that serves as a perfect outdoor retreat.
Gazebos: An Attractive Extension to Your Garden or Patio
In any garden or patio, a gazebo is an enduring addition that supplies an appealing focal point and a cool refuge for outdoor leisure. Our expert team assists you in selecting the perfect design, materials, and placement for your gazebo, guaranteeing a smooth blend with your current outdoor environment. With our expert craftsmanship, you can enjoy a stunning gazebo that enhances the beauty of your outdoor space for years to come.
Pergolas: Enhance Your Outdoor Space with Architectural Beauty and Function
A great way to boost architectural allure and functionality in your outdoor living area is by installing a pergola. By combining the benefits of shade with the ability to filter in natural light, these structures are perfect additions to garden walks, patios, and open-air dining spaces. Our adept professionals at Decks Unique are here to design and construct a custom-built pergola that suits your preferences, adding value to your living space.
Porch Assembly: Augment Your Home's Curb Appeal and Outdoor Living Space
A thoughtfully designed porch not only elevates your home's curb appeal but also supplies a pleasant outdoor living area for you and your family to appreciate. Our efficient group will work jointly with you to conceive a made-to-order porch that corresponds with your home's architecture and satisfies your conducive needs. With our attention to detail and commitment to quality, you can rest assured knowing your porch construction project is in good hands.
Reach out to Decks Unique to transform your Glen Head outdoor living space
Decks Unique is committed to offering top-tier, made-to-order outdoor living solutions for our Glen Head clients and their neighboring areas. Seeking to integrate a wood awning, cabana, gazebo, pergola, or porch into your outdoor area? Our team of specialists is prepared to help. Connect with us today to explore your project's possibilities and see how we can make your outdoor living space a luxurious and efficient extension of your household.
Specialist Deck Consultation and Design Services in Glen Head
At Decks Unique, we pride ourselves on offering personalized consultation and custom deck designs to fit the individual needs of our clients. Leveraging their 20-year expertise, our accomplished deck designers will closely engage with you to craft a deck that accentuates your home's visual charm and practical aspects. By applying modern 3D modeling and visualization techniques, we'll make your envisioned deck a tangible reality, confirming the final creation meets your demands.
Top-Notch Decking Materials to Ensure Longevity
Long Island's foremost deck builder, Decks Unique, is an officially recognized installer of major composite deck materials, including brands like Trex, TimberTech, and Azek. We also present an array of wooden decking alternatives to accommodate your preferences, like pressure-treated timber, cedarwood, redwood, and rare hardwoods. Our devotion to employing only first-class materials ensures your new deck's longevity and minimal upkeep.
Expert Deck Construction Services in Glen Head
Decks Unique's seasoned deck construction team is all about offering unparalleled artistry and streamlining efficiency throughout the entire construction process. With our extensive know-how of building codes, statutes, and permits, you can rely on us to steer the whole project from its start to finish, leaving you with a visually striking and practical outdoor living area.
Maintaining and Restoring Your Deck's Beauty
At Decks Unique, we understand the importance of routine maintenance in preserving the beauty and structural integrity of your deck. Our knowledgeable team can evaluate and detect any damage or potential risks, undertaking necessary repairs to retain your deck in the best possible condition. Besides, we make available deck refinishing and restoration conveniences, like cleaning, staining, defending against harsh weather, and sealing techniques to uphold and heighten your deck's aesthetic value.
Boost Your Outdoor Setting with Custom Solutions and Add-ons
To honestly create a one-of-a-kind backyard sanctuary with your deck, Decks Unique makes available a selection of bespoke aspects and supplements, encompassing deck light systems, incorporated chairs, outdoor culinary spaces, and fire-based amenities. These additions not only improve operation but also generate a soothing and receptive environment for your enjoyment and your guests.
All-Inclusive Decking Offerings and Additional Services
Decks Unique is well-versed in both deck design and construction as well as additional outdoor structures like wood awnings, cabanas, gazebos, pergolas, and porch construction. These additional structures can greatly contribute to the charm of your Long Island home's outdoor environment, turning it into an ideal place for relaxation and festivities.
For all your decking desires in Glen Head, choose Decks Unique. Discover the impact our dedication to quality, professionalism, and customer satisfaction has on your outdoor area. Contact us today to book a free assessment and let us change your backyard into an astonishing piece of art.
Dedicated to attending to the needs of Glen Head, Farmingville, East Meadow, Central Islip, Albertson, Uniondale, Sound Beach, and various other Long Island zones.
Offering Long Island Quality Deck Designs and Services: