Introducing Decks Unique - Manorville's Top-Rated Deck Construction Company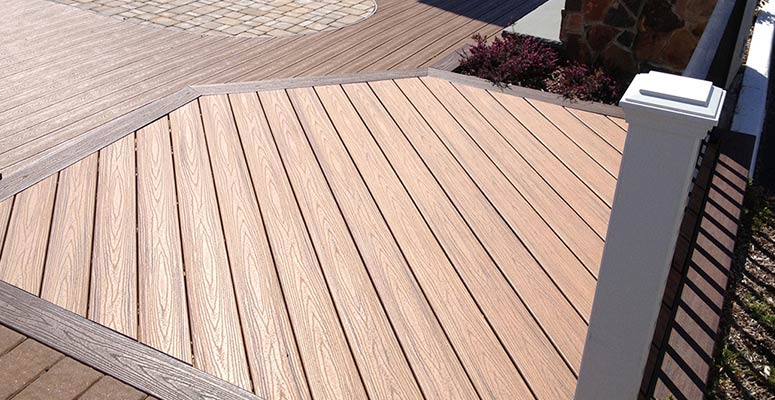 For over 20 years, Decks Unique has been a family-owned and operated company, specializing in custom deck design and construction, serving the people of Long Island and nearby areas, such as Manorville. Decks Unique's love for design and unyielding commitment to professionalism, honesty, and innovation have made us the dominant producer of exceptional decks in Long Island, influencing the industry's standards. At Decks Unique, we excel in constructing custom decks, porches, gazebos, pergolas, wood awnings, and additional outdoor structures that augment the aesthetics, worth, and functionality of your Long Island property.
Highly Skilled and Experienced Deck Construction Services in Manorville
At Decks Unique, our perspective is that a well-crafted deck layout is an intelligent decision when looking at home upgrades. Our highly skilled team of seasoned deck constructors consistently strives for exceptional quality, adheres to effective timetables, and guarantees long-lasting warranties. Our devotion to superior standards has led to innumerable content clients and decks they can happily display for the foreseeable future.
Long Island-based deck building crews have authorization to use all major composite deck products, including Trex, TimberTech, and Azek. We deliver cost-free home assessments and computer-modeled deck schemes for visualizing your project before it takes shape. Why not turn your backyard into our following endeavor?
Heighten Your Home's Worth with Your Own Custom Deck
A top-quality deck serves to enhance the open-air living quarters of your Manorville dwelling while also heightening its value. Decks Unique's forte is in the design and production of bespoke decks that adhere to the distinct demands and tastes of all our customers. If you want a casual space for hosting gatherings or an upscale oasis to soak up the beautiful weather, our professionals will diligently work alongside you to realize your vision.
We understand that each homeowner in has different tastes and requirements for their outdoor spaces. Therefore, we offer a vast array of materials, styles, and qualities to develop the perfect deck that blends with your abode and your daily life. We present solutions to suit any budget and preference, ranging from classic wood options like pressure-treated lumber, cedar, and redwood, to the maintenance-free world of composite and PVC decking.
Unequaled Focus on Superior Standards and Customer Gratification
At Decks Unique, we take immense pride in the quality of our workmanship and the satisfaction of our clients. We're committed to employing the finest materials and experienced, talented builders to make certain that all our projects live up to the highest expectations.
To us, seamless communication is the backbone of successful projects, and we work diligently to ensure our clients are always in the know. From the initial consultation and design process through construction and final inspection, our team is always available to answer questions, address concerns, and ensure that you are completely satisfied with your new deck.
Let Decks Unique transform your Manorville backyard into an outdoor living space you'll love. Reach out to us now to organize a free consultation and understand the Decks Unique difference on your own.
Comprehensive Decking Services in Manorville
We at Decks Unique are proud to offer a broad selection of decking services, designed to address the specific needs of our customers in Manorville. We specialize in a variety of custom deck services, including designing and building decks, as well as providing repairs, maintenance and refinishing. Moreover, Decks Unique furnishes an array of distinctive options and add-ons to enrich your outdoor living environment. Take a more detailed look at the assortment of services we proudly offer.
Custom Deck Design: Creating the Perfect Dream Deck for You
Our expert deck designers will work hand-in-hand with you to produce a tailored deck that mirrors your personal flair, complements your residence, and addresses the exclusive demands of your property. To enable you to make sound decisions, our adept advisors will steer you through the process of selecting the right materials, safeguarding enduring sophistication and solidity.
Expert Deck Assembly: Fine Craftsmanship for an Attractive External Space
Being the top deck builder, we are dedicated to utilizing only the best materials and ensuring the safety and efficiency of our workmanship. Our seasoned teams are approved installers of leading composite decking materials, including Trex, TimberTech, and Azek. By paying attention to every detail and maintaining a focus on structural reliability, we secure that your deck not only looks remarkable but also endures the test of time.
Deck Preservation and Fixing: Sustaining Your Investment's Worth
Routine upkeep is fundamental for preserving your deck's beauty and function. Our dedicated team offers comprehensive repair and maintenance services for both wood and composite decks. Whether you need thorough inspections to flag potential issues or expert repairs for weather-worn or damaged decks, we are the ideal partner for all your deck maintenance necessities. Our organized maintenance plans deliver the confidence that your deck will maintain premium quality throughout the entire year.
Deck Renovation and Restoration: Update Your Open-air Retreat
As the years go by, even the highest-grade decks can demonstrate signs of wear or ask for refinishing to retain their attractiveness. Our proficient team can revive your deck's splendor by means of professional cleaning, staining, weatherproofing, and sealing. Furthermore, we can carry out structural upgrades to make sure your deck stays secure and operational in the long term.
Individualized Aspects and Additional Pieces: Refine Your Deck Encounters
With the goal of elevating your outdoor living area, we put forth numerous individualized aspects and add-ons intended to accent your deck. The available options consist of energy-efficient illumination on decks, embedded seating, exterior kitchens, and fire amenities. Embedding these particulars into your deck configuration, we help form a friendly and cozy atmosphere for you to treasure with your dear ones in Manorville.
Decks Unique excels in furnishing clients and the surrounding communities with superior-quality decking services. Our 20-plus years of experience in the field have earned us a name for professionalism, integrity, and creativity. Our capable team is eager to help you with planning a new deck or upgrading an old one. Book a free consultation with us today, and find out how we can revamp your outdoor space into a stunning and functional retreat.
Discover Your Perfect Deck Material: Wood and Composite Options
Assisting you in creating the ultimate outdoor getaway for your home is our commitment at Decks Unique. As a result, we offer numerous decking materials, with options in both timber and composite varieties. All materials have exclusive benefits that let you settle on the best choice based on your specific desires and favorites.
Discover the Classic Appeal of Wood Decking
With a classic, versatile nature, wood gives an organic warmth and stylish appeal to open-air spaces. Explore our broad selection of wood deck options created to suit diverse styles and budgets.
Pressure-Treated Boards: Economically Viable and Robust
For many homeowners, pressure-treated lumber is a preferred option because of its budget-friendly and tough nature. A specialized process protects the decking material from both decay and insect-related damage. As an outcome, decks made from pressure-treated wood last longer and call for lesser maintenance.
Premium and Resistant: Cedar and Redwood's Natural Features
If you're interested in a more sophisticated solution, we also have cedar and redwood decking available. The stunning and high-quality woods are naturally resistant to deterioration and bug infestations, ensuring a deck that lasts and ages with charm. Cedar and redwood decks, showcasing rich coloration and individualistic grain patterns, bring a significant accent to any living space.
Exotic Hardwoods: Stunning and Enduring
For a truly unparalleled and elegant choice, give some thought to exotic hardwoods such as Ipe, Tigerwood, or Cumaru. These woods, with their incredible density and toughness, are recognized for their lasting quality and remarkable aesthetics. An exotic hardwood deck's dazzling colors and intricate designs make it a standout centerpiece in any outside space.
Low-Maintenance Living is Easy with Composite and PVC Decking Solutions
If you're after a green and low-maintenance substitute, evaluate the merits of composite and PVC decking. These pioneering materials blend the allure of wood with the toughness of man-made substances, affording homeowners a near maintenance-free al fresco space.
Advantages and Benefits of Composite Decking
Composite decking, featuring a mix of reused wood fibers and plastic, is an enduring and eco-friendly solution. This type of decking material is impervious to issues like warping, cracking, and color loss, guaranteeing a stunning and durable deck that needs little attention. Furthermore, composite decks are simple to maintain, needing just infrequent washing to preserve the cleanliness of your outdoor area.
Composite Materials: Industry-Leading Brands
Decks Unique is pleased to join forces with leading composite decking brands, such as Trex, TimberTech, and Azek. Being licensed installers of these impressive products, we can equip Manorville homeowners with the finest materials to ensure an exquisite and durable outdoor setting.
Enhance Your Deck's Appearance with Different Color and Texture Options
One of the major benefits of composite decking is the wide range of customization options. Choose from many color and texture combinations to create a singular outdoor area that harmonizes with your home's décor. If you have a penchant for natural wood looks or more innovative designs, composite decking offers a compatible option.
Amplify Your Deck's Look with Railing and Baluster Additions
A top-notch deck demands the right railing and baluster system to be truly complete. Decks Unique offers an extensive selection of options to work seamlessly with your deck design and promote the safety and usefulness of your exterior area.
Wooden Balustrade Systems: Classic and Eternal
For a classic and timeless look, consider a wood railing system. Wood railing systems work well with both wooden and composite decks, resulting in a harmonious and unified style. To create a visually appealing result, paint or stain your wood railing system so it complements your deck or the exterior of your Manorville home.
Metal and Glass Railing Systems: Chic and Smooth
If modern sophistication and sleekness catch your eye, metal or glass railing systems might be just the thing. These railing systems bring a current flair while enhancing the panorama from your deck, which is highly appreciated by property owners with beautiful surroundings.
Composite Railing Systems: Low-Care and Trendy
For individuals who desire a low-upkeep solution while maintaining sophistication and elegance, composite railing systems make an ideal choice. Not only are these railings durable and visually appealing, but they also create a unified appearance when combined with composite decking, resulting in an impressive outdoor area that demands minimal tending.
Regardless of your personal preferences, Decks Unique stands ready to help you decide on the most suitable decking materials for your living space. Contact us today to discuss your needs and begin designing the outdoor space of your dreams.
Boost Your Outdoor Living Space with Our Additional Services in Manorville
Decks Unique aims to turn your outdoor living space into a charming and functional extension of your dwelling. We don't just provide exemplary deck building services; we also have a variety of extra services like wood awnings, cabanas, gazebos, pergolas, and porch construction. In Manorville, our skilled team works closely with you to achieve your outdoor vision, guaranteeing top-quality and durable results.
Wooden Awnings: Add a Touch of Style and Shade to Your Outdoor Space
Through wood awnings, you can effortlessly introduce both shade and grace to your exterior area. The proficient staff at Decks Unique will guide you in picking the perfect design and materials to fashion an appealing and functional wood awning that suits your home's style. These constructions provide both shelter from severe weather conditions and elevation in your property's total value.
Cabanas: Establish an Elegant Haven in Your Manorville Greenspace
Cabanas offer a perfect blend of luxury, comfort, and privacy, making them an ideal addition to any outdoor space. Our team of experts will work with you to design and build a custom cabana that meets your specific needs and preferences. Whether you're looking for a comfortable nook to unwind or a sophisticated space to entertain visitors, we can fashion a cabana that becomes your ultimate al fresco getaway.
Gazebos: An Elegant Inclusion in Your Garden or Patio
A gazebo is a timeless addition to any garden or patio, providing a charming focal point and a shaded area for outdoor relaxation. Our accomplished team makes it easy for you to choose the most suitable style, materials, and location for your gazebo, ensuring that it merges seamlessly with your existing outdoor area. Our top-notch craftsmanship ensures an impressive gazebo that enriches your outdoor area and brings joy for numerous years.
Pergolas: Amplify Your Outdoor Setting's Distinction and Practicality with Architectural Elements
One effective way to enrich your outdoor living space with architectural appeal and utility is by constructing a pergola. Pergolas offer a balance of shading and natural illumination, which suits them well for use in garden walkways, outdoor patios, or dining areas. Decks Unique's team of seasoned professionals will custom-design and craft a pergola to suit your preferences, contributing to your home's value.
Porch Development: Elevate Your Home's Curb Appeal and Outdoor Lifestyle
A well-planned porch not only heightens your home's curb appeal but also furnishes a snug outdoor living environment for you and your kin to relish. Our knowledgeable team will partner with you to build a personalized porch that fits your home's architectural theme and adheres to your functional demands. With our scrupulous focus on detail and loyalty to top-notch quality, you can relax knowing that your porch construction venture is in adept hands.
Reach out to Decks Unique to transform your Manorville outdoor living space
We pride ourselves on bringing top-quality, tailored outdoor living solutions to our customers in Manorville and the neighboring regions at Decks Unique. If adding a wood awning, cabana, gazebo, pergola, or porch to your outdoor space is what you're after, our proficient team is here to guide you. Let's chat about your project today, and we'll reveal how we can change your outdoor living space into a luxurious and practical component of your home.
Professional Deck Planning and Creation in Manorville
Decks Unique is renowned for providing individualized consultations and custom deck plans to fulfill the particular desires of our customers. With a solid background of 20 years, our adept deck designers will collaborate with you in designing a deck that boosts your home's beauty and function. By applying modern 3D modeling and visualization techniques, we'll make your envisioned deck a tangible reality, confirming the final creation meets your demands.
Top-Notch Decking Materials to Ensure Longevity
Decks Unique, a top-notch deck builder in Long Island, is a sanctioned installer of all well-known composite deck materials, featuring Trex, TimberTech, and Azek. We also present an array of wooden decking alternatives to accommodate your preferences, like pressure-treated timber, cedarwood, redwood, and rare hardwoods. The use of only premium materials in our work reflects our commitment to building durable, low-maintenance decks.
Outstanding Deck Building Services in Manorville
Our gifted deck construction professionals at Decks Unique are devoted to ensuring top-tier quality and effectiveness during the full building process. With our expert knowledge of building codes, regulations, and permits, you can trust us to handle the entire project from start to finish, leaving you with a stunning and functional outdoor living space.
Retain and Rehabilitate Your Deck's Elegance
At Decks Unique, we are conscious of the pivotal role regular maintenance plays in preserving your deck's visual charm and solid framework. Our capable team can investigate and identify any harm or likely complications, delivering needed repairs to keep your deck in superior condition. At Decks Unique, we also propose deck revamping and restoration amenities, involving cleaning, staining, safeguarding against weather, and sealing to conserve and magnify your deck's appeal.
Custom Features and Add-ons to Elevate Your Outdoor Space
For truly fashioning your deck into a singular open-air refuge, Decks Unique proffers an assortment of tailor-made components and augmentations, such as lighting solutions for decks, seats integrated into the design, kitchens designed for the outdoors, and flame-oriented installations. These upgrades not only increase utility, but they also foster an inviting and comfortable setting for you and those you invite to relish.
Wide-Ranging Decking Services and Extra Offerings
Decks Unique specializes not only in deck design and building but also in constructing other outdoor structures such as wooden awnings, cabanas, gazebos, pergolas, and porches. These additional structures can greatly contribute to the charm of your Long Island home's outdoor environment, turning it into an ideal place for relaxation and festivities.
Turn to Decks Unique for addressing all your decking needs in Manorville. Discover the impact our dedication to quality, professionalism, and customer satisfaction has on your outdoor area. Drop us a line today to set up a free consultation, and let us turn your backyard into a gorgeous masterpiece.
Happy to support the communities of Manorville, Levittown, Huntington, Greenlawn, Floral Park, East Meadow, Central Islip, and other areas throughout Long Island.
Offering Long Island Quality Deck Designs and Services: