Experience Decks Unique - The Premier Deck Building Service in Farmingdale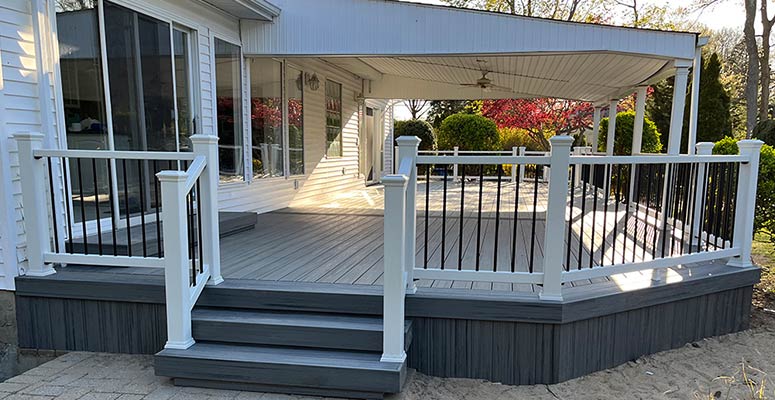 Decks Unique is a family-owned and operated custom deck design and construction company, serving the residents of Long Island and surrounding areas, including Farmingdale, for over 20 years. Our enthusiasm for design, coupled with our dedication to professionalism, honesty, and innovation, has established us as the premier producer of top-notch decks throughout Long Island, and we've set industry benchmarks. We're adept at designing and constructing personalized decks, porches, gazebos, pergolas, wooden awnings, and a variety of outdoor installations that improve the value, aesthetics, and practicality of your Long Island household.
Farmingdale Deck Building Services with Expertise and Experience
Decks Unique advocates that a meticulously designed deck is a sound investment when evaluating home improvement options. At Decks Unique, our skilled professionals in deck building are devoted to providing superior quality, working towards efficient scheduling, and making sure that our warranties retain true long-term value. Our unwavering dedication to outstanding results has produced countless satisfied clients and striking decks they can be proud of for years.
All major composite decking products, such as Trex, TimberTech, and Azek, can be installed by our experienced Long Island deck construction teams. Take advantage of our free home consultations and computer-assisted decking designs to help you imagine your project before it's built. Permit us to create an amazing transformation in your backyard for our next project!
Increase the Value of Your Home with a Custom-Built Deck
The addition of a fantastic deck not only expands your Farmingdale home's outdoor living space but also amplifies its market value. Decks Unique specializes in the planning and building of tailor-made decks that satisfy each of our clients' distinctive needs and inclinations. No matter if you desire a comfy location for social events or a grand outdoor paradise to savor the charming weather, our staff will partner with you to create your ideal space.
Each homeowner has specific desires and requirements for their outdoor settings, which we acknowledge. To accommodate these diverse preferences, we supply a wide array of materials, styles, and attributes for crafting the ideal deck to harmonize with your home and way of life. Whether you prefer classic wood choices like pressure-treated lumber, cedar, and redwood, or easy-care composite and PVC decking options, we have the perfect solution for every budget and style.
Dedication to Fantastic Quality and Client Satisfaction
Decks Unique's commitment to first-class workmanship and customer happiness is unwavering. By using only the best materials and partnering with skilled, knowledgeable builders, we can assure that every project we undertake meets the highest quality standards.
We think that effective communication is crucial for project success, and it's our top priority to keep clients in the loop throughout the process. Throughout the entire process - from initial consultation and design to construction and final inspection - our team is on hand to field questions, respond to any worries, and ensure ultimate satisfaction with your finished deck.
Allow Decks Unique to create a beautiful outdoor living area in your Farmingdale backyard. Reach out to us now to organize a free consultation and understand the Decks Unique difference on your own.
All-inclusive Decking Solutions in Farmingdale
We at Decks Unique are proud to offer a broad selection of decking services, designed to address the specific needs of our customers in Farmingdale. We specialize in a variety of custom deck services, including designing and building decks, as well as providing repairs, maintenance and refinishing. Alongside our main services, we offer a selection of unique features and supplementary options to enrich your outdoor living experience. Take a more detailed look at the assortment of services we proudly offer.
Custom Deck Design: Materializing Your Dream Deck with Expertise
Our skilled deck designers will closely collaborate with you to design a customized deck that showcases your individual taste, enhances your home, and caters to the specific needs of your property. For the sake of assisting you in making confident choices, our expert personnel will take you through material assessments, guaranteeing sustained refinement and stability in your deck.
Masterful Deck Fabrication: Impressive Craftsmanship for an Elegant Exterior Space
As the leading deck builder, we pledge to use only top-notch materials and practice secure, effective workmanship. Our seasoned teams are approved installers of leading composite decking materials, including Trex, TimberTech, and Azek. By giving close attention to detail and prioritizing structural strength, we ensure that your deck is not only breathtaking but also withstands the passage of time.
Keeping Your Deck in Tip-Top Shape: Defending Your Investment
Routine upkeep is fundamental for preserving your deck's beauty and function. Whether it's a wood or composite deck, our specialized team offers comprehensive repair and upkeep services. From exhaustive assessments aimed at spotting potential concerns, to professional repair of damages resulting from weather or age, consider us your all-encompassing deck maintenance provider. Our planned maintenance plans offer reassurance, ensuring your deck stays in top shape throughout the entire year.
Deck Revamping and Restoration: Transform Your Outdoor Sanctuary
As time passes, even the most excellent decks could show indications of wear or demand refinishing to sustain their visual allure. Our team of specialists can reinstate the aesthetic charm of your deck through professional cleaning, staining, weatherproofing, and sealing procedures. Plus, we can undertake structural alterations, confirming that your deck stays safe and usable for an extended period.
Individualized Aspects and Additional Pieces: Refine Your Deck Encounters
In order to uplift your outdoor living space, we extend a series of personalized features and additional components aimed at boosting your deck. These options consist of energy-wise deck lights, fixed seating, kitchens intended for open-air use, and fire configurations. We merge these features into your deck's overall structure, creating an inviting and pleasant ambiance for you to cherish with family and friends in Farmingdale.
Providing top-notch decking solutions to clients and nearby areas is a specialty of Decks Unique. In our 20 years of experience, we have garnered a reputation for being professional, sincere, and inventive. Whether designing a novel deck or enhancing a current one, our proficient team is available for assistance. Reach out to us now to book a cost-free consultation and find out how we can turn your outdoor area into a visually striking and practical haven.
Explore the Perfect Deck Material for Your Needs: Wood and Composite Alternatives
Here at Decks Unique, we are passionate about collaborating with you to develop the perfect outdoor hideaway for your house. This is the reason we provide an extensive array of decking materials, encompassing wood and composite selections. Separate materials exhibit specific strengths so that you can determine the best option corresponding to your particular requirements and desires.
Embrace the Timeless Beauty of Wooden Decks
Wooden materials possess a lasting, adaptable nature that grants a sense of comfort and allure to any outdoor setting. Discover numerous wood decking solutions that cater to each individual's taste and budget requirements.
Pressure-Handled Lumber: Budget-friendly and Enduring
Many homeowners opt for pressure-treated lumber on account of its economical and sturdy features. The decking material benefits from a specific treatment, safeguarding it from rot and insects. As a result, pressure-treated decks are long-lasting and require minimal maintenance.
Cedar and Redwood: Luxurious and Naturally Resistant
For individuals searching for a lavish choice, cedar and redwood decking are additionally available. These elegant and premium woods possess natural resistance to decay and pests, guaranteeing a durable deck that matures with elegance. The vibrant hues and distinct grain designs of cedar and redwood decks create an impressive enhancement to any residence.
Exotic Hardwoods: Exquisite and Long-Lasting
To find an extraordinary and outstanding option, contemplate using exotic hardwoods like Ipe, Tigerwood, or Cumaru. Thanks to their substantial density and ruggedness, these woods are celebrated for their incredible durability and strikingly beautiful appearance. Exotic hardwood decks, with their vibrant hues and elaborate designs, serve as breathtaking focal points in any outdoor area.
Composite and PVC Decking: Your Path to Low-Maintenance Living
Those looking for a low-maintenance and green choice should think about composite and PVC decking. These advanced materials merge wooden charm with synthetic endurance, offering homeowners an almost maintenance-free open-air space.
Benefits and Advantages of Composite Decking
Composite decking, composed of both reused wood fibers and plastic, presents a robust and eco-friendly alternative. Thanks to its resistance to warping, cracking, and fading, this decking material yields an eye-catching, long-lasting deck that demands minimal maintenance. Composite decks also have an advantage in their ease of cleaning, with only sporadic washing needed to keep the outdoor area immaculate.
Key Players in the Composite Materials Market
Decks Unique is proud to work with the leading brands in composite decking, including Trex, TimberTech, and Azek. We can deliver the best quality materials for an attractive and long-lasting outdoor space to Farmingdale homeowners, as we are authorized installers of these first-rate products.
Enhance Your Deck's Appearance with Different Color and Texture Options
The wide variety of customization possibilities is a major plus for composite decking. A range of color and texture selections allows you to craft an outdoor space that complements your home's appearance. No matter if you appreciate the visuals of natural wood or a cutting-edge design, you'll find a composite decking solution that fits.
Boost Your Deck's Appeal with Railing and Baluster Alternatives
To be complete, the perfect deck calls for the appropriate railing and baluster system. Decks Unique offers countless options to accentuate your deck design while ensuring a safe and practical outdoor environment.
Wooden Railing Systems: Classic and Everlasting
Opt for a wood railing system if you desire a timeless and sophisticated feel. A wood railing system can complement both wooden and composite decking, providing a cohesive and polished appearance. Wood railing systems can be painted or stained to match your deck or Farmingdale home exterior, ensuring a stunning final result.
Metal and Glass Railing Systems: Innovative and Graceful
For those who appreciate a stylish and up-to-date feel, metal or glass railing systems can be a wise choice. Both metal and glass railing systems deliver a contemporary feel while also augmenting the viewpoint from your deck area, winning over homeowners with captivating settings.
Composite Railing Systems: Low-Maintenance and Stylish
If you're looking for an elegant option with minimal upkeep, composite railing systems are a superb choice. Pairing these durable, eye-catching railings with composite decking generates a visually consistent look, transforming the area into a striking outdoor haven that requires little care.
No matter what your tastes are, Decks Unique is committed to helping you find the perfect decking materials for your living quarters. Contact our team today to share your needs and initiate the planning process for your dream outdoor living space.
Revamp Your Outdoor Living Area with Our Additional Services in Farmingdale
At Decks Unique, we believe in transforming your outdoor living space into a luxurious and functional extension of your home. We don't just provide exemplary deck building services; we also have a variety of extra services like wood awnings, cabanas, gazebos, pergolas, and porch construction. Our proficient specialists in Farmingdale closely cooperate with you to materialize your vision, ensuring high quality and long-lasting durability.
Wood Awnings: Bring Both Shade and Style to Your Outdoor Living Space
The addition of wood awnings provides both shade and a touch of elegance to your exterior living area. The proficient staff at Decks Unique will guide you in picking the perfect design and materials to fashion an appealing and functional wood awning that suits your home's style. These wood awnings not only serve to protect against harsh weather but also help raise your property's overall value.
Cabanas: Create a Sumptuous Escape in Your Farmingdale Lawn
With a remarkable marriage of luxury, ease, and privacy, cabanas make for an outstanding complement to any outdoor space. Our team of experts will work with you to design and build a custom cabana that meets your specific needs and preferences. Whether you're looking for a comfortable nook to unwind or a sophisticated space to entertain visitors, we can fashion a cabana that becomes your ultimate al fresco getaway.
Gazebos: A Captivating Addition to Your Garden or Patio Environment
A lasting gazebo makes any garden or patio more appealing, presenting an attractive central feature and a shaded retreat for outdoor recreation. With our skilled team's guidance, you'll select the right style, materials, and site for your gazebo, ensuring harmonious integration with your existing surroundings. With our high-quality craftsmanship, you'll have a gorgeous gazebo that not only complements but also enhances your outdoor space for years to come.
Pergolas: Create Eye-catching Architectural Features and Functionality for Your Outdoor Living Area
Pergolas provide a superb means of incorporating architectural charm and practicality to your outdoor space. These constructions supply a blend of shadow and natural brightness, thus perfectly complementing garden pathways, external platforms, or open dining zones. Our adept professionals at Decks Unique are here to design and construct a custom-built pergola that suits your preferences, adding value to your living space.
Porch Assembly: Augment Your Home's Curb Appeal and Outdoor Living Space
A well-planned porch not only heightens your home's curb appeal but also furnishes a snug outdoor living environment for you and your kin to relish. Our skillful staff will coordinate with you to fashion a custom porch that goes well with your home's architecture and addresses your functional requirements. With our comprehensive attention to even the smallest detail and steadfast pledge to premium quality, you can breathe easy knowing your porch assembly project is in proficient hands.
Contact Decks Unique to revamp your Farmingdale outdoor living area
We at Decks Unique are dedicated to offering exceptional, bespoke outdoor living solutions for our Farmingdale clientele and the neighboring areas. Whether it's a wood awning, cabana, gazebo, pergola, or porch you want to incorporate into your outdoor space, our professional team stands ready to help. Let's chat about your project today, and we'll reveal how we can change your outdoor living space into a luxurious and practical component of your home.
Expert Deck Consultation and Design in Farmingdale
At Decks Unique, we excel in offering customized consultation services and creating unique deck designs to fulfill the expectations of our clients. Boasting more than two decades of expertise, our skilled deck designers collaborate with you to design a deck that augments your home's visual appeal and practicality. By applying modern 3D modeling and visualization techniques, we'll make your envisioned deck a tangible reality, confirming the final creation meets your demands.
High-Quality Deck Materials for Lasting Durability
Decks Unique, a top-notch deck builder in Long Island, is a sanctioned installer of all well-known composite deck materials, featuring Trex, TimberTech, and Azek. We also put forward various wood decking options to conform to your preferences, like pressure-treated wood pieces, cedar, redwood, and luxurious hardwoods. We guarantee that, by using only the best materials, your new deck will be durable and require minimal upkeep.
Professional Deck Construction Services in Farmingdale
Decks Unique's seasoned deck construction team is all about offering unparalleled artistry and streamlining efficiency throughout the entire construction process. Given our vast knowledge of building codes, regulations, and permits, you can trust us to execute the full project from start to finish, creating a beautiful and efficient outdoor living area.
Hold and Re-establish Your Deck's Gorgeousness
At Decks Unique, we appreciate the importance of consistent care in retaining the aesthetics and strength of your deck. Our adept team has the ability to check and recognize any damages or potential troubles, executing required repairs to sustain your deck's top-notch condition. Moreover, we render deck rejuvenation and refinishing solutions, such as cleaning, staining, weatherproofing, and sealing operations to maintain and enhance your deck's facade.
Elevate Your Open-air Space with Tailor-made Features and Add-ons
To shape your deck into an unparalleled open-space sanctuary, Decks Unique supplies a multitude of custom attributes and ancillary items, incorporating lights designed for decks, in-built chair arrangements, cooking facilities for open-air settings, and fire-centric highlights. These upgrades not only increase utility, but they also foster an inviting and comfortable setting for you and those you invite to relish.
Wide-Ranging Decking Services and Extra Offerings
Decks Unique, besides being skilled in deck design and construction, is also an expert in crafting other outdoor structures such as wood awnings, cabanas, gazebos, pergolas, and porch construction. These additional structures can greatly contribute to the charm of your Long Island home's outdoor environment, turning it into an ideal place for relaxation and festivities.
Rely on Decks Unique for all of your decking demands in Farmingdale. Find out how our dedication to top-notch quality, professionalism, and customer satisfaction affects your outdoor area. Contact us today to schedule a free consultation and let us transform your backyard into a stunning masterpiece.
Proudly serving Farmingdale, East Meadow, Central Islip, Albertson, Valley Stream, Sound Beach, Roosevelt and other Long Island communities.
Offering Long Island Quality Deck Designs and Services: