Visit Decks Unique - East Meadow's Most Reliable Deck Builder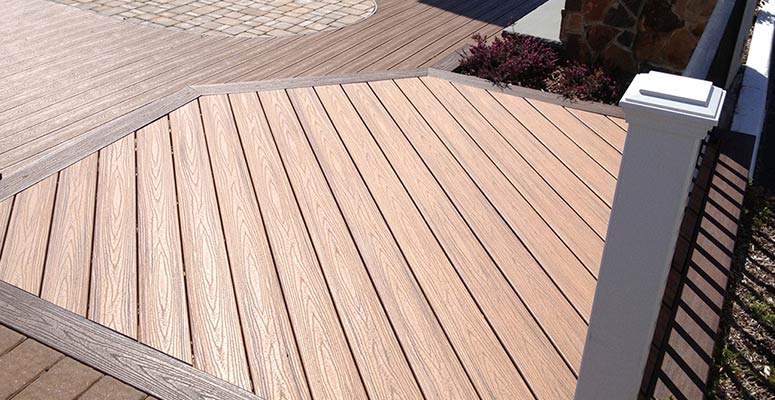 As a family-owned and operated business for over 20 years, Decks Unique has provided custom deck design and construction services to the people of Long Island and neighboring regions, such as East Meadow. Owing to our zeal for design and unwavering dedication to professionalism, honesty, and innovation, we've become the largest producer of high-end decks on Long Island, establishing industry standards. Our area of expertise involves creating and building custom decks, verandas, gazebos, pergolas, wooden awnings, and other external structures that add worth, allure, and functionality to your Long Island abode.
Deck Building Services with Expertise and Experience in East Meadow
At Decks Unique, our conviction is that a carefully planned deck design serves as a smart investment for home enhancements. The Decks Unique team of experienced deck builders is committed to providing top-notch quality, keeping effective production timelines, and ensuring that our warranties offer enduring value. This commitment to excellence has resulted in countless satisfied customers, and decks that they are proud to show off for many years to come.
Our Long Island deck building specialists are licensed to install all top composite deck brands, such as Trex, TimberTech, and Azek. We provide complimentary in-home consultations and digital deck plans to help you envision your project prior to its completion. Let us make your backyard our next project!
Increase the Value of Your Home with a Custom-Built Deck
Besides improving the exterior living area of your East Meadow residence, an exceptional deck can also drive up property value. Decks Unique is specialized in crafting and assembling personalized decks that fulfill the requirements and appeals of our diverse clientele. Be it a homely location for entertaining your friends and family or a luxurious outdoor idyll to luxuriate in attractive weather, our team will join forces with you to make your ideal haven a reality.
We recognize that every homeowner has unique preferences and needs for their outdoor areas. That's why we make available a large range of materials, designs, and components to fashion the perfect deck that aligns with your house and personal routines. From time-honored wood choices such as pressure-treated lumber, cedar, and redwood to the low-maintenance advantages of composite and PVC decking, we offer an ideal solution for each budget and liking.
Adherence to Exceptional Quality and Consumer Satisfaction
Decks Unique aims to excel in workmanship quality and customer satisfaction. Our devotion to first-class materials and engaging the services of experienced contractors guarantees the superior completion of each project we take on.
For a project to be successful, we believe communication is key, and we place great importance on keeping our clients aware of every development. Throughout the entire journey, from the initial consultation and design to construction and the final inspection, our team is committed to being there to assuage any doubts, allay concerns, and ascertain your utmost satisfaction with your new deck.
Give Decks Unique the chance to modify your East Meadow backyard into a cozy outdoor living space you'll love. Get in touch with us today to arrange a complimentary consultation and discover the Decks Unique advantage firsthand.
Complete Deck Building Services in East Meadow
At Decks Unique, our goal is to offer a vast selection of tailored decking services, tailored to meet the needs of our East Meadow clients. Our expertise at Decks Unique ranges from crafting custom deck designs and construction to handling repair work, maintenance, and refinishing projects. Additionally, we provide a variety of unique features and add-ons to enhance your outdoor living experience. Take a more detailed look at the assortment of services we proudly offer.
Custom Deck Design: Turning Your Visionary Deck into Reality
Our proficient deck designers will partner with you to develop a bespoke deck that embodies your personal preferences, augments your home, and fulfills the distinct requisites of your property. To enable you to make sound decisions, our adept advisors will steer you through the process of selecting the right materials, safeguarding enduring sophistication and solidity.
High-Quality Deck Production: First-Class Workmanship for a Magnificent Outdoor Environment
As the premier deck builder, we are committed to using only high-quality materials and employing safe, efficient workmanship. Our highly-experienced teams have the approval to install leading composite decking brands like Trex, TimberTech, and Azek. By paying attention to every detail and maintaining a focus on structural reliability, we secure that your deck not only looks remarkable but also endures the test of time.
Deck Preservation and Fixing: Sustaining Your Investment's Worth
Routine maintenance is necessary for preserving the attractiveness and usefulness of your deck. Our devoted team supplies a wide range of repair and maintenance services for wood and composite decks alike. From detailed assessments to detect possible problems, to expert damage repairs due to weather or wear, we're the one-stop-shop for all of your deck maintenance requirements. Equipped with our scheduled maintenance programs, you can rest easy knowing that your deck will be kept in pristine condition all year long.
Deck Renovation and Restoration: Update Your Open-air Retreat
With time, even top-notch decks can exhibit signs of wear or necessitate refinishing in order to keep their aesthetic appeal. Our proficient team can revive your deck's splendor by means of professional cleaning, staining, weatherproofing, and sealing. Notably, we can apply structural ameliorations, securing your deck's safety and utility for the future.
Adapted Facets and Complementary Elements: Optimize Your Deck Satisfaction
To heighten your outdoor living space experience, we introduce an array of distinct features and add-on choices devised to augment your deck. Some of the options are energy-efficient light fittings on decks, internal seating, exterior cooking areas, and fire-inspired features. Inclusion of these elements within your deck's design enables us to produce a warm and affable space for your enjoyment with family and friends in East Meadow.
At Decks Unique, we take pride in delivering outstanding decking services to customers and surrounding regions. Over our 20 years in the business, we've carved out a reputation for professionalism, dependability, and innovation. Our capable team is eager to help you with planning a new deck or upgrading an old one. Schedule a complimentary consultation with us today, and explore the possibilities to transform your outdoor space into a beautifully functional sanctuary.
Determine the Best Deck Material for Your Space: Wood and Composite Possibilities
Decks Unique is dedicated to assisting you in developing the ideal outdoor sanctuary for your residence. For this purpose, we deliver a wide range of decking materials that include wooden and composite solutions. Each decking material possesses its advantages, which allows you to select the most suitable option for your particular necessity and preference.
Wood Decks Radiate Classic Appeal
Wood is a timeless and versatile material, providing natural warmth and charm to any outdoor space. Our selection of wooden deck options caters to an array of preferences and financial plans.
Pressure-Handled Lumber: Budget-friendly and Enduring
A significant number of homeowners find pressure-treated lumber appealing for its inexpensive and durable aspects. Undergoing a unique treatment process, this decking material is protected against decay and bug infestations. As an outcome, decks made from pressure-treated wood last longer and call for lesser maintenance.
The Luxury of Cedar and Redwood: A Natural Resistance
For those pursuing a deluxe option, we feature cedar and redwood decking in our offerings. With their inherent resistance to decay and insects, these exquisite and high-end woods offer a deck that endures and ages gracefully. Cedar and redwood decks, showcasing rich coloration and individualistic grain patterns, bring a significant accent to any living space.
Exotic Hardwoods: Exquisite and Long-Lasting
For those in search of a genuinely distinctive and splendid option, ponder over selecting exotic hardwoods like Ipe, Tigerwood, or Cumaru. These exceptionally dense and robust hardwoods boast impressive durability and a stunning appearance. With vivid colors and detailed patterns, exotic hardwood decks provide a striking focal point for outdoor spaces.
Embrace Low-Maintenance Living with the Help of Composite and PVC Decking
Those looking for a low-maintenance and green choice should think about composite and PVC decking. These innovative materials combine the beauty of wood with the durability of synthetic materials, providing homeowners with a nearly maintenance-free outdoor space.
Understanding the Benefits and Advantages of Composite Decking
Using a blend of reclaimed wood fibers and plastic, composite decking delivers a long-lasting and environmentally friendly solution. Warping, cracking, and fading are no match for this decking material, which ensures a beautiful and long-lasting deck with minimal effort required. Cleaning composite decks is hassle-free, as they just need the occasional washing to ensure that the outdoor area stays spotless.
Key Players in the Composite Materials Market
Working with industry-leading composite decking brands such as Trex, TimberTech, and Azek is a source of pride for Decks Unique. As sanctioned installers of these exceptional products, we're able to provide East Meadow homeowners with top-quality materials for a striking and long-lasting outdoor area.
Enhance Your Deck's Appearance with Different Color and Texture Options
The extensive range of customization choices is a primary perk of composite decking. You can put together a custom outdoor setting that reflects your home's aesthetics with the diverse color and texture options available. Your preference for natural wood visuals or a more state-of-the-art design can both be met with a composite decking option.
Elevate Your Deck with a Variety of Railing and Baluster Options
The ideal deck isn't all it can be without the proper railing and baluster system. Decks Unique offers an extensive selection of options to work seamlessly with your deck design and promote the safety and usefulness of your exterior area.
Wooden Barrier Systems: Timeless and Classic
To achieve a timeless and classic appearance, think about using a wood railing system. Wood and composite decks alike can benefit from the addition of a wood railing system, providing a seamless integration and consistent style. A remarkable final appearance can be achieved by painting or staining a wood railing system to correspond with your deck or the exterior of your East Meadow home.
Metal and Glass Railing Systems: Contemporary and Elegant
If you prefer a more modern and sleek aesthetic, consider metal or glass railing systems. Both metal and glass railing systems deliver a contemporary feel while also augmenting the viewpoint from your deck area, winning over homeowners with captivating settings.
Composite Railing Systems: Simple Maintenance and Sophisticated
For a low-maintenance, stylish, and elegant solution, composite railing systems are the perfect fit. Not only are these railings durable and visually appealing, but they also create a unified appearance when combined with composite decking, resulting in an impressive outdoor area that demands minimal tending.
No matter what you prefer, Decks Unique is available to guide you in choosing the best decking materials for your house. Get in touch with us now to talk about your requirements and start creating your dream outdoor area.
Elevate Your Outdoor Living Experience with Our Supplementary Services in East Meadow
Decks Unique focuses on making your outdoor living space a splendid and functional addition to your home. Apart from our exceptional deck building services, we also offer a variety of additional services such as wood awnings, cabanas, gazebos, pergolas, and porch construction. Our proficient specialists in East Meadow closely cooperate with you to materialize your vision, ensuring high quality and long-lasting durability.
Wood Awnings: Add Shade and Style to Your Outdoor Space
The addition of wood awnings provides both shade and a touch of elegance to your exterior living area. The experienced specialists at Decks Unique will aid you in choosing the ideal design and materials for creating a charming and efficient wood awning that matches your home's visual appeal. These wood awnings not only serve to protect against harsh weather but also help raise your property's overall value.
Cabanas: Create a Luxurious Retreat in Your East Meadow Backyard
Providing a seamless mix of luxury, comfort, and seclusion, cabanas are an excellent enhancement to any outdoor space. Our adept team will cooperate with you in the design and construction of a one-of-a-kind cabana that addresses your particular needs and desires. Whether you need a soothing oasis for leisure or a fashionable area for entertaining guests, we shall produce a cabana that acts as the consummate outdoor refuge.
Gazebos: A Stunning Complement to Your Garden or Patio Space
A gazebo adds a quaint touch to any garden or patio, creating an eye-catching centerpiece and offering shade for outdoor lounging. The experienced team at Decks Unique will help you identify the perfect style, materials, and positioning for your gazebo, so it blends seamlessly with your existing landscape. Utilizing our exceptional craftsmanship, we provide a beautiful gazebo that bolsters the aesthetic appeal of your outdoor space for years to follow.
Pergolas: Amplify Your Outdoor Setting's Distinction and Practicality with Architectural Elements
Pergolas offer a brilliant solution for infusing architectural style and practical purposes into your outdoor environment. These constructions supply a blend of shadow and natural brightness, thus perfectly complementing garden pathways, external platforms, or open dining zones. Let Decks Unique's knowledgeable professionals plan and build a customized pergola to match your style, and in doing so, increase your home's value.
Patio Construction: Raise Your Home's Curb Appeal and Outdoor Living Space
A meticulously designed porch not only augments your home's curb appeal but also affords a relaxing outdoor living zone for you and your relatives to delight in. Our seasoned group will join forces with you to execute a customized porch design that suits your home's architecture and meets your purposeful needs. With our thorough consideration for detail and unwavering commitment to superior quality, you can be at ease knowing your porch creation task is entrusted to the right people.
Talk to Decks Unique for improving your East Meadow outdoor living space
Decks Unique is proud to deliver top-notch, tailor-made outdoor living solutions to customers in East Meadow and nearby regions. Seeking to integrate a wood awning, cabana, gazebo, pergola, or porch into your outdoor area? Our team of specialists is prepared to help. Get in touch with us now to chat about your project and learn how we can convert your outdoor living area into a lavish and practical extension of your residence.
Top-notch Deck Consulting and Design Solutions in East Meadow
We, at Decks Unique, pride ourselves on delivering custom-tailored consultation and deck designs to suit the individual preferences of our clients. Leveraging their 20-year expertise, our accomplished deck designers will closely engage with you to craft a deck that accentuates your home's visual charm and practical aspects. Leveraging the latest 3D modeling and visualization processes, we'll actualize your dream deck and ensure the completed product is in line with your desired expectations.
Outstanding Decking Materials for Long-lasting Resilience
Decks Unique, a top-notch deck builder in Long Island, is a sanctioned installer of all well-known composite deck materials, featuring Trex, TimberTech, and Azek. Furthermore, we extend a multitude of wooden decking options geared to your tastes, including pressure-treated beams, cedar, redwood, and superior hardwoods. Our promise to use only top-of-the-line materials ensures your new deck's durability with the added benefit of low maintenance.
Expert Deck Construction Services in East Meadow
Our gifted deck construction professionals at Decks Unique are devoted to ensuring top-tier quality and effectiveness during the full building process. Given our considerable insight into building codes, specifications, and permits, you can trust in us to undertake the entire endeavor from inception to completion, providing you a captivating and efficient outdoor area.
Hold and Re-establish Your Deck's Gorgeousness
Decks Unique is well aware of the value of routine maintenance in sustaining both the visual allure and durability of your deck. Our capable team can investigate and identify any harm or likely complications, delivering needed repairs to keep your deck in superior condition. In addition, Decks Unique offers deck renewal and refinishing services, featuring cleaning, staining, weatherproofing, and sealing procedures to defend and enrich your deck's visual appeal.
Elevate Your Outdoor Environment with Customized Features and Add-ons
To truly make your deck a unique outdoor oasis, Decks Unique offers a variety of custom features and add-ons such as deck lighting, built-in seating, outdoor kitchens, and fire features. These embellishments not only extend usability, but they also create a snug and appealing air for you and your guests to find joy in.
Thorough Decking Services and More
Decks Unique not only excels in deck designing and construction but also focuses on additional outdoor structures, including wooden awnings, cabanas, gazebos, pergolas, and porch construction. With these extra outdoor installations, your Long Island home's outdoor ambience can be significantly improved, making it the best spot for relaxation and amusement.
Turn to Decks Unique for addressing all your decking needs in East Meadow. Find out how our dedication to top-notch quality, professionalism, and customer satisfaction affects your outdoor area. Contact us today to book a free assessment and let us change your backyard into an astonishing piece of art.
Delighted to cater to the needs of East Meadow, Commack, Babylon, Wantagh, South Huntington, Roslyn, Plainview, and other Long Island neighborhoods.
Offering Long Island Quality Deck Designs and Services: