Check out Decks Unique - Farmingville's Exceptional Deck Building Professionals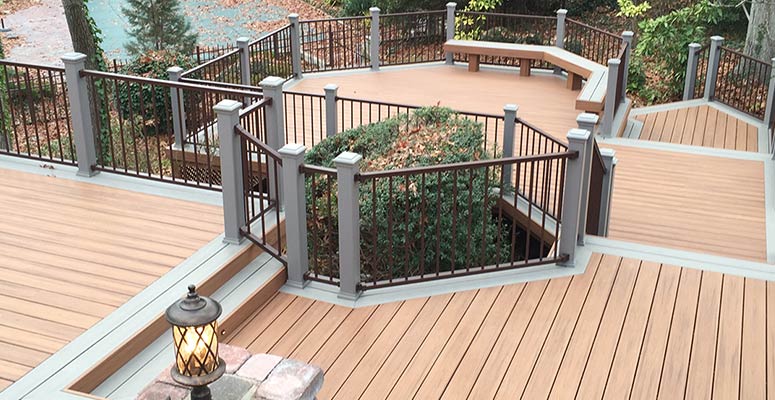 For over 20 years, Decks Unique, an establishment that is family-owned and operated, has been providing custom deck design and construction services to the residents of Long Island and surrounding locations, including Farmingville. We have become the preeminent supplier of high-quality decks on Long Island through our passion for design and dedication to professionalism, honesty, and innovation, shaping the industry standards. Our area of expertise involves creating and building custom decks, verandas, gazebos, pergolas, wooden awnings, and other external structures that add worth, allure, and functionality to your Long Island abode.
Farmingville's Expert and Experienced Deck Builders
At Decks Unique, we know that a well-executed deck design proves to be a great investment when pondering home enhancements. The Decks Unique team of master deck builders is resolute in offering optimum quality, sticking to smooth production schedules, and safeguarding the lasting merit of our warranties. This unyielding determination to achieve the best has yielded thousands of happy customers and decks they are eager to showcase, now and in the future.
Our Long Island deck building crews are authorized installers of all major composite deck products, such as Trex, TimberTech, and Azek. We offer free home consultations and computerized deck designs so that you can visualize your project before it comes to life. Give us the chance to make your backyard our succeeding project!
Heighten Your Home's Worth with Your Own Custom Deck
The addition of a fantastic deck not only expands your Farmingville home's outdoor living space but also amplifies its market value. At Decks Unique, we specialize in designing and building custom decks that meet the unique needs and preferences of each client. No matter if you desire a comfy location for social events or a grand outdoor paradise to savor the charming weather, our staff will partner with you to create your ideal space.
We appreciate that every homeowner has distinct preferences and needs for their outdoor environments. That's why we make available a large range of materials, designs, and components to fashion the perfect deck that aligns with your house and personal routines. We present solutions to suit any budget and preference, ranging from classic wood options like pressure-treated lumber, cedar, and redwood, to the maintenance-free world of composite and PVC decking.
Unmatched Dedication to Excellence and Client Contentment
High-quality workmanship and customer satisfaction are at the heart of what we do at Decks Unique. Every project we tackle meets the highest criteria, thanks to our commitment to using first-rate materials and working with proficient, seasoned builders.
In our experience, consistent communication is the foundation of a successful project, and we never falter in our commitment to keep clients apprised of progress. From the initial consultation and design process through construction and final inspection, our team is always available to answer questions, address concerns, and ensure that you are completely satisfied with your new deck.
Trust Decks Unique to morph your Farmingville backyard into an impressive outdoor living space you'll enjoy for years. Contact us today to schedule a free consultation and experience the Decks Unique difference for yourself.
Comprehensive Decking Services in Farmingville
At Decks Unique, our goal is to offer a vast selection of tailored decking services, tailored to meet the needs of our Farmingville clients. Our expertise covers everything from custom deck design and construction to repair, maintenance, and refinishing. At Decks Unique, we also supply a variety of distinct features and additional options to augment your outdoor living enjoyment. We invite you to explore our extensive selection of services more closely.
Custom Deck Design: Developing Your Picture-Perfect Dream Deck
Our adept deck designers will cooperate with you to create a personalized deck that expresses your distinctive style, accents your home, and accommodates the particular requirements of your property. To aid you in making well-informed decisions, our authorities will guide you in choosing appropriate materials, promising enduring elegance and sturdiness.
Top-Notch Deck Construction: High-Quality Craftsmanship for a Beautiful Outdoor Living Space
As the premier deck builder, we are committed to using only high-quality materials and employing safe, efficient workmanship. Our competent crews are licensed to install top-tier composite decking materials, such as Trex, TimberTech, and Azek. By paying attention to every detail and maintaining a focus on structural reliability, we secure that your deck not only looks remarkable but also endures the test of time.
Taking Care of Your Deck: Ensuring Your Investment Stays Protected
Keeping your deck beautiful and functional requires regular maintenance. Whether it's a wood or composite deck, our specialized team offers comprehensive repair and upkeep services. From thorough inspections to identify potential issues, to expert repair of damages caused by weather or wear-and-tear, we are your go-to source for all your deck maintenance needs. Our timely maintenance programs give you the comfort of knowing that your deck will always be in outstanding condition, no matter the season.
Deck Refinishing and Restoration: Revive Your Outdoor Living Area
As the years go by, even the highest-grade decks can demonstrate signs of wear or ask for refinishing to retain their attractiveness. Our skilled team can rejuvenate your deck's appearance with professional cleaning, staining, weatherproofing, and sealing. Moreover, we can implement structural enhancements, guaranteeing your deck's safety and function for the foreseeable future.
Made-to-order Qualities and Accessories: Strengthen Your Deck Recreation
With the goal of elevating your outdoor living area, we put forth numerous individualized aspects and add-ons intended to accent your deck. The available options consist of energy-efficient illumination on decks, embedded seating, exterior kitchens, and fire amenities. By blending these factors into your deck's design, we fashion a hospitable and cozy setting for you to relish alongside your loved ones in Farmingville.
Decks Unique is dedicated to providing premium decking services to clients in the surrounding areas. With two decades of industry experience, we have cultivated a reputation for professionalism, genuineness, and forward thinking. If you want to build a new deck or refurbish your existing one, our highly skilled team is on hand to help. Contact us today to schedule a no-cost consultation and see how we can elevate your outdoor space into an elegant, functional sanctuary.
Track Down the Best Deck Material for You: Weighing Wood and Composite Options
At Decks Unique, our mission is to guide you in designing your dream outdoor refuge for your house. Thus, we have a vast assortment of decking materials, including alternatives made of wood and composite materials. Individual materials offer distinct advantages, making certain that you have the capability to pick the ideal option that aligns with your needs and likes.
Wood Decking Provides an Ageless Beauty
The flexibility and timelessness of wood provides a pleasant warmth and beauty to all kinds of outdoor spaces. Our selection of wooden deck options caters to an array of preferences and financial plans.
Pressure-Handled Lumber: Budget-friendly and Enduring
Many homeowners opt for pressure-treated lumber on account of its economical and sturdy features. This decking material receives a distinctive treatment, making it resistant to rotting and insect infestations. This ensures that pressure-treated decks remain durable and need only minimal maintenance.
Premium and Resistant: Cedar and Redwood's Natural Features
Should you seek a more sumptuous choice, we also present cedar and redwood decking. Inherently impervious to decay and insects, these beautiful and premium woods assure a deck that withstands the elements and ages beautifully. The vibrant hues and distinct grain designs of cedar and redwood decks create an impressive enhancement to any residence.
Exotic Hardwoods: Exquisite and Hardwearing
If you're on the hunt for a genuinely distinct and sophisticated alternative, consider utilizing exotic hardwoods like Ipe, Tigerwood, or Cumaru. Thanks to their substantial density and ruggedness, these woods are celebrated for their incredible durability and strikingly beautiful appearance. The stunning shades and complex configurations of exotic hardwood decks act as a captivating centerpiece in every outdoor space.
The Benefits of Low-Maintenance Living: Composite and PVC Decking
Those looking for a low-maintenance and green choice should think about composite and PVC decking. These groundbreaking materials fuse the visual appeal of wood with the ruggedness of synthetic ingredients, granting homeowners an essentially maintenance-free outdoor environment.
Composite Decking: Benefits and Advantages
Using a blend of reclaimed wood fibers and plastic, composite decking delivers a long-lasting and environmentally friendly solution. By resisting warping, cracking, and fading, this decking material ensures an attractive and long-lasting deck, while keeping maintenance to a minimum. Moreover, the ease of cleaning composite decks is an added advantage, making it a straightforward task to preserve the neat appearance of your outdoor space with periodic washes.
Composite Materials: Industry-Leading Brands
Decks Unique is delighted to cooperate with the foremost brands in composite decking, including Trex, TimberTech, and Azek. We can deliver the best quality materials for an attractive and long-lasting outdoor space to Farmingville homeowners, as we are authorized installers of these first-rate products.
Tailor Your Deck through Selecting Color and Texture Varieties
A major selling point of composite decking is its wide customization choice range. Choose from many color and texture combinations to create a singular outdoor area that harmonizes with your home's décor. Regardless of your preference for natural wood's appearance or modern designs, composite decking provides a suitable option.
Elevate Your Deck with a Variety of Railing and Baluster Options
An exceptional deck is missing something without the right railing and baluster system. Decks Unique presents a broad array of possibilities to enrich your deck's design and guarantee the safety and efficiency of your outdoor space.
Timber Railing Designs: Conventional and Unchanging
When aiming for a classic and perpetual style, a wood railing system might be the perfect choice. This option pairs beautifully with both wood and composite decks, creating a seamless and cohesive design. To create a visually appealing result, paint or stain your wood railing system so it complements your deck or the exterior of your Farmingville home.
Metal and Glass Railing Systems: Sophisticated and Well-defined
When a refined and modern vibe is what you're after, metal or glass railing systems may be perfect for you. These stylish options not only contribute a contemporary element, but they also accentuate the view from your deck, making them well-liked among those who live amidst breathtaking landscapes.
Composite Railing Systems: Minimal Upkeep and Fashionable
People searching for a low-maintenance solution that doesn't compromise on style and elegance should consider composite railing systems. The resilient and captivating railings offer a consistent aesthetic when used in conjunction with composite decking, cultivating an exquisite outdoor space with low maintenance needs.
Regardless of your tastes, Decks Unique can assist you in selecting the ideal decking materials for your residence. Reach out to our team today to discuss your vision and begin shaping the outdoor area you've always imagined.
Take Your Outdoor Living Space to the Next Level with Our Added Services in Farmingville
We believe in transforming your outside living space into a luxurious and functional part of your home at Decks Unique. Aside from our superior deck building services, we also deliver a variety of extra services, including wooden awnings, cabanas, gazebos, pergolas, and porch construction. Our adept experts in Farmingville collaborate with you to manifest your vision, while guaranteeing exceptional quality and enduring durability.
Wooden Awnings: Infuse Style and Shade into Your Outdoor Space
The use of wood awnings can impart both shade and refinement to your outdoor zone. Our experienced team at Decks Unique will help you choose the right design and materials to create a beautiful and functional wood awning that complements your home's aesthetic. The wood awnings not only ensure protection from extreme weather conditions but also improve your property's overall worth.
Cabanas: Design a Lavish Getaway in Your Farmingville Garden
Cabanas deliver a flawless fusion of opulence, comfort, and seclusion, making them the ultimate addition to any outdoor setting. Our skilled professionals will partner with you in designing and constructing a personalized cabana that fulfills your unique necessities and preferences. Whether you need a soothing oasis for leisure or a fashionable area for entertaining guests, we shall produce a cabana that acts as the consummate outdoor refuge.
Gazebos: An Attractive Extension to Your Garden or Patio
A lasting gazebo makes any garden or patio more appealing, presenting an attractive central feature and a shaded retreat for outdoor recreation. With the help of our skilled team, you'll be able to decide on the ideal style, materials, and placement for your gazebo, ensuring it integrates smoothly with your current outdoor space. Relying on our precision craftsmanship, we present a magnificent gazebo that adds to the charm of your outdoor environment for the long run.
Pergolas: Amplify Your Outdoor Setting's Distinction and Practicality with Architectural Elements
One effective way to enrich your outdoor living space with architectural appeal and utility is by constructing a pergola. Pergolas inherently deliver a mix of shaded areas and sunlit spaces, ideally suiting them for the likes of garden promenades, terraces, or eateries outdoors. At Decks Unique, our experienced professionals will design and build a custom pergola that matches your style and adds value to your home.
Build a Porch: Increase Your Home's Curb Appeal and Outdoor Living Environment
A meticulously designed porch not only augments your home's curb appeal but also affords a relaxing outdoor living zone for you and your relatives to delight in. Our qualified team will cooperate with you to construct an exclusive porch that blends with your home's architectural design and accommodates your functional needs. With our keen eye for detail and dedication to excellence, you can have peace of mind knowing your porch construction endeavor is well taken care of.
Contact Decks Unique to revamp your Farmingville outdoor living area
Decks Unique is committed to offering top-tier, made-to-order outdoor living solutions for our Farmingville clients and their neighboring areas. Our team of skilled professionals is here to help you enhance your outdoor space with a wood awning, cabana, gazebo, pergola, or porch. Get in touch with us now to chat about your project and learn how we can convert your outdoor living area into a lavish and practical extension of your residence.
Farmingville's Premier Deck Consultation and Design Experts
We, at Decks Unique, pride ourselves on delivering custom-tailored consultation and deck designs to suit the individual preferences of our clients. Boasting more than two decades of expertise, our skilled deck designers collaborate with you to design a deck that augments your home's visual appeal and practicality. Employing cutting-edge 3D modeling and visualization methods, we'll transform your dream deck into reality, making certain the end product aligns with your aspirations.
Outstanding Decking Materials for Long-lasting Resilience
Decks Unique, Long Island's leading deck builder, is accredited to install all major composite deck materials, including popular brands such as Trex, TimberTech, and Azek. We have a range of wood decking options to cater to your needs, such as pressure-treated boards, cedar, redwood, and imported hardwoods. With a commitment to using only exceptional materials, you can trust that your new deck will be long-lasting and require minimal maintenance.
High-Quality Deck Construction Services in Farmingville
At Decks Unique, our highly trained deck construction crew is dedicated to upholding superior craftsmanship and optimal efficiency during the complete building venture. Given our vast knowledge of building codes, regulations, and permits, you can trust us to execute the full project from start to finish, creating a beautiful and efficient outdoor living area.
Retain and Rehabilitate Your Deck's Elegance
The team at Decks Unique knows that consistent care is essential for maintaining the appearance and structural soundness of your deck. Our capable team can investigate and identify any harm or likely complications, delivering needed repairs to keep your deck in superior condition. Apart from that, we deliver deck refinishing and refurbishment services, including cleaning, staining, weather-resistant treatments, and sealing to preserve and augment your deck's attractiveness.
Transform Your Outside Space with Personalized Additions and Features
In order to transform your deck into a distinctive outdoor haven, Decks Unique provides an array of personalized options and extras like deck illumination, integrated seating, open-air cooking areas, and fire elements. These optimizations not only broaden the functional aspects but also forge an amicable and snug setting for you and your invitees to relish.
Thorough Decking Services and More
In addition to our proficiency in deck design and building, Decks Unique also provides expertise in constructing supplementary outdoor structures like wooden awnings, cabanas, gazebos, pergolas, and porches. These outdoor structures can elevate your Long Island property's outdoor appeal, making it a prime location for enjoying downtime and entertaining guests.
Decks Unique is here to help with your Farmingville decking needs. Discover the impact our dedication to quality, professionalism, and customer satisfaction has on your outdoor area. Get in touch with us now to set up a complimentary consultation and watch us turn your backyard into a beautiful work of art.
Dedicated to attending to the needs of Farmingville, East Northport, Commack, Babylon, Wantagh, South Farmingdale, Roslyn, and various other Long Island zones.
Offering Long Island Quality Deck Designs and Services: