Introducing Decks Unique - Holbrook's Top-Rated Deck Construction Company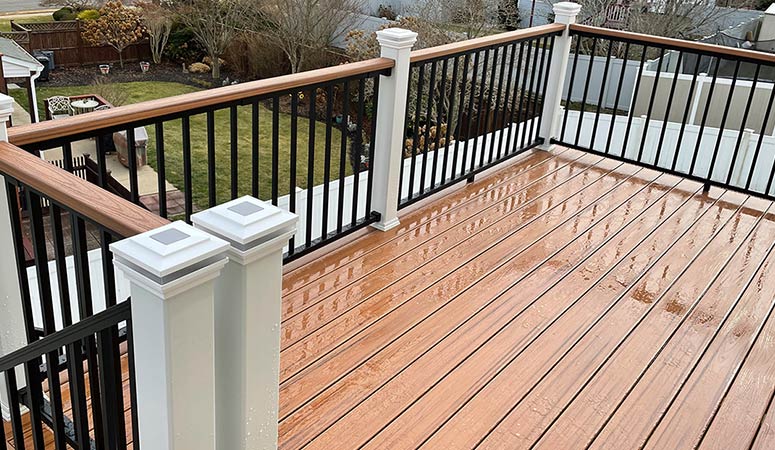 Decks Unique is a family-owned and operated custom deck design and construction company, serving the residents of Long Island and surrounding areas, including Holbrook, for over 20 years. Thanks to our enthusiasm for design and steadfast commitment to professionalism, integrity, and innovation, we've emerged as the top producer of premium decks on Long Island, setting the benchmark for the industry. Decks Unique is skilled in designing and constructing tailor-made decks, porches, gazebos, pergolas, wood awnings, and other exterior structures that increase the value, attractiveness, and practicality of your Long Island residence.
Comprehensive and Experienced Deck Building Services in Holbrook
At Decks Unique, we are convinced that a well-organized deck layout offers a sensible investment in home improvement projects. Our proficient group of skilled deck craftspeople prioritizes first-rate quality, adheres to streamlined production timelines, and lets you rest assured knowing our warranties carry lasting worth. Our unwavering dedication to outstanding results has produced countless satisfied clients and striking decks they can be proud of for years.
Our Long Island decking crews are accredited to fit all primary composite deck options, such as Trex, TimberTech, and Azek. We present free home evaluations and computerized decking layouts to enable you to picture your project before it becomes reality. Let's tackle your backyard as our next challenge!
Elevate Your House's Worth by Adding a Custom Deck
A top-quality deck serves to enhance the open-air living quarters of your Holbrook dwelling while also heightening its value. Decks Unique specializes in the planning and building of tailor-made decks that satisfy each of our clients' distinctive needs and inclinations. Regardless of whether you want an inviting space to entertain loved ones or a haven to appreciate the delightful weather, we will work in harmony with you to actualize your vision.
It's clear that each homeowner possesses distinct tastes and necessities for their outside spaces. That is why we offer a wide range of materials, styles, and features to create the perfect deck that complements your home and lifestyle. From time-honored wood choices such as pressure-treated lumber, cedar, and redwood to the low-maintenance advantages of composite and PVC decking, we offer an ideal solution for each budget and liking.
Unparalleled Commitment to Quality and Customer Satisfaction
Delivering outstanding workmanship and ensuring client contentment are of utmost importance at Decks Unique. Our devotion to first-class materials and engaging the services of experienced contractors guarantees the superior completion of each project we take on.
We're firm believers that strong communication is a major factor in a project's success, and we go above and beyond to maintain clear lines of communication with our clients. Throughout the entire process - from initial consultation and design to construction and final inspection - our team is on hand to field questions, respond to any worries, and ensure ultimate satisfaction with your finished deck.
Trust Decks Unique to morph your Holbrook backyard into an impressive outdoor living space you'll enjoy for years. Don't hesitate to contact us today for a free consultation and to witness the Decks Unique experience.
Total Deck Construction Solutions in Holbrook
Decks Unique, located in Holbrook, is proud to offer an extensive range of tailored decking services, designed to cater to client needs. Our proficiency extends from designing and constructing tailor-made decks to managing repairs, maintenance, and refinishing tasks. Alongside our main services, we offer a selection of unique features and supplementary options to enrich your outdoor living experience. Let's explore further the array of services we provide at Decks Unique.
Custom Deck Design: Materializing Your Dream Deck with Expertise
Our talented deck designers will team up with you to generate a one-of-a-kind deck that represents your signature style, blends well with your home, and meets the special requirements of your property. To enable you to make sound decisions, our adept advisors will steer you through the process of selecting the right materials, safeguarding enduring sophistication and solidity.
Expert Deck Building: Excellent Workmanship for an Impressive Exterior Area
As the leading deck builder, we pledge to use only top-notch materials and practice secure, effective workmanship. Our accomplished crew members are qualified installers of renowned composite deck materials, such as Trex, TimberTech, and Azek. By closely examining details and focusing on structural durability, we assure that your deck will not only look beautiful but also remain strong over time.
Deck Repair & Maintenance: Safeguarding Your Investment
To preserve the beauty and functionality of your deck, regular maintenance is crucial. Our team of specialists delivers thorough maintenance and repair services for both wooden and composite decks. From meticulous inspections that reveal potential problems, to adept repairs for any damages stemming from weather or wear patterns, we are the comprehensive source for all your deck upkeep needs. You'll have peace of mind with the knowledge that your deck will remain in exceptional condition year-round, thanks to our regular maintenance programs.
Deck Refinishing and Restoration: Breathe New Life Into Your Outdoor Space
Over the years, even the finest decks might manifest signs of wear or ask for refinishing to conserve their visual charm. Our capable team can reestablish the gorgeousness of your deck using professional cleaning, staining, weatherproofing, and sealing methods. Additionally, we can make structural improvements, ensuring that your deck remains safe and functional for years to come.
Personal Customizations and Upgrades: Enrich Your Deck Leisure
To step up your outdoor living zone, we bring forth a multitude of bespoke aspects and add-ons fashioned to amplify your deck. Some of the options are energy-efficient light fittings on decks, internal seating, exterior cooking areas, and fire-inspired features. Inclusion of these elements within your deck's design enables us to produce a warm and affable space for your enjoyment with family and friends in Holbrook.
Decks Unique is dedicated to providing premium decking services to clients in the surrounding areas. Over our 20 years in the business, we've carved out a reputation for professionalism, dependability, and innovation. If you're interested in designing a new deck or renovating your current one, our experienced team can help. Reach out to us now to book a cost-free consultation and find out how we can turn your outdoor area into a visually striking and practical haven.
Compare Wood and Composite Options to Discover Your Perfect Deck Material
Our commitment at Decks Unique is to help you establish an impeccable outdoor retreat for your dwelling. That's why we offer a wide variety of decking materials, including both wood and composite options. Various materials have unique positive aspects, ensuring your ability to opt for the finest choice that caters to your personal necessities and proclivities.
Wooden Decks Showcase Timeless Sophistication
Offering unparalleled warmth and charm, wood is an eternal and versatile choice for outdoor environments. We have an extensive range of wood deck choices designed to address every aesthetic and budget.
Pressure-Treated Wood: Cost-effective and Long-lasting
A significant number of homeowners find pressure-treated lumber appealing for its inexpensive and durable aspects. A specific treatment process shields this decking material from decomposing and insect problems. Minimal maintenance is needed for these durable, pressure-treated decks as a result of the treatment.
Cedar and Redwood: Nature's Luxury with Built-In Resistance
For those pursuing a deluxe option, we feature cedar and redwood decking in our offerings. These beautiful and high-end woods are naturally resistant to decay and insects, ensuring a long-lasting deck that ages gracefully. Exhibiting rich color palettes and peculiar grain motifs, cedar and redwood decks present a marvelous addition to any domestic setting.
Exotic Hardwoods: Beautiful and Durable
If you desire a truly rare and refined option, think of using exotic hardwoods like Ipe, Tigerwood, or Cumaru. These exceedingly solid and long-lasting woods stand out due to their commendable longevity and stunning appearance. With their striking colors and intricate patterns, exotic hardwood decks are a show-stopping centerpiece for any outdoor space.
Achieve Low-Maintenance Living with the Use of Composite and PVC Decking
To find an eco-responsible and low-upkeep choice, take into account composite and PVC decking. These revolutionary materials marry the elegance of wood with the strength of engineered materials, treating homeowners to a nearly maintenance-free outdoor retreat.
The Upsides and Benefits of Composite Decking
Composite decking, composed of both reused wood fibers and plastic, presents a robust and eco-friendly alternative. Warping, cracking, and fading are no match for this decking material, which ensures a beautiful and long-lasting deck with minimal effort required. Furthermore, composite decks are simple to maintain, needing just infrequent washing to preserve the cleanliness of your outdoor area.
Industry-Leading Brands in Composite Materials
Decks Unique takes great pride in working hand-in-hand with elite composite decking brands, including Trex, TimberTech, and Azek. Being licensed installers of these impressive products, we can equip Holbrook homeowners with the finest materials to ensure an exquisite and durable outdoor setting.
Tailor Your Deck through Selecting Color and Texture Varieties
One main strength of composite decking is the numerous customization alternatives. With a variety of color and texture choices, you can create a one-of-a-kind outdoor space that perfectly suits your home's aesthetic. No matter if you appreciate the visuals of natural wood or a cutting-edge design, you'll find a composite decking solution that fits.
Optimize Your Deck's Design with Railing and Baluster Options
The perfect deck isn't complete without the right railing and baluster system. Decks Unique delivers a wide variety of solutions to boost your deck design and uphold the safety and effectiveness of your outdoor space.
Wooden Railing Systems: Classic and Everlasting
Opt for a wood railing system if you desire a timeless and sophisticated feel. A wood railing system can complement both wooden and composite decking, providing a cohesive and polished appearance. For a striking finale, customize your wood railing system by painting or staining it to match your deck or the exterior of your Holbrook home.
Metal and Glass Railing Systems: Modern and Sleek
Desiring a more current and polished appearance, you might want to look into metal or glass railing systems. These stylish options not only contribute a contemporary element, but they also accentuate the view from your deck, making them well-liked among those who live amidst breathtaking landscapes.
Composite Railing Systems: Low Fuss and Attractive
Those pursuing a fashionable and elegant option with low upkeep requirements will find composite railing systems to be the perfect choice. These durable and attractive railings provide a cohesive look when paired with composite decking, creating a stunning outdoor space that requires minimal upkeep.
Regardless of your tastes, Decks Unique can assist you in selecting the ideal decking materials for your residence. Connect with us today to explore your desires and kick off the design of the outdoor oasis you have always wanted.
Upgrade Your Outdoor Living Environment with Our Extra Services in Holbrook
At Decks Unique, we believe in transforming your outdoor living space into a luxurious and functional extension of your home. Our services extend beyond remarkable deck building, as we also provide a variety of supplementary services such as wood awnings, cabanas, gazebos, pergolas, and porch construction. In Holbrook, our skilled team works closely with you to achieve your outdoor vision, guaranteeing top-quality and durable results.
Wooden Awnings: Combine Style and Shade in Your Outdoor Space
Wood awnings are an outstanding means of providing both shade and sophistication to your outdoor setting. The experienced specialists at Decks Unique will aid you in choosing the ideal design and materials for creating a charming and efficient wood awning that matches your home's visual appeal. Not only do these structures shield you from extreme weather, but they also boost your property's overall worth.
Cabanas: Design a Lavish Getaway in Your Holbrook Garden
Cabanas offer a perfect blend of luxury, comfort, and privacy, making them an ideal addition to any outdoor space. Collaborating with our expert team, you'll be able to design and build a cabana customized to your precise needs and tastes. Be it a warm, inviting spot for rest or a refined space for social engagements, we can build a cabana that becomes your dream outdoor getaway.
Gazebos: A Beautiful Addition for Your Outdoor Garden or Patio
A gazebo remains a cherished inclusion in gardens and patios, lending an appealing visual interest and a comfortable shaded zone for outdoor leisure. Our adept team works with you to find the ideal appearance, materials, and setting for your gazebo, assuring flawless integration into your current garden or patio. With our expert craftsmanship, you can enjoy a stunning gazebo that enhances the beauty of your outdoor space for years to come.
Pergolas: Boost Your Outdoor Environment's Appeal and Functionality with Architectural Flair
One effective way to enrich your outdoor living space with architectural appeal and utility is by constructing a pergola. These constructions supply a blend of shadow and natural brightness, thus perfectly complementing garden pathways, external platforms, or open dining zones. Our specialists at Decks Unique have the expertise to engineer and erect a bespoke pergola that aligns with your design tastes and bolsters your property's worth.
Build a Porch: Increase Your Home's Curb Appeal and Outdoor Living Environment
A well-planned porch not only heightens your home's curb appeal but also furnishes a snug outdoor living environment for you and your kin to relish. Our qualified team will cooperate with you to construct an exclusive porch that blends with your home's architectural design and accommodates your functional needs. With our attention to detail and commitment to quality, you can rest assured knowing your porch construction project is in good hands.
Get in contact with Decks Unique for your Holbrook outdoor living space renovation
We pride ourselves on bringing top-quality, tailored outdoor living solutions to our customers in Holbrook and the neighboring regions at Decks Unique. If you're interested in incorporating a wood awning, cabana, gazebo, pergola, or porch to your exterior space, our team of experts is ready to assist. Give us a call today to discuss your vision, and we'll show you how we can upgrade your outdoor living area into a deluxe and useful extension of your home.
Holbrook's Premier Deck Consultation and Design Experts
At Decks Unique, personalizing consultations and crafting custom deck designs to align with the individual requirements of our clients is our top priority. Our seasoned deck designers, with over 20 years in the field, will partner with you to develop a deck that improves both your home's appearance and functionality. With state-of-the-art 3D modeling and visualization tools, we'll actualize your vision of the perfect deck, guaranteeing that the completed project satisfies your requirements.
Top-Notch Decking Materials to Ensure Longevity
As Long Island's premier deck builder, Decks Unique is an authorized installer of all major composite deck products, including Trex, TimberTech, and Azek. We also furnish an assortment of wooden decking options to match your likings, including pressure-treated planks, cedar, redwood, and high-quality hardwoods. Our dedication to using top-quality materials guarantees a long-lasting, low-maintenance deck for your home.
Outstanding Deck Building Services in Holbrook
The proficient deck construction team at Decks Unique takes pride in offering excellent craftsmanship and streamlined efficiency during every step of the building process. With our extensive know-how of building codes, statutes, and permits, you can rely on us to steer the whole project from its start to finish, leaving you with a visually striking and practical outdoor living area.
Keep and Restore Your Deck's Attractiveness
At Decks Unique, we appreciate the importance of consistent care in retaining the aesthetics and strength of your deck. Our capable team can investigate and identify any harm or likely complications, delivering needed repairs to keep your deck in superior condition. We also supply deck resurfacing and revitalization services, encompassing cleaning, staining, protecting against the elements, and sealing for the preservation and enhancement of your deck's aesthetics.
Upgrade Your Outdoor Area with Custom Features and Add-ons
To shape your deck into an unparalleled open-space sanctuary, Decks Unique supplies a multitude of custom attributes and ancillary items, incorporating lights designed for decks, in-built chair arrangements, cooking facilities for open-air settings, and fire-centric highlights. These modifications not only enhance the function, but they also shape a hospitable and relaxed atmosphere for you and your attendees to delight in.
Broad Decking Options and Additional Support
Apart from our knowledge and experience in deck design and construction, Decks Unique also extends its expertise to additional outdoor structures such as wooden awnings, cabanas, gazebos, pergolas, and porches. By adding these structures, you can further enhance your Long Island house's outdoor space, creating an idyllic area for relaxing and entertaining.
Entrust all your Holbrook decking needs to Decks Unique. See how our commitment to excellence, professionalism, and customer satisfaction enhances your outdoor space. Contact us today to schedule a free consultation and let us transform your backyard into a stunning masterpiece.
Taking great pleasure in assisting Holbrook, Great Neck, Farmingville, East Meadow, Central Islip, Wyandanch, Uniondale and other Long Island districts.
Offering Long Island Quality Deck Designs and Services: