Visit Decks Unique - Lake Ronkonkoma's Most Reliable Deck Builder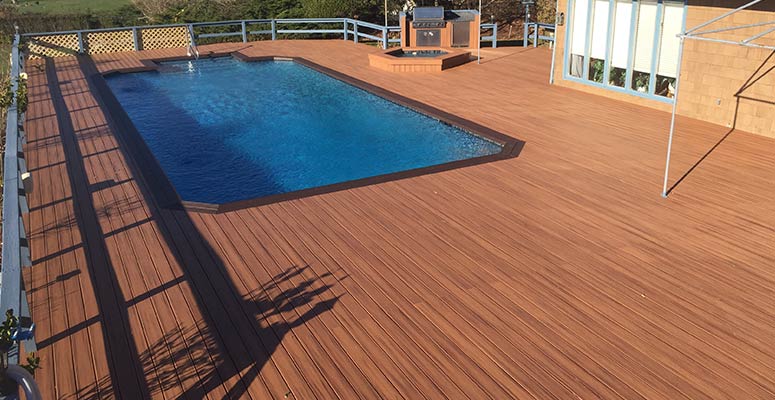 Decks Unique, a family-owned and operated company specializing in custom deck design and construction, has served the communities of Long Island and the surrounding areas, such as Lake Ronkonkoma, for over two decades. Decks Unique's dedication to design, professionalism, integrity, and innovation has elevated us to become the leading producer of high-quality decks in Long Island, defining industry standards. Our expertise lies in crafting custom decks, porches, gazebos, pergolas, wooden awnings, and other outdoor amenities that enhance the appeal, value, and practicality of your residence in Long Island.
Leading Expertise and Experience in Deck Building in Lake Ronkonkoma
Decks Unique upholds the idea that a thoughtfully devised deck design constitutes a wise investment in home improvement. The Decks Unique team of experienced deck builders is committed to providing top-notch quality, keeping effective production timelines, and ensuring that our warranties offer enduring value. Our devotion to superior standards has led to innumerable content clients and decks they can happily display for the foreseeable future.
Our Long Island decking crews are accredited to fit all primary composite deck options, such as Trex, TimberTech, and Azek. Take advantage of our free home consultations and computer-assisted decking designs to help you imagine your project before it's built. Permit us to create an amazing transformation in your backyard for our next project!
Heighten Your Home's Worth with Your Own Custom Deck
With a high-quality deck, your Lake Ronkonkoma house can see its outdoor living area improved and its property value significantly raised. At Decks Unique, we specialize in designing and building custom decks that meet the unique needs and preferences of each client. If you're seeking an intimate area for hosting gatherings or a lavish exterior sanctuary to revel in pleasant weather, we will collaborate closely with you to make your dream a reality.
It's clear that each homeowner possesses distinct tastes and necessities for their outside spaces. For this reason, we provide an extensive selection of materials, designs, and options to build the ideal deck to enhance your home and way of life. From time-honored wood choices such as pressure-treated lumber, cedar, and redwood to the low-maintenance advantages of composite and PVC decking, we offer an ideal solution for each budget and liking.
Unequaled Focus on Superior Standards and Customer Gratification
Delivering outstanding workmanship and ensuring client contentment are of utmost importance at Decks Unique. Every project we tackle meets the highest criteria, thanks to our commitment to using first-rate materials and working with proficient, seasoned builders.
We believe that communication is the key to a successful project, and we make it a priority to keep our clients informed every step of the way. Starting with the initial consultation and design phase, continuing through construction, and finishing with the final inspection - our team is dedicated to answering questions, easing worries, and ensuring you're overjoyed with your new deck.
Let Decks Unique transform your Lake Ronkonkoma backyard into an outdoor living space you'll love. Get ahold of us today to schedule an obligation-free consultation and explore the Decks Unique benefits.
Wide-ranging Decking Services for Lake Ronkonkoma
Decks Unique specializes in providing a wide assortment of decking services, designed to suit the preferences of our Lake Ronkonkoma customers. We specialize in a variety of custom deck services, including designing and building decks, as well as providing repairs, maintenance and refinishing. We further supply a range of special features and add-ons designed to elevate your outdoor living quality. Take a closer look at the comprehensive list of services we have to offer.
Custom Deck Design: Manifesting Your Dream Deck into Reality
Our talented deck designers will team up with you to generate a one-of-a-kind deck that represents your signature style, blends well with your home, and meets the special requirements of your property. For the sake of assisting you in making confident choices, our expert personnel will take you through material assessments, guaranteeing sustained refinement and stability in your deck.
Expert Deck Building: Excellent Workmanship for an Impressive Exterior Area
Being an esteemed deck builder, we dedicate ourselves to using only first-class materials and ensuring safe, efficient labor. Our expert staff are certified installers of top composite decking brands, such as Trex, TimberTech, and Azek. By closely examining details and focusing on structural durability, we assure that your deck will not only look beautiful but also remain strong over time.
Keeping Your Deck in Tip-Top Shape: Defending Your Investment
Keeping your deck beautiful and functional requires regular maintenance. Our team of specialists delivers thorough maintenance and repair services for both wooden and composite decks. From exhaustive assessments aimed at spotting potential concerns, to professional repair of damages resulting from weather or age, consider us your all-encompassing deck maintenance provider. With the help of our consistent maintenance plans, rest assured that your deck will continually be kept in superb condition, regardless of the time of year.
Deck Restoration and Refinishing: Reimagine Your Outdoor Sphere
In the course of time, even the most superior decks can reveal signs of wear or call for refinishing to uphold their appearance. Our capable team can reestablish the gorgeousness of your deck using professional cleaning, staining, weatherproofing, and sealing methods. In addition, we can perform structural reinforcements, ensuring your deck remains secure and serves its purpose for years to come.
Customized Elements and Added Components: Elevate Your Deck Pleasures
To upgrade your outdoor living space, we present a variety of custom-made elements and additional options meant to enrich your deck. Included options involve energy-preserving lighting for your deck, integrated seating arrangements, outside kitchens, and fire facilities. By fusing these elements within the deck design, we cultivate a warm and comfy place for you and your kin to share memorable moments in Lake Ronkonkoma.
Decks Unique focuses on offering unparalleled decking assistance to customers and areas close by. With over 20 years of experience in the industry, we have built a reputation for professionalism, honesty, and innovation. Whether you are looking to design a new deck or revamp an existing one, our skilled team is here to help. Contact us today to schedule a free consultation and discover how we can transform your outdoor space into a stunning and functional retreat.
Decide on the Optimal Deck Material for Your Lifestyle: Wood and Composite Variants
Our commitment at Decks Unique is to help you establish an impeccable outdoor retreat for your dwelling. As a result, we offer numerous decking materials, with options in both timber and composite varieties. Every material comes with distinct benefits, guaranteeing the optimal option tailored to your individual requirements and tastes.
Experience the Classic Charm of Wood Decking
Wood is a timeless and versatile material, providing natural warmth and charm to any outdoor space. We provide an assortment of wooden decking alternatives that can accommodate any design preference and budget.
Pressure-Processed Wood: Wallet-friendly and Durable
For many homeowners, pressure-treated lumber is a preferred option because of its budget-friendly and tough nature. The decking material is treated specially to guard against wood rot and insect invasion. Pressure-treated decks last a long time and necessitate minimal care due to this treatment.
Redwood and Cedar: Top-Notch Luxury with Intrinsic Durability
We also provide cedar and redwood decking for those wanting a more extravagant option. The eye-catching and high-grade woods are organically immune to decay and bug damage, ensuring a deck that remains sturdy for years to come. The strong colors and exclusive grain formations of cedar and redwood decks make them a visually appealing complement to any home.
Exotic Hardwoods: Elegant and Resilient
For an absolutely unique and luxurious solution, explore the possibility of using exotic hardwoods like Ipe, Tigerwood, or Cumaru. These incredibly dense and durable woods are known for their exceptional longevity and striking appearance. Exotic hardwood decks, featuring their bold colors and detailed patterns, make for an impressive centerpiece in any outdoor setting.
Pursue a Low-Maintenance Lifestyle with Composite and PVC Decking Options
For those seeking a low-maintenance and eco-friendly alternative, consider composite and PVC decking. These innovative materials combine the beauty of wood with the durability of synthetic materials, providing homeowners with a nearly maintenance-free outdoor space.
Why Choose Composite Decking: Benefits and Advantages
Composite decking, featuring a mix of reused wood fibers and plastic, is an enduring and eco-friendly solution. The decking material's ability to resist warping, cracking, and fading ensures a gorgeous and durable deck with a low level of necessary upkeep. Furthermore, composite decks are simple to maintain, needing just infrequent washing to preserve the cleanliness of your outdoor area.
The Foremost Brands in Composite Materials Industry
Decks Unique is pleased to join forces with leading composite decking brands, such as Trex, TimberTech, and Azek. We can supply Lake Ronkonkoma homeowners with high-quality materials for an attractive, long-lasting outdoor environment as authorized installers of these superior products.
Make Your Deck Unique with Color and Texture Choices
The extensive range of customization choices is a primary perk of composite decking. With a multitude of color and texture alternatives, you can create a distinctive outdoor space that aligns with your home's ambiance. There is a composite decking option to match your preference for either the appearance of natural wood or a sleeker, more modern aesthetic.
Revamp Your Deck Using Different Railing and Baluster Combinations
A flawless deck needs the correct railing and baluster system to be fully realized. Decks Unique provides an ample range of options to elevate your deck design and warrant your outdoor area's safety and functionality.
Timber Railing Systems: Conventional and Enduring
To achieve a timeless and classic appearance, think about using a wood railing system. The use of a wood railing system can create a harmonious, unified design for both wood and composite decks. Wood railing systems can be painted or stained to match your deck or Lake Ronkonkoma home exterior, ensuring a stunning final result.
Metal and Glass Railing Systems: Modern and Sleek
Opt for metal or glass railing systems if you're inclined towards a sophisticated and current aesthetic. These stylish options not only contribute a contemporary element, but they also accentuate the view from your deck, making them well-liked among those who live amidst breathtaking landscapes.
Composite Railing Systems: Hassle-Free and Modern
If you're looking for an elegant option with minimal upkeep, composite railing systems are a superb choice. The resilient and captivating railings offer a consistent aesthetic when used in conjunction with composite decking, cultivating an exquisite outdoor space with low maintenance needs.
Regardless of your personal preferences, Decks Unique stands ready to help you decide on the most suitable decking materials for your living space. Reach out to us today to discuss your goals and commence the design of your ideal outdoor space.
Revamp Your Outdoor Living Area with Our Additional Services in Lake Ronkonkoma
We believe in transforming your outside living space into a luxurious and functional part of your home at Decks Unique. Not only do we excel in deck building services, but we also offer additional services such as constructing wooden awnings, cabanas, gazebos, pergolas, and porches. Our professional experts in Lake Ronkonkoma work hand in hand with you to bring your ideas to fruition while ensuring superior quality and lasting durability.
Wooden Awnings: Add a Touch of Style and Shade to Your Outdoor Space
The use of wood awnings can impart both shade and refinement to your outdoor zone. Our experienced team at Decks Unique will help you choose the right design and materials to create a beautiful and functional wood awning that complements your home's aesthetic. These constructions provide both shelter from severe weather conditions and elevation in your property's total value.
Cabanas: Develop a Posh Hideaway in Your Lake Ronkonkoma Outdoor Area
With a remarkable marriage of luxury, ease, and privacy, cabanas make for an outstanding complement to any outdoor space. You can count on our team of professionals to design and create a unique cabana that caters to your individual needs and preferences. From a cozy sanctuary for relaxation to a chic locale for socializing with friends, we can craft a cabana that makes for the perfect open-air haven.
Gazebos: A Beautiful Addition for Your Outdoor Garden or Patio
A gazebo adds a quaint touch to any garden or patio, creating an eye-catching centerpiece and offering shade for outdoor lounging. Our adept team works with you to find the ideal appearance, materials, and setting for your gazebo, assuring flawless integration into your current garden or patio. Thanks to our masterful craftsmanship, you can delight in a splendid gazebo that boosts the allure of your outdoor space for many years to come.
Pergolas: Elevate Your Outdoor Living Space's Interest and Utility through Architecture
A great way to boost architectural allure and functionality in your outdoor living area is by installing a pergola. These structures provide partial shade while still allowing natural light to filter through, making them perfect for garden walkways, patios, or outdoor dining areas. At Decks Unique, our experienced professionals will design and build a custom pergola that matches your style and adds value to your home.
Porch Development: Elevate Your Home's Curb Appeal and Outdoor Lifestyle
A meticulously designed porch not only augments your home's curb appeal but also affords a relaxing outdoor living zone for you and your relatives to delight in. Our seasoned group will join forces with you to execute a customized porch design that suits your home's architecture and meets your purposeful needs. With our meticulous attention to detail and devotion to high standards, you can feel confident that your porch building project is in capable hands.
Communicate with Decks Unique for your Lake Ronkonkoma outdoor living area transformation
At Decks Unique, providing superior, custom-made outdoor living options for our clients in Lake Ronkonkoma and the adjacent areas is our mission. Whether it's a wood awning, cabana, gazebo, pergola, or porch you want to incorporate into your outdoor space, our professional team stands ready to help. Contact us right away to go over your project and learn how we can transform your outdoor area into a plush and purposeful extension of your living space.
Expert Deck Consultation and Design in Lake Ronkonkoma
At Decks Unique, we excel in offering customized consultation services and creating unique deck designs to fulfill the expectations of our clients. With a solid background of 20 years, our adept deck designers will collaborate with you in designing a deck that boosts your home's beauty and function. With state-of-the-art 3D modeling and visualization tools, we'll actualize your vision of the perfect deck, guaranteeing that the completed project satisfies your requirements.
High-Quality Deck Materials for Lasting Durability
On Long Island, Decks Unique is the top deck builder and authorized installer for leading composite deck products such as Trex, TimberTech, and Azek. We also furnish an assortment of wooden decking options to match your likings, including pressure-treated planks, cedar, redwood, and high-quality hardwoods. With a commitment to using only exceptional materials, you can trust that your new deck will be long-lasting and require minimal maintenance.
Outstanding Deck Building Services in Lake Ronkonkoma
The competent deck construction crew at Decks Unique is committed to providing first-rate craftsmanship and efficiency across the entire building process. Given our considerable insight into building codes, specifications, and permits, you can trust in us to undertake the entire endeavor from inception to completion, providing you a captivating and efficient outdoor area.
Hold and Re-establish Your Deck's Gorgeousness
Decks Unique comprehends the crucial role of ongoing maintenance in preserving your deck's attractiveness and solid construction. Our experienced team can inspect and identify any damages or potential issues, providing necessary repairs to keep your deck in top condition. We additionally present deck refurbishing and restoration offerings, consisting of cleaning, staining, weatherproofing, and sealing strategies to fortify and boost your deck's visual quality.
Enhance Your Exterior Living Space with Bespoke Additions and Features
For truly fashioning your deck into a singular open-air refuge, Decks Unique proffers an assortment of tailor-made components and augmentations, such as lighting solutions for decks, seats integrated into the design, kitchens designed for the outdoors, and flame-oriented installations. These advancements not only heighten practical use, but they also build a pleasant and convivial milieu for you and your visitors to take pleasure in.
Comprehensive Decking Services and More
Decks Unique, besides being skilled in deck design and construction, is also an expert in crafting other outdoor structures such as wood awnings, cabanas, gazebos, pergolas, and porch construction. Such structures can augment the beauty of your Long Island home's exterior, transforming it into an excellent space for leisure and socializing.
In Lake Ronkonkoma, count on Decks Unique to cater to all your decking requirements. Uncover the change our pledge of quality, professionalism, and customer delight brings to your outdoor environment. Contact us today to schedule a free consultation and let us transform your backyard into a stunning masterpiece.
With pride, offering our assistance to Lake Ronkonkoma, Holtsville, Great Neck, Farmingville, East Meadow, Centereach, Wyandanch and additional Long Island locales.
Offering Long Island Quality Deck Designs and Services: