Welcome to Decks Unique - East Farmingdale's Premier Deck Builder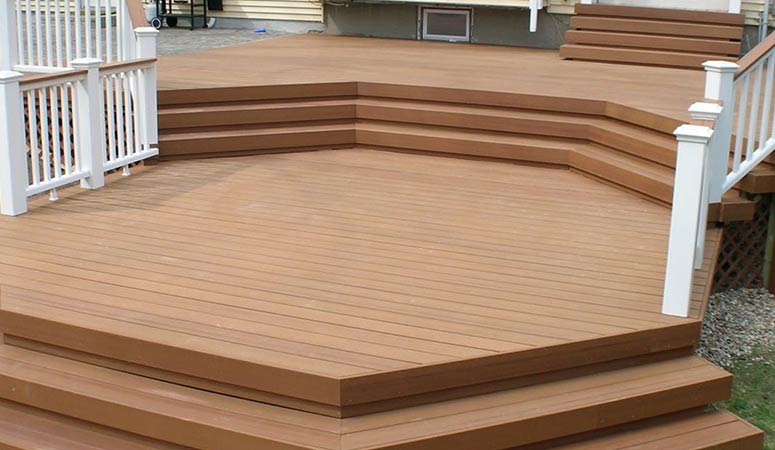 Decks Unique is a family-owned and operated custom deck design and construction company, serving the residents of Long Island and surrounding areas, including East Farmingdale, for over 20 years. Our enthusiasm for design, coupled with our dedication to professionalism, honesty, and innovation, has established us as the premier producer of top-notch decks throughout Long Island, and we've set industry benchmarks. Our proficiency extends to designing and building custom decks, porches, gazebos, pergolas, wood awnings, and other outdoor fixtures that enrich the value, elegance, and usefulness of your dwelling on Long Island.
Comprehensive and Experienced Deck Building Services in East Farmingdale
At Decks Unique, our conviction is that a carefully planned deck design serves as a smart investment for home enhancements. The Decks Unique team of experienced deck builders is committed to providing top-notch quality, keeping effective production timelines, and ensuring that our warranties offer enduring value. This commitment to excellence has resulted in countless satisfied customers, and decks that they are proud to show off for many years to come.
Our Long Island deck building crews are authorized installers of all major composite deck products, such as Trex, TimberTech, and Azek. We extend free residential consultations and digitally-crafted deck layouts for you to preview your project before it gets underway. Why not turn your backyard into our following endeavor?
Add Value to Your Home with a Custom Deck
Not only does an excellent deck boost your East Farmingdale home's outdoor living area, but it also raises the overall property value. Decks Unique's forte is in the design and production of bespoke decks that adhere to the distinct demands and tastes of all our customers. Regardless of whether you want an inviting space to entertain loved ones or a haven to appreciate the delightful weather, we will work in harmony with you to actualize your vision.
It's clear that each homeowner possesses distinct tastes and necessities for their outside spaces. To accommodate these diverse preferences, we supply a wide array of materials, styles, and attributes for crafting the ideal deck to harmonize with your home and way of life. Starting from conventional wood materials like pressure-treated lumber, cedar, and redwood, through to the low-maintenance compound and PVC decking options, we cater to every budget and predilection.
Unequaled Focus on Superior Standards and Customer Gratification
Decks Unique is deeply committed to delivering top-notch workmanship and ensuring our clients' satisfaction. Our devotion to first-class materials and engaging the services of experienced contractors guarantees the superior completion of each project we take on.
We consider open communication to be the cornerstone of a successful project, and we strive to keep our clients well-informed every step of the way. Our reliable team is there for you, from the initial consultation and design brainstorming, through the construction journey, and even after the final review, to make sure all questions are answered, fears are addressed, and your satisfaction with the new deck is undeniable.
Let Decks Unique change your East Farmingdale backyard into an attractive outdoor living area you'll cherish. Connect with us today to book a free consultation and find out what sets Decks Unique apart.
Full-range Decking Services in East Farmingdale
At Decks Unique, we pride ourselves on offering a wide range of decking services tailored to meet the needs of our clients in East Farmingdale. Our expertise at Decks Unique ranges from crafting custom deck designs and construction to handling repair work, maintenance, and refinishing projects. In addition to our core offerings, Decks Unique provides a variety of exceptional enhancements and additions to upgrade your outdoor living. Now, let's examine our wide variety of services more closely.
Custom Deck Design: Developing Your Picture-Perfect Dream Deck
Our expert deck designers will work hand-in-hand with you to produce a tailored deck that mirrors your personal flair, complements your residence, and addresses the exclusive demands of your property. To enable you to make sound decisions, our adept advisors will steer you through the process of selecting the right materials, safeguarding enduring sophistication and solidity.
Expert Deck Construction: Quality Craftsmanship for a Stunning Outdoor Space
As the superior deck builder, we are determined to use only exceptional materials and adhere to safe, efficient workmanship. Our adept teams are sanctioned installers of major composite decking products like Trex, TimberTech, and Azek. By paying attention to every detail and maintaining a focus on structural reliability, we secure that your deck not only looks remarkable but also endures the test of time.
Deck Repair & Maintenance: Safeguarding Your Investment
Regular care is important for preserving both the beauty and functionality of your deck. For wood and composite decks, our diligent team offers complete maintenance and repair solutions. Providing extensive inspections to identify possible challenges, coupled with expert repairs tackling weather or wear-and-tear damages, we serve as your primary choice for all deck maintenance tasks. With the help of our consistent maintenance plans, rest assured that your deck will continually be kept in superb condition, regardless of the time of year.
Deck Refinishing and Restoration: Rejuvenate Your Exterior Space
As time passes, even the most excellent decks could show indications of wear or demand refinishing to sustain their visual allure. Our knowledgeable team can recuperate your deck's attractiveness by utilizing expert cleaning, staining, weatherproofing, and sealing techniques. Further, we can administer structural optimizations, keeping your deck safe and efficient for a considerable duration.
Individualized Aspects and Additional Pieces: Refine Your Deck Encounters
With the goal of elevating your outdoor living area, we put forth numerous individualized aspects and add-ons intended to accent your deck. These possibilities entail energy-sparing deck lights, incorporated seating, outdoor cooking spaces, and fiery aspects. By assimilating these constituents into your deck's blueprint, we construct a charming and relaxing space for you to savor with close ones in East Farmingdale.
At Decks Unique, we specialize in providing top-quality decking services to clients and the surrounding areas. With two decades of industry experience, we have cultivated a reputation for professionalism, genuineness, and forward thinking. If you're interested in designing a new deck or renovating your current one, our experienced team can help. Touch base with us today to organize a free consultation, and let us demonstrate how we can change your outdoor area into a beautiful and practical haven.
Uncover the Ideal Deck Material for You: Comparing Wood and Composite Options
At Decks Unique, our mission is to guide you in designing your dream outdoor refuge for your house. This is why we have an expansive array of decking materials at our disposal, featuring both wood and composite options. Various materials have unique positive aspects, ensuring your ability to opt for the finest choice that caters to your personal necessities and proclivities.
Wood Decking: A Refined Classic Look
Being both ageless and flexible, wood imbues a sense of inviting warmth and elegance to outdoor spaces. We provide an assortment of wooden decking alternatives that can accommodate any design preference and budget.
Treated Lumber: Inexpensive and Strong
A significant number of homeowners find pressure-treated lumber appealing for its inexpensive and durable aspects. This decking material undergoes a special treatment process, protecting it against rot and insect infestation. Because of this, pressure-treated decks offer enduring performance with low maintenance requirements.
Cedar and Redwood: The Epitome of Luxurious and Resistant Materials
If you're in the market for a high-end solution, consider our cedar and redwood decking options. These beautiful and high-end woods are naturally resistant to decay and insects, ensuring a long-lasting deck that ages gracefully. Cedar and redwood decks, featuring deep colors and one-of-a-kind grain patterns, add a striking touch to any household.
Exotic Hardwoods: Elegant and Resilient
For an absolutely unique and luxurious solution, explore the possibility of using exotic hardwoods like Ipe, Tigerwood, or Cumaru. Internationally appreciated for their exceptional endurance and dramatic looks, these woods are notably dense and durable. Exotic hardwood decks, known for their brilliant colors and involved patterns, act as show-stopping centerpieces in all outdoor spaces.
Achieve Low-Maintenance Living with the Use of Composite and PVC Decking
If you're seeking an eco-conscious, low-maintenance solution, contemplate composite and PVC decking. These advanced materials merge wooden charm with synthetic endurance, offering homeowners an almost maintenance-free open-air space.
Understanding the Benefits and Advantages of Composite Decking
Made from recycled wood fibers and plastic, composite decking is a strong and environmentally friendly preference. With resistance to warping, cracking, and discoloration, this decking material guarantees an attractive and enduring deck that requires little maintenance. Cleaning composite decks is hassle-free, as they just need the occasional washing to ensure that the outdoor area stays spotless.
Prominent Brands in Composite Materials Sector
Teaming up with prominent composite decking brands like Trex, TimberTech, and Azek is a matter of pride for Decks Unique. As authorized installation experts of these unparalleled products, we can offer East Farmingdale homeowners the highest-grade materials for an appealing, durable outdoor space.
Custom-build Your Deck with a Range of Color and Texture Combinations
The extensive array of personalization options is a crucial benefit of composite decking. The assortment of color and texture choices enables you to construct an unparalleled outdoor space that adheres to your home's visual appeal. There is a composite decking option to match your preference for either the appearance of natural wood or a sleeker, more modern aesthetic.
Upgrade Your Deck by Adding Railing and Baluster Choices
The ideal deck isn't all it can be without the proper railing and baluster system. We furnish a multitude of choices at Decks Unique to amplify your deck design and confirm the security and utility of your outdoor setting.
Wood Railing Systems: Traditional and Timeless
To achieve a timeless and classic appearance, think about using a wood railing system. Both wood and composite decks can be perfectly matched by a wood railing system, ensuring a smooth and integrated look. For a striking finale, customize your wood railing system by painting or staining it to match your deck or the exterior of your East Farmingdale home.
Metal and Glass Railing Systems: Up-to-date and Polished
In case a modern and sleek design appeals to you, take into account utilizing metal or glass railing systems. Boosting the enjoyment of your deck view, these selections add a 21st-century touch and cater to homeowners who are lucky enough to have gorgeous surroundings.
Composite Railing Systems: Effortless Maintenance and Stylish
Composite railing systems present an exceptional option for those who want style and elegance without the hassle of constant maintenance. These robust and appealing railings, when used alongside composite decking, create a harmonious appearance and a gorgeous outdoor area with little maintenance needed.
Regardless of your personal preferences, Decks Unique stands ready to help you decide on the most suitable decking materials for your living space. Reach out to our team today to discuss your vision and begin shaping the outdoor area you've always imagined.
Transform Your Outdoor Living Space with Our Extra Offerings in East Farmingdale
Our mission at Decks Unique is to convert your outdoor living area into a deluxe and practical extension of your abode. Not only do we specialize in deck building services, but we also offer a range of other services like wood awnings, cabanas, gazebos, pergolas, and porch construction. Our skilled professionals in East Farmingdale work closely with you to bring your vision to life while ensuring the highest quality and durability.
Wood Awnings: Enhance Your Outdoor Area with Shade and Style
Wood awnings serve as an effective way to integrate both shade and elegance into your outdoor surroundings. The competent team at Decks Unique is committed to helping you identify the most suitable design and materials for a beautiful and functional wood awning that enhances your home's look. These constructions provide both shelter from severe weather conditions and elevation in your property's total value.
Cabanas: Create a Sumptuous Escape in Your East Farmingdale Lawn
Cabanas are a fantastic combination of luxury, convenience, and privacy, making them the perfect addition to any outside area. Our experienced team will work alongside you to plan and erect a unique cabana that caters to your distinct needs and preferences. Be it a warm, inviting spot for rest or a refined space for social engagements, we can build a cabana that becomes your dream outdoor getaway.
Gazebos: A Captivating Addition to Your Garden or Patio Environment
Adding a gazebo to a garden or patio creates an ageless charm, providing a striking focal point, and a covered spot for outdoor relaxation. Our expert team assists you in selecting the perfect design, materials, and placement for your gazebo, guaranteeing a smooth blend with your current outdoor environment. Our skilled craftsmanship ensures a breathtaking gazebo that will elevate the appeal of your outdoor environment for years in the future.
Pergolas: Upgrade Your Exterior Area by Adding Architectural Intrigue and Purpose
Pergolas offer a brilliant solution for infusing architectural style and practical purposes into your outdoor environment. These constructions supply a blend of shadow and natural brightness, thus perfectly complementing garden pathways, external platforms, or open dining zones. At Decks Unique, our qualified experts are capable of designing and constructing a personalized pergola that fits your aesthetic desires and adds worth to your residence.
Constructing a Porch: Improve Your Home's Exterior Attractiveness and Outdoor Living Area
A thoughtfully designed porch not only elevates your home's curb appeal but also supplies a pleasant outdoor living area for you and your family to appreciate. Our efficient group will work jointly with you to conceive a made-to-order porch that corresponds with your home's architecture and satisfies your conducive needs. With our scrupulous focus on detail and loyalty to top-notch quality, you can relax knowing that your porch construction venture is in adept hands.
Reach out to Decks Unique to transform your East Farmingdale outdoor living space
Decks Unique is proud to deliver top-notch, tailor-made outdoor living solutions to customers in East Farmingdale and nearby regions. If you're interested in incorporating a wood awning, cabana, gazebo, pergola, or porch to your exterior space, our team of experts is ready to assist. Discuss your project with us today and find out how we can turn your outdoor living environment into a comfortable and efficient extension of your residence.
Proven Deck Design and Consultation Excellence in East Farmingdale
At Decks Unique, we are proud of our ability to offer personalized consultations and custom deck designs that accommodate the unique demands of each client. With over 20 years of know-how, our expert deck designers will cooperate closely with you to devise a deck that elevates your home's looks and utility. Employing cutting-edge 3D modeling and visualization methods, we'll transform your dream deck into reality, making certain the end product aligns with your aspirations.
High-Quality Deck Materials for Lasting Durability
Decks Unique, the leading deck builder in Long Island, is a certified installer for top composite deck brands like Trex, TimberTech, and Azek. Additionally, we provide various wood decking choices tailored to your taste, including pressure-treated wood, cedar, redwood, and unique hardwoods. Our devotion to employing only first-class materials ensures your new deck's longevity and minimal upkeep.
Top-Notch Deck Building Services in East Farmingdale
At Decks Unique, our talented deck building professionals are devoted to ensuring exceptional quality and efficiency in all phases of the construction process. Utilizing our comprehensive knowledge of building codes, laws, and permits, you can have faith in us to handle the entire project from initiation to completion, resulting in an exquisite and functional outdoor living space.
Preserving and Rejuvenating Your Deck's Aesthetics
The team at Decks Unique knows that consistent care is essential for maintaining the appearance and structural soundness of your deck. Our experienced team can inspect and identify any damages or potential issues, providing necessary repairs to keep your deck in top condition. Apart from that, we deliver deck refinishing and refurbishment services, including cleaning, staining, weather-resistant treatments, and sealing to preserve and augment your deck's attractiveness.
Enhance Your Exterior Living Space with Bespoke Additions and Features
In order to transform your deck into a distinctive outdoor haven, Decks Unique provides an array of personalized options and extras like deck illumination, integrated seating, open-air cooking areas, and fire elements. These additions not only improve operation but also generate a soothing and receptive environment for your enjoyment and your guests.
Extensive Decking Solutions and Supplementary Services
Decks Unique specializes not only in deck design and building but also in constructing other outdoor structures such as wooden awnings, cabanas, gazebos, pergolas, and porches. These amenities can remarkably enhance your Long Island home's outdoor space, converting it into a perfect haven for relaxation and social gatherings.
For all your decking desires in East Farmingdale, choose Decks Unique. Discover the impact our dedication to quality, professionalism, and customer satisfaction has on your outdoor area. Get in touch right away to arrange a free consultation and let us transform your backyard into an impressive work.
Happy to support the communities of East Farmingdale, Centereach, Wyandanch, Uniondale, Sound Beach, Ronkonkoma, Oyster Bay, and other areas throughout Long Island.
Offering Long Island Quality Deck Designs and Services: