Visit Decks Unique - Manhasset's Most Reliable Deck Builder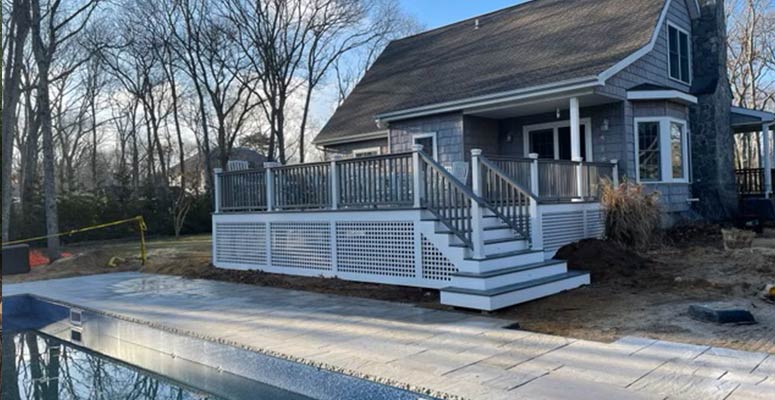 Over the past 20 years, Decks Unique, a family-owned and operated company, has been dedicated to offering custom deck design and construction services in Long Island and the surrounding areas, including Manhasset. Owing to our zeal for design and unwavering dedication to professionalism, honesty, and innovation, we've become the largest producer of high-end decks on Long Island, establishing industry standards. Our expertise lies in crafting custom decks, porches, gazebos, pergolas, wooden awnings, and other outdoor amenities that enhance the appeal, value, and practicality of your residence in Long Island.
Manhasset's Expert and Experienced Deck Builders
Decks Unique maintains that a well-designed deck is a smart investment when thinking about ways to improve your home. Our proficient group of skilled deck craftspeople prioritizes first-rate quality, adheres to streamlined production timelines, and lets you rest assured knowing our warranties carry lasting worth. This commitment to excellence has resulted in countless satisfied customers, and decks that they are proud to show off for many years to come.
Our certified Long Island decking contractors can install all popular composite decking brands, including Trex, TimberTech, and Azek. We offer free home consultations and computerized deck designs so that you can visualize your project before it comes to life. Why not turn your backyard into our following endeavor?
Enhance Your Home's Value through a Tailor-Made Deck
A well-crafted deck contributes to both an increase in your Manhasset home's outdoor living environment and the enhancement of its value. We, at Decks Unique, focus on the development and creation of bespoke decks that address the specific requirements and tastes of each client. If you're seeking an intimate area for hosting gatherings or a lavish exterior sanctuary to revel in pleasant weather, we will collaborate closely with you to make your dream a reality.
We understand that each homeowner in has different tastes and requirements for their outdoor spaces. This is the reason we present various materials, styles, and characteristics to craft the ultimate deck that suits your house and lifestyle. From standard wood options like pressure-treated lumber, cedar, and redwood to the easy upkeep of composite and PVC decking, we provide the right answer to accommodate every budget and personal taste.
Unmatched Commitment to Awe-inspiring Quality and Client Comfort
At Decks Unique, our focus is on exceptional workmanship and happy customers. Our dedication to the use of high-caliber materials and collaboration with skilled, seasoned builders guarantees each project we undertake is of the finest quality.
We regard transparent communication as a critical component of project success, and we dedicate ourselves to keeping our clients informed at all times. Throughout the entire process - from initial consultation and design to construction and final inspection - our team is on hand to field questions, respond to any worries, and ensure ultimate satisfaction with your finished deck.
Trust Decks Unique to morph your Manhasset backyard into an impressive outdoor living space you'll enjoy for years. Message us today to secure a free consultation and experience the exceptional Decks Unique service.
All-inclusive Decking Solutions in Manhasset
A vast array of personalized decking services are available at Decks Unique, aimed at fulfilling the requirements of our clients in Manhasset. Our team is skilled in providing a holistic suite of services, from custom deck design and construction to repair, maintenance, and refinishing. Decks Unique also offers an assortment of standout features and add-ons to improve and elevate your outdoor living area. Let us examine the range of services we provide in greater detail.
Custom Deck Design: Materializing Your Dream Deck with Expertise
Our expert deck designers will work hand-in-hand with you to produce a tailored deck that mirrors your personal flair, complements your residence, and addresses the exclusive demands of your property. Our masters will help you make discerning selections by providing guidance on material options, ensuring that your deck possesses long-lasting allure and hardiness.
Exceptional Deck Creation: Superior Quality in Craftsmanship for an Eye-Catching Outside Space
As the premier deck builder, we are committed to using only high-quality materials and employing safe, efficient workmanship. Our highly-experienced teams have the approval to install leading composite decking brands like Trex, TimberTech, and Azek. By meticulously focusing on details and emphasizing structural quality, we make sure your deck is not only attractive but also withstands time's challenges.
Maintaining and Repairing Decks: Preserving Your Investment
Routine maintenance is necessary for preserving the attractiveness and usefulness of your deck. Our team of specialists delivers thorough maintenance and repair services for both wooden and composite decks. From exhaustive assessments aimed at spotting potential concerns, to professional repair of damages resulting from weather or age, consider us your all-encompassing deck maintenance provider. Through our pre-scheduled maintenance programs, you can enjoy the certainty that your deck's outstanding condition will be sustained year-round.
Deck Refinishing and Renewal: Bring Freshness to Your Outdoor Environment
Over time, even the highest quality decks may show signs of wear or require refinishing to maintain their appearance. Our team of experts is capable of revitalizing your deck's beauty through thorough cleaning, staining, weatherproofing, and sealing. Further, we can administer structural optimizations, keeping your deck safe and efficient for a considerable duration.
Adapted Facets and Complementary Elements: Optimize Your Deck Satisfaction
To refine your outdoor living space, we offer a collection of custom-fitted elements and added features conceived to elevate your deck. Such choices encompass energy-saving lighting for decks, integrated seating, alfresco kitchens, and fire elements. Inclusion of these elements within your deck's design enables us to produce a warm and affable space for your enjoyment with family and friends in Manhasset.
Decks Unique is dedicated to providing premium decking services to clients in the surrounding areas. We have established a strong reputation for professionalism, reliability, and originality, thanks to our 20 years in the industry. Our capable team is eager to help you with planning a new deck or upgrading an old one. Contact us today to schedule a no-cost consultation and see how we can elevate your outdoor space into an elegant, functional sanctuary.
Decide on the Optimal Deck Material for Your Lifestyle: Wood and Composite Variants
Here at Decks Unique, we are passionate about collaborating with you to develop the perfect outdoor hideaway for your house. This is why we have an expansive array of decking materials at our disposal, featuring both wood and composite options. All materials have exclusive benefits that let you settle on the best choice based on your specific desires and favorites.
Wood Decking: A Refined Classic Look
Offering unparalleled warmth and charm, wood is an eternal and versatile choice for outdoor environments. Our collection of wood deck possibilities is tailored to fit all styles and financial considerations.
Pressure-Treated Wood: Cost-effective and Long-lasting
A significant number of homeowners find pressure-treated lumber appealing for its inexpensive and durable aspects. Protection from wood deterioration and insect issues is provided by a special treatment process for this decking material. As a result, pressure-treated decks are long-lasting and require minimal maintenance.
Cedar and Redwood: The Epitome of Luxurious and Resistant Materials
If you're interested in a more sophisticated solution, we also have cedar and redwood decking available. These elegant and premium woods possess natural resistance to decay and pests, guaranteeing a durable deck that matures with elegance. The strong colors and exclusive grain formations of cedar and redwood decks make them a visually appealing complement to any home.
Exotic Hardwoods: Beautiful and Durable
If you want an exceptional and one-of-a-kind option, look into using exotic hardwoods like Ipe, Tigerwood, or Cumaru for your project. Thanks to their substantial density and ruggedness, these woods are celebrated for their incredible durability and strikingly beautiful appearance. Exotic hardwood decks, featuring their bold colors and detailed patterns, make for an impressive centerpiece in any outdoor setting.
Low-Maintenance Living is Easy with Composite and PVC Decking Solutions
If you're seeking an eco-conscious, low-maintenance solution, contemplate composite and PVC decking. These groundbreaking materials fuse the visual appeal of wood with the ruggedness of synthetic ingredients, granting homeowners an essentially maintenance-free outdoor environment.
Why Choose Composite Decking: Benefits and Advantages
Using a blend of reclaimed wood fibers and plastic, composite decking delivers a long-lasting and environmentally friendly solution. This type of decking material is impervious to issues like warping, cracking, and color loss, guaranteeing a stunning and durable deck that needs little attention. Cleaning composite decks is hassle-free, as they just need the occasional washing to ensure that the outdoor area stays spotless.
Key Players in the Composite Materials Market
Decks Unique is honored to partner with renowned composite decking brands, including Trex, TimberTech, and Azek. Being authorized installers of these extraordinary products allows us to give Manhasset homeowners access to the highest quality materials for a gorgeous and long-lasting outdoor living space.
Upgrade Your Deck with Various Color and Texture Choices
The extensive array of personalization options is a crucial benefit of composite decking. You can put together a custom outdoor setting that reflects your home's aesthetics with the diverse color and texture options available. If you have a penchant for natural wood looks or more innovative designs, composite decking offers a compatible option.
Upgrade Your Deck Experience with Railing and Baluster Possibilities
A flawless deck needs the correct railing and baluster system to be fully realized. With Decks Unique, you have access to a variety of options that enhance your deck design while guaranteeing safety and functionality in your outdoor area.
Timber Railing Systems: Conventional and Enduring
If you want a classic and enduring aesthetic, contemplate a wood railing system. Wood and composite decks alike can benefit from the addition of a wood railing system, providing a seamless integration and consistent style. Painting or staining your wood railing system to align with your deck or Manhasset home exterior helps ensure a captivating final aesthetic.
Metal and Glass Railing Systems: Up-to-date and Polished
Desiring a more current and polished appearance, you might want to look into metal or glass railing systems. Both metal and glass railing systems deliver a contemporary feel while also augmenting the viewpoint from your deck area, winning over homeowners with captivating settings.
Composite Railing Systems: Low-Maintenance and Stylish
For an ideal blend of style, elegance, and low-maintenance, composite railing systems are an excellent option. These robust and appealing railings, when used alongside composite decking, create a harmonious appearance and a gorgeous outdoor area with little maintenance needed.
Regardless of your tastes, Decks Unique can assist you in selecting the ideal decking materials for your residence. Contact our team today to share your needs and initiate the planning process for your dream outdoor living space.
Raise the Bar for Your Outdoor Living Space with Our Additional Services in Manhasset
Decks Unique is committed to turning your outdoor living area into a lavish and practical extension of your residence. Our services extend beyond remarkable deck building, as we also provide a variety of supplementary services such as wood awnings, cabanas, gazebos, pergolas, and porch construction. In Manhasset, our skilled team works closely with you to achieve your outdoor vision, guaranteeing top-quality and durable results.
Wood Awnings: Add Fashion and Functionality for Your Outdoor Space
Wood awnings offer an excellent way to create shade and style in your outdoor environment. Our team of experts at Decks Unique is here to help you decide on the right design and materials, ensuring a stunning and functional wood awning that fits your home's look. These structures not only protect you from harsh weather conditions but also enhance the overall value of your property.
Cabanas: Create a Sumptuous Escape in Your Manhasset Lawn
Cabanas strike a perfect balance between luxury, comfort, and privacy, making them a great fit for any outdoor space. Our skilled professionals will partner with you in designing and constructing a personalized cabana that fulfills your unique necessities and preferences. From a cozy sanctuary for relaxation to a chic locale for socializing with friends, we can craft a cabana that makes for the perfect open-air haven.
Gazebos: A Picture-Perfect Addition for Your Garden or Patio
In any garden or patio, a gazebo is an enduring addition that supplies an appealing focal point and a cool refuge for outdoor leisure. Our professional team will help you choose the ideal style, materials, and location for your gazebo, ensuring a seamless integration with your existing landscape. With our high-quality craftsmanship, you'll have a gorgeous gazebo that not only complements but also enhances your outdoor space for years to come.
Pergolas: Integrate Architectural Style and Functionality into Your Open-air Space
Pergolas are an excellent way to add architectural interest and functionality to your outdoor living space. These structures provide partial shade while still allowing natural light to filter through, making them perfect for garden walkways, patios, or outdoor dining areas. Let Decks Unique's knowledgeable professionals plan and build a customized pergola to match your style, and in doing so, increase your home's value.
Creating a Porch: Upgrade Your Home's Curb Appeal and Outdoor Living Areas
A proficiently designed porch not only increases your home's curb appeal but also presents a comfortable open-air living space for you and your family to take pleasure in. Our talented team will combine efforts with you to craft a unique porch that parallels your home's architectural appearance and serves your functional prerequisites. With our painstaking observance of detail and fidelity to outstanding quality, you can be assured that your porch manufacturing enterprise is being managed by skilled professionals.
Get ahold of Decks Unique for upgrading your Manhasset outdoor living space
At Decks Unique, providing superior, custom-made outdoor living options for our clients in Manhasset and the adjacent areas is our mission. Seeking to integrate a wood awning, cabana, gazebo, pergola, or porch into your outdoor area? Our team of specialists is prepared to help. Give us a call today to discuss your vision, and we'll show you how we can upgrade your outdoor living area into a deluxe and useful extension of your home.
Top-notch Deck Consulting and Design Solutions in Manhasset
At Decks Unique, we are proud of our ability to offer personalized consultations and custom deck designs that accommodate the unique demands of each client. Boasting more than two decades of expertise, our skilled deck designers collaborate with you to design a deck that augments your home's visual appeal and practicality. By harnessing the power of advanced 3D modeling and visualization techniques, we'll materialize your dream deck, while ensuring the final version fulfills your expectations.
Durable Deck Materials for Extended Life Expectancy
Decks Unique, the leading deck builder in Long Island, is a certified installer for top composite deck brands like Trex, TimberTech, and Azek. We have a range of wood decking options to cater to your needs, such as pressure-treated boards, cedar, redwood, and imported hardwoods. Our devotion to employing only first-class materials ensures your new deck's longevity and minimal upkeep.
Outstanding Deck Building Services in Manhasset
Our gifted deck construction professionals at Decks Unique are devoted to ensuring top-tier quality and effectiveness during the full building process. Given our vast knowledge of building codes, regulations, and permits, you can trust us to execute the full project from start to finish, creating a beautiful and efficient outdoor living area.
Secure and Reinstate Your Deck's Grace
Decks Unique is well aware of the value of routine maintenance in sustaining both the visual allure and durability of your deck. Our adept team has the ability to check and recognize any damages or potential troubles, executing required repairs to sustain your deck's top-notch condition. In addition, Decks Unique offers deck renewal and refinishing services, featuring cleaning, staining, weatherproofing, and sealing procedures to defend and enrich your deck's visual appeal.
Enhance Your Exterior Living Space with Bespoke Additions and Features
In order to transform your deck into a distinctive outdoor haven, Decks Unique provides an array of personalized options and extras like deck illumination, integrated seating, open-air cooking areas, and fire elements. These modifications not only enhance the function, but they also shape a hospitable and relaxed atmosphere for you and your attendees to delight in.
Exhaustive Deck Installation and Additional Features
Decks Unique is well-versed in both deck design and construction as well as additional outdoor structures like wood awnings, cabanas, gazebos, pergolas, and porch construction. These structures can further enhance your Long Island home's outdoor space, making it the perfect area for relaxation and entertainment.
Decks Unique is here to help with your Manhasset decking needs. Experience the difference that our commitment to quality, professionalism, and customer satisfaction brings to your outdoor living space. Reach out to us today for a free consultation, and let us convert your backyard into an exquisite showpiece.
Happy to support the communities of Manhasset, Lawrence, Holtsville, Great Neck, Farmingville, East Islip, Centereach, and other areas throughout Long Island.
Offering Long Island Quality Deck Designs and Services: