Visit Decks Unique - Elwood's Most Reliable Deck Builder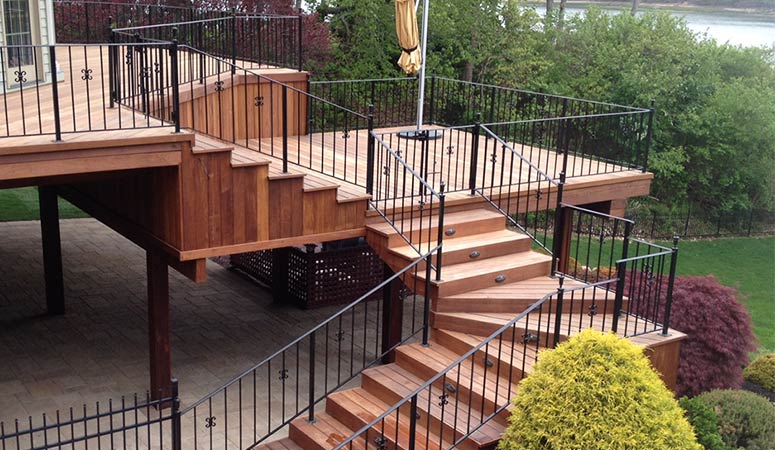 For over 20 years, Decks Unique, an establishment that is family-owned and operated, has been providing custom deck design and construction services to the residents of Long Island and surrounding locations, including Elwood. Thanks to our enthusiasm for design and steadfast commitment to professionalism, integrity, and innovation, we've emerged as the top producer of premium decks on Long Island, setting the benchmark for the industry. Decks Unique is skilled in designing and constructing tailor-made decks, porches, gazebos, pergolas, wood awnings, and other exterior structures that increase the value, attractiveness, and practicality of your Long Island residence.
Specialized and Experienced Deck Building Providers in Elwood
At Decks Unique, we are convinced that a well-organized deck layout offers a sensible investment in home improvement projects. Our expert team of professional deck builders is dedicated to delivering superior quality, maintaining efficient production schedules, and ensuring that our warranties have true lasting value. Our unwavering dedication to outstanding results has produced countless satisfied clients and striking decks they can be proud of for years.
In Long Island, our expert deck builders have approval to install all chief composite decking choices, including Trex, TimberTech, and Azek. We deliver cost-free home assessments and computer-modeled deck schemes for visualizing your project before it takes shape. Let your backyard be the canvas for our next masterpiece!
Augment the Value of Your Residence with a Unique Deck
A great deck not only enhances the outdoor living space of your Elwood home but also adds significant value to your property. Our team at Decks Unique is dedicated to designing and building custom-made decks that perfectly align with every client's individual needs and preferences. If you're seeking an intimate area for hosting gatherings or a lavish exterior sanctuary to revel in pleasant weather, we will collaborate closely with you to make your dream a reality.
We recognize that every homeowner has unique preferences and needs for their outdoor areas. To accommodate these diverse preferences, we supply a wide array of materials, styles, and attributes for crafting the ideal deck to harmonize with your home and way of life. From time-honored wood choices such as pressure-treated lumber, cedar, and redwood to the low-maintenance advantages of composite and PVC decking, we offer an ideal solution for each budget and liking.
Incomparable Devotion to High Quality and Customer Fulfillment
At Decks Unique, excellent workmanship and gratified clients are what we focus on. We are dedicated to utilizing only top-grade materials and partnering with expert, seasoned builders to guarantee our projects meet the most stringent standards.
We're firm believers that strong communication is a major factor in a project's success, and we go above and beyond to maintain clear lines of communication with our clients. Our team is at your service, from the very beginning with the consultation and design stage, throughout construction, and up until the final inspection, to address any queries or concerns and to make certain you are fully satisfied with your deck.
Allow Decks Unique to turn your Elwood backyard into an outdoor living area you'll adore. Get in touch with us today to arrange a complimentary consultation and discover the Decks Unique advantage firsthand.
Exhaustive Decking Offerings in Elwood
Decks Unique specializes in providing a wide assortment of decking services, designed to suit the preferences of our Elwood customers. Our team is skilled in providing a holistic suite of services, from custom deck design and construction to repair, maintenance, and refinishing. Moreover, Decks Unique furnishes an array of distinctive options and add-ons to enrich your outdoor living environment. Let us examine the range of services we provide in greater detail.
Custom Deck Design: Developing Your Picture-Perfect Dream Deck
Our skillful deck designers will collaborate intimately with you to assemble a custom-built deck that exemplifies your private style, seamlessly integrates with your home, and meets the peculiar specifications of your property. Our professionals are here to support you in making educated judgments by guiding you through the material selection process, ensuring the enduring appeal and robustness of your deck.
Masterful Deck Fabrication: Impressive Craftsmanship for an Elegant Exterior Space
As the superior deck builder, we are determined to use only exceptional materials and adhere to safe, efficient workmanship. Our experienced crews are authorized installers of major composite deck products, such as Trex, TimberTech, and Azek. With meticulous attention to detail and a focus on structural integrity, we ensure that your deck not only looks stunning but also stands the test of time.
Taking Care of Your Deck: Ensuring Your Investment Stays Protected
Regular care is important for preserving both the beauty and functionality of your deck. We have a dedicated team that offers all-inclusive repair and upkeep services for both wood and composite decks. From thorough inspections to identify potential issues, to expert repair of damages caused by weather or wear-and-tear, we are your go-to source for all your deck maintenance needs. Our planned maintenance plans offer reassurance, ensuring your deck stays in top shape throughout the entire year.
Deck Refinishing and Restoration: Revive Your Outdoor Living Area
Eventually, even the best quality decks might display signs of wear and might need refinishing to preserve their look. Our knowledgeable team can recuperate your deck's attractiveness by utilizing expert cleaning, staining, weatherproofing, and sealing techniques. Moreover, we can implement structural enhancements, guaranteeing your deck's safety and function for the foreseeable future.
Adapted Facets and Complementary Elements: Optimize Your Deck Satisfaction
With the goal of elevating your outdoor living area, we put forth numerous individualized aspects and add-ons intended to accent your deck. Among these selections are energy-effective deck lights, inherent seating, kitchens designed for outdoor use, and features involving fire. Inclusion of these elements within your deck's design enables us to produce a warm and affable space for your enjoyment with family and friends in Elwood.
We, at Decks Unique, excel in delivering the finest decking solutions to our customers and areas nearby. We have established a strong reputation for professionalism, reliability, and originality, thanks to our 20 years in the industry. Whether you are looking to design a new deck or revamp an existing one, our skilled team is here to help. Reach out to us now to book a cost-free consultation and find out how we can turn your outdoor area into a visually striking and practical haven.
Compare Wood and Composite Options to Discover Your Perfect Deck Material
Decks Unique is all about empowering you to create an amazing outdoor utopia within your home. As a result, we offer numerous decking materials, with options in both timber and composite varieties. All of the materials come with their distinct advantages, allowing you to handpick the most appropriate alternative based on your specified needs and preferences.
Wood Decking: A Refined Classic Look
Being both ageless and flexible, wood imbues a sense of inviting warmth and elegance to outdoor spaces. We provide an assortment of wooden decking alternatives that can accommodate any design preference and budget.
Pressure-Treated Wood: Cost-effective and Long-lasting
Because of its budget-friendliness and lasting quality, pressure-treated lumber is popular among numerous homeowners. This decking material undergoes a special treatment process, protecting it against rot and insect infestation. This ensures that pressure-treated decks remain durable and need only minimal maintenance.
Cedar and Redwood: Nature's Luxury with Built-In Resistance
For people looking for an upscale option, we offer cedar and redwood decking too. The eye-catching and high-grade woods are organically immune to decay and bug damage, ensuring a deck that remains sturdy for years to come. Cedar and redwood decks, adorned with intense colors and characteristic grain appearances, deliver an awe-inspiring aspect to any house.
Exotic Hardwoods: Exquisite and Long-Lasting
When seeking a completely original and classy selection, mull over exotic hardwoods like Ipe, Tigerwood, or Cumaru. These incredibly dense and durable woods are known for their exceptional longevity and striking appearance. With vivid colors and detailed patterns, exotic hardwood decks provide a striking focal point for outdoor spaces.
Pursue a Low-Maintenance Lifestyle with Composite and PVC Decking Options
Should you desire an environmentally-friendly and low-maintenance option, look into composite and PVC decking. These groundbreaking materials fuse the visual appeal of wood with the ruggedness of synthetic ingredients, granting homeowners an essentially maintenance-free outdoor environment.
Advantageous Features and Benefits of Composite Decking
With a mixture of repurposed wood fibers and plastic, composite decking is a resilient and Earth-friendly selection. Unaffected by warping, cracking, and fading, the material used for this decking provides a long-lasting and beautiful deck that's easy to maintain. Also, composite decks are notably easy to clean, and a bit of occasional washing is sufficient to maintain a clean outdoor space.
Top Brands in the Composite Materials Industry
Teaming up with prominent composite decking brands like Trex, TimberTech, and Azek is a matter of pride for Decks Unique. As approved installers of these remarkable products, we can furnish Elwood homeowners with premium materials for an elegant and lasting outdoor living area.
Upgrade Your Deck with Various Color and Texture Choices
A major selling point of composite decking is its wide customization choice range. Having a myriad of color and texture options allows you to fashion a one-off outdoor space that connects with your home's design. Whether your liking leans towards natural wood or a more sophisticated design, composite decking has something for you.
Amplify Your Deck's Look with Railing and Baluster Additions
A top-notch deck demands the right railing and baluster system to be truly complete. Decks Unique offers countless options to accentuate your deck design while ensuring a safe and practical outdoor environment.
Wooden Railing Designs: Everlasting and Traditional
For a stylish and lasting design, a wood railing system should be considered. By integrating a wood railing system with either a wood or composite deck, you can achieve a smooth and consistent design. Wood railing systems can be painted or stained to match your deck or Elwood home exterior, ensuring a stunning final result.
Metal and Glass Railing Systems: Sophisticated and Well-defined
Desiring a more current and polished appearance, you might want to look into metal or glass railing systems. These railing systems bring a current flair while enhancing the panorama from your deck, which is highly appreciated by property owners with beautiful surroundings.
Composite Railing Systems: Easy-Care and Elegant
For a low-maintenance, stylish, and elegant solution, composite railing systems are the perfect fit. When combined with composite decking, these rugged and elegant railings contribute to a seamless appearance, crafting a striking outdoor sanctuary with minimal required maintenance.
No matter your style preferences, Decks Unique is prepared to support you in determining the perfect decking materials for your domicile. Reach out to us today to discuss your goals and commence the design of your ideal outdoor space.
Elevate Your Outdoor Living Experience with Our Supplementary Services in Elwood
At Decks Unique, we believe in transforming your outdoor living space into a luxurious and functional extension of your home. Our services extend beyond remarkable deck building, as we also provide a variety of supplementary services such as wood awnings, cabanas, gazebos, pergolas, and porch construction. Our skilled professionals in Elwood work closely with you to bring your vision to life while ensuring the highest quality and durability.
Wood Awnings: Incorporate Style and Shade to Your Outdoor Area
The use of wood awnings can impart both shade and refinement to your outdoor zone. Our experienced team at Decks Unique will help you choose the right design and materials to create a beautiful and functional wood awning that complements your home's aesthetic. The wood awnings not only ensure protection from extreme weather conditions but also improve your property's overall worth.
Cabanas: Create a Luxurious Retreat in Your Elwood Backyard
Blending luxury, relaxation, and privacy perfectly, cabanas are an exceptional choice for upgrading any outdoor area. You can count on our team of professionals to design and create a unique cabana that caters to your individual needs and preferences. Whether it's a homely corner for winding down or a polished space for hosting visitors, we can conjure up a cabana that stands as your flawless exterior retreat.
Gazebos: A Picture-Perfect Addition for Your Garden or Patio
A gazebo serves as a classic element in any garden or patio, offering an attractive centerpiece and a sheltered space for enjoying the outdoors. With our skilled team's guidance, you'll select the right style, materials, and site for your gazebo, ensuring harmonious integration with your existing surroundings. With our high-quality craftsmanship, you'll have a gorgeous gazebo that not only complements but also enhances your outdoor space for years to come.
Pergolas: Bring Architectural Charm and Functionality to Your Outdoor Domain
One effective way to enrich your outdoor living space with architectural appeal and utility is by constructing a pergola. Such structures offer a mix of shade and natural light, making them ideal for garden paths, terrace areas, or al fresco dining spots. The team of skilled experts at Decks Unique can create and construct a tailor-made pergola that complements your taste and enhances your home's worth.
Creating a Porch: Upgrade Your Home's Curb Appeal and Outdoor Living Areas
An expertly designed porch not only improves your home's curb appeal but also offers a cozy outdoor space for you and your loved ones to relish. Our talented team will combine efforts with you to craft a unique porch that parallels your home's architectural appearance and serves your functional prerequisites. With our attention to detail and commitment to quality, you can rest assured knowing your porch construction project is in good hands.
Contact Decks Unique to revamp your Elwood outdoor living area
Decks Unique is proud to deliver top-notch, tailor-made outdoor living solutions to customers in Elwood and nearby regions. Whether you want to add a wood awning, cabana, gazebo, pergola, or porch to your outdoor area, our team of professionals is here to help. Connect with us today to explore your project's possibilities and see how we can make your outdoor living space a luxurious and efficient extension of your household.
Elwood's Expert Deck Design and Consultation
Decks Unique is renowned for providing individualized consultations and custom deck plans to fulfill the particular desires of our customers. Our seasoned deck designers, with over 20 years in the field, will partner with you to develop a deck that improves both your home's appearance and functionality. Our use of sophisticated 3D modeling and visualization technology ensures that your ideal deck is brought to life, matching your expectations in the final outcome.
Top-Notch Decking Materials to Ensure Longevity
Decks Unique, Long Island's leading deck builder, is accredited to install all major composite deck materials, including popular brands such as Trex, TimberTech, and Azek. Additionally, we offer a wide range of wood decking alternatives that suit your personal tastes, such as pressure-treated materials, cedar, redwood, and exclusive hardwoods. Our commitment to using only the best materials ensures that your new deck will be built to last while requiring minimal maintenance.
Professional Deck Construction Services in Elwood
Decks Unique's expert deck construction crew is committed to delivering outstanding workmanship and efficiency throughout the entire building process. With our in-depth grasp of building codes, guidelines, and permits, you can have confidence in us to take care of the entire project, from inception to conclusion, providing you with an impressive and usable outdoor space.
Preserving and Rejuvenating Your Deck's Aesthetics
The Decks Unique team acknowledges the importance of ongoing maintenance to conserve the appearance and structural reliability of your deck. Our experienced team can inspect and identify any damages or potential issues, providing necessary repairs to keep your deck in top condition. Additionally, we offer deck refinishing and restoration services, including cleaning, staining, weatherproofing, and sealing to protect and enhance your deck's appearance.
Enhance Your Exterior Living Space with Bespoke Additions and Features
To genuinely convert your deck into an exceptional exterior retreat, Decks Unique presents a range of custom characteristics and additions, including deck lights, built-in benches, alfresco kitchens, and features involving fire. These refinements not only contribute to usefulness, but they also establish a warm and alluring environment for you and your guests' enjoyment.
In-Depth Decking Assistance and More
Not only do we excel in deck design and construction at Decks Unique, but we also specialize in creating extra outdoor structures, including wood awnings, cabanas, gazebos, pergolas, and porch construction. Incorporating such structures will enhance the attractiveness of your Long Island property's outdoor space, making it an exceptional area for relaxation and hosting events.
For all your decking desires in Elwood, choose Decks Unique. Uncover the change our pledge of quality, professionalism, and customer delight brings to your outdoor environment. Reach out to us now for a complimentary discussion and let us convert your outdoor space into a mesmerizing marvel.
Dedicated to attending to the needs of Elwood, East Islip, Centereach, Wyandanch, Uniondale, Smithtown, Ronkonkoma, and various other Long Island zones.
Offering Long Island Quality Deck Designs and Services: