Introducing Decks Unique - Central Islip's Top-Rated Deck Construction Company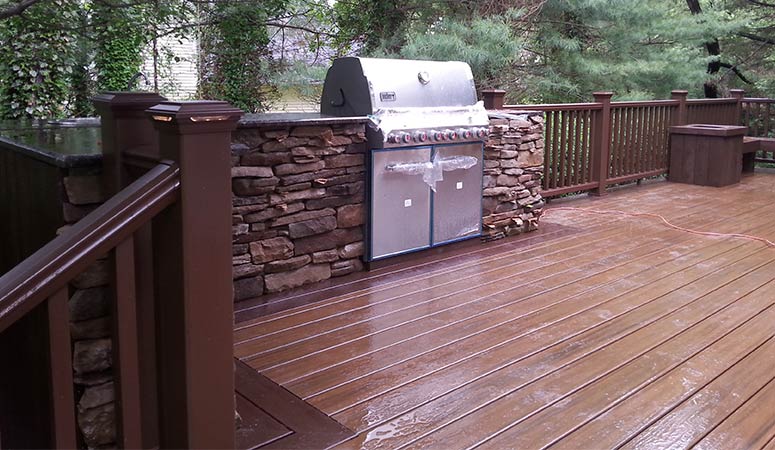 As a family-owned and operated business for over 20 years, Decks Unique has provided custom deck design and construction services to the people of Long Island and neighboring regions, such as Central Islip. Our zeal for design and unwavering commitment to professionalism, truthfulness, and innovation have propelled us to become the top provider of high-quality decks on Long Island, setting precedence within the industry. Our expertise lies in crafting custom decks, porches, gazebos, pergolas, wooden awnings, and other outdoor amenities that enhance the appeal, value, and practicality of your residence in Long Island.
Central Islip Deck Building Services with Expertise and Experience
Decks Unique upholds the idea that a thoughtfully devised deck design constitutes a wise investment in home improvement. Our proficient group of skilled deck craftspeople prioritizes first-rate quality, adheres to streamlined production timelines, and lets you rest assured knowing our warranties carry lasting worth. This relentless dedication to superior workmanship has delivered countless gratified customers and exceptional decks they can take pride in for years.
In Long Island, our expert deck builders have approval to install all chief composite decking choices, including Trex, TimberTech, and Azek. We offer free home consultations and computerized deck designs so that you can visualize your project before it comes to life. Permit us to create an amazing transformation in your backyard for our next project!
Your Central Islip home's outdoor living space is not only enriched by a fine deck but also experiences a boost in overall worth. Decks Unique excels at creating and constructing tailor-made decks that cater to the distinct demands and desires of every customer. No matter if you desire a comfy location for social events or a grand outdoor paradise to savor the charming weather, our staff will partner with you to create your ideal space.
For outdoor spaces, we understand that each homeowner has their own distinct tastes and necessities. Consequently, we offer a broad assortment of materials, designs, and aspects to construct the perfect deck that matches your residence and your living habits. With options spanning from traditional wood varieties such as pressure-treated lumber, cedar, and redwood, to low-maintenance composite and PVC decking alternatives, we have the perfect solution for every financial plan and preference.
Unrivaled Persistence in Upholding Quality and Ensuring Customer Delight
We take great pride in our high-quality workmanship and client satisfaction at Decks Unique. We are dedicated to utilizing only top-grade materials and partnering with expert, seasoned builders to guarantee our projects meet the most stringent standards.
We regard transparent communication as a critical component of project success, and we dedicate ourselves to keeping our clients informed at all times. Throughout the entire process - from initial consultation and design to construction and final inspection - our team is on hand to field questions, respond to any worries, and ensure ultimate satisfaction with your finished deck.
Let Decks Unique change your Central Islip backyard into an attractive outdoor living area you'll cherish. Reach out to us today to set up a no-cost consultation and feel the Decks Unique distinction yourself.
Extensive Deck Construction Services in Central Islip
Decks Unique is proud to deliver an array of customized decking services to cater to the diverse requirements of our clients in Central Islip. We are experts in all aspects of deck services, from designing and building custom decks to repairs, maintenance, and refinishing. We also offer a variety of exclusive features and extras designed to upgrade and enhance your outdoor living space. Join us in taking a closer look at the wide range of solutions we offer.
Custom Deck Design: Making Your Dream Deck Come True
Our skillful deck designers will collaborate intimately with you to assemble a custom-built deck that exemplifies your private style, seamlessly integrates with your home, and meets the peculiar specifications of your property. To enable you to make sound decisions, our adept advisors will steer you through the process of selecting the right materials, safeguarding enduring sophistication and solidity.
Expert Deck Building: Excellent Workmanship for an Impressive Exterior Area
As the premier deck builder, we are committed to using only high-quality materials and employing safe, efficient workmanship. Our experienced crews are authorized installers of major composite deck products, such as Trex, TimberTech, and Azek. By paying attention to every detail and maintaining a focus on structural reliability, we secure that your deck not only looks remarkable but also endures the test of time.
Taking Care of Your Deck: Ensuring Your Investment Stays Protected
Regular maintenance is essential to preserving the beauty and functionality of your deck. For wood and composite decks, our diligent team offers complete maintenance and repair solutions. From thorough inspections to identify potential issues, to expert repair of damages caused by weather or wear-and-tear, we are your go-to source for all your deck maintenance needs. Through our pre-scheduled maintenance programs, you can enjoy the certainty that your deck's outstanding condition will be sustained year-round.
Deck Refinishing and Revitalization: Energize Your Exterior Living Space
With the passage of time, even first-rate decks might show evidence of wear or need refinishing in order to continue looking great. Our experienced team members can renew the visual appeal of your deck via expert cleaning, staining, weatherproofing, and sealing techniques. Furthermore, we can carry out structural upgrades to make sure your deck stays secure and operational in the long term.
Tailored Characteristics and Supplemental Items: Augment Your Deck Adventures
To enhance your outdoor living area, we provide an assortment of tailor-made features and extras crafted to accentuate your deck. These options include energy-efficient deck lighting, built-in seating, outdoor kitchens, and fire features. By incorporating these elements into your deck design, we create a welcoming and comfortable space for you to enjoy with family and friends in Central Islip.
We, at Decks Unique, excel in delivering the finest decking solutions to our customers and areas nearby. For more than 20 years, our experience has earned us a reputation for being professional, honest, and groundbreaking. Should you need assistance in designing a new deck or improving a current one, our competent team has your back. Reach out to us now to book a cost-free consultation and find out how we can turn your outdoor area into a visually striking and practical haven.
Uncover the Ideal Deck Material for You: Comparing Wood and Composite Options
Decks Unique prides itself on helping you construct an exceptional outdoor sanctuary for your living space. For this purpose, we deliver a wide range of decking materials that include wooden and composite solutions. Every decking material has its attractive features, ascertaining that you find the perfect choice addressing your individual essentials and partialities.
Embrace the Timeless Beauty of Wooden Decks
The flexibility and timelessness of wood provides a pleasant warmth and beauty to all kinds of outdoor spaces. We have an extensive range of wood deck choices designed to address every aesthetic and budget.
Pressure-Handled Lumber: Budget-friendly and Enduring
A significant number of homeowners find pressure-treated lumber appealing for its inexpensive and durable aspects. The decking material benefits from a specific treatment, safeguarding it from rot and insects. Pressure-treated decks last a long time and necessitate minimal care due to this treatment.
Cedar and Redwood: Luxurious and Naturally Resistant
Should you seek a more sumptuous choice, we also present cedar and redwood decking. These refined and deluxe woods come with natural resistance to decomposition and insect activity, making for a long-lasting deck that stands the test of time. The strong colors and exclusive grain formations of cedar and redwood decks make them a visually appealing complement to any home.
Exotic Hardwoods: Beautiful and Durable
For an absolutely unique and luxurious solution, explore the possibility of using exotic hardwoods like Ipe, Tigerwood, or Cumaru. These uncommonly sturdy and enduring woods are well known for their amazing long-lasting qualities and gorgeous appearance. Exotic hardwood decks, with their vibrant hues and elaborate designs, serve as breathtaking focal points in any outdoor area.
Achieve Low-Maintenance Living with the Use of Composite and PVC Decking
For people who want an environmentally conscious and low-maintenance possibility, examine composite and PVC decking. These contemporary materials integrate the appeal of wood and the sturdiness of synthetic elements, endowing homeowners with a largely maintenance-free outdoor living area.
Discover the Benefits and Advantages of Composite Decking
Composite decking, a fusion of recycled wood fibers and plastic, yields a durable and eco-conscious option. By resisting warping, cracking, and fading, this decking material ensures an attractive and long-lasting deck, while keeping maintenance to a minimum. Moreover, the ease of cleaning composite decks is an added advantage, making it a straightforward task to preserve the neat appearance of your outdoor space with periodic washes.
Prominent Brands in Composite Materials Sector
Decks Unique takes great pride in working hand-in-hand with elite composite decking brands, including Trex, TimberTech, and Azek. Being licensed installers of these impressive products, we can equip Central Islip homeowners with the finest materials to ensure an exquisite and durable outdoor setting.
Personalize Your Deck by Exploring Various Color and Texture Options
The extensive array of personalization options is a crucial benefit of composite decking. A range of color and texture selections allows you to craft an outdoor space that complements your home's appearance. Regardless of your preference for natural wood's appearance or modern designs, composite decking provides a suitable option.
Improve Your Deck through Railing and Baluster Selections
A top-notch deck demands the right railing and baluster system to be truly complete. Decks Unique delivers a wide variety of solutions to boost your deck design and uphold the safety and effectiveness of your outdoor space.
Timber Railing Systems: Conventional and Enduring
When aiming for a classic and perpetual style, a wood railing system might be the perfect choice. This option pairs beautifully with both wood and composite decks, creating a seamless and cohesive design. Wood railing systems can be painted or stained to match your deck or Central Islip home exterior, ensuring a stunning final result.
Metal and Glass Railing Systems: Contemporary and Elegant
Desiring a more current and polished appearance, you might want to look into metal or glass railing systems. These modern possibilities not only offer an up-to-date appeal but also amplify the sights from your deck, making them a top choice for homeowners immersed in picturesque backdrops.
Composite Railing Systems: Hassle-Free and Modern
If you're looking for an elegant option with minimal upkeep, composite railing systems are a superb choice. When combined with composite decking, these rugged and elegant railings contribute to a seamless appearance, crafting a striking outdoor sanctuary with minimal required maintenance.
No matter what you like, Decks Unique is here to offer assistance in selecting the perfect deck materials for your abode. Communicate with us today to express your needs and start crafting the outdoor haven of your dreams.
Transform Your Outdoor Living Space with Our Extra Offerings in Central Islip
Decks Unique is committed to turning your outdoor living area into a lavish and practical extension of your residence. In addition to top-notch deck building services, we also offer various other services, such as installing wood awnings, cabanas, gazebos, pergolas, and constructing porches. The skilled professionals at Central Islip diligently collaborate with you in order to transform your vision into reality while ensuring top-notch quality and durability.
Wood Awnings: Add Shade and Style to Your Outdoor Space
Wood awnings serve as an effective way to integrate both shade and elegance into your outdoor surroundings. Our experienced team at Decks Unique will help you choose the right design and materials to create a beautiful and functional wood awning that complements your home's aesthetic. Not only do these structures shield you from extreme weather, but they also boost your property's overall worth.
Cabanas: Construct a High-end Refuge in Your Central Islip Yard
Cabanas deliver a flawless fusion of opulence, comfort, and seclusion, making them the ultimate addition to any outdoor setting. Collaborating with our expert team, you'll be able to design and build a cabana customized to your precise needs and tastes. Whether it's a homely corner for winding down or a polished space for hosting visitors, we can conjure up a cabana that stands as your flawless exterior retreat.
Gazebos: A Visually Appealing Addition for Your Garden or Patio
Incorporating a gazebo in a garden or patio lends perpetual elegance, offering an alluring centerpiece and a cool alcove for outdoor unwinding. Our knowledgeable team guides you through the process of choosing the perfect style, materials, and location for your gazebo, guaranteeing harmonious fusion with your existing landscape. Relying on our precision craftsmanship, we present a magnificent gazebo that adds to the charm of your outdoor environment for the long run.
Pergolas: Elevate Your Outdoor Living Space's Interest and Utility through Architecture
For those looking to enhance their outdoor living area's aesthetics and functionality, pergolas are an excellent choice. Such structures offer a mix of shade and natural light, making them ideal for garden paths, terrace areas, or al fresco dining spots. The team of skilled experts at Decks Unique can create and construct a tailor-made pergola that complements your taste and enhances your home's worth.
Porch Creation: Boost Your Home's Curb Appeal and Outdoor Living Space
A skillfully designed porch not only boosts your home's curb appeal but also gives a welcoming outdoor living space for you and your family to savor. Our knowledgeable team will partner with you to build a personalized porch that fits your home's architectural theme and adheres to your functional demands. With our thorough consideration for detail and unwavering commitment to superior quality, you can be at ease knowing your porch creation task is entrusted to the right people.
Talk to Decks Unique for improving your Central Islip outdoor living space
We at Decks Unique are dedicated to offering exceptional, bespoke outdoor living solutions for our Central Islip clientele and the neighboring areas. Seeking to integrate a wood awning, cabana, gazebo, pergola, or porch into your outdoor area? Our team of specialists is prepared to help. Discuss your project with us today and find out how we can turn your outdoor living environment into a comfortable and efficient extension of your residence.
Expert Deck Consultation and Design in Central Islip
At Decks Unique, personalizing consultations and crafting custom deck designs to align with the individual requirements of our clients is our top priority. Boasting more than two decades of expertise, our skilled deck designers collaborate with you to design a deck that augments your home's visual appeal and practicality. Employing cutting-edge 3D modeling and visualization methods, we'll transform your dream deck into reality, making certain the end product aligns with your aspirations.
Premium Deck Construction Materials for Extended Durability
On Long Island, Decks Unique is the top deck builder and authorized installer for leading composite deck products such as Trex, TimberTech, and Azek. We also put forward various wood decking options to conform to your preferences, like pressure-treated wood pieces, cedar, redwood, and luxurious hardwoods. With a commitment to using only exceptional materials, you can trust that your new deck will be long-lasting and require minimal maintenance.
Expert Deck Construction Services in Central Islip
Our skilled deck construction team at Decks Unique is dedicated to providing top-notch craftsmanship and efficiency during the entire building process. With our extensive know-how of building codes, statutes, and permits, you can rely on us to steer the whole project from its start to finish, leaving you with a visually striking and practical outdoor living area.
Retain and Rehabilitate Your Deck's Elegance
At Decks Unique, we understand the importance of routine maintenance in preserving the beauty and structural integrity of your deck. Our experienced team can inspect and identify any damages or potential issues, providing necessary repairs to keep your deck in top condition. Besides, we make available deck refinishing and restoration conveniences, like cleaning, staining, defending against harsh weather, and sealing techniques to uphold and heighten your deck's aesthetic value.
Upgrade Your Outdoor Area with Custom Features and Add-ons
To truly make your deck a unique outdoor oasis, Decks Unique offers a variety of custom features and add-ons such as deck lighting, built-in seating, outdoor kitchens, and fire features. Such improvements not only boost practicality, but they also generate a cozy and welcoming ambiance for you and your visitors to appreciate.
All-Inclusive Decking Offerings and Additional Services
Besides being proficient in deck design and construction, Decks Unique provides services in creating additional outdoor structures like wood awnings, cabanas, gazebos, pergolas, and porch construction. With these extra outdoor installations, your Long Island home's outdoor ambience can be significantly improved, making it the best spot for relaxation and amusement.
For all your decking desires in Central Islip, choose Decks Unique. Notice the transformation our dedication to quality, expertise, and client satisfaction creates in your outdoor living area. Reach out to us now for a complimentary discussion and let us convert your outdoor space into a mesmerizing marvel.
Joyfully helping the citizens in Central Islip, Babylon, Wantagh, South Huntington, Roslyn Heights, Plainview, North New Hyde Park, and other Long Island vicinities.
Offering Long Island Quality Deck Designs and Services: