Check out Decks Unique - Floral Park's Exceptional Deck Building Professionals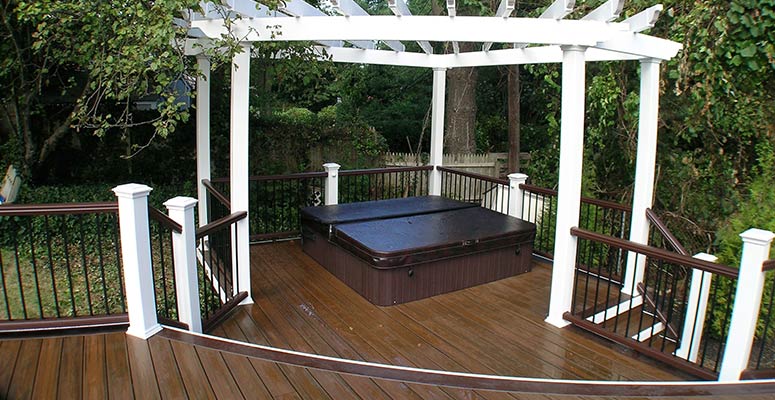 As a family-owned and operated business for over 20 years, Decks Unique has provided custom deck design and construction services to the people of Long Island and neighboring regions, such as Floral Park. Decks Unique's dedication to design, professionalism, integrity, and innovation has elevated us to become the leading producer of high-quality decks in Long Island, defining industry standards. We're adept at designing and constructing personalized decks, porches, gazebos, pergolas, wooden awnings, and a variety of outdoor installations that improve the value, aesthetics, and practicality of your Long Island household.
Comprehensive and Experienced Deck Building Services in Floral Park
At Decks Unique, our conviction is that a carefully planned deck design serves as a smart investment for home enhancements. The Decks Unique team of expert deck builders holds a steadfast commitment to delivering unparalleled quality, upholding efficient production schedules, and guaranteeing the lasting value of our warranties. This unwavering dedication to excellence has manifested in numerous delighted customers and impressive decks they can confidently display for years to follow.
Our Long Island deck building specialists are licensed to install all top composite deck brands, such as Trex, TimberTech, and Azek. We furnish free home-based consultations along with tech-driven deck illustrations, so you can conceptualize your undertaking before its materialization. Choose your backyard as the focus of our next enterprise!
Increase the Value of Your Home with a Custom-Built Deck
A great deck not only enhances the outdoor living space of your Floral Park home but also adds significant value to your property. Decks Unique specializes in the planning and building of tailor-made decks that satisfy each of our clients' distinctive needs and inclinations. Be it a snug spot to accommodate get-togethers or an opulent open-air retreat to bask in lovely weather, our crew will work hand-in-hand with you to materialize your aspirations.
We comprehend that every homeowner has their own unique style and needs when it comes to their outdoor space. This is the reason we present various materials, styles, and characteristics to craft the ultimate deck that suits your house and lifestyle. We have suitable solutions for every budget and preference, including traditional wood types like pressure-treated lumber, cedar, and redwood, as well as low-maintenance composite and PVC decking.
Unparalleled Commitment to Quality and Customer Satisfaction
At Decks Unique, we take immense pride in the quality of our workmanship and the satisfaction of our clients. Our dedication to the use of high-caliber materials and collaboration with skilled, seasoned builders guarantees each project we undertake is of the finest quality.
The crux of a project's success, in our opinion, is effective communication; as such, we prioritize keeping our clients constantly informed. Starting with the initial consultation, through the design and construction phases, all the way to the final inspection, our team remains accessible to answer any questions, alleviate concerns, and guarantee complete satisfaction with your new deck.
Allow Decks Unique to turn your Floral Park backyard into an outdoor living area you'll adore. Don't hesitate to contact us today for a free consultation and to witness the Decks Unique experience.
Exhaustive Decking Offerings in Floral Park
In Floral Park, Decks Unique boasts a comprehensive variety of decking services, all geared towards satisfying the unique demands of our clients. Our expertise at Decks Unique ranges from crafting custom deck designs and construction to handling repair work, maintenance, and refinishing projects. In addition to our core offerings, Decks Unique provides a variety of exceptional enhancements and additions to upgrade your outdoor living. Now, let's examine our wide variety of services more closely.
Custom Deck Design: Turning Your Visionary Deck into Reality
Our skillful deck designers will collaborate intimately with you to assemble a custom-built deck that exemplifies your private style, seamlessly integrates with your home, and meets the peculiar specifications of your property. To enable you to make sound decisions, our adept advisors will steer you through the process of selecting the right materials, safeguarding enduring sophistication and solidity.
Exceptional Deck Creation: Superior Quality in Craftsmanship for an Eye-Catching Outside Space
As the premier deck builder, we are committed to using only high-quality materials and employing safe, efficient workmanship. Our adept teams are sanctioned installers of major composite decking products like Trex, TimberTech, and Azek. With careful scrutiny of detail and a dedication to solid structure, we guarantee that your deck is not only aesthetically pleasing but also long-lasting.
Keeping Your Deck in Tip-Top Shape: Defending Your Investment
Regular upkeep is vital for maintaining your deck's aesthetics and functionality. Our team of specialists delivers thorough maintenance and repair services for both wooden and composite decks. Offering complete inspections to uncover potential issues and expert repair services for damages due to the elements or wear, we are your ultimate destination for all things related to deck maintenance. Our planned maintenance plans offer reassurance, ensuring your deck stays in top shape throughout the entire year.
Deck Refinishing and Renewal: Bring Freshness to Your Outdoor Environment
In the course of time, even the most superior decks can reveal signs of wear or call for refinishing to uphold their appearance. Our adept team has the ability to bring back your deck's elegance using expert cleaning, staining, weatherproofing, and sealing services. In addition, we can perform structural reinforcements, ensuring your deck remains secure and serves its purpose for years to come.
Custom Features and Add-ons: Enhance Your Deck Experience
To heighten your outdoor living space experience, we introduce an array of distinct features and add-on choices devised to augment your deck. Some of the options are energy-efficient light fittings on decks, internal seating, exterior cooking areas, and fire-inspired features. Incorporating these components into your deck layout, we'll develop a warm and inviting area for you, your family, and friends to relish in Floral Park.
Decks Unique specializes in offering clients high-quality deck services in their area and beyond. We have established a strong reputation for professionalism, reliability, and originality, thanks to our 20 years in the industry. Our talented team is ready to assist, whether you'd like to create a new deck or upgrade an existing one. Contact us today to schedule a no-cost consultation and see how we can elevate your outdoor space into an elegant, functional sanctuary.
Track Down the Best Deck Material for You: Weighing Wood and Composite Options
Our commitment at Decks Unique is to help you establish an impeccable outdoor retreat for your dwelling. That is why we present a diverse range of decking materials, featuring wooden and composite alternatives. Every decking material has its attractive features, ascertaining that you find the perfect choice addressing your individual essentials and partialities.
Wood Decks Radiate Classic Appeal
The flexibility and timelessness of wood provides a pleasant warmth and beauty to all kinds of outdoor spaces. A variety of wood decking options are offered to match each person's style and monetary constraints.
Pressure-Treated Wood: Cost-effective and Long-lasting
Many homeowners opt for pressure-treated lumber on account of its economical and sturdy features. Protection from wood deterioration and insect issues is provided by a special treatment process for this decking material. This ensures that pressure-treated decks remain durable and need only minimal maintenance.
Premium and Resistant: Cedar and Redwood's Natural Features
Should you seek a more sumptuous choice, we also present cedar and redwood decking. These attractive and upscale woods have innate resistance to rot and infestation, resulting in a long-lasting deck that weathers beautifully. The vibrant hues and distinct grain designs of cedar and redwood decks create an impressive enhancement to any residence.
Exotic Hardwoods: Elegant and Resilient
For an absolutely unique and luxurious solution, explore the possibility of using exotic hardwoods like Ipe, Tigerwood, or Cumaru. These incredibly dense and durable woods are known for their exceptional longevity and striking appearance. Exotic hardwood decks, known for their brilliant colors and involved patterns, act as show-stopping centerpieces in all outdoor spaces.
Composite and PVC Decking: Your Path to Low-Maintenance Living
If you're after a green and low-maintenance substitute, evaluate the merits of composite and PVC decking. These inventive materials amalgamate the natural beauty of wood with the durability of synthetic compounds, bestowing homeowners with a virtually maintenance-free outside setting.
Benefits and Advantages of Composite Decking
Constructed from a mix of repurposed wood fibers and plastic, composite decking provides a strong, environmentally conscious choice. With resistance to warping, cracking, and discoloration, this decking material guarantees an attractive and enduring deck that requires little maintenance. Moreover, the ease of cleaning composite decks is an added advantage, making it a straightforward task to preserve the neat appearance of your outdoor space with periodic washes.
The Best Brands in the World of Composite Materials
Teaming up with prominent composite decking brands like Trex, TimberTech, and Azek is a matter of pride for Decks Unique. We can deliver the best quality materials for an attractive and long-lasting outdoor space to Floral Park homeowners, as we are authorized installers of these first-rate products.
Design Your Deck with a Variety of Color and Texture Possibilities
One of the major benefits of composite decking is the wide range of customization options. The assortment of color and texture choices enables you to construct an unparalleled outdoor space that adheres to your home's visual appeal. Your preference for natural wood visuals or a more state-of-the-art design can both be met with a composite decking option.
Upgrade Your Deck Experience with Railing and Baluster Possibilities
The perfect deck is incomplete without the proper railing and baluster system. Decks Unique offers countless options to accentuate your deck design while ensuring a safe and practical outdoor environment.
Wooden Balustrade Systems: Classic and Eternal
For a classic and timeless look, consider a wood railing system. Both wood and composite decks can be perfectly matched by a wood railing system, ensuring a smooth and integrated look. Wood railing systems can be painted or stained to match your deck or Floral Park home exterior, ensuring a stunning final result.
Metal and Glass Railing Systems: Up-to-date and Polished
If you prefer a more modern and sleek aesthetic, consider metal or glass railing systems. Providing a fresh, up-to-date feel, these options can also boost the visuals enjoyed from your deck, appealing to homeowners who are surrounded by idyllic landscapes.
Composite Railing Systems: Easy-Care and Elegant
For those seeking a low-maintenance option that still offers style and elegance, composite railing systems are a perfect choice. By combining these sturdy and attractive railings with composite decking, you can achieve a harmonious look and establish a stunning outdoor environment with minimal maintenance.
Regardless of your personal preferences, Decks Unique stands ready to help you decide on the most suitable decking materials for your living space. Contact us today to discuss your needs and begin designing the outdoor space of your dreams.
Boost Your Outdoor Living Space with Our Additional Services in Floral Park
At Decks Unique, we believe in transforming your outdoor living space into a luxurious and functional extension of your home. Besides our excellent deck building services, we also deliver a wide array of extra services, including wood awnings, cabanas, gazebos, pergolas, and porch construction. In Floral Park, we have a team of skilled professionals who work closely with you to make your dream outdoor space a reality, while ensuring the highest quality and durability.
Wood Awnings: Enhance Your Outdoor Area with Shade and Style
Installing wood awnings is a fantastic approach to enhance your outdoor area with both shade and elegance. The proficient staff at Decks Unique will guide you in picking the perfect design and materials to fashion an appealing and functional wood awning that suits your home's style. Such structures offer protection from inclement weather while simultaneously increasing your property's overall value.
Cabanas: Construct a High-end Refuge in Your Floral Park Yard
Cabanas deliver a flawless fusion of opulence, comfort, and seclusion, making them the ultimate addition to any outdoor setting. We'll have our team of specialists work closely with you to create and build a custom-made cabana in line with your specific requirements and inclinations. Whether you're looking for a comfortable nook to unwind or a sophisticated space to entertain visitors, we can fashion a cabana that becomes your ultimate al fresco getaway.
Gazebos: A Picturesque Addition for Your Backyard Garden or Patio
In any garden or patio, a gazebo is an enduring addition that supplies an appealing focal point and a cool refuge for outdoor leisure. The experienced team at Decks Unique will help you identify the perfect style, materials, and positioning for your gazebo, so it blends seamlessly with your existing landscape. Our top-notch craftsmanship ensures an impressive gazebo that enriches your outdoor area and brings joy for numerous years.
Pergolas: Improve Your Outdoor Oasis with Striking Architectural Design and Function
Pergolas offer a brilliant solution for infusing architectural style and practical purposes into your outdoor environment. Pergolas offer a balance of shading and natural illumination, which suits them well for use in garden walkways, outdoor patios, or dining areas. Let the skilled experts at Decks Unique craft a bespoke pergola that caters to your style and contributes to your home's overall value.
Constructing a Porch: Improve Your Home's Exterior Attractiveness and Outdoor Living Area
A skillfully designed porch not only boosts your home's curb appeal but also gives a welcoming outdoor living space for you and your family to savor. Our expert team will work with you to create a custom-designed porch that complements your home's architecture and meets your functional needs. With our painstaking observance of detail and fidelity to outstanding quality, you can be assured that your porch manufacturing enterprise is being managed by skilled professionals.
Get ahold of Decks Unique for upgrading your Floral Park outdoor living space
We at Decks Unique are dedicated to offering exceptional, bespoke outdoor living solutions for our Floral Park clientele and the neighboring areas. If you're interested in incorporating a wood awning, cabana, gazebo, pergola, or porch to your exterior space, our team of experts is ready to assist. Contact us right away to go over your project and learn how we can transform your outdoor area into a plush and purposeful extension of your living space.
Proven Deck Design and Consultation Excellence in Floral Park
At Decks Unique, we excel in offering customized consultation services and creating unique deck designs to fulfill the expectations of our clients. Our highly skilled deck designers, with over two decades of experience, will work intimately with you to build a deck that enhances your home's visual allure and features. We'll employ top-tier 3D modeling and visualization strategies to turn your dream deck into a reality, guaranteeing that the resulting product lives up to your anticipations.
Premium Deck Construction Materials for Extended Durability
Decks Unique, the top Long Island-based deck builder, is an approved installer for all major composite decking brands, including Trex, TimberTech, and Azek. We also offer a variety of wood decking options to suit your preferences, such as pressure-treated lumber, cedar, redwood, and exotic hardwoods. We are committed to using only superior materials, ensuring the durability of your new deck while keeping maintenance requirements minimal.
Premier Deck Construction Services in Floral Park
Our skilled deck construction team at Decks Unique is dedicated to providing top-notch craftsmanship and efficiency during the entire building process. Given our considerable insight into building codes, specifications, and permits, you can trust in us to undertake the entire endeavor from inception to completion, providing you a captivating and efficient outdoor area.
Secure and Reinstate Your Deck's Grace
The team at Decks Unique knows that consistent care is essential for maintaining the appearance and structural soundness of your deck. Our knowledgeable team can evaluate and detect any damage or potential risks, undertaking necessary repairs to retain your deck in the best possible condition. In addition, Decks Unique offers deck renewal and refinishing services, featuring cleaning, staining, weatherproofing, and sealing procedures to defend and enrich your deck's visual appeal.
Raise the Standard of Your Outside Area with Unique Features and Add-ons
For truly fashioning your deck into a singular open-air refuge, Decks Unique proffers an assortment of tailor-made components and augmentations, such as lighting solutions for decks, seats integrated into the design, kitchens designed for the outdoors, and flame-oriented installations. These optimizations not only broaden the functional aspects but also forge an amicable and snug setting for you and your invitees to relish.
All-Inclusive Decking Offerings and Additional Services
Decks Unique is well-versed in both deck design and construction as well as additional outdoor structures like wood awnings, cabanas, gazebos, pergolas, and porch construction. These extra structures will considerably enrich your Long Island home's outdoor area, providing the perfect space for both relaxation and entertainment.
In Floral Park, count on Decks Unique to cater to all your decking requirements. Explore the difference our devotion to high-quality work, professionalism, and happy customers brings to your outdoor space. Connect with us immediately to schedule a no-cost consultation, and let us turn your backyard into a brilliant creation.
Joyfully helping the citizens in Floral Park, East Norwich, Copiague, Baldwin, West Babylon, South Huntington, Roslyn Heights, and other Long Island vicinities.
Offering Long Island Quality Deck Designs and Services: