Visit Decks Unique - East Islip's Most Reliable Deck Builder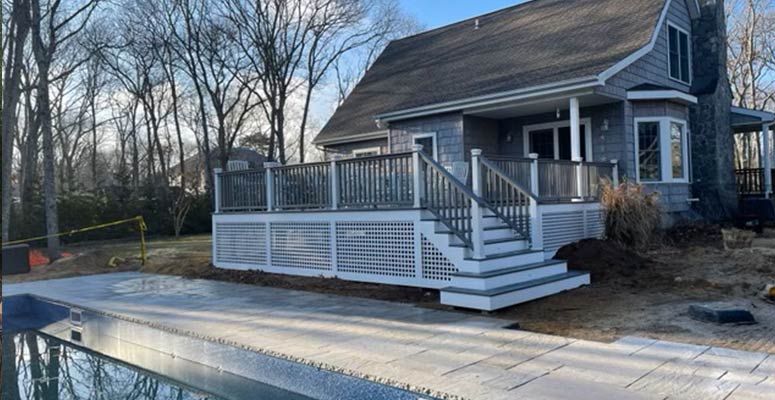 Decks Unique is a family-owned and operated custom deck design and construction company, serving the residents of Long Island and surrounding areas, including East Islip, for over 20 years. We have become the preeminent supplier of high-quality decks on Long Island through our passion for design and dedication to professionalism, honesty, and innovation, shaping the industry standards. We're adept at designing and constructing personalized decks, porches, gazebos, pergolas, wooden awnings, and a variety of outdoor installations that improve the value, aesthetics, and practicality of your Long Island household.
East Islip Deck Building Services with Expertise and Experience
At Decks Unique, we are convinced that a well-organized deck layout offers a sensible investment in home improvement projects. Our knowledgeable assembly of expert deck builders is determined to ensure top-quality outcomes, preserve efficiency in production, and ascertain that our warranties hold significant enduring value. Our allegiance to exceptional quality has borne fruit in the form of myriad satisfied clients and beautifully crafted decks they can flaunt for the years ahead.
In Long Island, our expert deck builders have approval to install all chief composite decking choices, including Trex, TimberTech, and Azek. We furnish free home-based consultations along with tech-driven deck illustrations, so you can conceptualize your undertaking before its materialization. Make your backyard the site for our subsequent project!
Add Value to Your Home with a Custom Deck
An outstanding deck can both improve the exterior living area of your East Islip residence and substantially increase its worth. Our area of expertise at Decks Unique lies in conceiving and erecting individualized decks that accommodate the unique necessities and preferences of our clients. From a warm and welcoming spot for get-togethers to an elegant outdoor refuge for enjoying the splendid weather, our team will work intimately with you to fashion your desired space.
For outdoor spaces, we understand that each homeowner has their own distinct tastes and necessities. This is the basis for our extensive variety of materials, styles, and elements to establish the flawless deck that lines up with your home and lifestyle. Whether you prefer classic wood choices like pressure-treated lumber, cedar, and redwood, or easy-care composite and PVC decking options, we have the perfect solution for every budget and style.
Incomparable Devotion to High Quality and Customer Fulfillment
At Decks Unique, we take immense pride in the quality of our workmanship and the satisfaction of our clients. Our dedication to the use of high-caliber materials and collaboration with skilled, seasoned builders guarantees each project we undertake is of the finest quality.
In our experience, consistent communication is the foundation of a successful project, and we never falter in our commitment to keep clients apprised of progress. Our team is at your service, from the very beginning with the consultation and design stage, throughout construction, and up until the final inspection, to address any queries or concerns and to make certain you are fully satisfied with your deck.
Let Decks Unique remodel your East Islip backyard into an outdoor living oasis you'll relish. Message us today to secure a free consultation and experience the exceptional Decks Unique service.
Comprehensive Decking Services in East Islip
We at Decks Unique are proud to offer a broad selection of decking services, designed to address the specific needs of our customers in East Islip. From creating custom decks and construction to repair, maintenance, and refinishing, Decks Unique offers a wide range of expert services. Decks Unique also offers an assortment of standout features and add-ons to improve and elevate your outdoor living area. Take a more detailed look at the assortment of services we proudly offer.
Custom Deck Design: Bringing Your Dream Deck to Life
Our masterful deck designers will work in conjunction with you to construct a made-to-order deck that reflects your individual panache, harmonizes with your home, and caters to the distinct prerequisites of your property. Our professionals are here to support you in making educated judgments by guiding you through the material selection process, ensuring the enduring appeal and robustness of your deck.
Masterful Deck Fabrication: Impressive Craftsmanship for an Elegant Exterior Space
As the premier deck builder, we are committed to using only high-quality materials and employing safe, efficient workmanship. Our adept teams are sanctioned installers of major composite decking products like Trex, TimberTech, and Azek. By giving close attention to detail and prioritizing structural strength, we ensure that your deck is not only breathtaking but also withstands the passage of time.
Deck Upkeep and Restoration: Guarding Your Investment
Routine upkeep is fundamental for preserving your deck's beauty and function. Our dedicated team offers comprehensive repair and maintenance services for both wood and composite decks. From meticulous inspections that reveal potential problems, to adept repairs for any damages stemming from weather or wear patterns, we are the comprehensive source for all your deck upkeep needs. Our organized maintenance plans deliver the confidence that your deck will maintain premium quality throughout the entire year.
Deck Revamping and Restoration: Transform Your Outdoor Sanctuary
In the course of time, even the most superior decks can reveal signs of wear or call for refinishing to uphold their appearance. Our expert team can restore the beauty of your deck through professional cleaning, staining, weatherproofing, and sealing. Plus, we can undertake structural alterations, confirming that your deck stays safe and usable for an extended period.
Made-to-order Qualities and Accessories: Strengthen Your Deck Recreation
To heighten your outdoor living space experience, we introduce an array of distinct features and add-on choices devised to augment your deck. These options include energy-efficient deck lighting, built-in seating, outdoor kitchens, and fire features. Incorporating these aspects into the deck design, we generate a welcoming and snug habitat for you and your acquaintances to revel in East Islip.
Expertise in delivering prime decking services to clients and surrounding locations sets Decks Unique apart. We have established a strong reputation for professionalism, reliability, and originality, thanks to our 20 years in the industry. Our talented team is ready to assist, whether you'd like to create a new deck or upgrade an existing one. Contact us today to schedule a no-cost consultation and see how we can elevate your outdoor space into an elegant, functional sanctuary.
Compare Wood and Composite Options to Discover Your Perfect Deck Material
Our commitment at Decks Unique is to help you establish an impeccable outdoor retreat for your dwelling. That's why we offer a wide variety of decking materials, including both wood and composite options. All materials have exclusive benefits that let you settle on the best choice based on your specific desires and favorites.
Wood Decking Exudes an Everlasting Grace
Wood's timeless versatility makes it an ideal material for adding warmth and charm to outdoor environments. We provide an assortment of wooden decking alternatives that can accommodate any design preference and budget.
Pressure-Handled Lumber: Budget-friendly and Enduring
Affordability and durability make pressure-treated lumber a favorite choice for numerous homeowners. A specialized process protects the decking material from both decay and insect-related damage. Pressure-treated decks last a long time and necessitate minimal care due to this treatment.
Luxury Meets Durability: The Wonders of Cedar and Redwood
For those pursuing a deluxe option, we feature cedar and redwood decking in our offerings. The eye-catching and high-grade woods are organically immune to decay and bug damage, ensuring a deck that remains sturdy for years to come. The vibrant hues and distinct grain designs of cedar and redwood decks create an impressive enhancement to any residence.
Exotic Hardwoods: Sophisticated and Long-lived
If you're looking for a truly unique and exquisite option, consider exotic hardwoods like Ipe, Tigerwood, or Cumaru. These woods, with their incredible density and toughness, are recognized for their lasting quality and remarkable aesthetics. An exotic hardwood deck's dazzling colors and intricate designs make it a standout centerpiece in any outside space.
Experience Low-Maintenance Living through Composite and PVC Decking
If you're seeking an eco-conscious, low-maintenance solution, contemplate composite and PVC decking. These innovative materials combine the beauty of wood with the durability of synthetic materials, providing homeowners with a nearly maintenance-free outdoor space.
Benefits and Advantages of Composite Decking
Constructed from a mix of repurposed wood fibers and plastic, composite decking provides a strong, environmentally conscious choice. With resistance to warping, cracking, and discoloration, this decking material guarantees an attractive and enduring deck that requires little maintenance. Cleaning composite decks is a breeze, as they only require periodic washing to maintain a spotless and inviting outdoor space.
Leading Brands in the Field of Composite Materials
Teaming up with prominent composite decking brands like Trex, TimberTech, and Azek is a matter of pride for Decks Unique. Being authorized installers of these extraordinary products allows us to give East Islip homeowners access to the highest quality materials for a gorgeous and long-lasting outdoor living space.
Tailor Your Deck through Selecting Color and Texture Varieties
Composite decking's large selection of customization options is one of its main benefits. Having a myriad of color and texture options allows you to fashion a one-off outdoor space that connects with your home's design. There is a composite decking option to match your preference for either the appearance of natural wood or a sleeker, more modern aesthetic.
Improve Your Deck through Railing and Baluster Selections
The ideal deck isn't all it can be without the proper railing and baluster system. At Decks Unique, we provide numerous choices to augment your deck design and maintain the security and practicality of your outdoor living space.
Wooden Handrail Systems: Traditional and Timeless
If you're after a classic and eternal look, a wood railing system could be the way to go. Wood railing systems can be used with both wooden and composite decking for a well-coordinated and seamless design. To create a visually appealing result, paint or stain your wood railing system so it complements your deck or the exterior of your East Islip home.
Metal and Glass Railing Systems: Innovative and Graceful
If a cutting-edge and elegant style suits your taste, metal or glass railing systems could be a great option. Boosting the enjoyment of your deck view, these selections add a 21st-century touch and cater to homeowners who are lucky enough to have gorgeous surroundings.
Composite Railing Systems: Easy-Care and Elegant
For those seeking a low-maintenance option that still offers style and elegance, composite railing systems are a perfect choice. These robust and appealing railings, when used alongside composite decking, create a harmonious appearance and a gorgeous outdoor area with little maintenance needed.
No matter your design preferences, Decks Unique is on hand to provide guidance in choosing the best decking materials for your home. Reach out to our team today to discuss your vision and begin shaping the outdoor area you've always imagined.
Boost Your Outdoor Living Space with Our Additional Services in East Islip
At Decks Unique, our goal is to transform your outdoor living space into a luxurious, functional extension of your house. Aside from our superior deck building services, we also deliver a variety of extra services, including wooden awnings, cabanas, gazebos, pergolas, and porch construction. In East Islip, our skilled team works closely with you to achieve your outdoor vision, guaranteeing top-quality and durable results.
Wooden Awnings: Infuse Style and Shade into Your Outdoor Space
Wooden awnings present an ideal solution for incorporating both shade and sophistication to your outdoor space. Our experienced team at Decks Unique will help you choose the right design and materials to create a beautiful and functional wood awning that complements your home's aesthetic. These installations not only safeguard you from harsh weather but also contribute to the overall appreciation of your property's value.
Cabanas: Design a Lavish Getaway in Your East Islip Garden
With a remarkable marriage of luxury, ease, and privacy, cabanas make for an outstanding complement to any outdoor space. Our team of experts will work with you to design and build a custom cabana that meets your specific needs and preferences. Whether you want a cozy space to relax or an elegant area to entertain guests, we can create a cabana that serves as a perfect outdoor retreat.
Gazebos: A Picture-Perfect Addition for Your Garden or Patio
In any garden or patio, a gazebo is an enduring addition that supplies an appealing focal point and a cool refuge for outdoor leisure. Our knowledgeable team guides you through the process of choosing the perfect style, materials, and location for your gazebo, guaranteeing harmonious fusion with your existing landscape. Thanks to our superior craftsmanship, your gazebo will be a beautiful addition to your outdoor area and provide enjoyment for many years.
Pergolas: Amplify Your Outdoor Setting's Distinction and Practicality with Architectural Elements
One effective way to enrich your outdoor living space with architectural appeal and utility is by constructing a pergola. The interplay of sun and shade that pergolas provide makes them a great choice for garden pathways, outdoor terrace spaces, or al fresco dining venues. Our specialists at Decks Unique have the expertise to engineer and erect a bespoke pergola that aligns with your design tastes and bolsters your property's worth.
Patio Construction: Raise Your Home's Curb Appeal and Outdoor Living Space
A well-designed porch not only enhances your home's curb appeal but also provides a comfortable outdoor living area for you and your family to enjoy. Our adept squad will come together with you to formulate a distinctive porch that integrates with your home's architectural layout and meets your functional preferences. With our attention to detail and commitment to quality, you can rest assured knowing your porch construction project is in good hands.
Reach out to Decks Unique to transform your East Islip outdoor living space
Decks Unique is committed to offering top-tier, made-to-order outdoor living solutions for our East Islip clients and their neighboring areas. Our knowledgeable team is eager to assist if you're considering adding a wood awning, cabana, gazebo, pergola, or porch to your outdoor area. Give us a call today to discuss your vision, and we'll show you how we can upgrade your outdoor living area into a deluxe and useful extension of your home.
East Islip's Premier Deck Consultation and Design Experts
Decks Unique is renowned for providing individualized consultations and custom deck plans to fulfill the particular desires of our customers. Boasting more than two decades of expertise, our skilled deck designers collaborate with you to design a deck that augments your home's visual appeal and practicality. Our use of sophisticated 3D modeling and visualization technology ensures that your ideal deck is brought to life, matching your expectations in the final outcome.
Durable Deck Materials for Extended Life Expectancy
Long Island's foremost deck builder, Decks Unique, is an officially recognized installer of major composite deck materials, including brands like Trex, TimberTech, and Azek. We also propose a diverse set of wood decking choices to meet your specific preferences, such as pressure-treated building materials, cedar, redwood, and upscale hardwoods. Our pledge to utilize only the finest materials ensures that your new deck will withstand the test of time while demanding little maintenance.
Expert Deck Construction Services in East Islip
At Decks Unique, our talented deck building professionals are devoted to ensuring exceptional quality and efficiency in all phases of the construction process. Leveraging our deep expertise in building codes, norms, and permits, you can entrust us with the full project from beginning to end, yielding an eye-catching and practical outdoor environment.
Sustain and Renew Your Deck's Appeal
At Decks Unique, we understand the importance of routine maintenance in preserving the beauty and structural integrity of your deck. Our skilled team can examine and detect any problems or potential concerns, offering required fixes to maintain your deck in excellent shape. Apart from that, we deliver deck refinishing and refurbishment services, including cleaning, staining, weather-resistant treatments, and sealing to preserve and augment your deck's attractiveness.
Elevate Your Outdoor Environment with Customized Features and Add-ons
To genuinely convert your deck into an exceptional exterior retreat, Decks Unique presents a range of custom characteristics and additions, including deck lights, built-in benches, alfresco kitchens, and features involving fire. These embellishments not only extend usability, but they also create a snug and appealing air for you and your guests to find joy in.
Full-Scale Decking Services and More
Not only do we excel in deck design and construction at Decks Unique, but we also specialize in creating extra outdoor structures, including wood awnings, cabanas, gazebos, pergolas, and porch construction. With these extra outdoor installations, your Long Island home's outdoor ambience can be significantly improved, making it the best spot for relaxation and amusement.
In East Islip, count on Decks Unique to cater to all your decking requirements. Find out how our dedication to top-notch quality, professionalism, and customer satisfaction affects your outdoor area. Connect with us today to arrange a cost-free consultation, and allow us to transform your outdoor area into a breathtaking masterpiece.
Happy to support the communities of East Islip, Central Islip, Albertson, Valley Stream, South Farmingdale, Roosevelt, Patchogue, and other areas throughout Long Island.
Offering Long Island Quality Deck Designs and Services: