Introducing Decks Unique - Centereach's Top-Rated Deck Construction Company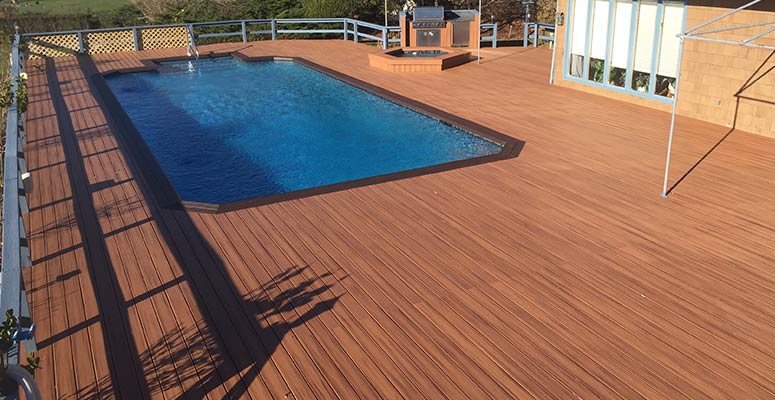 Family-owned and operated Decks Unique provides custom deck design and construction services to the people of Long Island and its surrounding areas, including Centereach, and has done so for over 20 years. Owing to our zeal for design and unwavering dedication to professionalism, honesty, and innovation, we've become the largest producer of high-end decks on Long Island, establishing industry standards. We're experts in designing and building custom decks, porches, gazebos, pergolas, timber awnings, and other outdoor features that enhance the value, beauty, and functionality of your home in Long Island.
Highly Skilled and Experienced Deck Construction Services in Centereach
Decks Unique upholds the idea that a thoughtfully devised deck design constitutes a wise investment in home improvement. Decks Unique's highly trained team of deck builders pledges to deliver the highest quality, keep up with effective production timeframes, and guarantee that our warranties possess genuine lasting value. This unyielding determination to achieve the best has yielded thousands of happy customers and decks they are eager to showcase, now and in the future.
On Long Island, our skilled deck builders are qualified to set up all leading composite deck materials, like Trex, TimberTech, and Azek. Take advantage of our free home consultations and computer-assisted decking designs to help you imagine your project before it's built. Why not turn your backyard into our following endeavor?
Elevate Your House's Worth by Adding a Custom Deck
A superior deck not only augments the external living space of your Centereach home but also bolsters its property value. Our area of expertise at Decks Unique lies in conceiving and erecting individualized decks that accommodate the unique necessities and preferences of our clients. Whether a comfortable venue for socializing or a plush outdoor getaway to experience the terrific weather, our committed personnel will closely cooperate with you to manifest your ideal vision.
We recognize that every homeowner has unique preferences and needs for their outdoor areas. That's why we make available a large range of materials, designs, and components to fashion the perfect deck that aligns with your house and personal routines. Whether you prefer classic wood choices like pressure-treated lumber, cedar, and redwood, or easy-care composite and PVC decking options, we have the perfect solution for every budget and style.
Dedication to Fantastic Quality and Client Satisfaction
Providing exceptional workmanship and keeping our clients satisfied is our top priority at Decks Unique. Our dedication to the use of high-caliber materials and collaboration with skilled, seasoned builders guarantees each project we undertake is of the finest quality.
The crux of a project's success, in our opinion, is effective communication; as such, we prioritize keeping our clients constantly informed. From the moment our initial consultation begins, through the design and construction phases, and all the way up to the final inspection, our team is tirelessly committed to answering inquiries, tackling concerns, and guaranteeing your happiness with your new deck.
Enable Decks Unique to make your Centereach backyard into an inviting outdoor living environment you'll appreciate. Get in touch with us today to arrange a complimentary consultation and discover the Decks Unique advantage firsthand.
In-depth Decking Assistance in Centereach
At Decks Unique, our goal is to offer a vast selection of tailored decking services, tailored to meet the needs of our Centereach clients. From creating custom decks and construction to repair, maintenance, and refinishing, Decks Unique offers a wide range of expert services. Decks Unique also offers an assortment of standout features and add-ons to improve and elevate your outdoor living area. Take a closer look at the comprehensive list of services we have to offer.
Custom Deck Design: Realizing Your Dream Deck through Expert Design
Our accomplished deck designers will join forces with you to devise a custom-made deck that captures your unique fashion, enriches your home, and satisfies the exceptional criteria of your property. To aid you in making well-informed decisions, our authorities will guide you in choosing appropriate materials, promising enduring elegance and sturdiness.
Superior Deck Construction: Exceptional Expertise for a Breathtaking Outdoor Area
As the leading deck builder, we pledge to use only top-notch materials and practice secure, effective workmanship. Our skilled personnel are licensed installers of prominent composite deck products, like Trex, TimberTech, and Azek. With careful scrutiny of detail and a dedication to solid structure, we guarantee that your deck is not only aesthetically pleasing but also long-lasting.
Deck Care and Repairs: Keeping Your Investment Secure
Routine maintenance is necessary for preserving the attractiveness and usefulness of your deck. Our expert team provides full repair and maintenance services for both wooden and composite decks. We cover everything from in-depth inspections for identifying possible issues, to skilled repairs for weather-related damage and everyday wear, making us your go-to resource for deck maintenance. Our planned maintenance plans offer reassurance, ensuring your deck stays in top shape throughout the entire year.
Deck Refinishing and Revitalization: Energize Your Exterior Living Space
With time, even top-notch decks can exhibit signs of wear or necessitate refinishing in order to keep their aesthetic appeal. Our expert group can recover your deck's beauty with the help of professional cleaning, staining, weatherproofing, and sealing services. Plus, we can undertake structural alterations, confirming that your deck stays safe and usable for an extended period.
Custom Features and Add-ons: Enhance Your Deck Experience
To enrich your outdoor living quarters, we supply a wide range of specialized characteristics and extras designed to improve your deck. Such choices encompass energy-saving lighting for decks, integrated seating, alfresco kitchens, and fire elements. By assimilating these constituents into your deck's blueprint, we construct a charming and relaxing space for you to savor with close ones in Centereach.
At Decks Unique, our expertise lies in providing exceptional decking services to clients and neighboring regions. We've established a reputation for being professional, honest, and innovative, with 20 years of industry experience. Whether you are looking to design a new deck or revamp an existing one, our skilled team is here to help. Book a free consultation with us today, and find out how we can revamp your outdoor space into a stunning and functional retreat.
Uncover the Ideal Deck Material for You: Comparing Wood and Composite Options
At Decks Unique, we are committed to helping you create the perfect outdoor oasis for your home. For this purpose, we deliver a wide range of decking materials that include wooden and composite solutions. All of the materials come with their distinct advantages, allowing you to handpick the most appropriate alternative based on your specified needs and preferences.
Classic Beauty with Wood Decking
Wood, with its enduring and adaptable properties, naturally lends warmth and charisma to any exterior area. Our selection of wooden deck options caters to an array of preferences and financial plans.
Treated Timber: Low-cost and Sturdy
Many homeowners opt for pressure-treated lumber on account of its economical and sturdy features. Undergoing a unique treatment process, this decking material is protected against decay and bug infestations. As an outcome, decks made from pressure-treated wood last longer and call for lesser maintenance.
Cedar and Redwood: The Epitome of Luxurious and Resistant Materials
For those pursuing a deluxe option, we feature cedar and redwood decking in our offerings. These attractive and upscale woods have innate resistance to rot and infestation, resulting in a long-lasting deck that weathers beautifully. The vibrant hues and distinct grain designs of cedar and redwood decks create an impressive enhancement to any residence.
Exotic Hardwoods: Gorgeous and Long-lasting
In your quest for a truly matchless and opulent option, weigh the idea of choosing exotic hardwoods like Ipe, Tigerwood, or Cumaru. These woods, with their incredible density and toughness, are recognized for their lasting quality and remarkable aesthetics. An exotic hardwood deck's dazzling colors and intricate designs make it a standout centerpiece in any outside space.
Discover the Ease of Low-Maintenance Living by Choosing Composite and PVC Decking
If you're after a green and low-maintenance substitute, evaluate the merits of composite and PVC decking. These inventive materials amalgamate the natural beauty of wood with the durability of synthetic compounds, bestowing homeowners with a virtually maintenance-free outside setting.
Composite Decking: Benefits and Advantages
Composite decking, a fusion of recycled wood fibers and plastic, yields a durable and eco-conscious option. Warping, cracking, and fading are no match for this decking material, which ensures a beautiful and long-lasting deck with minimal effort required. Composite decks are also known for their ease of cleaning, requiring only infrequent washes to keep your outdoor space looking its best.
The Best Brands in the World of Composite Materials
Decks Unique is proud to work with the leading brands in composite decking, including Trex, TimberTech, and Azek. Being licensed installers of these impressive products, we can equip Centereach homeowners with the finest materials to ensure an exquisite and durable outdoor setting.
Design Your Deck with a Variety of Color and Texture Possibilities
One of the major benefits of composite decking is the wide range of customization options. With a variety of color and texture choices, you can create a one-of-a-kind outdoor space that perfectly suits your home's aesthetic. If you have a penchant for natural wood looks or more innovative designs, composite decking offers a compatible option.
Transform Your Deck with Various Railing and Baluster Choices
An impeccable deck isn't finished without the suitable railing and baluster system. Decks Unique delivers a wide variety of solutions to boost your deck design and uphold the safety and effectiveness of your outdoor space.
Wooden Balustrade Systems: Classic and Eternal
To achieve a timeless and classic appearance, think about using a wood railing system. By integrating a wood railing system with either a wood or composite deck, you can achieve a smooth and consistent design. For a striking finale, customize your wood railing system by painting or staining it to match your deck or the exterior of your Centereach home.
Metal and Glass Railing Systems: Modern and Sleek
Should you fancy a contemporary and streamlined look, think about opting for metal or glass railing systems. These modern possibilities not only offer an up-to-date appeal but also amplify the sights from your deck, making them a top choice for homeowners immersed in picturesque backdrops.
Composite Railing Systems: Effortless Maintenance and Stylish
Composite railing systems provide a great option for those who seek low-maintenance alternatives without sacrificing style and elegance. These robust and appealing railings, when used alongside composite decking, create a harmonious appearance and a gorgeous outdoor area with little maintenance needed.
No matter what your tastes are, Decks Unique is committed to helping you find the perfect decking materials for your living quarters. Touch base with us today to present your needs and launch the design of the outdoor sanctuary of your dreams.
Enhance Your Outdoor Living Space with Our Additional Services in Centereach
At Decks Unique, we believe in transforming your outdoor living space into a luxurious and functional extension of your home. Our expertise extends beyond exceptional deck building, as we also offer additional services like wood awnings, cabanas, gazebos, pergolas, and porch construction. Our proficient specialists in Centereach closely cooperate with you to materialize your vision, ensuring high quality and long-lasting durability.
Wooden Awnings: Add a Touch of Style and Shade to Your Outdoor Space
Through wood awnings, you can effortlessly introduce both shade and grace to your exterior area. At Decks Unique, our skilled team can assist you in selecting the appropriate design and materials for an attractive and practical wood awning that enhances your home's appearance. These structures not only protect you from harsh weather conditions but also enhance the overall value of your property.
Cabanas: Create a Sumptuous Escape in Your Centereach Lawn
Cabanas deliver a flawless fusion of opulence, comfort, and seclusion, making them the ultimate addition to any outdoor setting. Our expert team will collaborate with you to develop and construct a bespoke cabana tailored to your requirements and desires. No matter if you're seeking a snug haven for relaxation or a stylish area for hosting gatherings, we can design a cabana that is the ideal outdoor escape.
Gazebos: An Attractive Extension to Your Garden or Patio
A gazebo brings lasting appeal to gardens or patios, creating an inviting central attraction and a shaded space for outdoor downtime. Our accomplished team makes it easy for you to choose the most suitable style, materials, and location for your gazebo, ensuring that it merges seamlessly with your existing outdoor area. With our high-quality craftsmanship, you'll have a gorgeous gazebo that not only complements but also enhances your outdoor space for years to come.
Pergolas: Combine Architectural Aesthetics and Utility for Your Outdoor Retreat
Pergolas offer a brilliant solution for infusing architectural style and practical purposes into your outdoor environment. These structures provide partial shade while still allowing natural light to filter through, making them perfect for garden walkways, patios, or outdoor dining areas. Our specialists at Decks Unique have the expertise to engineer and erect a bespoke pergola that aligns with your design tastes and bolsters your property's worth.
Creating a Porch: Upgrade Your Home's Curb Appeal and Outdoor Living Areas
A tastefully designed porch not only enriches your home's curb appeal but also bestows a cozy alfresco living area for you and your family to enjoy. Our talented team will combine efforts with you to craft a unique porch that parallels your home's architectural appearance and serves your functional prerequisites. With our painstaking observance of detail and fidelity to outstanding quality, you can be assured that your porch manufacturing enterprise is being managed by skilled professionals.
Connect with Decks Unique for your Centereach outdoor living space makeover
Decks Unique is committed to offering top-tier, made-to-order outdoor living solutions for our Centereach clients and their neighboring areas. To enhance your outdoor area with a wood awning, cabana, gazebo, pergola, or porch, rely on our team of experienced professionals for help. Discuss your project with us today and find out how we can turn your outdoor living environment into a comfortable and efficient extension of your residence.
Expertly Crafted Deck Plans and Designs in Centereach
At Decks Unique, we are proud of our ability to offer personalized consultations and custom deck designs that accommodate the unique demands of each client. Our seasoned deck designers, with over 20 years in the field, will partner with you to develop a deck that improves both your home's appearance and functionality. By harnessing the power of advanced 3D modeling and visualization techniques, we'll materialize your dream deck, while ensuring the final version fulfills your expectations.
Top-Notch Decking Materials to Ensure Longevity
On Long Island, Decks Unique is the top deck builder and authorized installer for leading composite deck products such as Trex, TimberTech, and Azek. We also propose a diverse set of wood decking choices to meet your specific preferences, such as pressure-treated building materials, cedar, redwood, and upscale hardwoods. Our promise to use only top-of-the-line materials ensures your new deck's durability with the added benefit of low maintenance.
First-Rate Deck Building Services in Centereach
Decks Unique's expert deck construction crew is committed to delivering outstanding workmanship and efficiency throughout the entire building process. Leveraging our deep expertise in building codes, norms, and permits, you can entrust us with the full project from beginning to end, yielding an eye-catching and practical outdoor environment.
Sustain and Renew Your Deck's Appeal
Decks Unique understands how vital routine upkeep is in protecting the appeal and infrastructure of your deck. The experienced professionals at Decks Unique can survey and determine any issues or prospective challenges, offering crucial repairs to uphold your deck's excellent quality. In addition, Decks Unique offers deck renewal and refinishing services, featuring cleaning, staining, weatherproofing, and sealing procedures to defend and enrich your deck's visual appeal.
Augment Your Alfresco Space with Customized Enhancements and Features
For authentically crafting your deck into a standout alfresco haven, Decks Unique brings you a variety of individualized elements and add-ins, featuring lighting systems for decks, seats embedded within the layout, cooking zones suitable for outdoor use, and fire-related fixtures. These embellishments not only extend usability, but they also create a snug and appealing air for you and your guests to find joy in.
All-Inclusive Decking Offerings and Additional Services
Decks Unique, besides being skilled in deck design and construction, is also an expert in crafting other outdoor structures such as wood awnings, cabanas, gazebos, pergolas, and porch construction. These extra structures will considerably enrich your Long Island home's outdoor area, providing the perfect space for both relaxation and entertainment.
Let Decks Unique handle all of your decking needs in Centereach. Notice the transformation our dedication to quality, expertise, and client satisfaction creates in your outdoor living area. Drop us a line today to set up a free consultation, and let us turn your backyard into a gorgeous masterpiece.
With pride, offering our assistance to Centereach, Albertson, Valley Stream, South Farmingdale, Roslyn, Patchogue, North Merrick and additional Long Island locales.
Offering Long Island Quality Deck Designs and Services: