Uncover Decks Unique - The Leading Deck Construction Solution in Brentwood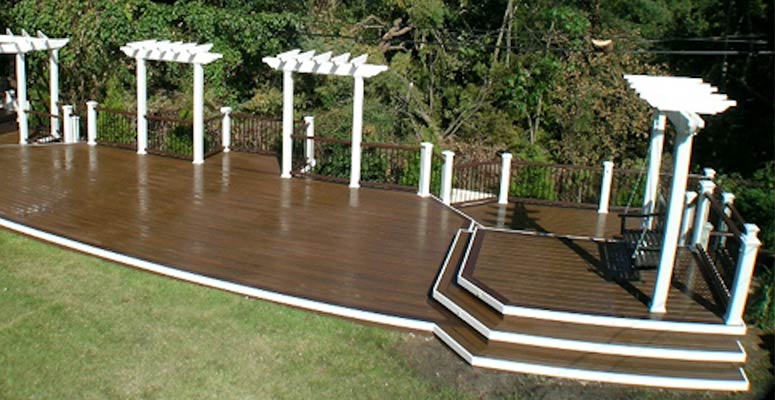 As a family-owned and operated business for over 20 years, Decks Unique has provided custom deck design and construction services to the people of Long Island and neighboring regions, such as Brentwood. Decks Unique's dedication to design, professionalism, integrity, and innovation has elevated us to become the leading producer of high-quality decks in Long Island, defining industry standards. At Decks Unique, we excel in constructing custom decks, porches, gazebos, pergolas, wood awnings, and additional outdoor structures that augment the aesthetics, worth, and functionality of your Long Island property.
Brentwood Deck Building Services with Expertise and Experience
At Decks Unique, we believe that a well-thought-out deck design is a wise investment when considering home improvement. The Decks Unique team of experienced deck builders is committed to providing top-notch quality, keeping effective production timelines, and ensuring that our warranties offer enduring value. This resolute commitment to maintaining excellence has garnered numerous fulfilled clients and stunning decks they are thrilled to exhibit for years to come.
In Long Island, our expert deck builders have approval to install all chief composite decking choices, including Trex, TimberTech, and Azek. We furnish free home-based consultations along with tech-driven deck illustrations, so you can conceptualize your undertaking before its materialization. Allow us to transform your backyard into our upcoming venture!
Your Brentwood home's outdoor living space is not only enriched by a fine deck but also experiences a boost in overall worth. At Decks Unique, we specialize in designing and building custom decks that meet the unique needs and preferences of each client. From a warm and welcoming spot for get-togethers to an elegant outdoor refuge for enjoying the splendid weather, our team will work intimately with you to fashion your desired space.
Each homeowner has specific desires and requirements for their outdoor settings, which we acknowledge. Therefore, we offer a vast array of materials, styles, and qualities to develop the perfect deck that blends with your abode and your daily life. We have suitable solutions for every budget and preference, including traditional wood types like pressure-treated lumber, cedar, and redwood, as well as low-maintenance composite and PVC decking.
Incomparable Devotion to High Quality and Customer Fulfillment
At Decks Unique, we take immense pride in the quality of our workmanship and the satisfaction of our clients. We are dedicated to utilizing only top-grade materials and partnering with expert, seasoned builders to guarantee our projects meet the most stringent standards.
We're firm believers that strong communication is a major factor in a project's success, and we go above and beyond to maintain clear lines of communication with our clients. Starting with the initial consultation, through the design and construction phases, all the way to the final inspection, our team remains accessible to answer any questions, alleviate concerns, and guarantee complete satisfaction with your new deck.
Permit Decks Unique to convert your Brentwood backyard into a delightful outdoor living space. Don't hesitate to contact us today for a free consultation and to witness the Decks Unique experience.
Wide-ranging Decking Services for Brentwood
At Decks Unique, we pride ourselves on offering a wide range of decking services tailored to meet the needs of our clients in Brentwood. At Decks Unique, we excel in everything from creating custom deck designs and constructions to carrying out repairs, maintenance, and refinishing. In addition to our core offerings, Decks Unique provides a variety of exceptional enhancements and additions to upgrade your outdoor living. Let's delve deeper into the services we have available.
Custom Deck Design: Materializing Your Dream Deck with Expertise
Our exceptional deck designers will work side-by-side with you to fashion a tailor-made deck that conveys your personal touch, perfectly matches your home, and handles the unique expectations of your property. Our masters will help you make discerning selections by providing guidance on material options, ensuring that your deck possesses long-lasting allure and hardiness.
Outstanding Deck Construction: Unparalleled Craftsmanship for a Gorgeous Open-Air Space
As the superior deck builder, we are determined to use only exceptional materials and adhere to safe, efficient workmanship. Our accomplished crew members are qualified installers of renowned composite deck materials, such as Trex, TimberTech, and Azek. With careful scrutiny of detail and a dedication to solid structure, we guarantee that your deck is not only aesthetically pleasing but also long-lasting.
Deck Maintenance & Repairs: Shielding Your Investment
Routine upkeep is fundamental for preserving your deck's beauty and function. Whether it's a wood or composite deck, our specialized team offers comprehensive repair and upkeep services. From meticulous inspections that reveal potential problems, to adept repairs for any damages stemming from weather or wear patterns, we are the comprehensive source for all your deck upkeep needs. With our regular maintenance schedules, you can relax, confident that your deck will be well-maintained and preserved year-round.
Deck Refinishing and Restoration: Rejuvenate Your Exterior Space
In the course of time, even the most superior decks can reveal signs of wear or call for refinishing to uphold their appearance. Our team of experts is capable of revitalizing your deck's beauty through thorough cleaning, staining, weatherproofing, and sealing. Plus, we can undertake structural alterations, confirming that your deck stays safe and usable for an extended period.
Individualized Aspects and Additional Pieces: Refine Your Deck Encounters
For improving your outdoor living environment, we propose a selection of customized attributes and add-ons intended to supplement your deck. Such choices encompass energy-saving lighting for decks, integrated seating, alfresco kitchens, and fire elements. Through integrating these attributes into your deck plan, we'll establish a congenial and snug environment for you and your companions in Brentwood.
Providing top-notch decking solutions to clients and nearby areas is a specialty of Decks Unique. Over our 20 years in the business, we've carved out a reputation for professionalism, dependability, and innovation. When it comes to designing a fresh deck or improving an existing one, our expert team is at your service. Contact us today to schedule a no-cost consultation and see how we can elevate your outdoor space into an elegant, functional sanctuary.
Explore the Perfect Deck Material for Your Needs: Wood and Composite Alternatives
At Decks Unique, our mission is to guide you in designing your dream outdoor refuge for your house. This is the reason we provide an extensive array of decking materials, encompassing wood and composite selections. Individual materials offer distinct advantages, making certain that you have the capability to pick the ideal option that aligns with your needs and likes.
Classic Beauty with Wood Decking
As a versatile and enduring substance, wood imparts a sense of warmth and attractiveness to every open-air space. We present a wide assortment of wood deck options, ensuring compatibility with any style and budget.
Pressure-Treated Wood: Cost-effective and Long-lasting
Pressure-treated lumber attracts many homeowners because of its cost-saving and long-lasting properties. This type of decking material goes through a particular treatment, helping it resist decay and insect infestations. As an outcome, decks made from pressure-treated wood last longer and call for lesser maintenance.
Cedar and Redwood: Nature's Luxury with Built-In Resistance
For people looking for an upscale option, we offer cedar and redwood decking too. These attractive and upscale woods have innate resistance to rot and infestation, resulting in a long-lasting deck that weathers beautifully. With their deep pigments and singular grain markings, cedar and redwood decks offer a captivating augmentation to any home.
Exotic Hardwoods: Exquisite and Long-Lasting
For an absolutely unique and luxurious solution, explore the possibility of using exotic hardwoods like Ipe, Tigerwood, or Cumaru. These exceedingly solid and long-lasting woods stand out due to their commendable longevity and stunning appearance. Exotic hardwood decks, known for their brilliant colors and involved patterns, act as show-stopping centerpieces in all outdoor spaces.
Achieve Low-Maintenance Living with the Use of Composite and PVC Decking
For those seeking a low-maintenance and eco-friendly alternative, consider composite and PVC decking. These contemporary materials integrate the appeal of wood and the sturdiness of synthetic elements, endowing homeowners with a largely maintenance-free outdoor living area.
The Upsides and Benefits of Composite Decking
Composite decking is made from a combination of recycled wood fibers and plastic, offering a highly durable and eco-friendly option. Being able to withstand warping, cracking, and fading, this decking material promises a visually appealing and lasting deck with minimal effort. Composite decks also have an advantage in their ease of cleaning, with only sporadic washing needed to keep the outdoor area immaculate.
Premier Composite Material Brands in the Industry
Decks Unique is honored to partner with renowned composite decking brands, including Trex, TimberTech, and Azek. As approved installers of these remarkable products, we can furnish Brentwood homeowners with premium materials for an elegant and lasting outdoor living area.
Upgrade Your Deck with Various Color and Texture Choices
The wide variety of customization possibilities is a major plus for composite decking. Choose from many color and texture combinations to create a singular outdoor area that harmonizes with your home's décor. Regardless of your preference for natural wood's appearance or modern designs, composite decking provides a suitable option.
Enhance Your Deck with Railing and Baluster Options
The perfect deck isn't complete without the right railing and baluster system. With Decks Unique, you have access to a variety of options that enhance your deck design while guaranteeing safety and functionality in your outdoor area.
Wooden Railing Systems: Classic and Everlasting
If you're after a classic and eternal look, a wood railing system could be the way to go. Wood and composite decks alike can benefit from the addition of a wood railing system, providing a seamless integration and consistent style. To guarantee a beautiful final product, paint or stain your wood railing system to coordinate with your deck or Brentwood home exterior.
Metal and Glass Railing Systems: Fashionable and Uncluttered
Should you fancy a contemporary and streamlined look, think about opting for metal or glass railing systems. These alternatives offer a modern accent and can improve the scenic view from your deck, becoming a favorite selection among those who live in visually stunning locations.
Composite Railing Systems: Easy-Care and Elegant
Composite railing systems provide a great option for those who seek low-maintenance alternatives without sacrificing style and elegance. These durable and attractive railings provide a cohesive look when paired with composite decking, creating a stunning outdoor space that requires minimal upkeep.
No matter your style preferences, Decks Unique is prepared to support you in determining the perfect decking materials for your domicile. Contact our team today to share your needs and initiate the planning process for your dream outdoor living space.
Raise the Bar for Your Outdoor Living Space with Our Additional Services in Brentwood
Decks Unique focuses on making your outdoor living space a splendid and functional addition to your home. Our services extend beyond remarkable deck building, as we also provide a variety of supplementary services such as wood awnings, cabanas, gazebos, pergolas, and porch construction. In Brentwood, our experienced professionals collaborate closely with you to turn your dreams into reality while maintaining exceptional quality and durable construction.
Wood Awnings: Enhance Your Outdoor Area with Shade and Style
Wood awnings are an outstanding means of providing both shade and sophistication to your outdoor setting. Our team of experts at Decks Unique is here to help you decide on the right design and materials, ensuring a stunning and functional wood awning that fits your home's look. These structures not only protect you from harsh weather conditions but also enhance the overall value of your property.
Cabanas: Develop a Posh Hideaway in Your Brentwood Outdoor Area
Cabanas offer a perfect blend of luxury, comfort, and privacy, making them an ideal addition to any outdoor space. We'll have our team of specialists work closely with you to create and build a custom-made cabana in line with your specific requirements and inclinations. Whether it's a homely corner for winding down or a polished space for hosting visitors, we can conjure up a cabana that stands as your flawless exterior retreat.
Gazebos: A Stunning Complement to Your Garden or Patio Space
A gazebo remains a cherished inclusion in gardens and patios, lending an appealing visual interest and a comfortable shaded zone for outdoor leisure. Our knowledgeable team guides you through the process of choosing the perfect style, materials, and location for your gazebo, guaranteeing harmonious fusion with your existing landscape. With our expert craftsmanship, you can enjoy a stunning gazebo that enhances the beauty of your outdoor space for years to come.
Pergolas: Elevate Your Outdoor Living Space's Interest and Utility through Architecture
The addition of a pergola can dramatically improve the architectural design and usefulness of your outdoor space. These structures adeptly merge shadow and light, creating an idyllic atmosphere for walkways in gardens, patios, or outdoor dining places. Let the skilled experts at Decks Unique craft a bespoke pergola that caters to your style and contributes to your home's overall value.
Porch Assembly: Augment Your Home's Curb Appeal and Outdoor Living Space
A meticulously designed porch not only augments your home's curb appeal but also affords a relaxing outdoor living zone for you and your relatives to delight in. Our qualified team will cooperate with you to construct an exclusive porch that blends with your home's architectural design and accommodates your functional needs. With our keen eye for detail and dedication to excellence, you can have peace of mind knowing your porch construction endeavor is well taken care of.
Talk to Decks Unique for improving your Brentwood outdoor living space
Decks Unique is committed to offering top-tier, made-to-order outdoor living solutions for our Brentwood clients and their neighboring areas. Our team of skilled professionals is here to help you enhance your outdoor space with a wood awning, cabana, gazebo, pergola, or porch. Let's chat about your project today, and we'll reveal how we can change your outdoor living space into a luxurious and practical component of your home.
Expertly Crafted Deck Plans and Designs in Brentwood
Decks Unique specializes in delivering bespoke consultations and customized deck plans, ensuring that every client's needs are met. With a solid background of 20 years, our adept deck designers will collaborate with you in designing a deck that boosts your home's beauty and function. Using advanced 3D modeling and visualization techniques, we'll bring your dream deck to life, ensuring the final product meets your expectations.
High-Quality Deck Materials for Lasting Durability
As Long Island's premier deck builder, Decks Unique is an authorized installer of all major composite deck products, including Trex, TimberTech, and Azek. We also propose a diverse set of wood decking choices to meet your specific preferences, such as pressure-treated building materials, cedar, redwood, and upscale hardwoods. Our commitment to using only the best materials ensures that your new deck will be built to last while requiring minimal maintenance.
Professional Deck Construction Services in Brentwood
The proficient deck construction team at Decks Unique takes pride in offering excellent craftsmanship and streamlined efficiency during every step of the building process. With our extensive know-how of building codes, statutes, and permits, you can rely on us to steer the whole project from its start to finish, leaving you with a visually striking and practical outdoor living area.
Maintaining & Restoring the Beauty of Your Deck
At Decks Unique, we are conscious of the pivotal role regular maintenance plays in preserving your deck's visual charm and solid framework. Our knowledgeable team can evaluate and detect any damage or potential risks, undertaking necessary repairs to retain your deck in the best possible condition. Moreover, we render deck rejuvenation and refinishing solutions, such as cleaning, staining, weatherproofing, and sealing operations to maintain and enhance your deck's facade.
Transform Your Outside Space with Personalized Additions and Features
In order to transform your deck into a distinctive outdoor haven, Decks Unique provides an array of personalized options and extras like deck illumination, integrated seating, open-air cooking areas, and fire elements. These optimizations not only broaden the functional aspects but also forge an amicable and snug setting for you and your invitees to relish.
All-Inclusive Decking Offerings and Additional Services
Decks Unique not only excels in deck designing and construction but also focuses on additional outdoor structures, including wooden awnings, cabanas, gazebos, pergolas, and porch construction. These amenities can remarkably enhance your Long Island home's outdoor space, converting it into a perfect haven for relaxation and social gatherings.
For all your decking desires in Brentwood, choose Decks Unique. Discover the impact our dedication to quality, professionalism, and customer satisfaction has on your outdoor area. Connect with us today to arrange a cost-free consultation, and allow us to transform your outdoor area into a breathtaking masterpiece.
Proudly serving Brentwood, Wyandanch, Uniondale, Sound Beach, Roosevelt, Oyster Bay, North Massapequa and other Long Island communities.
Offering Long Island Quality Deck Designs and Services: