Check out Decks Unique - Freeport's Exceptional Deck Building Professionals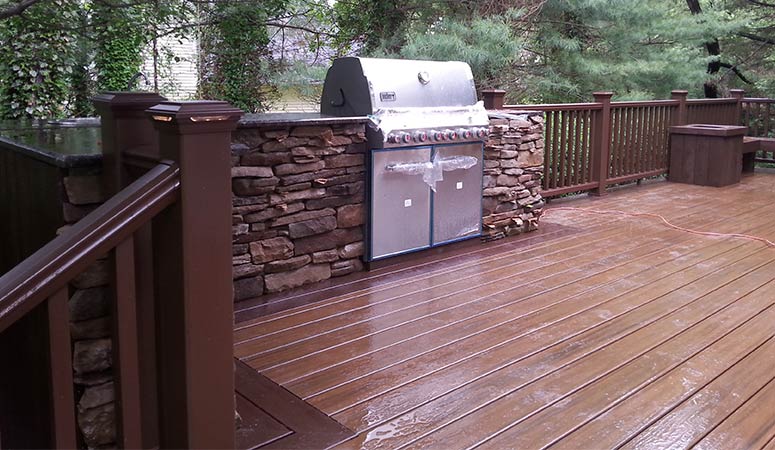 As a family-owned and operated business for over 20 years, Decks Unique has provided custom deck design and construction services to the people of Long Island and neighboring regions, such as Freeport. Our passion for design and commitment to professionalism, honesty, and innovation have made us the largest producer of high-quality decks on Long Island, setting the standards for the industry. We're experts in designing and building custom decks, porches, gazebos, pergolas, timber awnings, and other outdoor features that enhance the value, beauty, and functionality of your home in Long Island.
Highly Skilled and Experienced Deck Construction Services in Freeport
At Decks Unique, our perspective is that a well-crafted deck layout is an intelligent decision when looking at home upgrades. Our adept squad of professional deck builders aims to achieve exceptional quality, maintain productivity in schedules, and assure our warranties come with true durable value. This resolute commitment to maintaining excellence has garnered numerous fulfilled clients and stunning decks they are thrilled to exhibit for years to come.
All major composite decking products, such as Trex, TimberTech, and Azek, can be installed by our experienced Long Island deck construction teams. We present free home evaluations and computerized decking layouts to enable you to picture your project before it becomes reality. Make your backyard the site for our subsequent project!
With a high-quality deck, your Freeport house can see its outdoor living area improved and its property value significantly raised. Decks Unique specializes in the planning and building of tailor-made decks that satisfy each of our clients' distinctive needs and inclinations. No matter if you desire a comfy location for social events or a grand outdoor paradise to savor the charming weather, our staff will partner with you to create your ideal space.
We are aware that individual homeowners have varying preferences and demands for their external spaces. To accommodate these diverse preferences, we supply a wide array of materials, styles, and attributes for crafting the ideal deck to harmonize with your home and way of life. From conventional wood selections like pressure-treated lumber, cedar, and redwood to hassle-free composite and PVC decking alternatives, we possess the perfect solution for all budgets and inclinations.
Unparalleled Commitment to Quality and Customer Satisfaction
At Decks Unique, excellent workmanship and gratified clients are what we focus on. To ensure that all our projects are up to the highest standards, we are devoted to using only top-quality materials and hiring expert builders with a wealth of experience.
We think that effective communication is crucial for project success, and it's our top priority to keep clients in the loop throughout the process. From beginning to end - initial consultation, design planning, construction, and final examination - our team stays engaged, ready to answer any questions you have, address any concerns, and wholeheartedly ensure you are delighted with your new deck.
Allow Decks Unique to turn your Freeport backyard into an outdoor living area you'll adore. Get ahold of us today to schedule an obligation-free consultation and explore the Decks Unique benefits.
In-depth Decking Assistance in Freeport
Decks Unique is proud to deliver an array of customized decking services to cater to the diverse requirements of our clients in Freeport. From creating custom decks and construction to repair, maintenance, and refinishing, Decks Unique offers a wide range of expert services. Moreover, Decks Unique furnishes an array of distinctive options and add-ons to enrich your outdoor living environment. Let's delve deeper into the services we have available.
Custom Deck Design: Bringing Your Dream Deck to Life
Our professional deck designers will work closely with you to create a custom deck that reflects your personal style, complements your home, and meets the unique requirements of your property. To aid you in making well-informed decisions, our authorities will guide you in choosing appropriate materials, promising enduring elegance and sturdiness.
Expert Deck Building: Excellent Workmanship for an Impressive Exterior Area
As the leading deck builder, we pledge to use only top-notch materials and practice secure, effective workmanship. Our accomplished crew members are qualified installers of renowned composite deck materials, such as Trex, TimberTech, and Azek. With considerable attention to detail and an emphasis on structural stability, we make certain that your deck is not only visually appealing but also durable over time.
Deck Preservation and Fixing: Sustaining Your Investment's Worth
Routine maintenance is necessary for preserving the attractiveness and usefulness of your deck. When it comes to wood or composite decks, our committed team covers all aspects of repair and maintenance. From meticulous inspections that reveal potential problems, to adept repairs for any damages stemming from weather or wear patterns, we are the comprehensive source for all your deck upkeep needs. You'll have peace of mind with the knowledge that your deck will remain in exceptional condition year-round, thanks to our regular maintenance programs.
Deck Refinishing and Revitalization: Energize Your Exterior Living Space
As time passes, even the most excellent decks could show indications of wear or demand refinishing to sustain their visual allure. Our experienced team members can renew the visual appeal of your deck via expert cleaning, staining, weatherproofing, and sealing techniques. We can also effectuate structural refinements, thereby ensuring your deck remains protected and functional for years.
Tailored Characteristics and Supplemental Items: Augment Your Deck Adventures
To enhance your outdoor living area, we provide an assortment of tailor-made features and extras crafted to accentuate your deck. Some of the options are energy-efficient light fittings on decks, internal seating, exterior cooking areas, and fire-inspired features. By blending these factors into your deck's design, we fashion a hospitable and cozy setting for you to relish alongside your loved ones in Freeport.
Decks Unique focuses on offering unparalleled decking assistance to customers and areas close by. We have established a strong reputation for professionalism, reliability, and originality, thanks to our 20 years in the industry. When it comes to designing a fresh deck or improving an existing one, our expert team is at your service. Touch base with us today to organize a free consultation, and let us demonstrate how we can change your outdoor area into a beautiful and practical haven.
Choose the Right Deck Material for Your Home: Wood and Composite Selections
Decks Unique is dedicated to assisting you in developing the ideal outdoor sanctuary for your residence. Consequently, we supply various decking materials encompassing both wooden and composite choices. Each material has its unique advantages, ensuring that you can choose the best option for your specific needs and preferences.
Wooden Decks Showcase Timeless Sophistication
Wooden materials possess a lasting, adaptable nature that grants a sense of comfort and allure to any outdoor setting. We offer a range of wood decking options to meet every style and budget.
Pressure-Treated Lumber: Affordable and Durable
Many homeowners opt for pressure-treated lumber on account of its economical and sturdy features. This decking material undergoes a special treatment process, protecting it against rot and insect infestation. Because of this, pressure-treated decks offer enduring performance with low maintenance requirements.
Cedar and Redwood: Nature's Luxury with Built-In Resistance
We also provide cedar and redwood decking for those wanting a more extravagant option. Inherently impervious to decay and insects, these beautiful and premium woods assure a deck that withstands the elements and ages beautifully. With their deep pigments and singular grain markings, cedar and redwood decks offer a captivating augmentation to any home.
Exotic Hardwoods: Exquisite and Long-Lasting
If you're looking for a truly unique and exquisite option, consider exotic hardwoods like Ipe, Tigerwood, or Cumaru. These remarkable hardwoods are extremely dense and strong, making them known for their outstanding longevity and striking visual charm. Exotic hardwood decks, known for their brilliant colors and involved patterns, act as show-stopping centerpieces in all outdoor spaces.
Pursue a Low-Maintenance Lifestyle with Composite and PVC Decking Options
If you're after a green and low-maintenance substitute, evaluate the merits of composite and PVC decking. These cutting-edge materials meld the aesthetics of wood with the longevity of artificial materials, giving homeowners a virtually maintenance-free exterior area.
The Upsides and Benefits of Composite Decking
Composite decking, a fusion of recycled wood fibers and plastic, yields a durable and eco-conscious option. Unaffected by warping, cracking, and fading, the material used for this decking provides a long-lasting and beautiful deck that's easy to maintain. Cleaning composite decks is a breeze, as they only require periodic washing to maintain a spotless and inviting outdoor space.
The Best Brands in the World of Composite Materials
Decks Unique takes pride in collaborating with top-tier composite decking brands like Trex, TimberTech, and Azek. Being authorized installers of these extraordinary products allows us to give Freeport homeowners access to the highest quality materials for a gorgeous and long-lasting outdoor living space.
Customize Your Deck with Color and Texture Options
A significant advantage of composite decking is the vast array of personalization possibilities. With a multitude of color and texture alternatives, you can create a distinctive outdoor space that aligns with your home's ambiance. Whether you prefer the look of natural wood or a more contemporary design, there's a composite decking option for you.
Upgrade Your Deck Experience with Railing and Baluster Possibilities
An exceptional deck is missing something without the right railing and baluster system. At Decks Unique, we offer a wide range of options to complement your deck design and ensure the safety and functionality of your outdoor space.
Wood Railing Systems: Traditional and Timeless
For a classic and timeless look, consider a wood railing system. Wood railing systems work well with both wooden and composite decks, resulting in a harmonious and unified style. By matching the color of your wood railing system to your deck or Freeport home exterior through painting or staining, a visually stunning result is guaranteed.
Metal and Glass Railing Systems: Stylish and Streamlined
Contemporary and sleek styles might lead you to consider metal or glass railing systems. These options provide a contemporary touch and can enhance the view from your deck, making them a popular choice for homeowners with picturesque surroundings.
Composite Railing Systems: Minimal Upkeep and Fashionable
Those pursuing a fashionable and elegant option with low upkeep requirements will find composite railing systems to be the perfect choice. The combination of durability and beauty in these railings, alongside composite decking, fosters a cohesive design and a breathtaking outdoor setting with minimal maintenance efforts.
Regardless of your favorite styles, Decks Unique is ready to help you identify the ideal decking components for your household. Reach out to our team today to discuss your vision and begin shaping the outdoor area you've always imagined.
Elevate Your Outdoor Living Experience with Our Supplementary Services in Freeport
Decks Unique focuses on making your outdoor living space a splendid and functional addition to your home. Not only do we specialize in deck building services, but we also offer a range of other services like wood awnings, cabanas, gazebos, pergolas, and porch construction. Our professional experts in Freeport work hand in hand with you to bring your ideas to fruition while ensuring superior quality and lasting durability.
Wood Awnings: Boost Your Outdoor Space's Style and Shade
Wooden awnings present an ideal solution for incorporating both shade and sophistication to your outdoor space. At Decks Unique, our adept team will support you in selecting the correct design and materials to build a stunning and effective wood awning that complements your home's appearance. These installations not only safeguard you from harsh weather but also contribute to the overall appreciation of your property's value.
Cabanas: Create a Luxurious Retreat in Your Freeport Backyard
Combining luxury, comfort, and privacy expertly, cabanas are perfect for enhancing any open-air area. You can count on our team of professionals to design and create a unique cabana that caters to your individual needs and preferences. From a cozy sanctuary for relaxation to a chic locale for socializing with friends, we can craft a cabana that makes for the perfect open-air haven.
Gazebos: A Picture-Perfect Addition for Your Garden or Patio
A gazebo remains a cherished inclusion in gardens and patios, lending an appealing visual interest and a comfortable shaded zone for outdoor leisure. Our accomplished team makes it easy for you to choose the most suitable style, materials, and location for your gazebo, ensuring that it merges seamlessly with your existing outdoor area. Due to our excellent craftsmanship, you can experience a remarkable gazebo that improves the visual appeal of your outdoor space throughout the years.
Pergolas: Improve Your Outdoor Oasis with Striking Architectural Design and Function
For those looking to enhance their outdoor living area's aesthetics and functionality, pergolas are an excellent choice. The interplay of sun and shade that pergolas provide makes them a great choice for garden pathways, outdoor terrace spaces, or al fresco dining venues. Our adept professionals at Decks Unique are here to design and construct a custom-built pergola that suits your preferences, adding value to your living space.
Patio Construction: Raise Your Home's Curb Appeal and Outdoor Living Space
A tastefully designed porch not only enriches your home's curb appeal but also bestows a cozy alfresco living area for you and your family to enjoy. Our professional team will collaborate with you to develop a tailor-made porch that harmonizes with your home's architectural style and fulfills your practical requirements. With our comprehensive attention to even the smallest detail and steadfast pledge to premium quality, you can breathe easy knowing your porch assembly project is in proficient hands.
Get in touch with Decks Unique for transforming your Freeport outdoor living area
At Decks Unique, providing superior, custom-made outdoor living options for our clients in Freeport and the adjacent areas is our mission. Seeking to integrate a wood awning, cabana, gazebo, pergola, or porch into your outdoor area? Our team of specialists is prepared to help. Reach out to us today for a discussion about your project, and let us demonstrate how we can reshape your outdoor living area into a high-end and functional home extension.
Top-notch Deck Consulting and Design Solutions in Freeport
Delivering personalized consultations and tailor-made deck designs that satisfy every client's specific needs is what sets Decks Unique apart. Our seasoned deck designers, with over 20 years in the field, will partner with you to develop a deck that improves both your home's appearance and functionality. Using advanced 3D modeling and visualization techniques, we'll bring your dream deck to life, ensuring the final product meets your expectations.
Premium Deck Construction Materials for Extended Durability
Decks Unique, Long Island's leading deck builder, is accredited to install all major composite deck materials, including popular brands such as Trex, TimberTech, and Azek. We have a range of wood decking options to cater to your needs, such as pressure-treated boards, cedar, redwood, and imported hardwoods. Our devotion to employing only first-class materials ensures your new deck's longevity and minimal upkeep.
Premier Deck Construction Services in Freeport
Our gifted deck construction professionals at Decks Unique are devoted to ensuring top-tier quality and effectiveness during the full building process. With our expert knowledge of building codes, regulations, and permits, you can trust us to handle the entire project from start to finish, leaving you with a stunning and functional outdoor living space.
Retain and Rehabilitate Your Deck's Elegance
Decks Unique comprehends the crucial role of ongoing maintenance in preserving your deck's attractiveness and solid construction. Our experienced team can inspect and identify any damages or potential issues, providing necessary repairs to keep your deck in top condition. Apart from that, we deliver deck refinishing and refurbishment services, including cleaning, staining, weather-resistant treatments, and sealing to preserve and augment your deck's attractiveness.
Raise the Standard of Your Outside Area with Unique Features and Add-ons
To truly make your deck a unique outdoor oasis, Decks Unique offers a variety of custom features and add-ons such as deck lighting, built-in seating, outdoor kitchens, and fire features. These additions not only improve operation but also generate a soothing and receptive environment for your enjoyment and your guests.
Comprehensive Decking Services and More
Apart from our knowledge and experience in deck design and construction, Decks Unique also extends its expertise to additional outdoor structures such as wooden awnings, cabanas, gazebos, pergolas, and porches. These additions can greatly improve your Long Island residence's outdoor area, turning it into an ideal spot for unwinding and entertaining guests.
Allow Decks Unique to manage all your decking requirements in Freeport. Witness the improvement our focus on quality, professionalism, and customer happiness brings to your exterior space. Message us today to plan a free meetup, and let us make your backyard into a stunning display.
Happy to support the communities of Freeport, Elmont, Dix Hills, Bohemia, West Islip, Suffolk County, Selden, and other areas throughout Long Island.
Offering Long Island Quality Deck Designs and Services: