Experience Decks Unique - The Premier Deck Building Service in Coram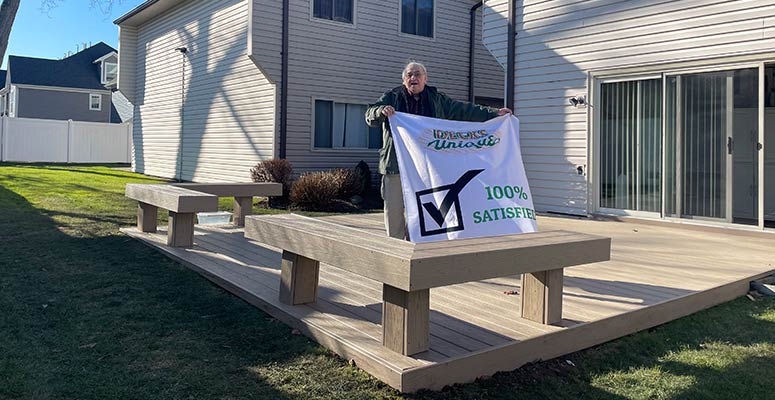 Decks Unique is a family-owned and operated custom deck design and construction company, serving the residents of Long Island and surrounding areas, including Coram, for over 20 years. Decks Unique's dedication to design, professionalism, integrity, and innovation has elevated us to become the leading producer of high-quality decks in Long Island, defining industry standards. Our proficiency extends to designing and building custom decks, porches, gazebos, pergolas, wood awnings, and other outdoor fixtures that enrich the value, elegance, and usefulness of your dwelling on Long Island.
Specialized and Experienced Deck Building Providers in Coram
At Decks Unique, we are convinced that a well-organized deck layout offers a sensible investment in home improvement projects. Our knowledgeable assembly of expert deck builders is determined to ensure top-quality outcomes, preserve efficiency in production, and ascertain that our warranties hold significant enduring value. This unyielding determination to achieve the best has yielded thousands of happy customers and decks they are eager to showcase, now and in the future.
On Long Island, our skilled deck builders are qualified to set up all leading composite deck materials, like Trex, TimberTech, and Azek. Our services include no-cost home consultations and computer-generated deck designs, allowing you to see your project before it's brought to life. Allow us to transform your backyard into our upcoming venture!
Enhance Your Home's Value through a Tailor-Made Deck
Not only does an excellent deck boost your Coram home's outdoor living area, but it also raises the overall property value. Decks Unique is specialized in crafting and assembling personalized decks that fulfill the requirements and appeals of our diverse clientele. Be it a snug spot to accommodate get-togethers or an opulent open-air retreat to bask in lovely weather, our crew will work hand-in-hand with you to materialize your aspirations.
We understand that each homeowner in has different tastes and requirements for their outdoor spaces. To accommodate these diverse preferences, we supply a wide array of materials, styles, and attributes for crafting the ideal deck to harmonize with your home and way of life. Starting from conventional wood materials like pressure-treated lumber, cedar, and redwood, through to the low-maintenance compound and PVC decking options, we cater to every budget and predilection.
Dedication to Fantastic Quality and Client Satisfaction
At Decks Unique, our focus is on exceptional workmanship and happy customers. Focusing on the employment of top-notch materials and the engagement of experienced, adept builders allows us to complete each project to the highest standards.
We consider open communication to be the cornerstone of a successful project, and we strive to keep our clients well-informed every step of the way. From the initial consultation and design process through construction and final inspection, our team is always available to answer questions, address concerns, and ensure that you are completely satisfied with your new deck.
Trust Decks Unique to morph your Coram backyard into an impressive outdoor living space you'll enjoy for years. Get ahold of us today to schedule an obligation-free consultation and explore the Decks Unique benefits.
Thorough Deck Building Solutions in Coram
We at Decks Unique are proud to offer a broad selection of decking services, designed to address the specific needs of our customers in Coram. Our expertise covers everything from custom deck design and construction to repair, maintenance, and refinishing. We further supply a range of special features and add-ons designed to elevate your outdoor living quality. Allow us to provide you with a more in-depth overview of our services.
Custom Deck Design: Materializing Your Dream Deck with Expertise
Our skilled deck designers will closely collaborate with you to design a customized deck that showcases your individual taste, enhances your home, and caters to the specific needs of your property. To help you make informed decisions, our experts will also guide you through material selection, ensuring long-lasting beauty and durability.
Outstanding Deck Construction: Unparalleled Craftsmanship for a Gorgeous Open-Air Space
As the leading deck builder, we pledge to use only top-notch materials and practice secure, effective workmanship. Our adept teams are sanctioned installers of major composite decking products like Trex, TimberTech, and Azek. With meticulous attention to detail and a focus on structural integrity, we ensure that your deck not only looks stunning but also stands the test of time.
Deck Upkeep and Restoration: Guarding Your Investment
To keep your deck beautiful and functional, regular maintenance is essential. We have a dedicated team that offers all-inclusive repair and upkeep services for both wood and composite decks. From meticulous inspections that reveal potential problems, to adept repairs for any damages stemming from weather or wear patterns, we are the comprehensive source for all your deck upkeep needs. Our timely maintenance programs give you the comfort of knowing that your deck will always be in outstanding condition, no matter the season.
Deck Refinishing and Restoration: Renew Your Outdoor Oasis
Over time, even the highest quality decks may show signs of wear or require refinishing to maintain their appearance. Our adept team has the ability to bring back your deck's elegance using expert cleaning, staining, weatherproofing, and sealing services. Besides, we can execute structural adjustments, assuring that your deck maintains its safety and functionality in the years to come.
Personal Customizations and Upgrades: Enrich Your Deck Leisure
For improving your outdoor living environment, we propose a selection of customized attributes and add-ons intended to supplement your deck. These alternatives feature energy-conserving illumination for decks, inbuilt seating, open-air kitchens, and fire components. Incorporating these aspects into the deck design, we generate a welcoming and snug habitat for you and your acquaintances to revel in Coram.
At Decks Unique, we specialize in providing top-quality decking services to clients and the surrounding areas. Our distinguished reputation has been built on 20 years of professionalism, integrity, and novel thinking. Our talented team is ready to assist, whether you'd like to create a new deck or upgrade an existing one. Schedule a complimentary consultation with us today, and explore the possibilities to transform your outdoor space into a beautifully functional sanctuary.
Track Down the Best Deck Material for You: Weighing Wood and Composite Options
Our commitment at Decks Unique is to help you establish an impeccable outdoor retreat for your dwelling. That is why we present a diverse range of decking materials, featuring wooden and composite alternatives. Each decking material possesses its advantages, which allows you to select the most suitable option for your particular necessity and preference.
Wood Decks Radiate Classic Appeal
With a classic, versatile nature, wood gives an organic warmth and stylish appeal to open-air spaces. Discover numerous wood decking solutions that cater to each individual's taste and budget requirements.
Pressure-Treated Timber: Economical and Resilient
Many homeowners opt for pressure-treated lumber on account of its economical and sturdy features. The decking material is treated specially to guard against wood rot and insect invasion. Minimal maintenance is needed for these durable, pressure-treated decks as a result of the treatment.
Luxury Meets Durability: The Wonders of Cedar and Redwood
In case you desire a more opulent alternative, we provide cedar and redwood decking as well. Inherently impervious to decay and insects, these beautiful and premium woods assure a deck that withstands the elements and ages beautifully. Sporting vivid tones and extraordinary grain textures, cedar and redwood decks serve as a remarkable addition to any dwelling.
Exotic Hardwoods: Beautiful and Durable
For a truly unparalleled and elegant choice, give some thought to exotic hardwoods such as Ipe, Tigerwood, or Cumaru. These exceedingly solid and long-lasting woods stand out due to their commendable longevity and stunning appearance. With their striking colors and intricate patterns, exotic hardwood decks are a show-stopping centerpiece for any outdoor space.
Composite and PVC Decking: Your Path to Low-Maintenance Living
For those seeking a low-maintenance and eco-friendly alternative, consider composite and PVC decking. These state-of-the-art materials join the attractiveness of wood with the resilience of synthetics, supplying homeowners with an outdoor space that requires minimal maintenance.
Advantages and Benefits of Composite Decking
Composite decking, a fusion of recycled wood fibers and plastic, yields a durable and eco-conscious option. With resistance to warping, cracking, and discoloration, this decking material guarantees an attractive and enduring deck that requires little maintenance. Furthermore, composite decks are simple to maintain, needing just infrequent washing to preserve the cleanliness of your outdoor area.
Composite Materials: Industry-Leading Brands
Teaming up with prominent composite decking brands like Trex, TimberTech, and Azek is a matter of pride for Decks Unique. Being certified installers of these outstanding products, we're able to supply Coram residents with top-notch materials for stunning and durable outdoor spaces.
Custom-build Your Deck with a Range of Color and Texture Combinations
One main strength of composite decking is the numerous customization alternatives. With numerous color and texture options, you can design a unique outdoor area tailored to your home's style. There is a composite decking option to match your preference for either the appearance of natural wood or a sleeker, more modern aesthetic.
Upgrade Your Deck Experience with Railing and Baluster Possibilities
To be complete, the perfect deck calls for the appropriate railing and baluster system. With Decks Unique, you have access to a variety of options that enhance your deck design while guaranteeing safety and functionality in your outdoor area.
Wood Railing Solutions: Ageless and Time-honored
If you want a classic and enduring aesthetic, contemplate a wood railing system. This option pairs beautifully with both wood and composite decks, creating a seamless and cohesive design. Wood railing systems can be painted or stained to match your deck or Coram home exterior, ensuring a stunning final result.
Metal and Glass Railing Systems: Innovative and Graceful
If modern sophistication and sleekness catch your eye, metal or glass railing systems might be just the thing. These options provide a contemporary touch and can enhance the view from your deck, making them a popular choice for homeowners with picturesque surroundings.
Composite Railing Systems: Simple Maintenance and Sophisticated
Those in search of a stylish yet low-maintenance alternative will find composite railing systems to be an excellent selection. These strong and stylish railings, when matched with composite decking, bring about a cohesive appearance, resulting in a stunning low-maintenance outdoor space.
No matter what your tastes are, Decks Unique is committed to helping you find the perfect decking materials for your living quarters. Get in contact with us now to outline your requirements and initiate the creation of your perfect outdoor environment.
Elevate Your Outdoor Living Experience with Our Supplementary Services in Coram
We believe in transforming your outside living space into a luxurious and functional part of your home at Decks Unique. Aside from our superior deck building services, we also deliver a variety of extra services, including wooden awnings, cabanas, gazebos, pergolas, and porch construction. Our talented experts in Coram partner with you to create your desired outdoor space, ensuring the utmost quality and lasting durability.
Wood Awnings: Add Fashion and Functionality for Your Outdoor Space
Installing wood awnings is a fantastic approach to enhance your outdoor area with both shade and elegance. Our proficient crew at Decks Unique will offer guidance in determining the perfect design and materials for a visually appealing and practical wood awning that goes well with your home's decor. Such structures offer protection from inclement weather while simultaneously increasing your property's overall value.
Cabanas: Create a Sumptuous Escape in Your Coram Lawn
Cabanas strike a perfect balance between luxury, comfort, and privacy, making them a great fit for any outdoor space. Our adept team will cooperate with you in the design and construction of a one-of-a-kind cabana that addresses your particular needs and desires. Whether you're looking for a comfortable nook to unwind or a sophisticated space to entertain visitors, we can fashion a cabana that becomes your ultimate al fresco getaway.
Gazebos: A Stunning Complement to Your Garden or Patio Space
A gazebo serves as a classic element in any garden or patio, offering an attractive centerpiece and a sheltered space for enjoying the outdoors. Our expert team assists you in selecting the perfect design, materials, and placement for your gazebo, guaranteeing a smooth blend with your current outdoor environment. Thanks to our masterful craftsmanship, you can delight in a splendid gazebo that boosts the allure of your outdoor space for many years to come.
Pergolas: Add Architectural Interest and Functionality to Your Outdoor Area
One effective way to enrich your outdoor living space with architectural appeal and utility is by constructing a pergola. These constructions supply a blend of shadow and natural brightness, thus perfectly complementing garden pathways, external platforms, or open dining zones. The team of skilled experts at Decks Unique can create and construct a tailor-made pergola that complements your taste and enhances your home's worth.
Porch Construction: Enhance Your Home's Curb Appeal and Outdoor Living Space
A well-planned porch not only heightens your home's curb appeal but also furnishes a snug outdoor living environment for you and your kin to relish. Our knowledgeable team will partner with you to build a personalized porch that fits your home's architectural theme and adheres to your functional demands. With our meticulous attention to detail and devotion to high standards, you can feel confident that your porch building project is in capable hands.
Get ahold of Decks Unique for upgrading your Coram outdoor living space
Decks Unique is committed to offering top-tier, made-to-order outdoor living solutions for our Coram clients and their neighboring areas. If you'd like to include a wood awning, cabana, gazebo, pergola, or porch in your outdoor living area, our expert team is on hand to help. Reach out to us today to talk about your project and find out how we can turn your outdoor living space into an opulent and functional addition to your home.
Expertly Crafted Deck Plans and Designs in Coram
At Decks Unique, we pride ourselves on offering personalized consultation and custom deck designs to fit the individual needs of our clients. Drawing from our 20-plus years of experience, our professional deck designers will closely collaborate with you to construct a deck that enriches your home's aesthetics and functions. Using advanced 3D modeling and visualization techniques, we'll bring your dream deck to life, ensuring the final product meets your expectations.
Durable Deck Materials for Extended Life Expectancy
Decks Unique, a top-notch deck builder in Long Island, is a sanctioned installer of all well-known composite deck materials, featuring Trex, TimberTech, and Azek. We also present an array of wooden decking alternatives to accommodate your preferences, like pressure-treated timber, cedarwood, redwood, and rare hardwoods. The use of only premium materials in our work reflects our commitment to building durable, low-maintenance decks.
Exceptional Deck Construction Services in Coram
Our gifted deck construction professionals at Decks Unique are devoted to ensuring top-tier quality and effectiveness during the full building process. Given our vast knowledge of building codes, regulations, and permits, you can trust us to execute the full project from start to finish, creating a beautiful and efficient outdoor living area.
Keep and Restore Your Deck's Attractiveness
The Decks Unique team acknowledges the importance of ongoing maintenance to conserve the appearance and structural reliability of your deck. Our skilled team can examine and detect any problems or potential concerns, offering required fixes to maintain your deck in excellent shape. In addition, Decks Unique offers deck renewal and refinishing services, featuring cleaning, staining, weatherproofing, and sealing procedures to defend and enrich your deck's visual appeal.
Upgrade Your Outdoor Area with Custom Features and Add-ons
To genuinely convert your deck into an exceptional exterior retreat, Decks Unique presents a range of custom characteristics and additions, including deck lights, built-in benches, alfresco kitchens, and features involving fire. These embellishments not only extend usability, but they also create a snug and appealing air for you and your guests to find joy in.
Comprehensive Decking Services and More
Apart from our knowledge and experience in deck design and construction, Decks Unique also extends its expertise to additional outdoor structures such as wooden awnings, cabanas, gazebos, pergolas, and porches. These additional structures can greatly contribute to the charm of your Long Island home's outdoor environment, turning it into an ideal place for relaxation and festivities.
Let Decks Unique handle all of your decking needs in Coram. Discover the impact our dedication to quality, professionalism, and customer satisfaction has on your outdoor area. Contact us today to schedule a free consultation and let us transform your backyard into a stunning masterpiece.
Proudly serving Coram, Bethpage, West Hempstead, Suffolk County, Selden, Riverhead, Oceanside and other Long Island communities.
Offering Long Island Quality Deck Designs and Services: