Visit Decks Unique - East Rockaway's Most Reliable Deck Builder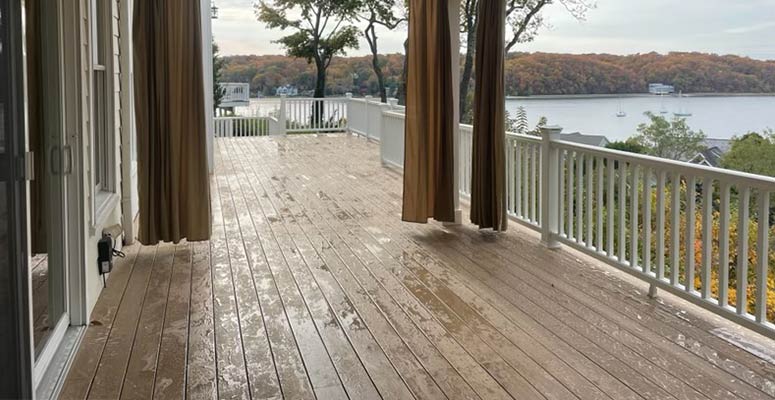 For over 20 years, Decks Unique has been a family-owned and operated company, specializing in custom deck design and construction, serving the people of Long Island and nearby areas, such as East Rockaway. Our passion for design and commitment to professionalism, honesty, and innovation have made us the largest producer of high-quality decks on Long Island, setting the standards for the industry. Decks Unique is skilled in designing and constructing tailor-made decks, porches, gazebos, pergolas, wood awnings, and other exterior structures that increase the value, attractiveness, and practicality of your Long Island residence.
East Rockaway's Expert and Experienced Deck Builders
At Decks Unique, our conviction is that a carefully planned deck design serves as a smart investment for home enhancements. The Decks Unique team of experienced deck builders is committed to providing top-notch quality, keeping effective production timelines, and ensuring that our warranties offer enduring value. Our steadfast pursuit of excellence has culminated in numerous pleased clients and deck constructions they are proud to exhibit for many years down the line.
Our Long Island deck building specialists are licensed to install all top composite deck brands, such as Trex, TimberTech, and Azek. We extend free residential consultations and digitally-crafted deck layouts for you to preview your project before it gets underway. Allow us to transform your backyard into our upcoming venture!
Improve Your Dwelling's Value by Constructing a Custom Deck
A superior deck not only augments the external living space of your East Rockaway home but also bolsters its property value. At Decks Unique, our team is committed to conceiving and constructing custom decks that match the individual requirements and predilections of every client. Be it a snug spot to accommodate get-togethers or an opulent open-air retreat to bask in lovely weather, our crew will work hand-in-hand with you to materialize your aspirations.
Each homeowner has specific desires and requirements for their outdoor settings, which we acknowledge. That is why we offer a wide range of materials, styles, and features to create the perfect deck that complements your home and lifestyle. From standard wood options like pressure-treated lumber, cedar, and redwood to the easy upkeep of composite and PVC decking, we provide the right answer to accommodate every budget and personal taste.
Unmatched Commitment to Awe-inspiring Quality and Client Comfort
At Decks Unique, we take immense pride in the quality of our workmanship and the satisfaction of our clients. Our devotion to first-class materials and engaging the services of experienced contractors guarantees the superior completion of each project we take on.
We believe that communication is the key to a successful project, and we make it a priority to keep our clients informed every step of the way. From the start, with the initial consultation and design aspects, all through the construction phase and the final inspection, our ever-present team is here to address questions, eliminate concerns, and confirm that you are absolutely thrilled with your new deck.
Enable Decks Unique to make your East Rockaway backyard into an inviting outdoor living environment you'll appreciate. Reach out to us today to set up a no-cost consultation and feel the Decks Unique distinction yourself.
Complete Deck Building Services in East Rockaway
We take great pride in delivering a diverse range of decking services at Decks Unique, all tailored to meet the expectations of our East Rockaway clientele. Our proficiency extends from designing and constructing tailor-made decks to managing repairs, maintenance, and refinishing tasks. We also offer a variety of exclusive features and extras designed to upgrade and enhance your outdoor living space. Now, let's examine our wide variety of services more closely.
Custom Deck Design: Realizing Your Dream Deck through Expert Design
Our professional deck designers will work closely with you to create a custom deck that reflects your personal style, complements your home, and meets the unique requirements of your property. Our professionals are here to support you in making educated judgments by guiding you through the material selection process, ensuring the enduring appeal and robustness of your deck.
Masterful Deck Fabrication: Impressive Craftsmanship for an Elegant Exterior Space
As the foremost deck builder, we are devoted to employing first-rate materials and maintaining secure, productive workmanship. Our highly-experienced teams have the approval to install leading composite decking brands like Trex, TimberTech, and Azek. By paying attention to every detail and maintaining a focus on structural reliability, we secure that your deck not only looks remarkable but also endures the test of time.
Maintaining and Repairing Decks: Preserving Your Investment
To keep your deck beautiful and functional, regular maintenance is essential. Whether it's a wood or composite deck, our specialized team offers comprehensive repair and upkeep services. From exhaustive assessments aimed at spotting potential concerns, to professional repair of damages resulting from weather or age, consider us your all-encompassing deck maintenance provider. With the help of our consistent maintenance plans, rest assured that your deck will continually be kept in superb condition, regardless of the time of year.
Deck Restoration and Refinishing: Reimagine Your Outdoor Sphere
Over the years, even the finest decks might manifest signs of wear or ask for refinishing to conserve their visual charm. Our team of specialists can reinstate the aesthetic charm of your deck through professional cleaning, staining, weatherproofing, and sealing procedures. Besides, we can execute structural adjustments, assuring that your deck maintains its safety and functionality in the years to come.
Adapted Facets and Complementary Elements: Optimize Your Deck Satisfaction
With the goal of elevating your outdoor living area, we put forth numerous individualized aspects and add-ons intended to accent your deck. These alternatives feature energy-conserving illumination for decks, inbuilt seating, open-air kitchens, and fire components. By incorporating these elements into your deck design, we create a welcoming and comfortable space for you to enjoy with family and friends in East Rockaway.
Providing top-notch decking solutions to clients and nearby areas is a specialty of Decks Unique. Over our 20 years in the business, we've carved out a reputation for professionalism, dependability, and innovation. Should you need assistance in designing a new deck or improving a current one, our competent team has your back. Reach out to us now to book a cost-free consultation and find out how we can turn your outdoor area into a visually striking and practical haven.
Identify the Ideal Deck Material: Wood and Composite Choices
Assisting you in creating the ultimate outdoor getaway for your home is our commitment at Decks Unique. This is the reason we provide an extensive array of decking materials, encompassing wood and composite selections. Separate materials exhibit specific strengths so that you can determine the best option corresponding to your particular requirements and desires.
Experience the Classic Charm of Wood Decking
Wood's timeless versatility makes it an ideal material for adding warmth and charm to outdoor environments. Discover numerous wood decking solutions that cater to each individual's taste and budget requirements.
Pressure-Treated Boards: Economically Viable and Robust
Due to its cost efficiency and resilience, pressure-treated lumber appeals to a lot of homeowners. A specific treatment process shields this decking material from decomposing and insect problems. As a result, pressure-treated decks are long-lasting and require minimal maintenance.
Naturally Resistant Cedar and Redwood: A Grand Luxury
For those seeking a more luxurious option, we also offer cedar and redwood decking. These gorgeous and top-tier woods boast natural resistance to rot and insect infestations, offering a lasting deck that matures gracefully. The strong colors and exclusive grain formations of cedar and redwood decks make them a visually appealing complement to any home.
Exotic Hardwoods: Exquisite and Long-Lasting
For those in search of a genuinely distinctive and splendid option, ponder over selecting exotic hardwoods like Ipe, Tigerwood, or Cumaru. Thanks to their substantial density and ruggedness, these woods are celebrated for their incredible durability and strikingly beautiful appearance. With their striking colors and intricate patterns, exotic hardwood decks are a show-stopping centerpiece for any outdoor space.
Turn to Composite and PVC Decking for a Low-Maintenance Lifestyle
For individuals in search of a low-maintenance, environmentally friendly option, composite and PVC decking are worth considering. These groundbreaking materials fuse the visual appeal of wood with the ruggedness of synthetic ingredients, granting homeowners an essentially maintenance-free outdoor environment.
Composite Decking: Benefits and Advantages
Made from recycled wood fibers and plastic, composite decking is a strong and environmentally friendly preference. This type of decking material is impervious to issues like warping, cracking, and color loss, guaranteeing a stunning and durable deck that needs little attention. Furthermore, composite decks are simple to maintain, needing just infrequent washing to preserve the cleanliness of your outdoor area.
The Foremost Brands in Composite Materials Industry
Working with industry-leading composite decking brands such as Trex, TimberTech, and Azek is a source of pride for Decks Unique. We can supply East Rockaway homeowners with high-quality materials for an attractive, long-lasting outdoor environment as authorized installers of these superior products.
Personalize Your Deck by Exploring Various Color and Texture Options
The wide variety of customization possibilities is a major plus for composite decking. With a variety of color and texture choices, you can create a one-of-a-kind outdoor space that perfectly suits your home's aesthetic. There is a composite decking option to match your preference for either the appearance of natural wood or a sleeker, more modern aesthetic.
Elevate Your Deck with a Variety of Railing and Baluster Options
The ultimate deck won't be whole without the fitting railing and baluster system. Decks Unique provides an ample range of options to elevate your deck design and warrant your outdoor area's safety and functionality.
Wood Railing Solutions: Ageless and Time-honored
If you're after a classic and eternal look, a wood railing system could be the way to go. Both wood and composite decks can be perfectly matched by a wood railing system, ensuring a smooth and integrated look. To create a visually appealing result, paint or stain your wood railing system so it complements your deck or the exterior of your East Rockaway home.
Metal and Glass Railing Systems: Trendy and Slick
If you prefer a more modern and sleek aesthetic, consider metal or glass railing systems. Boosting the enjoyment of your deck view, these selections add a 21st-century touch and cater to homeowners who are lucky enough to have gorgeous surroundings.
Composite Railing Systems: Minimal Upkeep and Fashionable
If you're looking for an elegant option with minimal upkeep, composite railing systems are a superb choice. By combining these sturdy and attractive railings with composite decking, you can achieve a harmonious look and establish a stunning outdoor environment with minimal maintenance.
No matter what your tastes are, Decks Unique is committed to helping you find the perfect decking materials for your living quarters. Engage with us today to convey your needs and embark on the journey to design your dream outdoor space.
Raise the Bar for Your Outdoor Living Space with Our Additional Services in East Rockaway
Decks Unique aims to turn your outdoor living space into a charming and functional extension of your dwelling. Besides our excellent deck building services, we also deliver a wide array of extra services, including wood awnings, cabanas, gazebos, pergolas, and porch construction. In East Rockaway, our skilled team works closely with you to achieve your outdoor vision, guaranteeing top-quality and durable results.
Wooden Awnings: Combine Style and Shade in Your Outdoor Space
The use of wood awnings can impart both shade and refinement to your outdoor zone. Our experienced team at Decks Unique will help you choose the right design and materials to create a beautiful and functional wood awning that complements your home's aesthetic. These wood awnings not only serve to protect against harsh weather but also help raise your property's overall value.
Cabanas: Establish an Elegant Haven in Your East Rockaway Greenspace
Providing a seamless mix of luxury, comfort, and seclusion, cabanas are an excellent enhancement to any outdoor space. Our adept team will cooperate with you in the design and construction of a one-of-a-kind cabana that addresses your particular needs and desires. Whether you're looking for a comfortable nook to unwind or a sophisticated space to entertain visitors, we can fashion a cabana that becomes your ultimate al fresco getaway.
Gazebos: An Idyllic Enhancement for Your Garden or Patio
Incorporating a gazebo in a garden or patio lends perpetual elegance, offering an alluring centerpiece and a cool alcove for outdoor unwinding. Our accomplished team makes it easy for you to choose the most suitable style, materials, and location for your gazebo, ensuring that it merges seamlessly with your existing outdoor area. Relying on our precision craftsmanship, we present a magnificent gazebo that adds to the charm of your outdoor environment for the long run.
Pergolas: Integrate Architectural Style and Functionality into Your Open-air Space
Pergolas are an excellent way to add architectural interest and functionality to your outdoor living space. Such structures offer a mix of shade and natural light, making them ideal for garden paths, terrace areas, or al fresco dining spots. Our adept professionals at Decks Unique are here to design and construct a custom-built pergola that suits your preferences, adding value to your living space.
Patio Construction: Raise Your Home's Curb Appeal and Outdoor Living Space
An artfully designed porch not only advances your home's curb appeal but also serves up a comfy outdoor living spot for you and your family to cherish. Our qualified team will cooperate with you to construct an exclusive porch that blends with your home's architectural design and accommodates your functional needs. With our painstaking observance of detail and fidelity to outstanding quality, you can be assured that your porch manufacturing enterprise is being managed by skilled professionals.
Get in touch with Decks Unique for transforming your East Rockaway outdoor living area
Decks Unique takes pride in giving first-rate, personalized outdoor living solutions to people in East Rockaway and the surrounding communities. Should you desire to add a wood awning, cabana, gazebo, pergola, or porch to your outdoor living environment, our adept team is here for support. Don't hesitate to get in touch with us today to talk about your project and unveil how we can morph your outdoor living space into a sumptuous and functional part of your home.
Top-notch Deck Consulting and Design Solutions in East Rockaway
Decks Unique is renowned for providing individualized consultations and custom deck plans to fulfill the particular desires of our customers. Possessing over 20 years of experience, our proficient deck designers will work hand-in-hand with you to create a deck that complements your home's aesthetics and usefulness. We'll employ top-tier 3D modeling and visualization strategies to turn your dream deck into a reality, guaranteeing that the resulting product lives up to your anticipations.
Durable Deck Materials for Extended Life Expectancy
Decks Unique, the top Long Island-based deck builder, is an approved installer for all major composite decking brands, including Trex, TimberTech, and Azek. We also offer a variety of wood decking options to suit your preferences, such as pressure-treated lumber, cedar, redwood, and exotic hardwoods. Our dedication to using top-quality materials guarantees a long-lasting, low-maintenance deck for your home.
Outstanding Deck Building Services in East Rockaway
The proficient deck construction team at Decks Unique takes pride in offering excellent craftsmanship and streamlined efficiency during every step of the building process. Utilizing our comprehensive knowledge of building codes, laws, and permits, you can have faith in us to handle the entire project from initiation to completion, resulting in an exquisite and functional outdoor living space.
Defend and Resurrect Your Deck's Splendor
We, at Decks Unique, grasp the necessity of regular maintenance to uphold your deck's beauty and structural resilience. Our experienced team can inspect and identify any damages or potential issues, providing necessary repairs to keep your deck in top condition. At Decks Unique, we also propose deck revamping and restoration amenities, involving cleaning, staining, safeguarding against weather, and sealing to conserve and magnify your deck's appeal.
Upgrade Your Outdoor Area with Custom Features and Add-ons
To honestly create a one-of-a-kind backyard sanctuary with your deck, Decks Unique makes available a selection of bespoke aspects and supplements, encompassing deck light systems, incorporated chairs, outdoor culinary spaces, and fire-based amenities. Such improvements not only boost practicality, but they also generate a cozy and welcoming ambiance for you and your visitors to appreciate.
In-Depth Decking Assistance and More
Decks Unique not only excels in deck designing and construction but also focuses on additional outdoor structures, including wooden awnings, cabanas, gazebos, pergolas, and porch construction. These extra structures will considerably enrich your Long Island home's outdoor area, providing the perfect space for both relaxation and entertainment.
Decks Unique is here to help with your East Rockaway decking needs. Discover the impact our dedication to quality, professionalism, and customer satisfaction has on your outdoor area. Reach out to us today for a free consultation, and let us convert your backyard into an exquisite showpiece.
With pride, offering our assistance to East Rockaway, Dix Hills, Bohemia, West Islip, Syosset, Selden, Rockville Centre and additional Long Island locales.
Offering Long Island Quality Deck Designs and Services: