Get to know Decks Unique - Bellmore's Trusted Deck Building Specialists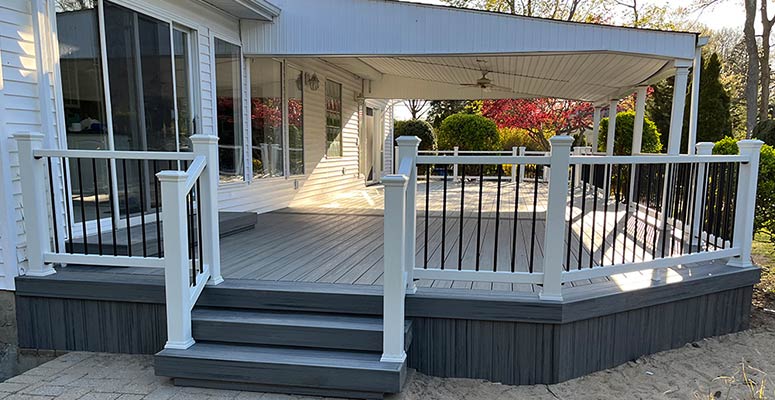 Decks Unique, a family-run business specializing in custom deck design and construction, has been serving the Long Island community and surrounding regions, including Bellmore, for more than two decades. Owing to our zeal for design and unwavering dedication to professionalism, honesty, and innovation, we've become the largest producer of high-end decks on Long Island, establishing industry standards. Our expertise lies in crafting custom decks, porches, gazebos, pergolas, wooden awnings, and other outdoor amenities that enhance the appeal, value, and practicality of your residence in Long Island.
Highly Skilled and Experienced Deck Construction Services in Bellmore
We at Decks Unique hold the belief that a well-considered deck plan makes for a prudent choice in the realm of home improvement. The Decks Unique team of master deck builders is resolute in offering optimum quality, sticking to smooth production schedules, and safeguarding the lasting merit of our warranties. Our steadfast pursuit of excellence has culminated in numerous pleased clients and deck constructions they are proud to exhibit for many years down the line.
Long Island-based deck building crews have authorization to use all major composite deck products, including Trex, TimberTech, and Azek. Benefit from our complimentary at-home consultations and computer-aided deck templates so you can envisage your project ahead of construction. Entrust us with your backyard as our forthcoming assignment!
Enhance Your Home's Value through a Tailor-Made Deck
A well-crafted deck contributes to both an increase in your Bellmore home's outdoor living environment and the enhancement of its value. Decks Unique's forte is in the design and production of bespoke decks that adhere to the distinct demands and tastes of all our customers. Whether a comfortable venue for socializing or a plush outdoor getaway to experience the terrific weather, our committed personnel will closely cooperate with you to manifest your ideal vision.
For outdoor spaces, we understand that each homeowner has their own distinct tastes and necessities. We supply a wide scope of materials, styles, and facets to build the superb deck that goes well with your dwelling and lifestyle. From time-honored wood choices such as pressure-treated lumber, cedar, and redwood to the low-maintenance advantages of composite and PVC decking, we offer an ideal solution for each budget and liking.
Unmatched Commitment to Awe-inspiring Quality and Client Comfort
At Decks Unique, we take immense pride in the quality of our workmanship and the satisfaction of our clients. Every project we tackle meets the highest criteria, thanks to our commitment to using first-rate materials and working with proficient, seasoned builders.
To us, seamless communication is the backbone of successful projects, and we work diligently to ensure our clients are always in the know. Our reliable team is there for you, from the initial consultation and design brainstorming, through the construction journey, and even after the final review, to make sure all questions are answered, fears are addressed, and your satisfaction with the new deck is undeniable.
Allow Decks Unique to turn your Bellmore backyard into an outdoor living area you'll adore. Contact us immediately to set up a complimentary consultation and feel the Decks Unique superiority.
All-inclusive Decking Solutions in Bellmore
We at Decks Unique are proud to offer a broad selection of decking services, designed to address the specific needs of our customers in Bellmore. Our expertise covers everything from custom deck design and construction to repair, maintenance, and refinishing. Decks Unique also offers an assortment of standout features and add-ons to improve and elevate your outdoor living area. We invite you to explore our extensive selection of services more closely.
Custom Deck Design: Bringing Your Dream Deck to Life
Our skilled deck designers will closely collaborate with you to design a customized deck that showcases your individual taste, enhances your home, and caters to the specific needs of your property. For the sake of assisting you in making confident choices, our expert personnel will take you through material assessments, guaranteeing sustained refinement and stability in your deck.
Exceptional Deck Creation: Superior Quality in Craftsmanship for an Eye-Catching Outside Space
As the leading deck builder, we pledge to use only top-notch materials and practice secure, effective workmanship. Our proficient crews are authorized to install well-known composite deck materials, including Trex, TimberTech, and Azek. By giving close attention to detail and prioritizing structural strength, we ensure that your deck is not only breathtaking but also withstands the passage of time.
Keeping Your Deck in Tip-Top Shape: Defending Your Investment
Keeping your deck beautiful and functional requires regular maintenance. Our skilled team is available to provide detailed repair and maintenance services for wood and composite decks. Offering complete inspections to uncover potential issues and expert repair services for damages due to the elements or wear, we are your ultimate destination for all things related to deck maintenance. You'll have peace of mind with the knowledge that your deck will remain in exceptional condition year-round, thanks to our regular maintenance programs.
Deck Refinishing and Restoration: Rejuvenate Your Exterior Space
As time elapses, even the most exceptional decks can present signs of wear or need refinishing to maintain their aesthetic. Our knowledgeable team can recuperate your deck's attractiveness by utilizing expert cleaning, staining, weatherproofing, and sealing techniques. Also, we can provide structural modifications, making certain that your deck continues to be safe and practical for many years ahead.
Distinctive Details and Expanded Options: Intensify Your Deck Gratification
To enhance your outdoor living area, we provide an assortment of tailor-made features and extras crafted to accentuate your deck. Such choices encompass energy-saving lighting for decks, integrated seating, alfresco kitchens, and fire elements. Inclusion of these elements within your deck's design enables us to produce a warm and affable space for your enjoyment with family and friends in Bellmore.
Expertise in delivering prime decking services to clients and surrounding locations sets Decks Unique apart. Our distinguished reputation has been built on 20 years of professionalism, integrity, and novel thinking. Our talented team is ready to assist, whether you'd like to create a new deck or upgrade an existing one. Get in touch with us today to arrange a complimentary consultation and uncover how we can convert your exterior space into an attractive, useful oasis.
Decide on the Optimal Deck Material for Your Lifestyle: Wood and Composite Variants
We, at Decks Unique, are devoted to aiding you in crafting the ultimate outdoor haven for your abode. For this purpose, we deliver a wide range of decking materials that include wooden and composite solutions. Each material has its unique advantages, ensuring that you can choose the best option for your specific needs and preferences.
Classic Beauty with Wood Decking
As a versatile and enduring substance, wood imparts a sense of warmth and attractiveness to every open-air space. Discover numerous wood decking solutions that cater to each individual's taste and budget requirements.
Pressure-Treated Lumber: Affordable and Durable
Many homeowners prefer pressure-treated lumber because it is cost-effective and long-lasting. A specific treatment process shields this decking material from decomposing and insect problems. This ensures that pressure-treated decks remain durable and need only minimal maintenance.
Naturally Resistant Cedar and Redwood: A Grand Luxury
For a more luxurious selection, our offerings include cedar and redwood decking. The eye-catching and high-grade woods are organically immune to decay and bug damage, ensuring a deck that remains sturdy for years to come. Sporting vivid tones and extraordinary grain textures, cedar and redwood decks serve as a remarkable addition to any dwelling.
Exotic Hardwoods: Strikingly Attractive and Durable
For a truly unparalleled and elegant choice, give some thought to exotic hardwoods such as Ipe, Tigerwood, or Cumaru. These woods, with their incredible density and toughness, are recognized for their lasting quality and remarkable aesthetics. Accentuating any outdoor area, exotic hardwood decks offer eye-catching colors and ornate patterns as a stunning centerpiece.
Pursue a Low-Maintenance Lifestyle with Composite and PVC Decking Options
In case you're searching for a low-maintenance and eco-centric alternative, give composite and PVC decking some thought. These groundbreaking materials fuse the visual appeal of wood with the ruggedness of synthetic ingredients, granting homeowners an essentially maintenance-free outdoor environment.
The Upsides and Benefits of Composite Decking
By combining recycled wood fibers and plastic materials, composite decking offers a durable and eco-friendly option. The decking material's ability to resist warping, cracking, and fading ensures a gorgeous and durable deck with a low level of necessary upkeep. Composite decks are also known for their ease of cleaning, requiring only infrequent washes to keep your outdoor space looking its best.
Industry-Leading Brands in Composite Materials
Decks Unique is pleased to join forces with leading composite decking brands, such as Trex, TimberTech, and Azek. Being certified installers of these outstanding products, we're able to supply Bellmore residents with top-notch materials for stunning and durable outdoor spaces.
Create a Distinctive Deck with Color and Texture Selections
The extensive array of personalization options is a crucial benefit of composite decking. You can design a bespoke outdoor area that matches your home's aesthetic, thanks to various color and texture possibilities. Any preference for natural wood aesthetics or contemporary designs can be accommodated with the right composite decking choice.
Upgrade Your Deck by Adding Railing and Baluster Choices
The ideal deck isn't all it can be without the proper railing and baluster system. With Decks Unique, you have access to a variety of options that enhance your deck design while guaranteeing safety and functionality in your outdoor area.
Wooden Railing Systems: Classic and Everlasting
To achieve a timeless and classic appearance, think about using a wood railing system. This option pairs beautifully with both wood and composite decks, creating a seamless and cohesive design. A remarkable final appearance can be achieved by painting or staining a wood railing system to correspond with your deck or the exterior of your Bellmore home.
Metal and Glass Railing Systems: Stylish and Streamlined
Should you fancy a contemporary and streamlined look, think about opting for metal or glass railing systems. These modern possibilities not only offer an up-to-date appeal but also amplify the sights from your deck, making them a top choice for homeowners immersed in picturesque backdrops.
Composite Railing Systems: Low-Maintenance and Stylish
If you're looking for an elegant option with minimal upkeep, composite railing systems are a superb choice. The resilient and captivating railings offer a consistent aesthetic when used in conjunction with composite decking, cultivating an exquisite outdoor space with low maintenance needs.
Regardless of your tastes, Decks Unique can assist you in selecting the ideal decking materials for your residence. Reach out to us today to discuss your goals and commence the design of your ideal outdoor space.
Transform Your Outdoor Living Space with Our Extra Offerings in Bellmore
Decks Unique strives to change your outdoor living space into a lavish and efficient extension of your home. Not only do we specialize in deck building services, but we also offer a range of other services like wood awnings, cabanas, gazebos, pergolas, and porch construction. In Bellmore, our expert professionals collaborate with you to realize your dream while maintaining exceptional quality and durability.
Wood Awnings: Enhance Your Outdoor Area with Shade and Style
Through wood awnings, you can effortlessly introduce both shade and grace to your exterior area. The proficient staff at Decks Unique will guide you in picking the perfect design and materials to fashion an appealing and functional wood awning that suits your home's style. These installations not only safeguard you from harsh weather but also contribute to the overall appreciation of your property's value.
Cabanas: Design a Lavish Getaway in Your Bellmore Garden
Cabanas deliver a flawless fusion of opulence, comfort, and seclusion, making them the ultimate addition to any outdoor setting. Together with our expert team, you'll design and build a tailor-made cabana that perfectly suits your requirements and taste. Looking for a comfortable retreat to relax or a classy space to host events, we can design a cabana that transforms into your perfect outdoor haven.
Gazebos: An Elegant Inclusion in Your Garden or Patio
A timeless gazebo enhances both gardens and patios, delivering a delightful focus and a sheltered area for outdoor rest. With our skilled team's guidance, you'll select the right style, materials, and site for your gazebo, ensuring harmonious integration with your existing surroundings. Our skilled craftsmanship ensures a breathtaking gazebo that will elevate the appeal of your outdoor environment for years in the future.
Pergolas: Create Eye-catching Architectural Features and Functionality for Your Outdoor Living Area
To elevate the visual interest and practicality of your outdoor space, consider adding a pergola. These structures provide partial shade while still allowing natural light to filter through, making them perfect for garden walkways, patios, or outdoor dining areas. Let Decks Unique's knowledgeable professionals plan and build a customized pergola to match your style, and in doing so, increase your home's value.
Porches: Enhancing Your Home's Curb Appeal and Expanding Outdoor Living Space
A meticulously designed porch not only augments your home's curb appeal but also affords a relaxing outdoor living zone for you and your relatives to delight in. Our talented team will combine efforts with you to craft a unique porch that parallels your home's architectural appearance and serves your functional prerequisites. With our painstaking observance of detail and fidelity to outstanding quality, you can be assured that your porch manufacturing enterprise is being managed by skilled professionals.
Talk to Decks Unique for improving your Bellmore outdoor living space
Decks Unique is proud to deliver top-notch, tailor-made outdoor living solutions to customers in Bellmore and nearby regions. If you'd like to include a wood awning, cabana, gazebo, pergola, or porch in your outdoor living area, our expert team is on hand to help. Let's chat about your project today, and we'll reveal how we can change your outdoor living space into a luxurious and practical component of your home.
Expertly Crafted Deck Plans and Designs in Bellmore
At Decks Unique, we excel in offering customized consultation services and creating unique deck designs to fulfill the expectations of our clients. Boasting more than two decades of expertise, our skilled deck designers collaborate with you to design a deck that augments your home's visual appeal and practicality. Our use of sophisticated 3D modeling and visualization technology ensures that your ideal deck is brought to life, matching your expectations in the final outcome.
Top-Notch Decking Materials to Ensure Longevity
On Long Island, Decks Unique is the top deck builder and authorized installer for leading composite deck products such as Trex, TimberTech, and Azek. We also furnish an assortment of wooden decking options to match your likings, including pressure-treated planks, cedar, redwood, and high-quality hardwoods. With a commitment to using only exceptional materials, you can trust that your new deck will be long-lasting and require minimal maintenance.
Expert Deck Construction Services in Bellmore
Decks Unique's seasoned deck construction team is all about offering unparalleled artistry and streamlining efficiency throughout the entire construction process. Leveraging our deep expertise in building codes, norms, and permits, you can entrust us with the full project from beginning to end, yielding an eye-catching and practical outdoor environment.
Preserving and Rejuvenating Your Deck's Aesthetics
Decks Unique understands how vital routine upkeep is in protecting the appeal and infrastructure of your deck. Our experienced team can inspect and identify any damages or potential issues, providing necessary repairs to keep your deck in top condition. Apart from that, we deliver deck refinishing and refurbishment services, including cleaning, staining, weather-resistant treatments, and sealing to preserve and augment your deck's attractiveness.
Improve Your Outdoor Living Area with Custom-built Additions and Elements
For authentically crafting your deck into a standout alfresco haven, Decks Unique brings you a variety of individualized elements and add-ins, featuring lighting systems for decks, seats embedded within the layout, cooking zones suitable for outdoor use, and fire-related fixtures. Such improvements not only boost practicality, but they also generate a cozy and welcoming ambiance for you and your visitors to appreciate.
Comprehensive Decking Services and More
Not only do we excel in deck design and construction at Decks Unique, but we also specialize in creating extra outdoor structures, including wood awnings, cabanas, gazebos, pergolas, and porch construction. These structures can further enhance your Long Island home's outdoor space, making it the perfect area for relaxation and entertainment.
Allow Decks Unique to manage all your decking requirements in Bellmore. Witness the improvement our focus on quality, professionalism, and customer happiness brings to your exterior space. Reach out to us today for a free consultation, and let us convert your backyard into an exquisite showpiece.
With pride, offering our assistance to Bellmore, West Hempstead, Suffolk County, Selden, Rockville Centre, Oceanside, North Bay Shore and additional Long Island locales.
Offering Long Island Quality Deck Designs and Services: