Visit Decks Unique - Hauppauge's Most Reliable Deck Builder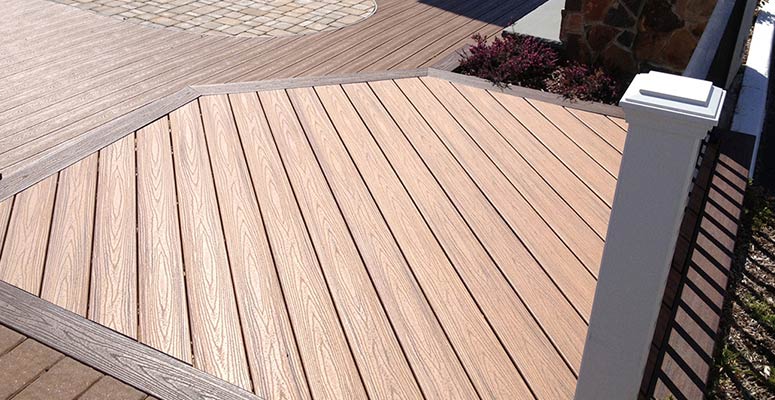 For over 20 years, Decks Unique has been a family-owned and operated company, specializing in custom deck design and construction, serving the people of Long Island and nearby areas, such as Hauppauge. Driven by our passion for design and a strong commitment to professionalism, honesty, and innovation, we have become the leading producer of top-quality decks in Long Island, setting the standards for our industry. We're adept at designing and constructing personalized decks, porches, gazebos, pergolas, wooden awnings, and a variety of outdoor installations that improve the value, aesthetics, and practicality of your Long Island household.
Skilled and Experienced Deck Building Services in Hauppauge
At Decks Unique, we know that a well-executed deck design proves to be a great investment when pondering home enhancements. Our proficient group of skilled deck craftspeople prioritizes first-rate quality, adheres to streamlined production timelines, and lets you rest assured knowing our warranties carry lasting worth. This relentless dedication to superior workmanship has delivered countless gratified customers and exceptional decks they can take pride in for years.
All major composite decking products, such as Trex, TimberTech, and Azek, can be installed by our experienced Long Island deck construction teams. We extend free residential consultations and digitally-crafted deck layouts for you to preview your project before it gets underway. Choose your backyard as the focus of our next enterprise!
Boost Your Home's Worth with a Personalized Deck
Your Hauppauge home's outdoor living space is not only enriched by a fine deck but also experiences a boost in overall worth. We, at Decks Unique, focus on the development and creation of bespoke decks that address the specific requirements and tastes of each client. Regardless of whether you want an inviting space to entertain loved ones or a haven to appreciate the delightful weather, we will work in harmony with you to actualize your vision.
Each homeowner has specific desires and requirements for their outdoor settings, which we acknowledge. This is the basis for our extensive variety of materials, styles, and elements to establish the flawless deck that lines up with your home and lifestyle. Whether you prefer classic wood choices like pressure-treated lumber, cedar, and redwood, or easy-care composite and PVC decking options, we have the perfect solution for every budget and style.
Unmatched Dedication to Excellence and Client Contentment
We take great pride in our high-quality workmanship and client satisfaction at Decks Unique. Our dedication to the use of high-caliber materials and collaboration with skilled, seasoned builders guarantees each project we undertake is of the finest quality.
To us, seamless communication is the backbone of successful projects, and we work diligently to ensure our clients are always in the know. Our reliable team is there for you, from the initial consultation and design brainstorming, through the construction journey, and even after the final review, to make sure all questions are answered, fears are addressed, and your satisfaction with the new deck is undeniable.
Let Decks Unique change your Hauppauge backyard into an attractive outdoor living area you'll cherish. Reach out to us now to organize a free consultation and understand the Decks Unique difference on your own.
Full-range Decking Services in Hauppauge
At Decks Unique, we pride ourselves on offering a wide range of decking services tailored to meet the needs of our clients in Hauppauge. Our expertise at Decks Unique ranges from crafting custom deck designs and construction to handling repair work, maintenance, and refinishing projects. Decks Unique also offers an assortment of standout features and add-ons to improve and elevate your outdoor living area. Let us examine the range of services we provide in greater detail.
Custom Deck Design: Constructing Your Dream Deck for Your Enjoyment
Our accomplished deck designers will join forces with you to devise a custom-made deck that captures your unique fashion, enriches your home, and satisfies the exceptional criteria of your property. With the purpose of helping you make smart decisions, our experts will navigate you through choosing materials, securing a long-lasting and beautiful result that stands the test of time.
Expert Deck Assembly: Fine Craftsmanship for an Attractive External Space
Being an esteemed deck builder, we dedicate ourselves to using only first-class materials and ensuring safe, efficient labor. Our expert staff are certified installers of top composite decking brands, such as Trex, TimberTech, and Azek. By paying attention to every detail and maintaining a focus on structural reliability, we secure that your deck not only looks remarkable but also endures the test of time.
Deck Care and Repairs: Keeping Your Investment Secure
Routine maintenance is necessary for preserving the attractiveness and usefulness of your deck. Whether it's a wood or composite deck, our specialized team offers comprehensive repair and upkeep services. Our services range from comprehensive inspections to pinpoint potential problems, to expert repairs for weather or wear damage, ensuring we're the ultimate solution for all your deck maintenance needs. Our systematic maintenance programs ensure that you can trust your deck to maintain its excellence all year long.
Deck Refinishing and Restoration: Renew Your Outdoor Oasis
In the course of time, even the most superior decks can reveal signs of wear or call for refinishing to uphold their appearance. Our experienced team members can renew the visual appeal of your deck via expert cleaning, staining, weatherproofing, and sealing techniques. In addition, we can perform structural reinforcements, ensuring your deck remains secure and serves its purpose for years to come.
Customized Elements and Added Components: Elevate Your Deck Pleasures
For improving your outdoor living environment, we propose a selection of customized attributes and add-ons intended to supplement your deck. The available options consist of energy-efficient illumination on decks, embedded seating, exterior kitchens, and fire amenities. We merge these features into your deck's overall structure, creating an inviting and pleasant ambiance for you to cherish with family and friends in Hauppauge.
We, at Decks Unique, excel in delivering the finest decking solutions to our customers and areas nearby. With over 20 years of experience in the industry, we have built a reputation for professionalism, honesty, and innovation. If you're interested in designing a new deck or renovating your current one, our experienced team can help. Book a free consultation with us today, and find out how we can revamp your outdoor space into a stunning and functional retreat.
Identify the Ideal Deck Material: Wood and Composite Choices
Decks Unique's primary focus is to support you in building the perfect exterior paradise at your home. This is why we have an expansive array of decking materials at our disposal, featuring both wood and composite options. Each material has its unique advantages, ensuring that you can choose the best option for your specific needs and preferences.
Classic Beauty with Wood Decking
Wood's timeless versatility makes it an ideal material for adding warmth and charm to outdoor environments. We offer a range of wood decking options to meet every style and budget.
Pressure-Maintained Lumber: Reasonably Priced and Rugged
Affordability and durability make pressure-treated lumber a favorite choice for numerous homeowners. A specialized process protects the decking material from both decay and insect-related damage. Pressure-treated decks last a long time and necessitate minimal care due to this treatment.
Luxury Meets Durability: The Wonders of Cedar and Redwood
We also provide cedar and redwood decking for those wanting a more extravagant option. These beautiful and high-end woods are naturally resistant to decay and insects, ensuring a long-lasting deck that ages gracefully. Cedar and redwood decks, showcasing rich coloration and individualistic grain patterns, bring a significant accent to any living space.
Exotic Hardwoods: Beautiful and Durable
For an absolutely unique and luxurious solution, explore the possibility of using exotic hardwoods like Ipe, Tigerwood, or Cumaru. These remarkably strong and resilient woods are renowned for their extraordinary longevity and eye-catching looks. Exotic hardwood decks, with their vibrant hues and elaborate designs, serve as breathtaking focal points in any outdoor area.
The Benefits of Low-Maintenance Living: Composite and PVC Decking
Those looking for a low-maintenance and green choice should think about composite and PVC decking. These inventive materials amalgamate the natural beauty of wood with the durability of synthetic compounds, bestowing homeowners with a virtually maintenance-free outside setting.
Benefits and Advantages of Composite Decking
Composite decking, composed of both reused wood fibers and plastic, presents a robust and eco-friendly alternative. With resistance to warping, cracking, and discoloration, this decking material guarantees an attractive and enduring deck that requires little maintenance. Composite decks also have an advantage in their ease of cleaning, with only sporadic washing needed to keep the outdoor area immaculate.
Industry-Leading Brands in Composite Materials
Decks Unique is proud of their association with top composite decking brands like Trex, TimberTech, and Azek. As authorized installation experts of these unparalleled products, we can offer Hauppauge homeowners the highest-grade materials for an appealing, durable outdoor space.
Upgrade Your Deck with Various Color and Texture Choices
A key benefit of composite decking is the broad spectrum of customization opportunities. With numerous color and texture options, you can design a unique outdoor area tailored to your home's style. You can find a fitting composite decking solution to satisfy your inclination for natural wood or modern design aesthetics.
Amplify Your Deck's Look with Railing and Baluster Additions
The ultimate deck won't be whole without the fitting railing and baluster system. Decks Unique presents a broad array of possibilities to enrich your deck's design and guarantee the safety and efficiency of your outdoor space.
Wood Railing Systems: Traditional and Timeless
For a classic and timeless look, consider a wood railing system. Wood and composite decks alike can benefit from the addition of a wood railing system, providing a seamless integration and consistent style. Create a breathtaking finished look by painting or staining your wood railing system to complement your deck or the exterior of your Hauppauge home.
Metal and Glass Railing Systems: Fashionable and Uncluttered
Opt for metal or glass railing systems if you're inclined towards a sophisticated and current aesthetic. These railing systems bring a current flair while enhancing the panorama from your deck, which is highly appreciated by property owners with beautiful surroundings.
Composite Railing Systems: Effortless Maintenance and Stylish
For individuals who desire a low-upkeep solution while maintaining sophistication and elegance, composite railing systems make an ideal choice. These strong and stylish railings, when matched with composite decking, bring about a cohesive appearance, resulting in a stunning low-maintenance outdoor space.
No matter what your tastes are, Decks Unique is committed to helping you find the perfect decking materials for your living quarters. Reach out to us today to discuss your goals and commence the design of your ideal outdoor space.
Boost Your Outdoor Living Space with Our Additional Services in Hauppauge
Decks Unique is committed to turning your outdoor living area into a lavish and practical extension of your residence. In addition to our outstanding deck construction services, we also provide a range of supplementary services like wooden awnings, cabanas, gazebos, pergolas, and building porches. In Hauppauge, our experienced professionals collaborate closely with you to turn your dreams into reality while maintaining exceptional quality and durable construction.
Wood Awnings: Enhance Your Outdoor Area with Shade and Style
Wood awnings serve as an effective way to integrate both shade and elegance into your outdoor surroundings. At Decks Unique, our skilled team can assist you in selecting the appropriate design and materials for an attractive and practical wood awning that enhances your home's appearance. These constructions provide both shelter from severe weather conditions and elevation in your property's total value.
Cabanas: Construct a High-end Refuge in Your Hauppauge Yard
Blending luxury, relaxation, and privacy perfectly, cabanas are an exceptional choice for upgrading any outdoor area. We'll have our team of specialists work closely with you to create and build a custom-made cabana in line with your specific requirements and inclinations. Whether your desire is a welcoming respite for relaxation or an elegant setting for entertaining guests, we can create a cabana that presents an idyllic outdoor escape.
Gazebos: A Dreamy Addition to Your Garden or Patio Area
A gazebo serves as a classic element in any garden or patio, offering an attractive centerpiece and a sheltered space for enjoying the outdoors. Our knowledgeable team guides you through the process of choosing the perfect style, materials, and location for your gazebo, guaranteeing harmonious fusion with your existing landscape. Utilizing our exceptional craftsmanship, we provide a beautiful gazebo that bolsters the aesthetic appeal of your outdoor space for years to follow.
Pergolas: Improve Your Outdoor Oasis with Striking Architectural Design and Function
Pergolas offer a brilliant solution for infusing architectural style and practical purposes into your outdoor environment. These constructions supply a blend of shadow and natural brightness, thus perfectly complementing garden pathways, external platforms, or open dining zones. At Decks Unique, our qualified experts are capable of designing and constructing a personalized pergola that fits your aesthetic desires and adds worth to your residence.
Porch Development: Elevate Your Home's Curb Appeal and Outdoor Lifestyle
A skillfully designed porch not only boosts your home's curb appeal but also gives a welcoming outdoor living space for you and your family to savor. Our seasoned group will join forces with you to execute a customized porch design that suits your home's architecture and meets your purposeful needs. With our keen eye for detail and dedication to excellence, you can have peace of mind knowing your porch construction endeavor is well taken care of.
Communicate with Decks Unique for your Hauppauge outdoor living area transformation
At Decks Unique, providing superior, custom-made outdoor living options for our clients in Hauppauge and the adjacent areas is our mission. Whether you want to add a wood awning, cabana, gazebo, pergola, or porch to your outdoor area, our team of professionals is here to help. Reach out to us today to talk about your project and find out how we can turn your outdoor living space into an opulent and functional addition to your home.
Hauppauge's Premier Deck Consultation and Design Experts
At Decks Unique, we excel in offering customized consultation services and creating unique deck designs to fulfill the expectations of our clients. With over 20 years of industry know-how, our experienced deck designers will work side by side with you to create a deck that amplifies your home's appearance and practicality. Leveraging the latest 3D modeling and visualization processes, we'll actualize your dream deck and ensure the completed product is in line with your desired expectations.
First-Rate Deck Materials for Maximum Strength
On Long Island, Decks Unique is the top deck builder and authorized installer for leading composite deck products such as Trex, TimberTech, and Azek. We have a range of wood decking options to cater to your needs, such as pressure-treated boards, cedar, redwood, and imported hardwoods. We are committed to using only superior materials, ensuring the durability of your new deck while keeping maintenance requirements minimal.
Exceptional Deck Construction Services in Hauppauge
At Decks Unique, our talented deck building professionals are devoted to ensuring exceptional quality and efficiency in all phases of the construction process. Given our vast knowledge of building codes, regulations, and permits, you can trust us to execute the full project from start to finish, creating a beautiful and efficient outdoor living area.
Maintaining & Restoring the Beauty of Your Deck
Decks Unique is well aware of the value of routine maintenance in sustaining both the visual allure and durability of your deck. Decks Unique's expert team can scrutinize and discover any issues or possible concerns, providing the necessary solutions to preserve your deck in peak condition. At Decks Unique, we also propose deck revamping and restoration amenities, involving cleaning, staining, safeguarding against weather, and sealing to conserve and magnify your deck's appeal.
Raise the Standard of Your Outside Area with Unique Features and Add-ons
To actually turn your deck into a remarkable outside getaway, Decks Unique offers numerous customized details and enhancements like decking illumination, seating built into the structure, kitchens suited for the exterior, and accents centered around fire. These refinements not only contribute to usefulness, but they also establish a warm and alluring environment for you and your guests' enjoyment.
Thorough Decking Services and More
Decks Unique is well-versed in both deck design and construction as well as additional outdoor structures like wood awnings, cabanas, gazebos, pergolas, and porch construction. These outdoor structures can elevate your Long Island property's outdoor appeal, making it a prime location for enjoying downtime and entertaining guests.
For all your decking desires in Hauppauge, choose Decks Unique. Observe the effect of our commitment to outstanding quality, professionalism, and customer satisfaction on your outdoor living space. Contact us today to book a free assessment and let us change your backyard into an astonishing piece of art.
Joyfully helping the citizens in Hauppauge, Garden City, Elmont, Dix Hills, Bohemia, West Hempstead, Suffolk County, and other Long Island vicinities.
Offering Long Island Quality Deck Designs and Services: