Explore Decks Unique - Your Go-To Deck Building Experts in Albertson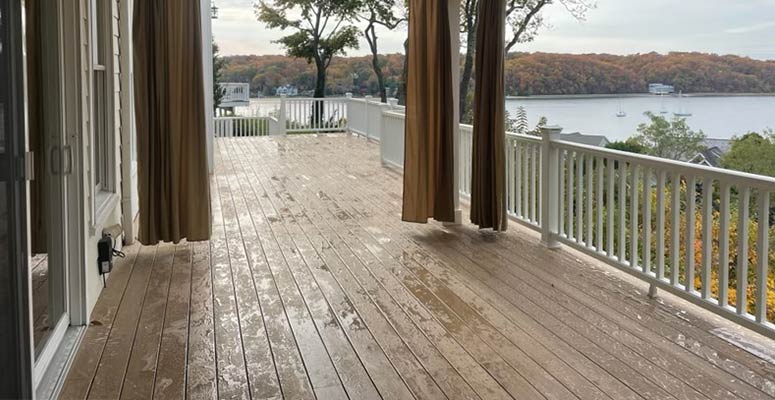 As a family-owned and operated business for over 20 years, Decks Unique has provided custom deck design and construction services to the people of Long Island and neighboring regions, such as Albertson. Driven by our passion for design and a strong commitment to professionalism, honesty, and innovation, we have become the leading producer of top-quality decks in Long Island, setting the standards for our industry. Our expertise lies in crafting custom decks, porches, gazebos, pergolas, wooden awnings, and other outdoor amenities that enhance the appeal, value, and practicality of your residence in Long Island.
Expertise and Experience in Deck Building Services in Albertson
At Decks Unique, our perspective is that a well-crafted deck layout is an intelligent decision when looking at home upgrades. Our adept squad of professional deck builders aims to achieve exceptional quality, maintain productivity in schedules, and assure our warranties come with true durable value. Our devotion to superior standards has led to innumerable content clients and decks they can happily display for the foreseeable future.
Our deck construction crews on Long Island are endorsed to deploy all renowned composite deck products, including Trex, TimberTech, and Azek. We present free home evaluations and computerized decking layouts to enable you to picture your project before it becomes reality. Entrust us with your backyard as our forthcoming assignment!
Elevate Your House's Worth by Adding a Custom Deck
Your Albertson home's outdoor living space is not only enriched by a fine deck but also experiences a boost in overall worth. Decks Unique is specialized in crafting and assembling personalized decks that fulfill the requirements and appeals of our diverse clientele. No matter if you desire a comfy location for social events or a grand outdoor paradise to savor the charming weather, our staff will partner with you to create your ideal space.
We are aware that individual homeowners have varying preferences and demands for their external spaces. Consequently, we offer a broad assortment of materials, designs, and aspects to construct the perfect deck that matches your residence and your living habits. From classic wooden choices such as pressure-treated wood, cedar, and redwood, to the low-maintenance composite and PVC decking options, we have the ideal solution for any budget and taste.
Dedication to Fantastic Quality and Client Satisfaction
Decks Unique's commitment to first-class workmanship and customer happiness is unwavering. We are dedicated to utilizing only top-grade materials and partnering with expert, seasoned builders to guarantee our projects meet the most stringent standards.
In our view, clear communication is essential to a project's success, and we're committed to keeping our clients up-to-date at every stage. Our reliable team is there for you, from the initial consultation and design brainstorming, through the construction journey, and even after the final review, to make sure all questions are answered, fears are addressed, and your satisfaction with the new deck is undeniable.
Let Decks Unique change your Albertson backyard into an attractive outdoor living area you'll cherish. Contact us today to schedule a free consultation and experience the Decks Unique difference for yourself.
All-inclusive Decking Solutions in Albertson
Decks Unique, located in Albertson, is proud to offer an extensive range of tailored decking services, designed to cater to client needs. From custom deck design and construction to maintenance and refinishing, our expertise encompasses every aspect of deck services. Additionally, we provide a variety of unique features and add-ons to enhance your outdoor living experience. Allow us to provide you with a more in-depth overview of our services.
Custom Deck Design: Realizing Your Dream Deck through Expert Design
Our talented deck designers will team up with you to generate a one-of-a-kind deck that represents your signature style, blends well with your home, and meets the special requirements of your property. For the sake of assisting you in making confident choices, our expert personnel will take you through material assessments, guaranteeing sustained refinement and stability in your deck.
Masterful Deck Fabrication: Impressive Craftsmanship for an Elegant Exterior Space
Being the top deck builder, we are dedicated to utilizing only the best materials and ensuring the safety and efficiency of our workmanship. Our skilled personnel are licensed installers of prominent composite deck products, like Trex, TimberTech, and Azek. With meticulous attention to detail and a focus on structural integrity, we ensure that your deck not only looks stunning but also stands the test of time.
Deck Maintenance & Repairs: Shielding Your Investment
Regular care is important for preserving both the beauty and functionality of your deck. We have a dedicated team that offers all-inclusive repair and upkeep services for both wood and composite decks. Providing extensive inspections to identify possible challenges, coupled with expert repairs tackling weather or wear-and-tear damages, we serve as your primary choice for all deck maintenance tasks. Our scheduled maintenance programs provide peace of mind, knowing that your deck will remain in excellent condition year-round.
Deck Refinishing and Restoration: Rejuvenate Your Exterior Space
As time elapses, even the most exceptional decks can present signs of wear or need refinishing to maintain their aesthetic. Our skilled team can rejuvenate your deck's appearance with professional cleaning, staining, weatherproofing, and sealing. Besides, we can execute structural adjustments, assuring that your deck maintains its safety and functionality in the years to come.
Personal Customizations and Upgrades: Enrich Your Deck Leisure
To heighten your outdoor living space experience, we introduce an array of distinct features and add-on choices devised to augment your deck. These offerings contain energy-saving lighting solutions for decks, built-in places to sit, outdoor culinary areas, and fire-related elements. Incorporating these components into your deck layout, we'll develop a warm and inviting area for you, your family, and friends to relish in Albertson.
Decks Unique excels in furnishing clients and the surrounding communities with superior-quality decking services. Over our 20 years in the business, we've carved out a reputation for professionalism, dependability, and innovation. If you want to build a new deck or refurbish your existing one, our highly skilled team is on hand to help. Book a free consultation with us today, and find out how we can revamp your outdoor space into a stunning and functional retreat.
Determine the Best Deck Material for Your Space: Wood and Composite Possibilities
Decks Unique's primary focus is to support you in building the perfect exterior paradise at your home. That's the advantage of our extensive choice of decking materials, including both wood composite variants. Each decking material possesses its advantages, which allows you to select the most suitable option for your particular necessity and preference.
Wood Decking Exudes an Everlasting Grace
With a classic, versatile nature, wood gives an organic warmth and stylish appeal to open-air spaces. Numerous wood decking choices are available, suiting various tastes and budgetary requirements.
Treated Wood: Budget-conscious and Long-lasting
Pressure-treated lumber attracts many homeowners because of its cost-saving and long-lasting properties. Protection from wood deterioration and insect issues is provided by a special treatment process for this decking material. Thus, pressure-treated decks provide enduring quality with reduced maintenance efforts.
Redwood and Cedar: Top-Notch Luxury with Intrinsic Durability
For people looking for an upscale option, we offer cedar and redwood decking too. These gorgeous and top-tier woods boast natural resistance to rot and insect infestations, offering a lasting deck that matures gracefully. The bold shades and unmatched grain structures of cedar and redwood decks contribute a breathtaking element to any abode.
Exotic Hardwoods: Exquisite and Hardwearing
To find an extraordinary and outstanding option, contemplate using exotic hardwoods like Ipe, Tigerwood, or Cumaru. These remarkably strong and resilient woods are renowned for their extraordinary longevity and eye-catching looks. With vivid colors and detailed patterns, exotic hardwood decks provide a striking focal point for outdoor spaces.
Low-Maintenance Living is Easy with Composite and PVC Decking Solutions
Should you desire an environmentally-friendly and low-maintenance option, look into composite and PVC decking. These innovative materials combine the beauty of wood with the durability of synthetic materials, providing homeowners with a nearly maintenance-free outdoor space.
Understanding the Benefits and Advantages of Composite Decking
By combining recycled wood fibers and plastic materials, composite decking offers a durable and eco-friendly option. Unaffected by warping, cracking, and fading, the material used for this decking provides a long-lasting and beautiful deck that's easy to maintain. Cleaning composite decks is a breeze, as they only require periodic washing to maintain a spotless and inviting outdoor space.
Industry-Leading Brands in Composite Materials
Decks Unique is honored to partner with renowned composite decking brands, including Trex, TimberTech, and Azek. Being licensed installers of these impressive products, we can equip Albertson homeowners with the finest materials to ensure an exquisite and durable outdoor setting.
Custom-build Your Deck with a Range of Color and Texture Combinations
One of the major benefits of composite decking is the wide range of customization options. Choose from many color and texture combinations to create a singular outdoor area that harmonizes with your home's décor. Regardless of your preference for natural wood's appearance or modern designs, composite decking provides a suitable option.
Elevate Your Deck with a Variety of Railing and Baluster Options
The perfect deck isn't complete without the right railing and baluster system. Decks Unique offers countless options to accentuate your deck design while ensuring a safe and practical outdoor environment.
Wooden Handrail Systems: Traditional and Timeless
A wood railing system is worth considering for a classic and ageless look. Wood and composite decks alike can benefit from the addition of a wood railing system, providing a seamless integration and consistent style. To guarantee a beautiful final product, paint or stain your wood railing system to coordinate with your deck or Albertson home exterior.
Metal and Glass Railing Systems: Contemporary and Elegant
When a refined and modern vibe is what you're after, metal or glass railing systems may be perfect for you. These railing systems bring a current flair while enhancing the panorama from your deck, which is highly appreciated by property owners with beautiful surroundings.
Composite Railing Systems: Easy-Care and Elegant
Composite railing systems present an exceptional option for those who want style and elegance without the hassle of constant maintenance. By combining these sturdy and attractive railings with composite decking, you can achieve a harmonious look and establish a stunning outdoor environment with minimal maintenance.
Regardless of your personal preferences, Decks Unique stands ready to help you decide on the most suitable decking materials for your living space. Reach out to us today to discuss your goals and commence the design of your ideal outdoor space.
Improve Your Outdoor Living Area with Our Additional Offerings in Albertson
Our objective at Decks Unique is to transition your outdoor living area into an elegant and useful home extension. In addition to top-notch deck building services, we also offer various other services, such as installing wood awnings, cabanas, gazebos, pergolas, and constructing porches. In Albertson, we have a team of skilled professionals who work closely with you to make your dream outdoor space a reality, while ensuring the highest quality and durability.
Wooden Awnings: Infuse Style and Shade into Your Outdoor Space
Installing wood awnings is a fantastic approach to enhance your outdoor area with both shade and elegance. Our experienced team at Decks Unique will help you choose the right design and materials to create a beautiful and functional wood awning that complements your home's aesthetic. The wood awnings not only ensure protection from extreme weather conditions but also improve your property's overall worth.
Cabanas: Set up a Deluxe Oasis in Your Albertson Backyard
Cabanas deliver a flawless fusion of opulence, comfort, and seclusion, making them the ultimate addition to any outdoor setting. Our adept team will cooperate with you in the design and construction of a one-of-a-kind cabana that addresses your particular needs and desires. Looking for a comfortable retreat to relax or a classy space to host events, we can design a cabana that transforms into your perfect outdoor haven.
Gazebos: An Idyllic Enhancement for Your Garden or Patio
A gazebo brings lasting appeal to gardens or patios, creating an inviting central attraction and a shaded space for outdoor downtime. The experienced team at Decks Unique will help you identify the perfect style, materials, and positioning for your gazebo, so it blends seamlessly with your existing landscape. With our high-quality craftsmanship, you'll have a gorgeous gazebo that not only complements but also enhances your outdoor space for years to come.
Pergolas: Enhance Your Outdoor Space with Architectural Beauty and Function
Integrating a pergola into your outdoor living area is an outstanding approach for increasing architectural attractiveness and functionality. Pergolas are adept at creating a sheltered yet sunlit environment, making them ideal for garden strolls, patio hangouts, or dining outdoors. Let Decks Unique's knowledgeable professionals plan and build a customized pergola to match your style, and in doing so, increase your home's value.
Porch Building: Upgrade Your Home's Curb Appeal and Outdoor Living Space
A thoughtfully designed porch not only elevates your home's curb appeal but also supplies a pleasant outdoor living area for you and your family to appreciate. Our experienced team will team up with you to establish a bespoke porch that matches your home's architecture and caters to your functional necessities. With our rigorous attentiveness to detail and unyielding dedication to exceptional quality, you can rest easy knowing your porch fabrication assignment is in trustworthy hands.
Contact Decks Unique for Your Albertson Outdoor Living Space Transformation
At Decks Unique, providing superior, custom-made outdoor living options for our clients in Albertson and the adjacent areas is our mission. Should you desire to add a wood awning, cabana, gazebo, pergola, or porch to your outdoor living environment, our adept team is here for support. Discuss your project with us today and find out how we can turn your outdoor living environment into a comfortable and efficient extension of your residence.
High-Quality Deck Consultation and Design in Albertson
At Decks Unique, we take great pride in providing customized consultations and tailor-made deck designs to cater to the specific requirements of our customers. With over 20 years of industry know-how, our experienced deck designers will work side by side with you to create a deck that amplifies your home's appearance and practicality. We'll employ top-tier 3D modeling and visualization strategies to turn your dream deck into a reality, guaranteeing that the resulting product lives up to your anticipations.
Finest Quality Deck Materials to Guarantee Durability
Decks Unique, the top Long Island-based deck builder, is an approved installer for all major composite decking brands, including Trex, TimberTech, and Azek. Furthermore, we extend a multitude of wooden decking options geared to your tastes, including pressure-treated beams, cedar, redwood, and superior hardwoods. With a commitment to using only exceptional materials, you can trust that your new deck will be long-lasting and require minimal maintenance.
High-Quality Deck Construction Services in Albertson
The competent deck construction crew at Decks Unique is committed to providing first-rate craftsmanship and efficiency across the entire building process. Due to our profound expertise in building codes, standards, and permits, you can depend on us to oversee the complete project from inception to completion, delivering a striking and functional outdoor area.
Uphold and Revamp Your Deck's Charm
At Decks Unique, we appreciate the importance of consistent care in retaining the aesthetics and strength of your deck. Our adept team has the ability to check and recognize any damages or potential troubles, executing required repairs to sustain your deck's top-notch condition. At Decks Unique, we also propose deck revamping and restoration amenities, involving cleaning, staining, safeguarding against weather, and sealing to conserve and magnify your deck's appeal.
Elevate Your Outdoor Environment with Customized Features and Add-ons
To genuinely convert your deck into an exceptional exterior retreat, Decks Unique presents a range of custom characteristics and additions, including deck lights, built-in benches, alfresco kitchens, and features involving fire. These enhancements not only add functionality but also create a comfortable and inviting atmosphere for you and your guests to enjoy.
Wide-Ranging Decking Services and Extra Offerings
Decks Unique, known for its expertise in deck design and construction, also offers expertise in other outdoor structures, including wood awnings, cabanas, gazebos, pergolas, and porch construction. With these extra outdoor installations, your Long Island home's outdoor ambience can be significantly improved, making it the best spot for relaxation and amusement.
Let Decks Unique handle all of your decking needs in Albertson. Witness the improvement our focus on quality, professionalism, and customer happiness brings to your exterior space. Connect with us today to arrange a cost-free consultation, and allow us to transform your outdoor area into a breathtaking masterpiece.
Delighted to cater to the needs of Albertson, Wantagh, South Huntington, Roslyn Heights, Port Washington, North New Hyde Park, New Hyde Park, and other Long Island neighborhoods.
Offering Long Island Quality Deck Designs and Services: