Experience Decks Unique - The Premier Deck Building Service in East Northport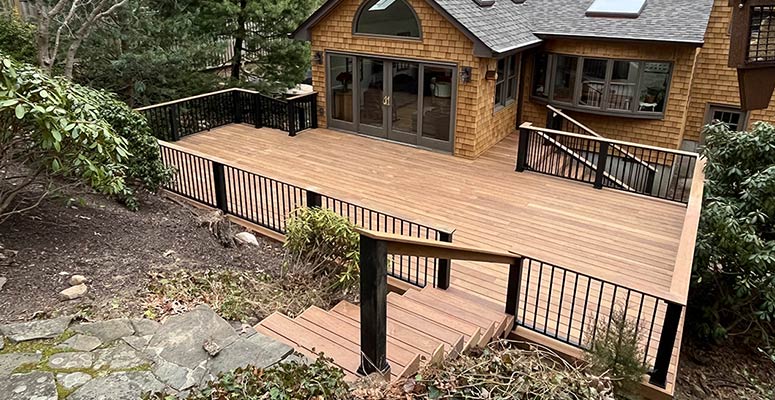 For over 20 years, Decks Unique has been a family-owned and operated company, specializing in custom deck design and construction, serving the people of Long Island and nearby areas, such as East Northport. Decks Unique's love for design and unyielding commitment to professionalism, honesty, and innovation have made us the dominant producer of exceptional decks in Long Island, influencing the industry's standards. Our specialization includes creating custom decks, porches, gazebos, pergolas, wooden awnings, and various outdoor structures that contribute to the value, charm, and utility of your Long Island home.
Leading Expertise and Experience in Deck Building in East Northport
The belief at Decks Unique is that a well planned deck configuration presents a shrewd investment for upgrading one's home. Our expert team of professional deck builders is dedicated to delivering superior quality, maintaining efficient production schedules, and ensuring that our warranties have true lasting value. This commitment to excellence has resulted in countless satisfied customers, and decks that they are proud to show off for many years to come.
On Long Island, our skilled deck builders are qualified to set up all leading composite deck materials, like Trex, TimberTech, and Azek. We provide complimentary in-home consultations and digital deck plans to help you envision your project prior to its completion. Give us the chance to make your backyard our succeeding project!
Boost Your Home's Worth with a Personalized Deck
With a high-quality deck, your East Northport house can see its outdoor living area improved and its property value significantly raised. Decks Unique excels at creating and constructing tailor-made decks that cater to the distinct demands and desires of every customer. No matter if you desire a comfy location for social events or a grand outdoor paradise to savor the charming weather, our staff will partner with you to create your ideal space.
It's clear that each homeowner possesses distinct tastes and necessities for their outside spaces. This is the basis for our extensive variety of materials, styles, and elements to establish the flawless deck that lines up with your home and lifestyle. We have suitable solutions for every budget and preference, including traditional wood types like pressure-treated lumber, cedar, and redwood, as well as low-maintenance composite and PVC decking.
Exceptional Attention to Premium Quality and Client Pleasure
Decks Unique's commitment to first-class workmanship and customer happiness is unwavering. Focusing on the employment of top-notch materials and the engagement of experienced, adept builders allows us to complete each project to the highest standards.
We think that effective communication is crucial for project success, and it's our top priority to keep clients in the loop throughout the process. Throughout the entire process - from initial consultation and design to construction and final inspection - our team is on hand to field questions, respond to any worries, and ensure ultimate satisfaction with your finished deck.
Let Decks Unique remodel your East Northport backyard into an outdoor living oasis you'll relish. Reach out to us now to organize a free consultation and understand the Decks Unique difference on your own.
Extensive Deck Construction Services in East Northport
Decks Unique, located in East Northport, is proud to offer an extensive range of tailored decking services, designed to cater to client needs. At Decks Unique, we excel in everything from creating custom deck designs and constructions to carrying out repairs, maintenance, and refinishing. We also offer a variety of exclusive features and extras designed to upgrade and enhance your outdoor living space. Take a more detailed look at the assortment of services we proudly offer.
Custom Deck Design: Materializing Your Dream Deck with Expertise
Our professional deck designers will work closely with you to create a custom deck that reflects your personal style, complements your home, and meets the unique requirements of your property. With the purpose of helping you make smart decisions, our experts will navigate you through choosing materials, securing a long-lasting and beautiful result that stands the test of time.
Expert Deck Building: Excellent Workmanship for an Impressive Exterior Area
As a distinguished deck builder, our commitment lies in using only outstanding materials and implementing safe, effective work methods. Our capable personnel are accredited installers of prestigious composite deck products, including Trex, TimberTech, and Azek. With considerable attention to detail and an emphasis on structural stability, we make certain that your deck is not only visually appealing but also durable over time.
Maintaining and Repairing Decks: Preserving Your Investment
Consistent maintenance is key to maintaining the visual appeal and practicality of your deck. For both wood and composite decks, our committed team provides extensive maintenance and repair services. Offering complete inspections to uncover potential issues and expert repair services for damages due to the elements or wear, we are your ultimate destination for all things related to deck maintenance. Equipped with our scheduled maintenance programs, you can rest easy knowing that your deck will be kept in pristine condition all year long.
Deck Renovation and Restoration: Update Your Open-air Retreat
Over an extended period, even the outstanding quality decks might exhibit symptoms of wear or require refinishing to preserve their attractiveness. Our knowledgeable team can recuperate your deck's attractiveness by utilizing expert cleaning, staining, weatherproofing, and sealing techniques. Plus, we can undertake structural alterations, confirming that your deck stays safe and usable for an extended period.
Bespoke Features and Additions: Boost Your Deck Experiences
With the goal of elevating your outdoor living area, we put forth numerous individualized aspects and add-ons intended to accent your deck. These offerings contain energy-saving lighting solutions for decks, built-in places to sit, outdoor culinary areas, and fire-related elements. By incorporating these elements into your deck design, we create a welcoming and comfortable space for you to enjoy with family and friends in East Northport.
Providing top-notch decking solutions to clients and nearby areas is a specialty of Decks Unique. Our distinguished reputation has been built on 20 years of professionalism, integrity, and novel thinking. Our capable team is eager to help you with planning a new deck or upgrading an old one. Arrange a no-obligation consultation with us today, and learn how we can help turn your outside area into an amazing, functional hideaway.
Discover Your Perfect Deck Material: Wood and Composite Options
At Decks Unique, our mission is to guide you in designing your dream outdoor refuge for your house. That's why we offer a wide variety of decking materials, including both wood and composite options. Each decking material possesses its advantages, which allows you to select the most suitable option for your particular necessity and preference.
Wood Decking Provides an Ageless Beauty
Wood's timeless versatility makes it an ideal material for adding warmth and charm to outdoor environments. A variety of wood decking options are offered to match each person's style and monetary constraints.
Treated Wood: Budget-conscious and Long-lasting
For many homeowners, pressure-treated lumber is a preferred option because of its budget-friendly and tough nature. Protection from wood deterioration and insect issues is provided by a special treatment process for this decking material. Minimal maintenance is needed for these durable, pressure-treated decks as a result of the treatment.
Luxury Meets Durability: The Wonders of Cedar and Redwood
For those pursuing a deluxe option, we feature cedar and redwood decking in our offerings. These attractive and upscale woods have innate resistance to rot and infestation, resulting in a long-lasting deck that weathers beautifully. The bold shades and unmatched grain structures of cedar and redwood decks contribute a breathtaking element to any abode.
Exotic Hardwoods: Sophisticated and Long-lived
If you're looking for a truly unique and exquisite option, consider exotic hardwoods like Ipe, Tigerwood, or Cumaru. These uncommonly sturdy and enduring woods are well known for their amazing long-lasting qualities and gorgeous appearance. Exotic hardwood decks, with their vibrant hues and elaborate designs, serve as breathtaking focal points in any outdoor area.
Discover the Ease of Low-Maintenance Living by Choosing Composite and PVC Decking
For people who want an environmentally conscious and low-maintenance possibility, examine composite and PVC decking. These groundbreaking materials fuse the visual appeal of wood with the ruggedness of synthetic ingredients, granting homeowners an essentially maintenance-free outdoor environment.
Advantages and Benefits of Composite Decking
By combining recycled wood fibers and plastic materials, composite decking offers a durable and eco-friendly option. This decking material is resistant to warping, cracking, and fading, ensuring a beautiful and long-lasting deck with minimal upkeep. In addition, maintaining the cleanliness of composite decks is quite simple, requiring only a periodic wash to keep your outdoor area in pristine condition.
Premier Composite Material Brands in the Industry
Decks Unique is pleased to join forces with leading composite decking brands, such as Trex, TimberTech, and Azek. As approved installers of these remarkable products, we can furnish East Northport homeowners with premium materials for an elegant and lasting outdoor living area.
Create a Distinctive Deck with Color and Texture Selections
One of the major benefits of composite decking is the wide range of customization options. You can put together a custom outdoor setting that reflects your home's aesthetics with the diverse color and texture options available. Your preference for natural wood visuals or a more state-of-the-art design can both be met with a composite decking option.
Upgrade Your Deck Experience with Railing and Baluster Possibilities
The perfect deck isn't complete without the right railing and baluster system. At Decks Unique, we offer a wide range of options to complement your deck design and ensure the safety and functionality of your outdoor space.
Wooden Balustrade Systems: Classic and Eternal
To achieve a timeless and classic appearance, think about using a wood railing system. Wood railing systems can be used with both wooden and composite decking for a well-coordinated and seamless design. Wood railing systems can be painted or stained to match your deck or East Northport home exterior, ensuring a stunning final result.
Metal and Glass Railing Systems: Fashionable and Uncluttered
For those who appreciate a stylish and up-to-date feel, metal or glass railing systems can be a wise choice. Such choices add a modern twist and can elevate the vista from your outdoor space, making them an attractive option for homeowners with striking scenery.
Composite Railing Systems: Low-Maintenance, Chic Design
People searching for a low-maintenance solution that doesn't compromise on style and elegance should consider composite railing systems. Featuring both durability and charm, these railings, when paired with composite decking, establish an attractive and consistent look, ultimately constructing a beautiful outdoor living area requiring limited upkeep.
No matter your inclinations, Decks Unique is at your service to aid you in picking the perfect decking supplies for your home. Touch base with us today to present your needs and launch the design of the outdoor sanctuary of your dreams.
Revamp Your Outdoor Living Area with Our Additional Services in East Northport
At Decks Unique, our goal is to transform your outdoor living space into a luxurious, functional extension of your house. Not only do we specialize in deck building services, but we also offer a range of other services like wood awnings, cabanas, gazebos, pergolas, and porch construction. In East Northport, our skilled team works closely with you to achieve your outdoor vision, guaranteeing top-quality and durable results.
Wood Awnings: Incorporate Style and Shade to Your Outdoor Area
Wood awnings offer an excellent way to create shade and style in your outdoor environment. Our experienced team at Decks Unique will help you choose the right design and materials to create a beautiful and functional wood awning that complements your home's aesthetic. These wood awnings not only serve to protect against harsh weather but also help raise your property's overall value.
Cabanas: Develop a Posh Hideaway in Your East Northport Outdoor Area
Combining luxury, comfort, and privacy expertly, cabanas are perfect for enhancing any open-air area. Collaborating with our expert team, you'll be able to design and build a cabana customized to your precise needs and tastes. From a cozy sanctuary for relaxation to a chic locale for socializing with friends, we can craft a cabana that makes for the perfect open-air haven.
Gazebos: A Visually Appealing Addition for Your Garden or Patio
A gazebo remains a cherished inclusion in gardens and patios, lending an appealing visual interest and a comfortable shaded zone for outdoor leisure. Our adept team works with you to find the ideal appearance, materials, and setting for your gazebo, assuring flawless integration into your current garden or patio. Thanks to our masterful craftsmanship, you can delight in a splendid gazebo that boosts the allure of your outdoor space for many years to come.
Pergolas: Improve Your Outdoor Oasis with Striking Architectural Design and Function
Adding a pergola is a fantastic method for enhancing your outdoor area's architectural appeal and usefulness. The design of these structures allows for a combination of shade and sunlight, which makes them perfect for garden trails, patio spaces, and open-air eating areas. The proficient staff at Decks Unique can develop and assemble a custom-designed pergola to harmonize with your tastes and augment your home's value.
Creating a Porch: Upgrade Your Home's Curb Appeal and Outdoor Living Areas
A thoughtfully designed porch not only elevates your home's curb appeal but also supplies a pleasant outdoor living area for you and your family to appreciate. Our efficient group will work jointly with you to conceive a made-to-order porch that corresponds with your home's architecture and satisfies your conducive needs. With our precise eye for detail and resolute passion for top-quality work, you can be sure that your porch erection project is in safe hands.
Contact Decks Unique to revamp your East Northport outdoor living area
Decks Unique is devoted to providing high-caliber, customized outdoor living possibilities to those in East Northport and nearby locations. Seeking to integrate a wood awning, cabana, gazebo, pergola, or porch into your outdoor area? Our team of specialists is prepared to help. Reach out to us today for a discussion about your project, and let us demonstrate how we can reshape your outdoor living area into a high-end and functional home extension.
East Northport's Expert Deck Design and Consultation
At Decks Unique, personalizing consultations and crafting custom deck designs to align with the individual requirements of our clients is our top priority. With over 20 years of industry know-how, our experienced deck designers will work side by side with you to create a deck that amplifies your home's appearance and practicality. By harnessing the power of advanced 3D modeling and visualization techniques, we'll materialize your dream deck, while ensuring the final version fulfills your expectations.
Finest Quality Deck Materials to Guarantee Durability
As Long Island's premier deck builder, Decks Unique is an authorized installer of all major composite deck products, including Trex, TimberTech, and Azek. Additionally, we offer a wide range of wood decking alternatives that suit your personal tastes, such as pressure-treated materials, cedar, redwood, and exclusive hardwoods. We are committed to using only superior materials, ensuring the durability of your new deck while keeping maintenance requirements minimal.
Outstanding Deck Building Services in East Northport
At Decks Unique, our talented deck building professionals are devoted to ensuring exceptional quality and efficiency in all phases of the construction process. With our exceptional understanding of building codes, requirements, and permits, you can count on us to navigate the entire project from its inception to culmination, leaving you with a stunning and functional outdoor living space.
Keep and Restore Your Deck's Attractiveness
We, at Decks Unique, grasp the necessity of regular maintenance to uphold your deck's beauty and structural resilience. Our experienced team can inspect and identify any damages or potential issues, providing necessary repairs to keep your deck in top condition. We extend deck restoration and refinishing assistance, comprising cleaning, staining, weather protection, and sealing measures to secure and amplify your deck's appearance.
Boost Your Outdoor Setting with Custom Solutions and Add-ons
To actually turn your deck into a remarkable outside getaway, Decks Unique offers numerous customized details and enhancements like decking illumination, seating built into the structure, kitchens suited for the exterior, and accents centered around fire. These embellishments not only extend usability, but they also create a snug and appealing air for you and your guests to find joy in.
Exhaustive Deck Installation and Additional Features
Apart from our knowledge and experience in deck design and construction, Decks Unique also extends its expertise to additional outdoor structures such as wooden awnings, cabanas, gazebos, pergolas, and porches. These extra structures will considerably enrich your Long Island home's outdoor area, providing the perfect space for both relaxation and entertainment.
Allow Decks Unique to manage all your decking requirements in East Northport. Notice the transformation our dedication to quality, expertise, and client satisfaction creates in your outdoor living area. Reach out to us now for a complimentary discussion and let us convert your outdoor space into a mesmerizing marvel.
Joyfully helping the citizens in East Northport, Copiague, Baldwin, West Babylon, St James, Roslyn Heights, Port Washington, and other Long Island vicinities.
Offering Long Island Quality Deck Designs and Services: