Introducing Decks Unique - Hicksville's Top-Rated Deck Construction Company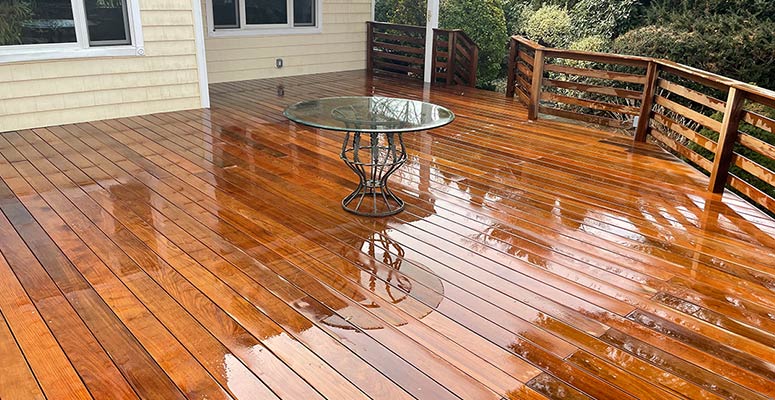 Contact us at our Hicksville Office located at 100 Duffy Avenue, Hicksville, NY 11801 | Phone: (516) 588-6700
For over two decades, Decks Unique, a family-owned and operated enterprise, has offered custom deck design and construction services to the residents of Long Island and the surrounding areas, including Hicksville. Our enthusiasm for design, coupled with our dedication to professionalism, honesty, and innovation, has established us as the premier producer of top-notch decks throughout Long Island, and we've set industry benchmarks. Our area of expertise involves creating and building custom decks, verandas, gazebos, pergolas, wooden awnings, and other external structures that add worth, allure, and functionality to your Long Island abode.
Hicksville's Expert and Experienced Deck Builders
Decks Unique advocates that a meticulously designed deck is a sound investment when evaluating home improvement options. Our adept squad of professional deck builders aims to achieve exceptional quality, maintain productivity in schedules, and assure our warranties come with true durable value. Our unwavering dedication to outstanding results has produced countless satisfied clients and striking decks they can be proud of for years.
Our certified Long Island decking contractors can install all popular composite decking brands, including Trex, TimberTech, and Azek. We furnish free home-based consultations along with tech-driven deck illustrations, so you can conceptualize your undertaking before its materialization. Choose your backyard as the focus of our next enterprise!
Increase the Value of Your Home with a Custom-Built Deck
Your Hicksville home's outdoor living space is not only enriched by a fine deck but also experiences a boost in overall worth. Decks Unique is specialized in crafting and assembling personalized decks that fulfill the requirements and appeals of our diverse clientele. Be it a snug spot to accommodate get-togethers or an opulent open-air retreat to bask in lovely weather, our crew will work hand-in-hand with you to materialize your aspirations.
We are aware that individual homeowners have varying preferences and demands for their external spaces. To accommodate these diverse preferences, we supply a wide array of materials, styles, and attributes for crafting the ideal deck to harmonize with your home and way of life. Whether you prefer classic wood choices like pressure-treated lumber, cedar, and redwood, or easy-care composite and PVC decking options, we have the perfect solution for every budget and style.
Unmatched Dedication to Excellence and Client Contentment
We take great pride in our high-quality workmanship and client satisfaction at Decks Unique. Our commitment to using only high-quality materials and employing skilled, experienced builders ensures that each project we undertake is completed to the highest standards.
We regard transparent communication as a critical component of project success, and we dedicate ourselves to keeping our clients informed at all times. Throughout the entire process - from initial consultation and design to construction and final inspection - our team is on hand to field questions, respond to any worries, and ensure ultimate satisfaction with your finished deck.
Allow Decks Unique to turn your Hicksville backyard into an outdoor living area you'll adore. Contact us right away to plan a free consultation and see the Decks Unique difference in person.
Comprehensive Decking Services in Hicksville
Decks Unique, located in Hicksville, is proud to offer an extensive range of tailored decking services, designed to cater to client needs. Our expertise covers everything from custom deck design and construction to repair, maintenance, and refinishing. We also offer a variety of exclusive features and extras designed to upgrade and enhance your outdoor living space. Take a more detailed look at the assortment of services we proudly offer.
Custom Deck Design: Constructing Your Dream Deck for Your Enjoyment
Our exceptional deck designers will work side-by-side with you to fashion a tailor-made deck that conveys your personal touch, perfectly matches your home, and handles the unique expectations of your property. To help you make informed decisions, our experts will also guide you through material selection, ensuring long-lasting beauty and durability.
Expert Deck Assembly: Fine Craftsmanship for an Attractive External Space
Being an esteemed deck builder, we dedicate ourselves to using only first-class materials and ensuring safe, efficient labor. Our adept teams are sanctioned installers of major composite decking products like Trex, TimberTech, and Azek. With rigorous attention to detail and a commitment to structural robustness, we confirm that your deck is not only striking but also stands firm for years to come.
Deck Upkeep and Restoration: Guarding Your Investment
To keep your deck beautiful and functional, regular maintenance is essential. Our skilled team is available to provide detailed repair and maintenance services for wood and composite decks. From thorough inspections to identify potential issues, to expert repair of damages caused by weather or wear-and-tear, we are your go-to source for all your deck maintenance needs. With the help of our consistent maintenance plans, rest assured that your deck will continually be kept in superb condition, regardless of the time of year.
Deck Refinishing and Renewal: Bring Freshness to Your Outdoor Environment
As time passes, even the most excellent decks could show indications of wear or demand refinishing to sustain their visual allure. Our experienced team members can renew the visual appeal of your deck via expert cleaning, staining, weatherproofing, and sealing techniques. Also, we can provide structural modifications, making certain that your deck continues to be safe and practical for many years ahead.
Distinctive Details and Expanded Options: Intensify Your Deck Gratification
To heighten your outdoor living space experience, we introduce an array of distinct features and add-on choices devised to augment your deck. Among these selections are energy-effective deck lights, inherent seating, kitchens designed for outdoor use, and features involving fire. Inclusion of these elements within your deck's design enables us to produce a warm and affable space for your enjoyment with family and friends in Hicksville.
Decks Unique excels in furnishing clients and the surrounding communities with superior-quality decking services. For more than 20 years, our experience has earned us a reputation for being professional, honest, and groundbreaking. Our capable team is eager to help you with planning a new deck or upgrading an old one. Give us a call today to plan a free consultation, and let us show you how to morph your outdoor area into an impressive, functional refuge.
Choose the Right Deck Material for Your Home: Wood and Composite Selections
Decks Unique is dedicated to assisting you in developing the ideal outdoor sanctuary for your residence. Consequently, we supply various decking materials encompassing both wooden and composite choices. Various materials have unique positive aspects, ensuring your ability to opt for the finest choice that caters to your personal necessities and proclivities.
Classic Beauty with Wood Decking
The flexibility and timelessness of wood provides a pleasant warmth and beauty to all kinds of outdoor spaces. We present a wide assortment of wood deck options, ensuring compatibility with any style and budget.
Pressure-Treated Wood: Cost-effective and Long-lasting
A significant number of homeowners find pressure-treated lumber appealing for its inexpensive and durable aspects. This type of decking material goes through a particular treatment, helping it resist decay and insect infestations. Minimal maintenance is needed for these durable, pressure-treated decks as a result of the treatment.
Luxury Meets Durability: The Wonders of Cedar and Redwood
For a more luxurious selection, our offerings include cedar and redwood decking. The stunning and high-quality woods are naturally resistant to deterioration and bug infestations, ensuring a deck that lasts and ages with charm. The bold shades and unmatched grain structures of cedar and redwood decks contribute a breathtaking element to any abode.
Exotic Hardwoods: Visually Striking and Rugged
For those in search of a genuinely distinctive and splendid option, ponder over selecting exotic hardwoods like Ipe, Tigerwood, or Cumaru. These exceedingly solid and long-lasting woods stand out due to their commendable longevity and stunning appearance. An exotic hardwood deck's dazzling colors and intricate designs make it a standout centerpiece in any outside space.
Low-Maintenance Living is Easy with Composite and PVC Decking Solutions
Those looking for a low-maintenance and green choice should think about composite and PVC decking. These modern materials unite the wood's aesthetic qualities with the hardiness of synthetics, presenting homeowners with an almost maintenance-free outdoor zone.
Composite Decking: Benefits and Advantages
Composite decking is made from a combination of recycled wood fibers and plastic, offering a highly durable and eco-friendly option. Being able to withstand warping, cracking, and fading, this decking material promises a visually appealing and lasting deck with minimal effort. In addition, maintaining the cleanliness of composite decks is quite simple, requiring only a periodic wash to keep your outdoor area in pristine condition.
The Foremost Brands in Composite Materials Industry
Decks Unique is delighted to cooperate with the foremost brands in composite decking, including Trex, TimberTech, and Azek. We can deliver the best quality materials for an attractive and long-lasting outdoor space to Hicksville homeowners, as we are authorized installers of these first-rate products.
Enhance Your Deck's Appearance with Different Color and Texture Options
One of the major benefits of composite decking is the wide range of customization options. You can put together a custom outdoor setting that reflects your home's aesthetics with the diverse color and texture options available. You can find a fitting composite decking solution to satisfy your inclination for natural wood or modern design aesthetics.
Transform Your Deck with Various Railing and Baluster Choices
The perfect deck isn't complete without the right railing and baluster system. At Decks Unique, we feature a vast collection of alternatives to match your deck design and ensure your outdoor area remains safe and functional.
Timber Railing Systems: Conventional and Enduring
If you're after a classic and eternal look, a wood railing system could be the way to go. Both wood and composite decks can be perfectly matched by a wood railing system, ensuring a smooth and integrated look. Create a breathtaking finished look by painting or staining your wood railing system to complement your deck or the exterior of your Hicksville home.
Metal and Glass Railing Systems: Modern and Sleek
If a cutting-edge and elegant style suits your taste, metal or glass railing systems could be a great option. These railing systems bring a current flair while enhancing the panorama from your deck, which is highly appreciated by property owners with beautiful surroundings.
Composite Railing Systems: Effortless Maintenance and Stylish
People searching for a low-maintenance solution that doesn't compromise on style and elegance should consider composite railing systems. Not only are these railings durable and visually appealing, but they also create a unified appearance when combined with composite decking, resulting in an impressive outdoor area that demands minimal tending.
No matter what you like, Decks Unique is here to offer assistance in selecting the perfect deck materials for your abode. Get in touch with us now to talk about your requirements and start creating your dream outdoor area.
Improve Your Outdoor Living Area with Our Additional Offerings in Hicksville
We believe in transforming your outside living space into a luxurious and functional part of your home at Decks Unique. Not only do we specialize in deck building services, but we also offer a range of other services like wood awnings, cabanas, gazebos, pergolas, and porch construction. In Hicksville, our skilled team works closely with you to achieve your outdoor vision, guaranteeing top-quality and durable results.
Wood Awnings: Bring Both Shade and Style to Your Outdoor Living Space
The use of wood awnings can impart both shade and refinement to your outdoor zone. At Decks Unique, our experienced staff will assist you in the process of choosing the right design and materials to craft an elegant and functional wood awning that harmonizes with your home's aesthetic. Not only do these structures shield you from extreme weather, but they also boost your property's overall worth.
Cabanas: Create a Luxurious Retreat in Your Hicksville Backyard
Cabanas are unparalleled in providing luxury, comfort, and privacy, making them a top choice for inclusion in any exterior space. Together with our expert team, you'll design and build a tailor-made cabana that perfectly suits your requirements and taste. Whether you want a cozy space to relax or an elegant area to entertain guests, we can create a cabana that serves as a perfect outdoor retreat.
Gazebos: A Picturesque Addition for Your Backyard Garden or Patio
Incorporating a gazebo in a garden or patio lends perpetual elegance, offering an alluring centerpiece and a cool alcove for outdoor unwinding. Our expert team assists you in selecting the perfect design, materials, and placement for your gazebo, guaranteeing a smooth blend with your current outdoor environment. Thanks to our superior craftsmanship, your gazebo will be a beautiful addition to your outdoor area and provide enjoyment for many years.
Pergolas: Add Architectural Interest and Functionality to Your Outdoor Area
Integrating a pergola into your outdoor living area is an outstanding approach for increasing architectural attractiveness and functionality. Pergolas offer a balance of shading and natural illumination, which suits them well for use in garden walkways, outdoor patios, or dining areas. Let the skilled experts at Decks Unique craft a bespoke pergola that caters to your style and contributes to your home's overall value.
Porch Building: Upgrade Your Home's Curb Appeal and Outdoor Living Space
An artfully designed porch not only advances your home's curb appeal but also serves up a comfy outdoor living spot for you and your family to cherish. Our talented team will combine efforts with you to craft a unique porch that parallels your home's architectural appearance and serves your functional prerequisites. With our meticulous attention to detail and devotion to high standards, you can feel confident that your porch building project is in capable hands.
Reach out to Decks Unique to transform your Hicksville outdoor living space
Decks Unique is devoted to providing high-caliber, customized outdoor living possibilities to those in Hicksville and nearby locations. To enhance your outdoor area with a wood awning, cabana, gazebo, pergola, or porch, rely on our team of experienced professionals for help. Reach out to us today to talk about your project and find out how we can turn your outdoor living space into an opulent and functional addition to your home.
Expert Deck Consultation and Design in Hicksville
At Decks Unique, we are proud of our ability to offer personalized consultations and custom deck designs that accommodate the unique demands of each client. With over 20 years of experience, our professional deck designers will work closely with you to create a deck that enhances your home's aesthetics and functionalities. By applying modern 3D modeling and visualization techniques, we'll make your envisioned deck a tangible reality, confirming the final creation meets your demands.
Premium Deck Construction Materials for Extended Durability
Long Island's foremost deck builder, Decks Unique, is an officially recognized installer of major composite deck materials, including brands like Trex, TimberTech, and Azek. We also present an array of wooden decking alternatives to accommodate your preferences, like pressure-treated timber, cedarwood, redwood, and rare hardwoods. With a commitment to using only exceptional materials, you can trust that your new deck will be long-lasting and require minimal maintenance.
Outstanding Deck Building Services in Hicksville
At Decks Unique, our talented deck building professionals are devoted to ensuring exceptional quality and efficiency in all phases of the construction process. Utilizing our comprehensive knowledge of building codes, laws, and permits, you can have faith in us to handle the entire project from initiation to completion, resulting in an exquisite and functional outdoor living space.
Hold and Re-establish Your Deck's Gorgeousness
Decks Unique is well aware of the value of routine maintenance in sustaining both the visual allure and durability of your deck. Our seasoned team can conduct inspections and find any damages or potential problems, performing essential repairs to maintain your deck's prime state. Apart from that, we deliver deck refinishing and refurbishment services, including cleaning, staining, weather-resistant treatments, and sealing to preserve and augment your deck's attractiveness.
Augment Your Alfresco Space with Customized Enhancements and Features
To shape your deck into an unparalleled open-space sanctuary, Decks Unique supplies a multitude of custom attributes and ancillary items, incorporating lights designed for decks, in-built chair arrangements, cooking facilities for open-air settings, and fire-centric highlights. These augmentations not only amplify effectiveness, but they also cultivate a friendly and cozy aura for you and your company to enjoy.
Broad Decking Options and Additional Support
In addition to our proficiency in deck design and building, Decks Unique also provides expertise in constructing supplementary outdoor structures like wooden awnings, cabanas, gazebos, pergolas, and porches. Incorporating such structures will enhance the attractiveness of your Long Island property's outdoor space, making it an exceptional area for relaxation and hosting events.
Let Decks Unique handle all of your decking needs in Hicksville. Uncover the change our pledge of quality, professionalism, and customer delight brings to your outdoor environment. Drop us a line today to set up a free consultation, and let us turn your backyard into a gorgeous masterpiece.
Eager to accommodate the residents of Hicksville, Glen Head, Farmingdale, East Islip, Centereach, Woodmere, Terryville, and other Long Island territories.
Offering Long Island Quality Deck Designs and Services: