Discover Decks Unique - The Leading Deck Builder in Bohemia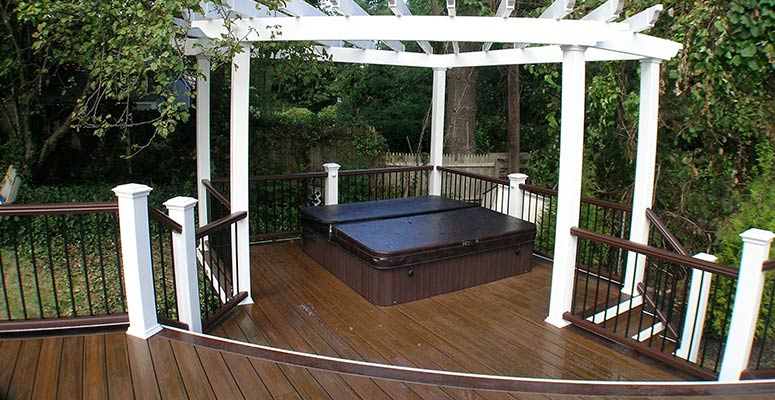 Contact us at our Bohemia Office located at 80 Orville Drive, Bohemia, NY 11716 | Phone: (631) 528-2700
For over 20 years, Decks Unique, an establishment that is family-owned and operated, has been providing custom deck design and construction services to the residents of Long Island and surrounding locations, including Bohemia. Our passion for design and commitment to professionalism, honesty, and innovation have made us the largest producer of high-quality decks on Long Island, setting the standards for the industry. We pride ourselves on developing and constructing custom decks, porches, gazebos, pergolas, wood awnings, and assorted outdoor structures that bolster the appeal, worth, and function of your Long Island home.
Specialized and Experienced Deck Building Providers in Bohemia
Decks Unique upholds the idea that a thoughtfully devised deck design constitutes a wise investment in home improvement. Our knowledgeable assembly of expert deck builders is determined to ensure top-quality outcomes, preserve efficiency in production, and ascertain that our warranties hold significant enduring value. Our devotion to superior standards has led to innumerable content clients and decks they can happily display for the foreseeable future.
Our Long Island deck building crews are authorized installers of all major composite deck products, such as Trex, TimberTech, and Azek. We provide complimentary in-home consultations and digital deck plans to help you envision your project prior to its completion. Choose your backyard as the focus of our next enterprise!
Upgrade Your Home and Its Value with a Custom-Designed Deck
With a high-quality deck, your Bohemia house can see its outdoor living area improved and its property value significantly raised. Decks Unique is specialized in crafting and assembling personalized decks that fulfill the requirements and appeals of our diverse clientele. Whether you are looking for a cozy space to entertain friends and family or a luxurious outdoor oasis to enjoy the beautiful weather, our team will work closely with you to bring your vision to life.
In regards to outdoor areas, we understand that each homeowner has unique tastes and requirements. For this reason, we provide an extensive selection of materials, designs, and options to build the ideal deck to enhance your home and way of life. From time-honored wood choices such as pressure-treated lumber, cedar, and redwood to the low-maintenance advantages of composite and PVC decking, we offer an ideal solution for each budget and liking.
Exceptional Attention to Premium Quality and Client Pleasure
Delivering outstanding workmanship and ensuring client contentment are of utmost importance at Decks Unique. To ensure that all our projects are up to the highest standards, we are devoted to using only top-quality materials and hiring expert builders with a wealth of experience.
To us, seamless communication is the backbone of successful projects, and we work diligently to ensure our clients are always in the know. Throughout the entire journey, from the initial consultation and design to construction and the final inspection, our team is committed to being there to assuage any doubts, allay concerns, and ascertain your utmost satisfaction with your new deck.
Let Decks Unique change your Bohemia backyard into an attractive outdoor living area you'll cherish. Don't hesitate to contact us today for a free consultation and to witness the Decks Unique experience.
Comprehensive Decking Services in Bohemia
In Bohemia, Decks Unique boasts a comprehensive variety of decking services, all geared towards satisfying the unique demands of our clients. We specialize in a variety of custom deck services, including designing and building decks, as well as providing repairs, maintenance and refinishing. We also offer a variety of exclusive features and extras designed to upgrade and enhance your outdoor living space. Let us examine the range of services we provide in greater detail.
Custom Deck Design: Constructing Your Dream Deck for Your Enjoyment
Our professional deck designers will work closely with you to create a custom deck that reflects your personal style, complements your home, and meets the unique requirements of your property. By assisting you in making informed choices, our connoisseurs will facilitate your material selection journey, assuring lasting charm and toughness.
Expert Deck Building: Excellent Workmanship for an Impressive Exterior Area
As the preeminent deck builder, our commitment is to use solely premium materials and execute safe, effective workmanship. Our proficient crews are authorized to install well-known composite deck materials, including Trex, TimberTech, and Azek. With considerable attention to detail and an emphasis on structural stability, we make certain that your deck is not only visually appealing but also durable over time.
Maintaining and Repairing Decks: Preserving Your Investment
Routine maintenance is necessary for preserving the attractiveness and usefulness of your deck. Whether it's a wood or composite deck, our specialized team offers comprehensive repair and upkeep services. From detailed assessments to detect possible problems, to expert damage repairs due to weather or wear, we're the one-stop-shop for all of your deck maintenance requirements. Our planned maintenance plans offer reassurance, ensuring your deck stays in top shape throughout the entire year.
Deck Renovation and Restoration: Update Your Open-air Retreat
As time elapses, even the most exceptional decks can present signs of wear or need refinishing to maintain their aesthetic. Our expert team can restore the beauty of your deck through professional cleaning, staining, weatherproofing, and sealing. Also, we can provide structural modifications, making certain that your deck continues to be safe and practical for many years ahead.
Adapted Facets and Complementary Elements: Optimize Your Deck Satisfaction
For improving your outdoor living environment, we propose a selection of customized attributes and add-ons intended to supplement your deck. Included options involve energy-preserving lighting for your deck, integrated seating arrangements, outside kitchens, and fire facilities. Embedding these particulars into your deck configuration, we help form a friendly and cozy atmosphere for you to treasure with your dear ones in Bohemia.
At Decks Unique, our expertise lies in providing exceptional decking services to clients and neighboring regions. Boasting over 20 years of experience, we are known for our professionalism, trustworthiness, and innovative approach. Our capable team is eager to help you with planning a new deck or upgrading an old one. Touch base with us today to organize a free consultation, and let us demonstrate how we can change your outdoor area into a beautiful and practical haven.
Decide on the Optimal Deck Material for Your Lifestyle: Wood and Composite Variants
At Decks Unique, we are committed to helping you create the perfect outdoor oasis for your home. That's why we offer a wide variety of decking materials, including both wood and composite options. Individual materials offer distinct advantages, making certain that you have the capability to pick the ideal option that aligns with your needs and likes.
Wood Decking Offers Timeless Elegance
Offering unparalleled warmth and charm, wood is an eternal and versatile choice for outdoor environments. A variety of wood decking options are offered to match each person's style and monetary constraints.
Pressure-Maintained Lumber: Reasonably Priced and Rugged
Due to its cost efficiency and resilience, pressure-treated lumber appeals to a lot of homeowners. A specialized process protects the decking material from both decay and insect-related damage. Pressure-treated decks last a long time and necessitate minimal care due to this treatment.
Premium and Resistant: Cedar and Redwood's Natural Features
We also provide cedar and redwood decking for those wanting a more extravagant option. The stunning and high-quality woods are naturally resistant to deterioration and bug infestations, ensuring a deck that lasts and ages with charm. Exhibiting rich color palettes and peculiar grain motifs, cedar and redwood decks present a marvelous addition to any domestic setting.
Exotic Hardwoods: Exquisite and Long-Lasting
For a truly unparalleled and elegant choice, give some thought to exotic hardwoods such as Ipe, Tigerwood, or Cumaru. These remarkable hardwoods are extremely dense and strong, making them known for their outstanding longevity and striking visual charm. An exotic hardwood deck's dazzling colors and intricate designs make it a standout centerpiece in any outside space.
The Benefits of Low-Maintenance Living: Composite and PVC Decking
Should you desire an environmentally-friendly and low-maintenance option, look into composite and PVC decking. These innovative materials combine the beauty of wood with the durability of synthetic materials, providing homeowners with a nearly maintenance-free outdoor space.
Why Choose Composite Decking: Benefits and Advantages
Composite decking, which combines recycled wood fibers and plastic, is a sturdy and green choice. This type of decking material is impervious to issues like warping, cracking, and color loss, guaranteeing a stunning and durable deck that needs little attention. Composite decks are also known for their ease of cleaning, requiring only infrequent washes to keep your outdoor space looking its best.
The Foremost Brands in Composite Materials Industry
Working with industry-leading composite decking brands such as Trex, TimberTech, and Azek is a source of pride for Decks Unique. We can supply Bohemia homeowners with high-quality materials for an attractive, long-lasting outdoor environment as authorized installers of these superior products.
Design Your Deck with a Variety of Color and Texture Possibilities
One main strength of composite decking is the numerous customization alternatives. Having a myriad of color and texture options allows you to fashion a one-off outdoor space that connects with your home's design. Regardless of your preference for natural wood's appearance or modern designs, composite decking provides a suitable option.
Boost Your Deck's Appeal with Railing and Baluster Alternatives
An exceptional deck is missing something without the right railing and baluster system. Decks Unique delivers a wide variety of solutions to boost your deck design and uphold the safety and effectiveness of your outdoor space.
Timber Railing Systems: Conventional and Enduring
If you're after a classic and eternal look, a wood railing system could be the way to go. The use of a wood railing system can create a harmonious, unified design for both wood and composite decks. To guarantee a beautiful final product, paint or stain your wood railing system to coordinate with your deck or Bohemia home exterior.
Metal and Glass Railing Systems: Modern and Sleek
Should you fancy a contemporary and streamlined look, think about opting for metal or glass railing systems. Both metal and glass railing systems deliver a contemporary feel while also augmenting the viewpoint from your deck area, winning over homeowners with captivating settings.
Composite Railing Systems: Low-Maintenance, Chic Design
Composite railing systems present an exceptional option for those who want style and elegance without the hassle of constant maintenance. The resilient and captivating railings offer a consistent aesthetic when used in conjunction with composite decking, cultivating an exquisite outdoor space with low maintenance needs.
Regardless of your personal preferences, Decks Unique stands ready to help you decide on the most suitable decking materials for your living space. Connect with us today to explore your desires and kick off the design of the outdoor oasis you have always wanted.
Improve Your Outdoor Living Area with Our Additional Offerings in Bohemia
We believe in transforming your outside living space into a luxurious and functional part of your home at Decks Unique. In addition to top-notch deck building services, we also offer various other services, such as installing wood awnings, cabanas, gazebos, pergolas, and constructing porches. In Bohemia, we have a team of skilled professionals who work closely with you to make your dream outdoor space a reality, while ensuring the highest quality and durability.
Wood Awnings: Bring Both Shade and Style to Your Outdoor Living Space
Wood awnings serve as an effective way to integrate both shade and elegance into your outdoor surroundings. At Decks Unique, our adept team will support you in selecting the correct design and materials to build a stunning and effective wood awning that complements your home's appearance. These wood awnings not only serve to protect against harsh weather but also help raise your property's overall value.
Cabanas: Set up a Deluxe Oasis in Your Bohemia Backyard
Cabanas are a fantastic combination of luxury, convenience, and privacy, making them the perfect addition to any outside area. Our adept team will cooperate with you in the design and construction of a one-of-a-kind cabana that addresses your particular needs and desires. From a cozy sanctuary for relaxation to a chic locale for socializing with friends, we can craft a cabana that makes for the perfect open-air haven.
Gazebos: An Elegant Inclusion in Your Garden or Patio
A gazebo remains a cherished inclusion in gardens and patios, lending an appealing visual interest and a comfortable shaded zone for outdoor leisure. With our skilled team's guidance, you'll select the right style, materials, and site for your gazebo, ensuring harmonious integration with your existing surroundings. Our skilled craftsmanship ensures a breathtaking gazebo that will elevate the appeal of your outdoor environment for years in the future.
Pergolas: Enhance Your Outdoor Space with Architectural Beauty and Function
The addition of a pergola can dramatically improve the architectural design and usefulness of your outdoor space. These constructions supply a blend of shadow and natural brightness, thus perfectly complementing garden pathways, external platforms, or open dining zones. Let Decks Unique's knowledgeable professionals plan and build a customized pergola to match your style, and in doing so, increase your home's value.
Porches: Enhancing Your Home's Curb Appeal and Expanding Outdoor Living Space
A thoughtfully designed porch not only elevates your home's curb appeal but also supplies a pleasant outdoor living area for you and your family to appreciate. Our knowledgeable team will partner with you to build a personalized porch that fits your home's architectural theme and adheres to your functional demands. With our keen eye for detail and dedication to excellence, you can have peace of mind knowing your porch construction endeavor is well taken care of.
Contact Decks Unique for Your Bohemia Outdoor Living Space Transformation
At Decks Unique, we take pride in providing high-quality, custom outdoor living solutions to our clients in Bohemia and the surrounding areas. Seeking to integrate a wood awning, cabana, gazebo, pergola, or porch into your outdoor area? Our team of specialists is prepared to help. Let's chat about your project today, and we'll reveal how we can change your outdoor living space into a luxurious and practical component of your home.
Expert Deck Consultation and Design in Bohemia
Delivering personalized consultations and tailor-made deck designs that satisfy every client's specific needs is what sets Decks Unique apart. With over 20 years of industry know-how, our experienced deck designers will work side by side with you to create a deck that amplifies your home's appearance and practicality. Through the use of progressive 3D modeling and visualization practices, we'll breathe life into your dream deck, ensuring the end product surpasses your expectations.
Superior Quality Deck Components for Prolonged Endurance
On Long Island, Decks Unique is the top deck builder and authorized installer for leading composite deck products such as Trex, TimberTech, and Azek. We also put forward various wood decking options to conform to your preferences, like pressure-treated wood pieces, cedar, redwood, and luxurious hardwoods. With a commitment to using only exceptional materials, you can trust that your new deck will be long-lasting and require minimal maintenance.
Premier Deck Construction Services in Bohemia
Decks Unique's expert deck construction crew is committed to delivering outstanding workmanship and efficiency throughout the entire building process. With our in-depth grasp of building codes, guidelines, and permits, you can have confidence in us to take care of the entire project, from inception to conclusion, providing you with an impressive and usable outdoor space.
Maintaining & Restoring the Beauty of Your Deck
At Decks Unique, we are conscious of the pivotal role regular maintenance plays in preserving your deck's visual charm and solid framework. The proficient team at Decks Unique can assess and pinpoint any damage or possible issues, carrying out vital repairs to ensure your deck remains in prime condition. We also supply deck resurfacing and revitalization services, encompassing cleaning, staining, protecting against the elements, and sealing for the preservation and enhancement of your deck's aesthetics.
Boost Your Outdoor Setting with Custom Solutions and Add-ons
To develop your deck into a matchless outdoor hideaway, Decks Unique delivers an abundance of specialized qualities and extensions, like lighting options for deck installations, seating merged with structural design, external kitchen setups, and fire-focused touches. These optimizations not only broaden the functional aspects but also forge an amicable and snug setting for you and your invitees to relish.
Comprehensive Decking Services and More
Decks Unique is well-versed in both deck design and construction as well as additional outdoor structures like wood awnings, cabanas, gazebos, pergolas, and porch construction. These amenities can remarkably enhance your Long Island home's outdoor space, converting it into a perfect haven for relaxation and social gatherings.
Rely on Decks Unique for all of your decking demands in Bohemia. Uncover the change our pledge of quality, professionalism, and customer delight brings to your outdoor environment. Reach out to us now for a complimentary discussion and let us convert your outdoor space into a mesmerizing marvel.
Dedicated to attending to the needs of Bohemia, Woodmere, Terryville, Smithtown, Ronkonkoma, Old Westbury, North Lindenhurst, and various other Long Island zones.
Offering Long Island Quality Deck Designs and Services: