Uncover Decks Unique - The Leading Deck Construction Solution in West Islip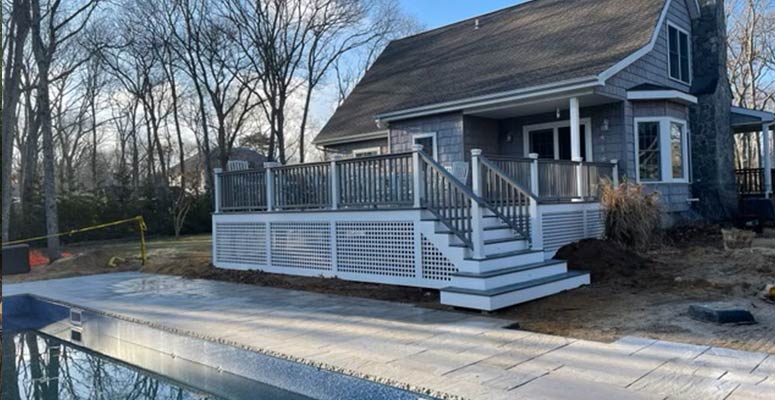 Decks Unique is a family-owned and operated custom deck design and construction company, serving the residents of Long Island and surrounding areas, including West Islip, for over 20 years. Driven by our passion for design and a strong commitment to professionalism, honesty, and innovation, we have become the leading producer of top-quality decks in Long Island, setting the standards for our industry. Our expertise lies in crafting custom decks, porches, gazebos, pergolas, wooden awnings, and other outdoor amenities that enhance the appeal, value, and practicality of your residence in Long Island.
West Islip Deck Building Services with Expertise and Experience
At Decks Unique, our perspective is that a well-crafted deck layout is an intelligent decision when looking at home upgrades. Our expert team of professional deck builders is dedicated to delivering superior quality, maintaining efficient production schedules, and ensuring that our warranties have true lasting value. This unwavering dedication to excellence has manifested in numerous delighted customers and impressive decks they can confidently display for years to follow.
On Long Island, our skilled deck builders are qualified to set up all leading composite deck materials, like Trex, TimberTech, and Azek. Benefit from our complimentary at-home consultations and computer-aided deck templates so you can envisage your project ahead of construction. Give us the chance to make your backyard our succeeding project!
Raise Your Home's Value by Installing a Bespoke Deck
A top-quality deck serves to enhance the open-air living quarters of your West Islip dwelling while also heightening its value. Decks Unique excels at creating and constructing tailor-made decks that cater to the distinct demands and desires of every customer. Be it a homely location for entertaining your friends and family or a luxurious outdoor idyll to luxuriate in attractive weather, our team will join forces with you to make your ideal haven a reality.
We comprehend that every homeowner has their own unique style and needs when it comes to their outdoor space. This is the basis for our extensive variety of materials, styles, and elements to establish the flawless deck that lines up with your home and lifestyle. From conventional wood selections like pressure-treated lumber, cedar, and redwood to hassle-free composite and PVC decking alternatives, we possess the perfect solution for all budgets and inclinations.
Exceptional Attention to Premium Quality and Client Pleasure
At Decks Unique, our focus is on exceptional workmanship and happy customers. We are dedicated to utilizing only top-grade materials and partnering with expert, seasoned builders to guarantee our projects meet the most stringent standards.
In our view, clear communication is essential to a project's success, and we're committed to keeping our clients up-to-date at every stage. From the start, with the initial consultation and design aspects, all through the construction phase and the final inspection, our ever-present team is here to address questions, eliminate concerns, and confirm that you are absolutely thrilled with your new deck.
Let Decks Unique enhance your West Islip backyard with an outdoor living space you'll be proud of. Reach out to us now to organize a free consultation and understand the Decks Unique difference on your own.
Full-range Decking Services in West Islip
At Decks Unique, we pride ourselves on offering a wide range of decking services tailored to meet the needs of our clients in West Islip. We specialize in a variety of custom deck services, including designing and building decks, as well as providing repairs, maintenance and refinishing. Decks Unique also offers an assortment of standout features and add-ons to improve and elevate your outdoor living area. Take a more detailed look at the assortment of services we proudly offer.
Custom Deck Design: Crafting Your Dream Deck with Precision
Our masterful deck designers will work in conjunction with you to construct a made-to-order deck that reflects your individual panache, harmonizes with your home, and caters to the distinct prerequisites of your property. To enable you to make sound decisions, our adept advisors will steer you through the process of selecting the right materials, safeguarding enduring sophistication and solidity.
Top-Notch Deck Construction: High-Quality Craftsmanship for a Beautiful Outdoor Living Space
Being the top deck builder, we are dedicated to utilizing only the best materials and ensuring the safety and efficiency of our workmanship. Our accomplished crew members are qualified installers of renowned composite deck materials, such as Trex, TimberTech, and Azek. With rigorous attention to detail and a commitment to structural robustness, we confirm that your deck is not only striking but also stands firm for years to come.
Deck Maintenance & Repairs: Shielding Your Investment
To preserve the beauty and functionality of your deck, regular maintenance is crucial. Our team of specialists delivers thorough maintenance and repair services for both wooden and composite decks. Providing extensive inspections to identify possible challenges, coupled with expert repairs tackling weather or wear-and-tear damages, we serve as your primary choice for all deck maintenance tasks. Equipped with our scheduled maintenance programs, you can rest easy knowing that your deck will be kept in pristine condition all year long.
Deck Refinishing and Renewal: Bring Freshness to Your Outdoor Environment
As time elapses, even the most exceptional decks can present signs of wear or need refinishing to maintain their aesthetic. Our capable team can reestablish the gorgeousness of your deck using professional cleaning, staining, weatherproofing, and sealing methods. Besides, we can execute structural adjustments, assuring that your deck maintains its safety and functionality in the years to come.
Individualized Aspects and Additional Pieces: Refine Your Deck Encounters
To refine your outdoor living space, we offer a collection of custom-fitted elements and added features conceived to elevate your deck. These options include energy-efficient deck lighting, built-in seating, outdoor kitchens, and fire features. By fusing these elements within the deck design, we cultivate a warm and comfy place for you and your kin to share memorable moments in West Islip.
Decks Unique specializes in offering clients high-quality deck services in their area and beyond. With two decades of industry experience, we have cultivated a reputation for professionalism, genuineness, and forward thinking. No matter if you're seeking to create a new deck or update your current one, our knowledgeable team is prepared to assist. Schedule a complimentary consultation with us today, and explore the possibilities to transform your outdoor space into a beautifully functional sanctuary.
Determine the Best Deck Material for Your Space: Wood and Composite Possibilities
Decks Unique is dedicated to assisting you in developing the ideal outdoor sanctuary for your residence. For this purpose, we deliver a wide range of decking materials that include wooden and composite solutions. Various materials have unique positive aspects, ensuring your ability to opt for the finest choice that caters to your personal necessities and proclivities.
Embrace the Timeless Beauty of Wooden Decks
As a versatile and enduring substance, wood imparts a sense of warmth and attractiveness to every open-air space. Our selection of wooden deck options caters to an array of preferences and financial plans.
Treated Wood: Budget-conscious and Long-lasting
Many homeowners prefer pressure-treated lumber because it is cost-effective and long-lasting. This decking material undergoes a special treatment process, protecting it against rot and insect infestation. Consequently, pressure-treated decks have a lengthy life and demand limited upkeep.
Elegance and Resilience: Cedar and Redwood's Natural Qualities
For those seeking a more luxurious option, we also offer cedar and redwood decking. These beautiful and high-end woods are naturally resistant to decay and insects, ensuring a long-lasting deck that ages gracefully. Cedar and redwood decks, featuring deep colors and one-of-a-kind grain patterns, add a striking touch to any household.
Exotic Hardwoods: Strikingly Attractive and Durable
For a truly unparalleled and elegant choice, give some thought to exotic hardwoods such as Ipe, Tigerwood, or Cumaru. These woods, with their incredible density and toughness, are recognized for their lasting quality and remarkable aesthetics. The stunning shades and complex configurations of exotic hardwood decks act as a captivating centerpiece in every outdoor space.
Pursue a Low-Maintenance Lifestyle with Composite and PVC Decking Options
To find an eco-responsible and low-upkeep choice, take into account composite and PVC decking. These revolutionary materials marry the elegance of wood with the strength of engineered materials, treating homeowners to a nearly maintenance-free outdoor retreat.
Why Choose Composite Decking: Benefits and Advantages
Composite decking, which combines recycled wood fibers and plastic, is a sturdy and green choice. This type of decking material is impervious to issues like warping, cracking, and color loss, guaranteeing a stunning and durable deck that needs little attention. Furthermore, composite decks are simple to maintain, needing just infrequent washing to preserve the cleanliness of your outdoor area.
The Foremost Brands in Composite Materials Industry
Working with industry-leading composite decking brands such as Trex, TimberTech, and Azek is a source of pride for Decks Unique. As accredited installers of these extraordinary products, we offer West Islip homeowners the finest materials to create beautiful and enduring outdoor areas.
Design Your Deck with a Variety of Color and Texture Possibilities
A significant advantage of composite decking is the vast array of personalization possibilities. Choose from many color and texture combinations to create a singular outdoor area that harmonizes with your home's décor. Any preference for natural wood aesthetics or contemporary designs can be accommodated with the right composite decking choice.
Revamp Your Deck Using Different Railing and Baluster Combinations
A top-notch deck demands the right railing and baluster system to be truly complete. Decks Unique offers countless options to accentuate your deck design while ensuring a safe and practical outdoor environment.
Wooden Balustrade Systems: Classic and Eternal
For a classic and timeless look, consider a wood railing system. A wood railing system can complement both wooden and composite decking, providing a cohesive and polished appearance. By painting or staining a wood railing system, you can create a perfect match for your deck or your West Islip home's exterior, delivering an impressive outcome.
Metal and Glass Railing Systems: Stylish and Streamlined
Desiring a more current and polished appearance, you might want to look into metal or glass railing systems. Such choices add a modern twist and can elevate the vista from your outdoor space, making them an attractive option for homeowners with striking scenery.
Composite Railing Systems: Low-Maintenance, Chic Design
Composite railing systems present an exceptional option for those who want style and elegance without the hassle of constant maintenance. By combining these sturdy and attractive railings with composite decking, you can achieve a harmonious look and establish a stunning outdoor environment with minimal maintenance.
Regardless of your favorite styles, Decks Unique is ready to help you identify the ideal decking components for your household. Engage with us today to convey your needs and embark on the journey to design your dream outdoor space.
Boost Your Outdoor Living Space with Our Additional Services in West Islip
We at Decks Unique are dedicated to converting your outdoor living space into an opulent and functional part of your home. Aside from our superior deck building services, we also deliver a variety of extra services, including wooden awnings, cabanas, gazebos, pergolas, and porch construction. Our talented experts in West Islip partner with you to create your desired outdoor space, ensuring the utmost quality and lasting durability.
Wood Awnings: Add Shade and Style to Your Outdoor Space
Adding wood awnings is a superb method to introduce shade and elegance to your outdoor space. The knowledgeable professionals at Decks Unique can help you determine the best design and materials to construct a gorgeous and useful wood awning that aligns with your home's aesthetic. These wood awnings not only serve to protect against harsh weather but also help raise your property's overall value.
Cabanas: Assemble a Sophisticated Retreat in Your West Islip Outdoor Space
Combining luxury, comfort, and privacy expertly, cabanas are perfect for enhancing any open-air area. Our adept team will cooperate with you in the design and construction of a one-of-a-kind cabana that addresses your particular needs and desires. Whether you want a cozy space to relax or an elegant area to entertain guests, we can create a cabana that serves as a perfect outdoor retreat.
Gazebos: A Picturesque Addition for Your Backyard Garden or Patio
A gazebo brings lasting appeal to gardens or patios, creating an inviting central attraction and a shaded space for outdoor downtime. Our knowledgeable team guides you through the process of choosing the perfect style, materials, and location for your gazebo, guaranteeing harmonious fusion with your existing landscape. Through our outstanding craftsmanship, we create a captivating gazebo that augments the splendor of your outdoor area for many years ahead.
Pergolas: Upgrade Your Exterior Area by Adding Architectural Intrigue and Purpose
Pergolas offer a brilliant solution for infusing architectural style and practical purposes into your outdoor environment. Pergolas offer a balance of shading and natural illumination, which suits them well for use in garden walkways, outdoor patios, or dining areas. The proficient staff at Decks Unique can develop and assemble a custom-designed pergola to harmonize with your tastes and augment your home's value.
Porch Assembly: Augment Your Home's Curb Appeal and Outdoor Living Space
A meticulously designed porch not only augments your home's curb appeal but also affords a relaxing outdoor living zone for you and your relatives to delight in. Our knowledgeable team will partner with you to build a personalized porch that fits your home's architectural theme and adheres to your functional demands. With our comprehensive attention to even the smallest detail and steadfast pledge to premium quality, you can breathe easy knowing your porch assembly project is in proficient hands.
Get in touch with Decks Unique for transforming your West Islip outdoor living area
We at Decks Unique are dedicated to offering exceptional, bespoke outdoor living solutions for our West Islip clientele and the neighboring areas. Whether you want to add a wood awning, cabana, gazebo, pergola, or porch to your outdoor area, our team of professionals is here to help. Connect with us today to explore your project's possibilities and see how we can make your outdoor living space a luxurious and efficient extension of your household.
Top-notch Deck Consulting and Design Solutions in West Islip
At Decks Unique, personalizing consultations and crafting custom deck designs to align with the individual requirements of our clients is our top priority. Leveraging their 20-year expertise, our accomplished deck designers will closely engage with you to craft a deck that accentuates your home's visual charm and practical aspects. Our use of sophisticated 3D modeling and visualization technology ensures that your ideal deck is brought to life, matching your expectations in the final outcome.
Superior Quality Deck Components for Prolonged Endurance
Long Island's foremost deck builder, Decks Unique, is an officially recognized installer of major composite deck materials, including brands like Trex, TimberTech, and Azek. We also furnish an assortment of wooden decking options to match your likings, including pressure-treated planks, cedar, redwood, and high-quality hardwoods. Our dedication to using top-quality materials guarantees a long-lasting, low-maintenance deck for your home.
Exceptional Deck Construction Services in West Islip
Our team of skilled deck builders at Decks Unique is focused on providing high-quality craftsmanship and effective execution during the whole construction journey. With our exceptional understanding of building codes, requirements, and permits, you can count on us to navigate the entire project from its inception to culmination, leaving you with a stunning and functional outdoor living space.
Maintaining and Restoring Your Deck's Beauty
Decks Unique comprehends the crucial role of ongoing maintenance in preserving your deck's attractiveness and solid construction. Our proficient staff at Decks Unique can inspect and uncover any damages or potential problems, administering essential repairs to maintain your deck in an optimal state. Besides, we make available deck refinishing and restoration conveniences, like cleaning, staining, defending against harsh weather, and sealing techniques to uphold and heighten your deck's aesthetic value.
Elevate Your Outdoor Environment with Customized Features and Add-ons
For authentically crafting your deck into a standout alfresco haven, Decks Unique brings you a variety of individualized elements and add-ins, featuring lighting systems for decks, seats embedded within the layout, cooking zones suitable for outdoor use, and fire-related fixtures. These modifications not only enhance the function, but they also shape a hospitable and relaxed atmosphere for you and your attendees to delight in.
Extensive Decking Solutions and Supplementary Services
Decks Unique not only excels in deck designing and construction but also focuses on additional outdoor structures, including wooden awnings, cabanas, gazebos, pergolas, and porch construction. By adding these structures, you can further enhance your Long Island house's outdoor space, creating an idyllic area for relaxing and entertaining.
Entrust all your West Islip decking needs to Decks Unique. Explore the difference our devotion to high-quality work, professionalism, and happy customers brings to your outdoor space. Get in touch right away to arrange a free consultation and let us transform your backyard into an impressive work.
Taking great pleasure in assisting West Islip, Terryville, Smithtown, Ronkonkoma, Oyster Bay, North Lindenhurst, Nassau County and other Long Island districts.
Offering Long Island Quality Deck Designs and Services: