Visit Decks Unique - Glen Cove's Most Reliable Deck Builder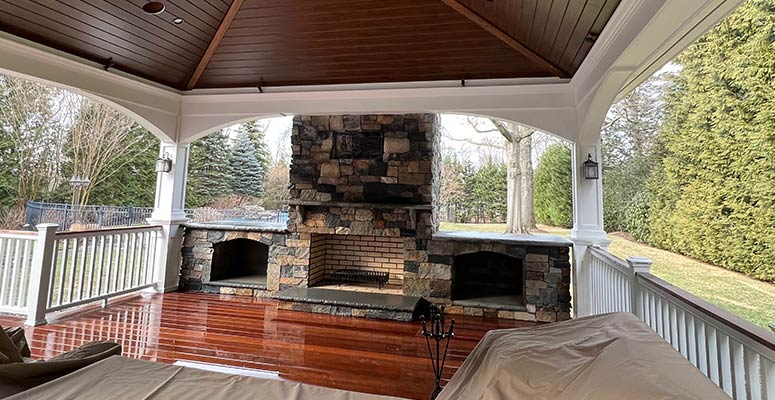 Decks Unique, a family-owned and operated company specializing in custom deck design and construction, has served the communities of Long Island and the surrounding areas, such as Glen Cove, for over two decades. Our zeal for design and unwavering commitment to professionalism, truthfulness, and innovation have propelled us to become the top provider of high-quality decks on Long Island, setting precedence within the industry. We're adept at designing and constructing personalized decks, porches, gazebos, pergolas, wooden awnings, and a variety of outdoor installations that improve the value, aesthetics, and practicality of your Long Island household.
Comprehensive and Experienced Deck Building Services in Glen Cove
Decks Unique maintains that a well-designed deck is a smart investment when thinking about ways to improve your home. The Decks Unique team of experienced deck builders is committed to providing top-notch quality, keeping effective production timelines, and ensuring that our warranties offer enduring value. This resolute commitment to maintaining excellence has garnered numerous fulfilled clients and stunning decks they are thrilled to exhibit for years to come.
Our deck construction crews on Long Island are endorsed to deploy all renowned composite deck products, including Trex, TimberTech, and Azek. Take advantage of our free home consultations and computer-assisted decking designs to help you imagine your project before it's built. Let's tackle your backyard as our next challenge!
Boost Your Home's Worth with a Personalized Deck
Your Glen Cove home's outdoor living space is not only enriched by a fine deck but also experiences a boost in overall worth. At Decks Unique, we specialize in designing and building custom decks that meet the unique needs and preferences of each client. No matter if you desire a comfy location for social events or a grand outdoor paradise to savor the charming weather, our staff will partner with you to create your ideal space.
We recognize that every homeowner has unique preferences and needs for their outdoor areas. This is the basis for our extensive variety of materials, styles, and elements to establish the flawless deck that lines up with your home and lifestyle. Whether you prefer classic wood choices like pressure-treated lumber, cedar, and redwood, or easy-care composite and PVC decking options, we have the perfect solution for every budget and style.
Adherence to Exceptional Quality and Consumer Satisfaction
At Decks Unique, excellent workmanship and gratified clients are what we focus on. Our devotion to first-class materials and engaging the services of experienced contractors guarantees the superior completion of each project we take on.
We regard transparent communication as a critical component of project success, and we dedicate ourselves to keeping our clients informed at all times. From beginning to end - initial consultation, design planning, construction, and final examination - our team stays engaged, ready to answer any questions you have, address any concerns, and wholeheartedly ensure you are delighted with your new deck.
Enable Decks Unique to make your Glen Cove backyard into an inviting outdoor living environment you'll appreciate. Don't hesitate to contact us today for a free consultation and to witness the Decks Unique experience.
Exhaustive Decking Offerings in Glen Cove
Decks Unique takes pride in providing an extensive array of decking services, customized to accommodate the requirements of our Glen Cove clientele. Our team is skilled in providing a holistic suite of services, from custom deck design and construction to repair, maintenance, and refinishing. We further supply a range of special features and add-ons designed to elevate your outdoor living quality. Now, let's examine our wide variety of services more closely.
Custom Deck Design: Manifesting Your Dream Deck into Reality
Our professional deck designers will work closely with you to create a custom deck that reflects your personal style, complements your home, and meets the unique requirements of your property. With the purpose of helping you make smart decisions, our experts will navigate you through choosing materials, securing a long-lasting and beautiful result that stands the test of time.
Professional Deck Development: Skillful Artisanship for a Captivating Outdoor Oasis
As a distinguished deck builder, our commitment lies in using only outstanding materials and implementing safe, effective work methods. Our highly-experienced teams have the approval to install leading composite decking brands like Trex, TimberTech, and Azek. By giving close attention to detail and prioritizing structural strength, we ensure that your deck is not only breathtaking but also withstands the passage of time.
Deck Repair & Maintenance: Safeguarding Your Investment
Regular upkeep is vital for maintaining your deck's aesthetics and functionality. We have a dedicated team that offers all-inclusive repair and upkeep services for both wood and composite decks. Providing extensive inspections to identify possible challenges, coupled with expert repairs tackling weather or wear-and-tear damages, we serve as your primary choice for all deck maintenance tasks. Our timely maintenance programs give you the comfort of knowing that your deck will always be in outstanding condition, no matter the season.
Deck Renovation and Restoration: Update Your Open-air Retreat
Over time, even the highest quality decks may show signs of wear or require refinishing to maintain their appearance. Our knowledgeable team can recuperate your deck's attractiveness by utilizing expert cleaning, staining, weatherproofing, and sealing techniques. Additionally, we can make structural improvements, ensuring that your deck remains safe and functional for years to come.
Customized Elements and Added Components: Elevate Your Deck Pleasures
To refine your outdoor living space, we offer a collection of custom-fitted elements and added features conceived to elevate your deck. These options include energy-efficient deck lighting, built-in seating, outdoor kitchens, and fire features. By assimilating these constituents into your deck's blueprint, we construct a charming and relaxing space for you to savor with close ones in Glen Cove.
Decks Unique focuses on offering unparalleled decking assistance to customers and areas close by. With over 20 years of experience in the industry, we have built a reputation for professionalism, honesty, and innovation. Our capable team is eager to help you with planning a new deck or upgrading an old one. Contact us today to schedule a no-cost consultation and see how we can elevate your outdoor space into an elegant, functional sanctuary.
Discover Your Perfect Deck Material: Wood and Composite Options
Decks Unique prides itself on helping you construct an exceptional outdoor sanctuary for your living space. As a result, we offer numerous decking materials, with options in both timber and composite varieties. Every decking material has its attractive features, ascertaining that you find the perfect choice addressing your individual essentials and partialities.
Wood Decking: A Refined Classic Look
Timber brings a classic, adaptable quality while offering organic coziness and appeal for all outside areas. We have an extensive range of wood deck choices designed to address every aesthetic and budget.
Treated Lumber: Inexpensive and Strong
Many homeowners opt for pressure-treated lumber on account of its economical and sturdy features. This type of decking material goes through a particular treatment, helping it resist decay and insect infestations. Pressure-treated decks, as a consequence, stand the test of time and demand little maintenance.
Cedar and Redwood: Luxurious and Naturally Resistant
If you're interested in a more sophisticated solution, we also have cedar and redwood decking available. These beautiful and high-end woods are naturally resistant to decay and insects, ensuring a long-lasting deck that ages gracefully. Cedar and redwood decks, showcasing rich coloration and individualistic grain patterns, bring a significant accent to any living space.
Exotic Hardwoods: Visually Striking and Rugged
To find an extraordinary and outstanding option, contemplate using exotic hardwoods like Ipe, Tigerwood, or Cumaru. These remarkable hardwoods are extremely dense and strong, making them known for their outstanding longevity and striking visual charm. With vivid colors and detailed patterns, exotic hardwood decks provide a striking focal point for outdoor spaces.
Turn to Composite and PVC Decking for a Low-Maintenance Lifestyle
If you're seeking an eco-conscious, low-maintenance solution, contemplate composite and PVC decking. These advanced materials merge wooden charm with synthetic endurance, offering homeowners an almost maintenance-free open-air space.
Advantageous Features and Benefits of Composite Decking
By combining recycled wood fibers and plastic materials, composite decking offers a durable and eco-friendly option. This decking option can withstand warping, cracking, and fading, leading to a beautiful and resilient deck that requires little care. Furthermore, composite decks are simple to maintain, needing just infrequent washing to preserve the cleanliness of your outdoor area.
Leading Brands in the Field of Composite Materials
Decks Unique is delighted to cooperate with the foremost brands in composite decking, including Trex, TimberTech, and Azek. Being certified installers of these outstanding products, we're able to supply Glen Cove residents with top-notch materials for stunning and durable outdoor spaces.
Personalize Your Deck by Choosing Color and Texture Alternatives
A significant advantage of composite decking is the vast array of personalization possibilities. Having a myriad of color and texture options allows you to fashion a one-off outdoor space that connects with your home's design. Your preference for natural wood visuals or a more state-of-the-art design can both be met with a composite decking option.
Optimize Your Deck's Design with Railing and Baluster Options
The ideal deck isn't all it can be without the proper railing and baluster system. Decks Unique delivers a wide variety of solutions to boost your deck design and uphold the safety and effectiveness of your outdoor space.
Wooden Railing Designs: Everlasting and Traditional
When aiming for a classic and perpetual style, a wood railing system might be the perfect choice. This option pairs beautifully with both wood and composite decks, creating a seamless and cohesive design. By painting or staining a wood railing system, you can create a perfect match for your deck or your Glen Cove home's exterior, delivering an impressive outcome.
Metal and Glass Railing Systems: Fashionable and Uncluttered
In case a modern and sleek design appeals to you, take into account utilizing metal or glass railing systems. Boosting the enjoyment of your deck view, these selections add a 21st-century touch and cater to homeowners who are lucky enough to have gorgeous surroundings.
Composite Railing Systems: Low Fuss and Attractive
For individuals who desire a low-upkeep solution while maintaining sophistication and elegance, composite railing systems make an ideal choice. When combined with composite decking, these rugged and elegant railings contribute to a seamless appearance, crafting a striking outdoor sanctuary with minimal required maintenance.
Regardless of your personal preferences, Decks Unique stands ready to help you decide on the most suitable decking materials for your living space. Reach out to our team today to discuss your vision and begin shaping the outdoor area you've always imagined.
Optimize Your Outdoor Living Space with Our Extra Services in Glen Cove
Decks Unique strives to change your outdoor living space into a lavish and efficient extension of your home. Our expertise extends beyond exceptional deck building, as we also offer additional services like wood awnings, cabanas, gazebos, pergolas, and porch construction. In Glen Cove, our expert professionals collaborate with you to realize your dream while maintaining exceptional quality and durability.
Wooden Awnings: Increase Shade and Style for Your Outdoor Space
Wood awnings serve as an effective way to integrate both shade and elegance into your outdoor surroundings. Our proficient crew at Decks Unique will offer guidance in determining the perfect design and materials for a visually appealing and practical wood awning that goes well with your home's decor. Such structures offer protection from inclement weather while simultaneously increasing your property's overall value.
Cabanas: Construct a High-end Refuge in Your Glen Cove Yard
Cabanas are unparalleled in providing luxury, comfort, and privacy, making them a top choice for inclusion in any exterior space. Collaborating with our expert team, you'll be able to design and build a cabana customized to your precise needs and tastes. From a cozy sanctuary for relaxation to a chic locale for socializing with friends, we can craft a cabana that makes for the perfect open-air haven.
Gazebos: A Picturesque Addition for Your Backyard Garden or Patio
A gazebo is a timeless addition to any garden or patio, providing a charming focal point and a shaded area for outdoor relaxation. Our adept team works with you to find the ideal appearance, materials, and setting for your gazebo, assuring flawless integration into your current garden or patio. With our high-quality craftsmanship, you'll have a gorgeous gazebo that not only complements but also enhances your outdoor space for years to come.
Pergolas: Enhance Your Outdoor Space with Architectural Beauty and Function
Pergolas offer a brilliant solution for infusing architectural style and practical purposes into your outdoor environment. These structures adeptly merge shadow and light, creating an idyllic atmosphere for walkways in gardens, patios, or outdoor dining places. Choose Decks Unique's experienced team to conceive and erect a made-to-order pergola that reflects your individual style and boosts your property's worth.
Build a Porch: Increase Your Home's Curb Appeal and Outdoor Living Environment
A well-planned porch not only heightens your home's curb appeal but also furnishes a snug outdoor living environment for you and your kin to relish. Our talented team will combine efforts with you to craft a unique porch that parallels your home's architectural appearance and serves your functional prerequisites. With our comprehensive attention to even the smallest detail and steadfast pledge to premium quality, you can breathe easy knowing your porch assembly project is in proficient hands.
Reach out to Decks Unique to transform your Glen Cove outdoor living space
We at Decks Unique are dedicated to offering exceptional, bespoke outdoor living solutions for our Glen Cove clientele and the neighboring areas. Our knowledgeable team is eager to assist if you're considering adding a wood awning, cabana, gazebo, pergola, or porch to your outdoor area. Contact us right away to go over your project and learn how we can transform your outdoor area into a plush and purposeful extension of your living space.
Specialist Deck Consultation and Design Services in Glen Cove
At Decks Unique, we excel in offering customized consultation services and creating unique deck designs to fulfill the expectations of our clients. With over 20 years of industry know-how, our experienced deck designers will work side by side with you to create a deck that amplifies your home's appearance and practicality. By harnessing the power of advanced 3D modeling and visualization techniques, we'll materialize your dream deck, while ensuring the final version fulfills your expectations.
Premium Deck Construction Materials for Extended Durability
As the premier deck builder on Long Island, Decks Unique is an authorized installer of popular composite deck products like Trex, TimberTech, and Azek. We also present an array of wooden decking alternatives to accommodate your preferences, like pressure-treated timber, cedarwood, redwood, and rare hardwoods. Our promise to use only top-of-the-line materials ensures your new deck's durability with the added benefit of low maintenance.
First-Rate Deck Building Services in Glen Cove
The competent deck construction crew at Decks Unique is committed to providing first-rate craftsmanship and efficiency across the entire building process. Leveraging our deep expertise in building codes, norms, and permits, you can entrust us with the full project from beginning to end, yielding an eye-catching and practical outdoor environment.
Keep and Restore Your Deck's Attractiveness
The Decks Unique team acknowledges the importance of ongoing maintenance to conserve the appearance and structural reliability of your deck. Our adept team has the ability to check and recognize any damages or potential troubles, executing required repairs to sustain your deck's top-notch condition. Furthermore, we provide deck restoration and refinishing services, which cover cleaning, staining, weatherproofing, and sealing to safeguard and improve your deck's looks.
Elevate Your Open-air Space with Tailor-made Features and Add-ons
To develop your deck into a matchless outdoor hideaway, Decks Unique delivers an abundance of specialized qualities and extensions, like lighting options for deck installations, seating merged with structural design, external kitchen setups, and fire-focused touches. These advancements not only heighten practical use, but they also build a pleasant and convivial milieu for you and your visitors to take pleasure in.
In-Depth Decking Assistance and More
Besides being proficient in deck design and construction, Decks Unique provides services in creating additional outdoor structures like wood awnings, cabanas, gazebos, pergolas, and porch construction. These additional structures can greatly contribute to the charm of your Long Island home's outdoor environment, turning it into an ideal place for relaxation and festivities.
Decks Unique is here to help with your Glen Cove decking needs. Explore the difference our devotion to high-quality work, professionalism, and happy customers brings to your outdoor space. Reach out to us today for a free consultation, and let us convert your backyard into an exquisite showpiece.
Happy to support the communities of Glen Cove, Farmingdale, East Islip, Centereach, Wyandanch, Terryville, Smithtown, and other areas throughout Long Island.
Offering Long Island Quality Deck Designs and Services: