Get to know Decks Unique - Westbury's Trusted Deck Building Specialists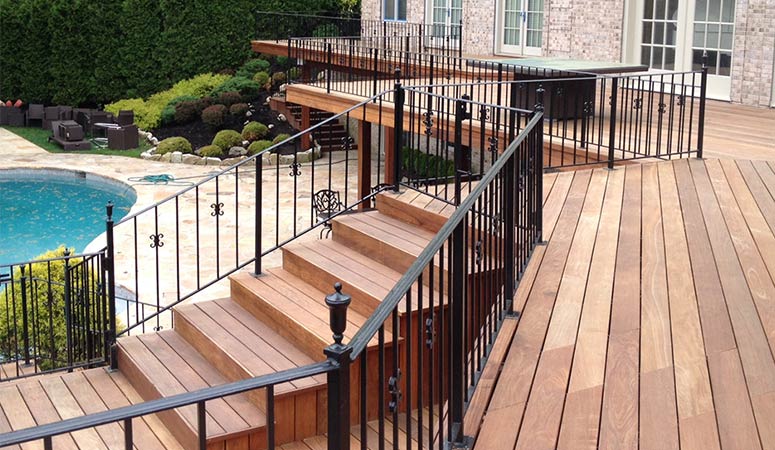 Decks Unique, a family-owned and operated company specializing in custom deck design and construction, has served the communities of Long Island and the surrounding areas, such as Westbury, for over two decades. Decks Unique's dedication to design, professionalism, integrity, and innovation has elevated us to become the leading producer of high-quality decks in Long Island, defining industry standards. Our proficiency extends to designing and building custom decks, porches, gazebos, pergolas, wood awnings, and other outdoor fixtures that enrich the value, elegance, and usefulness of your dwelling on Long Island.
Expertise and Experience in Deck Building Services in Westbury
The belief at Decks Unique is that a well planned deck configuration presents a shrewd investment for upgrading one's home. The Decks Unique team of expert deck builders holds a steadfast commitment to delivering unparalleled quality, upholding efficient production schedules, and guaranteeing the lasting value of our warranties. Our steadfast pursuit of excellence has culminated in numerous pleased clients and deck constructions they are proud to exhibit for many years down the line.
Our deck construction crews on Long Island are endorsed to deploy all renowned composite deck products, including Trex, TimberTech, and Azek. We furnish free home-based consultations along with tech-driven deck illustrations, so you can conceptualize your undertaking before its materialization. Permit us to create an amazing transformation in your backyard for our next project!
Upgrade Your Home and Its Value with a Custom-Designed Deck
The addition of a fantastic deck not only expands your Westbury home's outdoor living space but also amplifies its market value. We, at Decks Unique, focus on the development and creation of bespoke decks that address the specific requirements and tastes of each client. Be it a snug spot to accommodate get-togethers or an opulent open-air retreat to bask in lovely weather, our crew will work hand-in-hand with you to materialize your aspirations.
We understand that each homeowner in has different tastes and requirements for their outdoor spaces. Consequently, we offer a broad assortment of materials, designs, and aspects to construct the perfect deck that matches your residence and your living habits. Starting from conventional wood materials like pressure-treated lumber, cedar, and redwood, through to the low-maintenance compound and PVC decking options, we cater to every budget and predilection.
Incomparable Devotion to High Quality and Customer Fulfillment
High-quality workmanship and customer satisfaction are at the heart of what we do at Decks Unique. By using only the best materials and partnering with skilled, knowledgeable builders, we can assure that every project we undertake meets the highest quality standards.
To us, seamless communication is the backbone of successful projects, and we work diligently to ensure our clients are always in the know. Starting with the initial consultation, through the design and construction phases, all the way to the final inspection, our team remains accessible to answer any questions, alleviate concerns, and guarantee complete satisfaction with your new deck.
Let Decks Unique transform your Westbury backyard into an outdoor living space you'll love. Reach out to us now to organize a free consultation and understand the Decks Unique difference on your own.
Extensive Deck Construction Services in Westbury
In Westbury, Decks Unique boasts a comprehensive variety of decking services, all geared towards satisfying the unique demands of our clients. Our team possesses the skills necessary for every step of the process, from designing and constructing custom decks to repairs, upkeep, and refinishing. Decks Unique also offers an assortment of standout features and add-ons to improve and elevate your outdoor living area. We invite you to explore our extensive selection of services more closely.
Custom Deck Design: Turning Your Visionary Deck into Reality
Our proficient deck designers will partner with you to develop a bespoke deck that embodies your personal preferences, augments your home, and fulfills the distinct requisites of your property. With the purpose of helping you make smart decisions, our experts will navigate you through choosing materials, securing a long-lasting and beautiful result that stands the test of time.
Top-Notch Deck Construction: High-Quality Craftsmanship for a Beautiful Outdoor Living Space
Being the top deck builder, we are dedicated to utilizing only the best materials and ensuring the safety and efficiency of our workmanship. Our adept teams are sanctioned installers of major composite decking products like Trex, TimberTech, and Azek. By giving close attention to detail and prioritizing structural strength, we ensure that your deck is not only breathtaking but also withstands the passage of time.
Taking Care of Your Deck: Ensuring Your Investment Stays Protected
Maintaining the appearance and function of your deck depends on regular maintenance. Whether it's a wood or composite deck, our specialized team offers comprehensive repair and upkeep services. Offering complete inspections to uncover potential issues and expert repair services for damages due to the elements or wear, we are your ultimate destination for all things related to deck maintenance. Equipped with our scheduled maintenance programs, you can rest easy knowing that your deck will be kept in pristine condition all year long.
Deck Refinishing and Revitalization: Energize Your Exterior Living Space
With time, even top-notch decks can exhibit signs of wear or necessitate refinishing in order to keep their aesthetic appeal. Our adept team has the ability to bring back your deck's elegance using expert cleaning, staining, weatherproofing, and sealing services. Besides, we can execute structural adjustments, assuring that your deck maintains its safety and functionality in the years to come.
Personalized Attributes and Extras: Improve Your Deck Enjoyment
For improving your outdoor living environment, we propose a selection of customized attributes and add-ons intended to supplement your deck. Such choices encompass energy-saving lighting for decks, integrated seating, alfresco kitchens, and fire elements. By blending these factors into your deck's design, we fashion a hospitable and cozy setting for you to relish alongside your loved ones in Westbury.
Expertise in delivering prime decking services to clients and surrounding locations sets Decks Unique apart. For more than 20 years, our experience has earned us a reputation for being professional, honest, and groundbreaking. Our capable team is eager to help you with planning a new deck or upgrading an old one. Schedule a complimentary consultation with us today, and explore the possibilities to transform your outdoor space into a beautifully functional sanctuary.
Discover Your Perfect Deck Material: Wood and Composite Options
Decks Unique's primary focus is to support you in building the perfect exterior paradise at your home. As a result, we offer numerous decking materials, with options in both timber and composite varieties. Individual materials offer distinct advantages, making certain that you have the capability to pick the ideal option that aligns with your needs and likes.
Wood Decks Radiate Classic Appeal
Wood, with its enduring and adaptable properties, naturally lends warmth and charisma to any exterior area. Numerous wood decking choices are available, suiting various tastes and budgetary requirements.
Pressure-Treated Timber: Economical and Resilient
Many homeowners opt for pressure-treated lumber on account of its economical and sturdy features. This decking material undergoes a special treatment process, protecting it against rot and insect infestation. As an outcome, decks made from pressure-treated wood last longer and call for lesser maintenance.
Cedar and Redwood: Nature's Luxury with Built-In Resistance
For individuals searching for a lavish choice, cedar and redwood decking are additionally available. These refined and deluxe woods come with natural resistance to decomposition and insect activity, making for a long-lasting deck that stands the test of time. The bold shades and unmatched grain structures of cedar and redwood decks contribute a breathtaking element to any abode.
Exotic Hardwoods: Gorgeous and Long-lasting
For those in search of a genuinely distinctive and splendid option, ponder over selecting exotic hardwoods like Ipe, Tigerwood, or Cumaru. These dense and hard-wearing woods are famous for their amazing durability and striking visual appeal. An exotic hardwood deck's dazzling colors and intricate designs make it a standout centerpiece in any outside space.
Low-Maintenance Living with Composite and PVC Decking
Should you desire an environmentally-friendly and low-maintenance option, look into composite and PVC decking. These contemporary materials integrate the appeal of wood and the sturdiness of synthetic elements, endowing homeowners with a largely maintenance-free outdoor living area.
Advantageous Features and Benefits of Composite Decking
With a mixture of repurposed wood fibers and plastic, composite decking is a resilient and Earth-friendly selection. Thanks to its resistance to warping, cracking, and fading, this decking material yields an eye-catching, long-lasting deck that demands minimal maintenance. Additionally, composite decks are easy to clean, requiring only occasional washing to keep your outdoor space looking pristine.
Industry-Leading Brands in Composite Materials
Working with industry-leading composite decking brands such as Trex, TimberTech, and Azek is a source of pride for Decks Unique. As sanctioned installers of these exceptional products, we're able to provide Westbury homeowners with top-quality materials for a striking and long-lasting outdoor area.
Custom-build Your Deck with a Range of Color and Texture Combinations
A key benefit of composite decking is the broad spectrum of customization opportunities. Various color and texture options enable you to establish an exceptional outdoor environment that fits your home's aesthetics. There is a composite decking option to match your preference for either the appearance of natural wood or a sleeker, more modern aesthetic.
Improve Your Deck through Railing and Baluster Selections
An impeccable deck isn't finished without the suitable railing and baluster system. At Decks Unique, we feature a vast collection of alternatives to match your deck design and ensure your outdoor area remains safe and functional.
Wood Railing Systems: Traditional and Timeless
Opt for a wood railing system if you desire a timeless and sophisticated feel. By integrating a wood railing system with either a wood or composite deck, you can achieve a smooth and consistent design. By painting or staining a wood railing system, you can create a perfect match for your deck or your Westbury home's exterior, delivering an impressive outcome.
Metal and Glass Railing Systems: Sophisticated and Well-defined
When a refined and modern vibe is what you're after, metal or glass railing systems may be perfect for you. These modern possibilities not only offer an up-to-date appeal but also amplify the sights from your deck, making them a top choice for homeowners immersed in picturesque backdrops.
Composite Railing Systems: Low Fuss and Attractive
For an ideal blend of style, elegance, and low-maintenance, composite railing systems are an excellent option. These robust and appealing railings, when used alongside composite decking, create a harmonious appearance and a gorgeous outdoor area with little maintenance needed.
No matter your inclinations, Decks Unique is at your service to aid you in picking the perfect decking supplies for your home. Contact our team today to share your needs and initiate the planning process for your dream outdoor living space.
Raise the Bar for Your Outdoor Living Space with Our Additional Services in Westbury
At Decks Unique, our goal is to transform your outdoor living space into a luxurious, functional extension of your house. In addition to top-notch deck building services, we also offer various other services, such as installing wood awnings, cabanas, gazebos, pergolas, and constructing porches. Our talented experts in Westbury partner with you to create your desired outdoor space, ensuring the utmost quality and lasting durability.
Wooden Awnings: Increase Shade and Style for Your Outdoor Space
Through wood awnings, you can effortlessly introduce both shade and grace to your exterior area. Our proficient crew at Decks Unique will offer guidance in determining the perfect design and materials for a visually appealing and practical wood awning that goes well with your home's decor. The wood awnings not only ensure protection from extreme weather conditions but also improve your property's overall worth.
Cabanas: Build an Opulent Sanctuary in Your Westbury Yard
Blending luxury, relaxation, and privacy perfectly, cabanas are an exceptional choice for upgrading any outdoor area. Collaborating with our expert team, you'll be able to design and build a cabana customized to your precise needs and tastes. Looking for a comfortable retreat to relax or a classy space to host events, we can design a cabana that transforms into your perfect outdoor haven.
Gazebos: A Visually Appealing Addition for Your Garden or Patio
A lasting gazebo makes any garden or patio more appealing, presenting an attractive central feature and a shaded retreat for outdoor recreation. With our skilled team's guidance, you'll select the right style, materials, and site for your gazebo, ensuring harmonious integration with your existing surroundings. Thanks to our masterful craftsmanship, you can delight in a splendid gazebo that boosts the allure of your outdoor space for many years to come.
Pergolas: Boost Your Outdoor Environment's Appeal and Functionality with Architectural Flair
Integrating a pergola into your outdoor living area is an outstanding approach for increasing architectural attractiveness and functionality. The design of these structures allows for a combination of shade and sunlight, which makes them perfect for garden trails, patio spaces, and open-air eating areas. Choose Decks Unique's experienced team to conceive and erect a made-to-order pergola that reflects your individual style and boosts your property's worth.
Porch Development: Elevate Your Home's Curb Appeal and Outdoor Lifestyle
A skillfully designed porch not only boosts your home's curb appeal but also gives a welcoming outdoor living space for you and your family to savor. Our qualified team will cooperate with you to construct an exclusive porch that blends with your home's architectural design and accommodates your functional needs. With our conscientious scrutiny of detail and allegiance to first-rate quality, you can be relaxed knowing that your porch building mission is in expert hands.
Get in touch with Decks Unique for transforming your Westbury outdoor living area
Decks Unique is devoted to providing high-caliber, customized outdoor living possibilities to those in Westbury and nearby locations. Should you desire to add a wood awning, cabana, gazebo, pergola, or porch to your outdoor living environment, our adept team is here for support. Don't hesitate to get in touch with us today to talk about your project and unveil how we can morph your outdoor living space into a sumptuous and functional part of your home.
Westbury's Premier Deck Consultation and Design Experts
At Decks Unique, we excel in offering customized consultation services and creating unique deck designs to fulfill the expectations of our clients. With over 20 years of know-how, our expert deck designers will cooperate closely with you to devise a deck that elevates your home's looks and utility. Through the use of progressive 3D modeling and visualization practices, we'll breathe life into your dream deck, ensuring the end product surpasses your expectations.
Durable Deck Materials for Extended Life Expectancy
As the premier deck builder on Long Island, Decks Unique is an authorized installer of popular composite deck products like Trex, TimberTech, and Azek. Furthermore, we extend a multitude of wooden decking options geared to your tastes, including pressure-treated beams, cedar, redwood, and superior hardwoods. Our commitment to using only the best materials ensures that your new deck will be built to last while requiring minimal maintenance.
Exceptional Deck Construction Services in Westbury
Our gifted deck construction professionals at Decks Unique are devoted to ensuring top-tier quality and effectiveness during the full building process. Given our vast knowledge of building codes, regulations, and permits, you can trust us to execute the full project from start to finish, creating a beautiful and efficient outdoor living area.
Sustain and Renew Your Deck's Appeal
Decks Unique comprehends the crucial role of ongoing maintenance in preserving your deck's attractiveness and solid construction. Our experienced team can inspect and identify any damages or potential issues, providing necessary repairs to keep your deck in top condition. At Decks Unique, we also propose deck revamping and restoration amenities, involving cleaning, staining, safeguarding against weather, and sealing to conserve and magnify your deck's appeal.
Elevate Your Open-air Space with Tailor-made Features and Add-ons
To genuinely convert your deck into an exceptional exterior retreat, Decks Unique presents a range of custom characteristics and additions, including deck lights, built-in benches, alfresco kitchens, and features involving fire. These advancements not only heighten practical use, but they also build a pleasant and convivial milieu for you and your visitors to take pleasure in.
Exhaustive Deck Installation and Additional Features
Not only do we excel in deck design and construction at Decks Unique, but we also specialize in creating extra outdoor structures, including wood awnings, cabanas, gazebos, pergolas, and porch construction. These additional structures can greatly contribute to the charm of your Long Island home's outdoor environment, turning it into an ideal place for relaxation and festivities.
Entrust all your Westbury decking needs to Decks Unique. Notice the transformation our dedication to quality, expertise, and client satisfaction creates in your outdoor living area. Connect with us immediately to schedule a no-cost consultation, and let us turn your backyard into a brilliant creation.
Proudly serving Westbury, Suffolk County, Selden, Rockville Centre, Old Bethpage, North Bay Shore, Miller Place and other Long Island communities.
Offering Long Island Quality Deck Designs and Services: