Check out Decks Unique - Deer Park's Exceptional Deck Building Professionals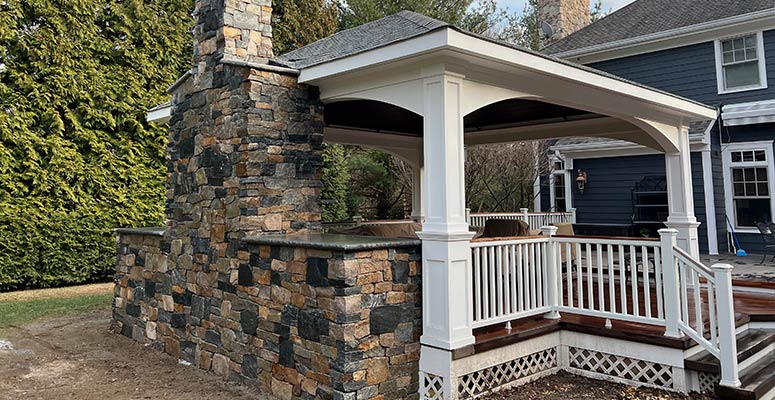 Over the past 20 years, Decks Unique, a family-owned and operated company, has been dedicated to offering custom deck design and construction services in Long Island and the surrounding areas, including Deer Park. Driven by our passion for design and a strong commitment to professionalism, honesty, and innovation, we have become the leading producer of top-quality decks in Long Island, setting the standards for our industry. Our area of expertise involves creating and building custom decks, verandas, gazebos, pergolas, wooden awnings, and other external structures that add worth, allure, and functionality to your Long Island abode.
Deer Park's Expert and Experienced Deck Builders
Decks Unique advocates that a meticulously designed deck is a sound investment when evaluating home improvement options. Our expert team of professional deck builders is dedicated to delivering superior quality, maintaining efficient production schedules, and ensuring that our warranties have true lasting value. This resolute commitment to maintaining excellence has garnered numerous fulfilled clients and stunning decks they are thrilled to exhibit for years to come.
Our certified Long Island decking contractors can install all popular composite decking brands, including Trex, TimberTech, and Azek. We furnish free home-based consultations along with tech-driven deck illustrations, so you can conceptualize your undertaking before its materialization. Why not turn your backyard into our following endeavor?
Heighten Your Home's Worth with Your Own Custom Deck
Besides improving the exterior living area of your Deer Park residence, an exceptional deck can also drive up property value. Decks Unique specializes in the planning and building of tailor-made decks that satisfy each of our clients' distinctive needs and inclinations. Regardless of whether you want an inviting space to entertain loved ones or a haven to appreciate the delightful weather, we will work in harmony with you to actualize your vision.
We know that each property owner has their own distinct taste and requirements for their outdoor living areas. This is the basis for our extensive variety of materials, styles, and elements to establish the flawless deck that lines up with your home and lifestyle. From classic wooden choices such as pressure-treated wood, cedar, and redwood, to the low-maintenance composite and PVC decking options, we have the ideal solution for any budget and taste.
Extraordinary Concentration on Outstanding Performance and Customer Happiness
Delivering outstanding workmanship and ensuring client contentment are of utmost importance at Decks Unique. To ensure that all our projects are up to the highest standards, we are devoted to using only top-quality materials and hiring expert builders with a wealth of experience.
In our experience, consistent communication is the foundation of a successful project, and we never falter in our commitment to keep clients apprised of progress. From beginning to end - initial consultation, design planning, construction, and final examination - our team stays engaged, ready to answer any questions you have, address any concerns, and wholeheartedly ensure you are delighted with your new deck.
Let Decks Unique transform your Deer Park backyard into an outdoor living space you'll love. Reach out to us today to set up a no-cost consultation and feel the Decks Unique distinction yourself.
All-inclusive Decking Solutions in Deer Park
Decks Unique is proud to deliver an array of customized decking services to cater to the diverse requirements of our clients in Deer Park. From custom deck design and construction to maintenance and refinishing, our expertise encompasses every aspect of deck services. Besides our standard services, Decks Unique provides an assortment of unique features and add-ons to elevate your outdoor living experience. Join us in taking a closer look at the wide range of solutions we offer.
Custom Deck Design: Creating the Perfect Dream Deck for You
Our talented deck designers will team up with you to generate a one-of-a-kind deck that represents your signature style, blends well with your home, and meets the special requirements of your property. In order to assist you in making knowledgeable choices, our specialists will walk you through the process of selecting materials, guaranteeing lasting attractiveness and resilience.
Exceptional Deck Creation: Superior Quality in Craftsmanship for an Eye-Catching Outside Space
Being an esteemed deck builder, we dedicate ourselves to using only first-class materials and ensuring safe, efficient labor. Our competent crews are licensed to install top-tier composite decking materials, such as Trex, TimberTech, and Azek. With rigorous attention to detail and a commitment to structural robustness, we confirm that your deck is not only striking but also stands firm for years to come.
Deck Maintenance & Repairs: Shielding Your Investment
To keep your deck beautiful and functional, regular maintenance is essential. Whether it's a wood or composite deck, our specialized team offers comprehensive repair and upkeep services. Whether it's thorough inspections to uncover potential issues, or professional repairs for weather-induced damage and wear, we can handle all your deck maintenance demands. Our scheduled maintenance programs provide peace of mind, knowing that your deck will remain in excellent condition year-round.
Deck Refinishing and Renewal: Bring Freshness to Your Outdoor Environment
As time elapses, even the most exceptional decks can present signs of wear or need refinishing to maintain their aesthetic. Our team of specialists can reinstate the aesthetic charm of your deck through professional cleaning, staining, weatherproofing, and sealing procedures. Notably, we can apply structural ameliorations, securing your deck's safety and utility for the future.
Made-to-order Qualities and Accessories: Strengthen Your Deck Recreation
To refine your outdoor living space, we offer a collection of custom-fitted elements and added features conceived to elevate your deck. Included options involve energy-preserving lighting for your deck, integrated seating arrangements, outside kitchens, and fire facilities. Through integrating these attributes into your deck plan, we'll establish a congenial and snug environment for you and your companions in Deer Park.
At Decks Unique, our expertise lies in providing exceptional decking services to clients and neighboring regions. Over our 20 years in the business, we've carved out a reputation for professionalism, dependability, and innovation. Whether designing a novel deck or enhancing a current one, our proficient team is available for assistance. Connect with us today to set up a no-charge consultation and learn how your outdoor space can become a gorgeous, practical escape.
Discover Your Perfect Deck Material: Wood and Composite Options
Decks Unique is all about empowering you to create an amazing outdoor utopia within your home. That's why we offer a wide variety of decking materials, including both wood and composite options. All materials have exclusive benefits that let you settle on the best choice based on your specific desires and favorites.
Wooden Decks Showcase Timeless Sophistication
Wood is a timeless and versatile material, providing natural warmth and charm to any outdoor space. Explore our broad selection of wood deck options created to suit diverse styles and budgets.
Pressure-Handled Lumber: Budget-friendly and Enduring
Many homeowners opt for pressure-treated lumber on account of its economical and sturdy features. A certain treatment process ensures this decking material remains resistant to rot and insect infiltrations. Pressure-treated decks, as a consequence, stand the test of time and demand little maintenance.
Cedar and Redwood: Nature's Luxury with Built-In Resistance
If you're in the market for a high-end solution, consider our cedar and redwood decking options. These elegant and premium woods possess natural resistance to decay and pests, guaranteeing a durable deck that matures with elegance. Cedar and redwood decks, featuring deep colors and one-of-a-kind grain patterns, add a striking touch to any household.
Exotic Hardwoods: Beautiful and Durable
If a truly unique and remarkable choice is what you're after, think about using exotic hardwoods such as Ipe, Tigerwood, or Cumaru. Internationally appreciated for their exceptional endurance and dramatic looks, these woods are notably dense and durable. The vivid colors and elaborate patterns of exotic hardwood decks create an awe-inspiring centerpiece for your outdoor living space.
Pursue a Low-Maintenance Lifestyle with Composite and PVC Decking Options
In case you're searching for a low-maintenance and eco-centric alternative, give composite and PVC decking some thought. These inventive materials amalgamate the natural beauty of wood with the durability of synthetic compounds, bestowing homeowners with a virtually maintenance-free outside setting.
Composite Decking: Benefits and Advantages
Made from recycled wood fibers and plastic, composite decking is a strong and environmentally friendly preference. By resisting warping, cracking, and fading, this decking material ensures an attractive and long-lasting deck, while keeping maintenance to a minimum. Furthermore, composite decks are simple to maintain, needing just infrequent washing to preserve the cleanliness of your outdoor area.
Industry-Leading Brands in Composite Materials
Decks Unique is proud to work with the leading brands in composite decking, including Trex, TimberTech, and Azek. We can deliver the best quality materials for an attractive and long-lasting outdoor space to Deer Park homeowners, as we are authorized installers of these first-rate products.
Personalize Your Deck by Exploring Various Color and Texture Options
A key benefit of composite decking is the broad spectrum of customization opportunities. With a variety of color and texture choices, you can create a one-of-a-kind outdoor space that perfectly suits your home's aesthetic. Composite decking caters to your taste, whether you favor traditional wood or a more up-to-date design.
Transform Your Deck with Various Railing and Baluster Choices
The ideal deck isn't all it can be without the proper railing and baluster system. At Decks Unique, we feature a vast collection of alternatives to match your deck design and ensure your outdoor area remains safe and functional.
Timber Handrail Solutions: Time-honored and Lasting
A wood railing system is worth considering for a classic and ageless look. This option pairs beautifully with both wood and composite decks, creating a seamless and cohesive design. A remarkable final appearance can be achieved by painting or staining a wood railing system to correspond with your deck or the exterior of your Deer Park home.
Metal and Glass Railing Systems: Stylish and Streamlined
Should you fancy a contemporary and streamlined look, think about opting for metal or glass railing systems. Such choices add a modern twist and can elevate the vista from your outdoor space, making them an attractive option for homeowners with striking scenery.
Composite Railing Systems: Hassle-Free and Modern
Composite railing systems present an exceptional option for those who want style and elegance without the hassle of constant maintenance. When combined with composite decking, these rugged and elegant railings contribute to a seamless appearance, crafting a striking outdoor sanctuary with minimal required maintenance.
Regardless of your tastes, Decks Unique can assist you in selecting the ideal decking materials for your residence. Connect with us today to explore your desires and kick off the design of the outdoor oasis you have always wanted.
Boost Your Outdoor Living Space with Our Additional Services in Deer Park
At Decks Unique, we believe in transforming your outdoor living space into a luxurious and functional extension of your home. Apart from our exceptional deck building services, we also offer a variety of additional services such as wood awnings, cabanas, gazebos, pergolas, and porch construction. In Deer Park, our experienced professionals collaborate closely with you to turn your dreams into reality while maintaining exceptional quality and durable construction.
Wooden Awnings: Add a Touch of Style and Shade to Your Outdoor Space
Through wood awnings, you can effortlessly introduce both shade and grace to your exterior area. The proficient staff at Decks Unique will guide you in picking the perfect design and materials to fashion an appealing and functional wood awning that suits your home's style. These wood awnings not only serve to protect against harsh weather but also help raise your property's overall value.
Cabanas: Design a Lavish Getaway in Your Deer Park Garden
Blending luxury, relaxation, and privacy perfectly, cabanas are an exceptional choice for upgrading any outdoor area. We'll have our team of specialists work closely with you to create and build a custom-made cabana in line with your specific requirements and inclinations. Be it a warm, inviting spot for rest or a refined space for social engagements, we can build a cabana that becomes your dream outdoor getaway.
Gazebos: A Beautiful Addition for Your Outdoor Garden or Patio
A gazebo serves as a classic element in any garden or patio, offering an attractive centerpiece and a sheltered space for enjoying the outdoors. Our seasoned team supports you in determining the best style, materials, and spot for your gazebo, making sure it fuses effortlessly with your present outdoor space. Thanks to our masterful craftsmanship, you can delight in a splendid gazebo that boosts the allure of your outdoor space for many years to come.
Pergolas: Enhance Your Outdoor Space with Architectural Beauty and Function
Pergolas offer a brilliant solution for infusing architectural style and practical purposes into your outdoor environment. These structures adeptly merge shadow and light, creating an idyllic atmosphere for walkways in gardens, patios, or outdoor dining places. Let Decks Unique's knowledgeable professionals plan and build a customized pergola to match your style, and in doing so, increase your home's value.
Porch Creation: Boost Your Home's Curb Appeal and Outdoor Living Space
A tastefully designed porch not only enriches your home's curb appeal but also bestows a cozy alfresco living area for you and your family to enjoy. Our knowledgeable team will partner with you to build a personalized porch that fits your home's architectural theme and adheres to your functional demands. With our attention to detail and commitment to quality, you can rest assured knowing your porch construction project is in good hands.
Get ahold of Decks Unique for upgrading your Deer Park outdoor living space
Decks Unique is proud to deliver top-notch, tailor-made outdoor living solutions to customers in Deer Park and nearby regions. If you'd like to include a wood awning, cabana, gazebo, pergola, or porch in your outdoor living area, our expert team is on hand to help. Reach out to us today for a discussion about your project, and let us demonstrate how we can reshape your outdoor living area into a high-end and functional home extension.
Top-notch Deck Consulting and Design Solutions in Deer Park
At Decks Unique, we excel in offering customized consultation services and creating unique deck designs to fulfill the expectations of our clients. Drawing from our 20-plus years of experience, our professional deck designers will closely collaborate with you to construct a deck that enriches your home's aesthetics and functions. Leveraging the latest 3D modeling and visualization processes, we'll actualize your dream deck and ensure the completed product is in line with your desired expectations.
High-Quality Deck Materials for Lasting Durability
Long Island's elite deck builder, Decks Unique, is a licensed installer for all primary composite decking products, such as Trex, TimberTech, and Azek. We have a range of wood decking options to cater to your needs, such as pressure-treated boards, cedar, redwood, and imported hardwoods. The use of only premium materials in our work reflects our commitment to building durable, low-maintenance decks.
High-Quality Deck Construction Services in Deer Park
The proficient deck construction team at Decks Unique takes pride in offering excellent craftsmanship and streamlined efficiency during every step of the building process. Given our considerable insight into building codes, specifications, and permits, you can trust in us to undertake the entire endeavor from inception to completion, providing you a captivating and efficient outdoor area.
Maintaining & Restoring the Beauty of Your Deck
We, at Decks Unique, grasp the necessity of regular maintenance to uphold your deck's beauty and structural resilience. Our seasoned team can conduct inspections and find any damages or potential problems, performing essential repairs to maintain your deck's prime state. Additionally, we offer deck refinishing and restoration services, including cleaning, staining, weatherproofing, and sealing to protect and enhance your deck's appearance.
Improve Your Outdoor Living Area with Custom-built Additions and Elements
To actually turn your deck into a remarkable outside getaway, Decks Unique offers numerous customized details and enhancements like decking illumination, seating built into the structure, kitchens suited for the exterior, and accents centered around fire. These upgrades not only increase utility, but they also foster an inviting and comfortable setting for you and those you invite to relish.
Full-Scale Decking Services and More
Apart from our knowledge and experience in deck design and construction, Decks Unique also extends its expertise to additional outdoor structures such as wooden awnings, cabanas, gazebos, pergolas, and porches. Incorporating such structures will enhance the attractiveness of your Long Island property's outdoor space, making it an exceptional area for relaxation and hosting events.
Decks Unique can tackle your entire Deer Park decking necessities. Witness the improvement our focus on quality, professionalism, and customer happiness brings to your exterior space. Reach out to us today for a free consultation, and let us convert your backyard into an exquisite showpiece.
Honored to serve the people of Deer Park, Bohemia, West Islip, Syosset, Shirley, Rockville Centre, Old Bethpage along with other Long Island regions.
Offering Long Island Quality Deck Designs and Services: