Uncover Decks Unique - The Leading Deck Construction Solution in Commack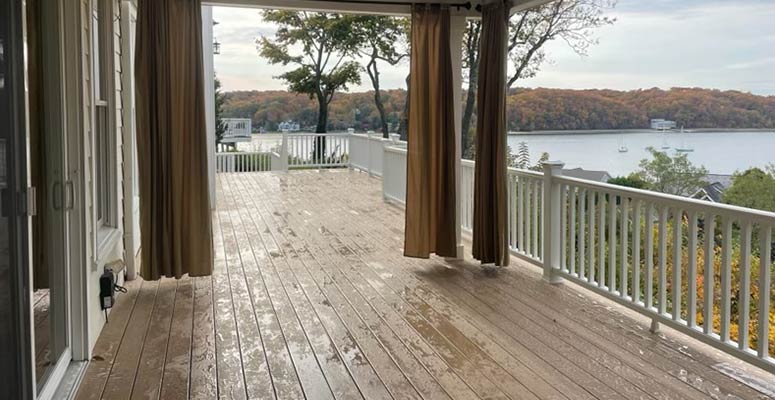 Over the past 20 years, Decks Unique, a family-owned and operated company, has been dedicated to offering custom deck design and construction services in Long Island and the surrounding areas, including Commack. Owing to our zeal for design and unwavering dedication to professionalism, honesty, and innovation, we've become the largest producer of high-end decks on Long Island, establishing industry standards. Our specialization includes creating custom decks, porches, gazebos, pergolas, wooden awnings, and various outdoor structures that contribute to the value, charm, and utility of your Long Island home.
Expertise and Experience in Deck Building Services in Commack
The belief at Decks Unique is that a well planned deck configuration presents a shrewd investment for upgrading one's home. Our adept squad of professional deck builders aims to achieve exceptional quality, maintain productivity in schedules, and assure our warranties come with true durable value. Our allegiance to exceptional quality has borne fruit in the form of myriad satisfied clients and beautifully crafted decks they can flaunt for the years ahead.
All major composite decking products, such as Trex, TimberTech, and Azek, can be installed by our experienced Long Island deck construction teams. We extend free residential consultations and digitally-crafted deck layouts for you to preview your project before it gets underway. Let us make your backyard our next project!
An outstanding deck can both improve the exterior living area of your Commack residence and substantially increase its worth. We, at Decks Unique, focus on the development and creation of bespoke decks that address the specific requirements and tastes of each client. Regardless of whether you want an inviting space to entertain loved ones or a haven to appreciate the delightful weather, we will work in harmony with you to actualize your vision.
We appreciate that every homeowner has distinct preferences and needs for their outdoor environments. To accommodate these diverse preferences, we supply a wide array of materials, styles, and attributes for crafting the ideal deck to harmonize with your home and way of life. From time-honored wood choices such as pressure-treated lumber, cedar, and redwood to the low-maintenance advantages of composite and PVC decking, we offer an ideal solution for each budget and liking.
Extraordinary Concentration on Outstanding Performance and Customer Happiness
Decks Unique's commitment to first-class workmanship and customer happiness is unwavering. Our devotion to first-class materials and engaging the services of experienced contractors guarantees the superior completion of each project we take on.
We consider open communication to be the cornerstone of a successful project, and we strive to keep our clients well-informed every step of the way. From beginning to end - initial consultation, design planning, construction, and final examination - our team stays engaged, ready to answer any questions you have, address any concerns, and wholeheartedly ensure you are delighted with your new deck.
Let Decks Unique transform your Commack backyard into an outdoor living space you'll love. Reach out to us now to organize a free consultation and understand the Decks Unique difference on your own.
All-inclusive Decking Solutions in Commack
At Decks Unique, we pride ourselves on offering a wide range of decking services tailored to meet the needs of our clients in Commack. We specialize in a variety of custom deck services, including designing and building decks, as well as providing repairs, maintenance and refinishing. Additionally, we provide a variety of unique features and add-ons to enhance your outdoor living experience. Allow us to provide you with a more in-depth overview of our services.
Custom Deck Design: Constructing Your Dream Deck for Your Enjoyment
Our proficient deck designers will partner with you to develop a bespoke deck that embodies your personal preferences, augments your home, and fulfills the distinct requisites of your property. To aid you in making well-informed decisions, our authorities will guide you in choosing appropriate materials, promising enduring elegance and sturdiness.
Exceptional Deck Creation: Superior Quality in Craftsmanship for an Eye-Catching Outside Space
Being an esteemed deck builder, we dedicate ourselves to using only first-class materials and ensuring safe, efficient labor. Our seasoned teams are approved installers of leading composite decking materials, including Trex, TimberTech, and Azek. With meticulous attention to detail and a focus on structural integrity, we ensure that your deck not only looks stunning but also stands the test of time.
Deck Care and Repairs: Keeping Your Investment Secure
Consistent maintenance is key to maintaining the visual appeal and practicality of your deck. Whether it's a wood or composite deck, our specialized team offers comprehensive repair and upkeep services. Offering complete inspections to uncover potential issues and expert repair services for damages due to the elements or wear, we are your ultimate destination for all things related to deck maintenance. With the help of our consistent maintenance plans, rest assured that your deck will continually be kept in superb condition, regardless of the time of year.
Deck Resurfacing and Restoration: Refresh Your Outside Area
Over an extended period, even the outstanding quality decks might exhibit symptoms of wear or require refinishing to preserve their attractiveness. Our adept team has the ability to bring back your deck's elegance using expert cleaning, staining, weatherproofing, and sealing services. Moreover, we can implement structural enhancements, guaranteeing your deck's safety and function for the foreseeable future.
Distinctive Details and Expanded Options: Intensify Your Deck Gratification
To elevate your outdoor living space, we offer a range of custom features and add-ons designed to complement your deck. Some of the options are energy-efficient light fittings on decks, internal seating, exterior cooking areas, and fire-inspired features. By assimilating these constituents into your deck's blueprint, we construct a charming and relaxing space for you to savor with close ones in Commack.
At Decks Unique, we specialize in providing top-quality decking services to clients and the surrounding areas. In our 20 years of experience, we have garnered a reputation for being professional, sincere, and inventive. When it comes to designing a fresh deck or improving an existing one, our expert team is at your service. Get in touch with us today to arrange a complimentary consultation and uncover how we can convert your exterior space into an attractive, useful oasis.
Uncover the Ideal Deck Material for You: Comparing Wood and Composite Options
We, at Decks Unique, are devoted to aiding you in crafting the ultimate outdoor haven for your abode. This is the reason we provide an extensive array of decking materials, encompassing wood and composite selections. All of the materials come with their distinct advantages, allowing you to handpick the most appropriate alternative based on your specified needs and preferences.
Discover the Classic Appeal of Wood Decking
Wooden materials possess a lasting, adaptable nature that grants a sense of comfort and allure to any outdoor setting. We have an extensive range of wood deck choices designed to address every aesthetic and budget.
Pressure-Treated Lumber: Affordable and Durable
A significant number of homeowners find pressure-treated lumber appealing for its inexpensive and durable aspects. This type of decking material goes through a particular treatment, helping it resist decay and insect infestations. Because of this, pressure-treated decks offer enduring performance with low maintenance requirements.
Elegance and Resilience: Cedar and Redwood's Natural Qualities
For individuals searching for a lavish choice, cedar and redwood decking are additionally available. These attractive and upscale woods have innate resistance to rot and infestation, resulting in a long-lasting deck that weathers beautifully. With their deep pigments and singular grain markings, cedar and redwood decks offer a captivating augmentation to any home.
Exotic Hardwoods: Exquisite and Hardwearing
In your quest for a truly matchless and opulent option, weigh the idea of choosing exotic hardwoods like Ipe, Tigerwood, or Cumaru. These uncommonly sturdy and enduring woods are well known for their amazing long-lasting qualities and gorgeous appearance. With vivid colors and detailed patterns, exotic hardwood decks provide a striking focal point for outdoor spaces.
Low-Maintenance Living with Composite and PVC Decking
In case you're searching for a low-maintenance and eco-centric alternative, give composite and PVC decking some thought. These cutting-edge materials meld the aesthetics of wood with the longevity of artificial materials, giving homeowners a virtually maintenance-free exterior area.
Composite Decking: Benefits and Advantages
Using a blend of reclaimed wood fibers and plastic, composite decking delivers a long-lasting and environmentally friendly solution. Thanks to its resistance to warping, cracking, and fading, this decking material yields an eye-catching, long-lasting deck that demands minimal maintenance. Cleaning composite decks is hassle-free, as they just need the occasional washing to ensure that the outdoor area stays spotless.
Prominent Brands in Composite Materials Sector
Teaming up with prominent composite decking brands like Trex, TimberTech, and Azek is a matter of pride for Decks Unique. As sanctioned installers of these exceptional products, we're able to provide Commack homeowners with top-quality materials for a striking and long-lasting outdoor area.
Enhance Your Deck's Appearance with Different Color and Texture Options
Composite decking's large selection of customization options is one of its main benefits. You can design a bespoke outdoor area that matches your home's aesthetic, thanks to various color and texture possibilities. There is a composite decking option to match your preference for either the appearance of natural wood or a sleeker, more modern aesthetic.
Boost Your Deck's Appeal with Railing and Baluster Alternatives
The ideal deck isn't all it can be without the proper railing and baluster system. Decks Unique offers countless options to accentuate your deck design while ensuring a safe and practical outdoor environment.
Timber Handrail Solutions: Time-honored and Lasting
A wood railing system is worth considering for a classic and ageless look. Wood railing systems can be used with both wooden and composite decking for a well-coordinated and seamless design. By painting or staining a wood railing system, you can create a perfect match for your deck or your Commack home's exterior, delivering an impressive outcome.
Metal and Glass Railing Systems: Fashionable and Uncluttered
In case a modern and sleek design appeals to you, take into account utilizing metal or glass railing systems. These alternatives offer a modern accent and can improve the scenic view from your deck, becoming a favorite selection among those who live in visually stunning locations.
Composite Railing Systems: Simple Maintenance and Sophisticated
For a low-maintenance, stylish, and elegant solution, composite railing systems are the perfect fit. Not only are these railings durable and visually appealing, but they also create a unified appearance when combined with composite decking, resulting in an impressive outdoor area that demands minimal tending.
Regardless of your personal preferences, Decks Unique stands ready to help you decide on the most suitable decking materials for your living space. Connect with us today to explore your desires and kick off the design of the outdoor oasis you have always wanted.
Take Your Outdoor Living Space to the Next Level with Our Added Services in Commack
Our mission at Decks Unique is to convert your outdoor living area into a deluxe and practical extension of your abode. Apart from our exceptional deck building services, we also offer a variety of additional services such as wood awnings, cabanas, gazebos, pergolas, and porch construction. In Commack, our experienced professionals collaborate closely with you to turn your dreams into reality while maintaining exceptional quality and durable construction.
Wooden Awnings: Add a Touch of Style and Shade to Your Outdoor Space
Wooden awnings present an ideal solution for incorporating both shade and sophistication to your outdoor space. Our experienced team at Decks Unique will help you choose the right design and materials to create a beautiful and functional wood awning that complements your home's aesthetic. These constructions provide both shelter from severe weather conditions and elevation in your property's total value.
Cabanas: Build an Opulent Sanctuary in Your Commack Yard
Combining luxury, comfort, and privacy expertly, cabanas are perfect for enhancing any open-air area. Our team of experts will work with you to design and build a custom cabana that meets your specific needs and preferences. Regardless of whether you want an intimate hideaway for unwinding or an upscale space for entertaining company, we can construct a cabana that serves as your ideal outdoor sanctuary.
Gazebos: A Picture-Perfect Addition for Your Garden or Patio
A lasting gazebo makes any garden or patio more appealing, presenting an attractive central feature and a shaded retreat for outdoor recreation. With the help of our skilled team, you'll be able to decide on the ideal style, materials, and placement for your gazebo, ensuring it integrates smoothly with your current outdoor space. With our high-quality craftsmanship, you'll have a gorgeous gazebo that not only complements but also enhances your outdoor space for years to come.
Pergolas: Integrate Architectural Style and Functionality into Your Open-air Space
Adding a pergola is a fantastic method for enhancing your outdoor area's architectural appeal and usefulness. These constructions supply a blend of shadow and natural brightness, thus perfectly complementing garden pathways, external platforms, or open dining zones. At Decks Unique, our experienced professionals will design and build a custom pergola that matches your style and adds value to your home.
Porches: Enhancing Your Home's Curb Appeal and Expanding Outdoor Living Space
A well-designed porch not only enhances your home's curb appeal but also provides a comfortable outdoor living area for you and your family to enjoy. Our adept squad will come together with you to formulate a distinctive porch that integrates with your home's architectural layout and meets your functional preferences. With our painstaking observance of detail and fidelity to outstanding quality, you can be assured that your porch manufacturing enterprise is being managed by skilled professionals.
Talk to Decks Unique for improving your Commack outdoor living space
Decks Unique is proud to deliver top-notch, tailor-made outdoor living solutions to customers in Commack and nearby regions. If you're interested in incorporating a wood awning, cabana, gazebo, pergola, or porch to your exterior space, our team of experts is ready to assist. Get in touch with us now to chat about your project and learn how we can convert your outdoor living area into a lavish and practical extension of your residence.
Commack's Premier Deck Consultation and Design Experts
Decks Unique prides itself on presenting custom consultations and deck designs, designed to cater to the distinctive needs of our clientele. Boasting more than two decades of expertise, our skilled deck designers collaborate with you to design a deck that augments your home's visual appeal and practicality. Through the use of progressive 3D modeling and visualization practices, we'll breathe life into your dream deck, ensuring the end product surpasses your expectations.
High-Quality Deck Materials for Lasting Durability
As Long Island's premier deck builder, Decks Unique is an authorized installer of all major composite deck products, including Trex, TimberTech, and Azek. We also present an array of wooden decking alternatives to accommodate your preferences, like pressure-treated timber, cedarwood, redwood, and rare hardwoods. Our commitment to using only the best materials ensures that your new deck will be built to last while requiring minimal maintenance.
Top-Notch Deck Building Services in Commack
Decks Unique's seasoned deck construction team is all about offering unparalleled artistry and streamlining efficiency throughout the entire construction process. Leveraging our deep expertise in building codes, norms, and permits, you can entrust us with the full project from beginning to end, yielding an eye-catching and practical outdoor environment.
Hold and Re-establish Your Deck's Gorgeousness
Decks Unique comprehends the crucial role of ongoing maintenance in preserving your deck's attractiveness and solid construction. Our seasoned team can conduct inspections and find any damages or potential problems, performing essential repairs to maintain your deck's prime state. We also supply deck resurfacing and revitalization services, encompassing cleaning, staining, protecting against the elements, and sealing for the preservation and enhancement of your deck's aesthetics.
Augment Your Alfresco Space with Customized Enhancements and Features
In order to transform your deck into a distinctive outdoor haven, Decks Unique provides an array of personalized options and extras like deck illumination, integrated seating, open-air cooking areas, and fire elements. These advancements not only heighten practical use, but they also build a pleasant and convivial milieu for you and your visitors to take pleasure in.
Thorough Decking Services and More
Not only do we excel in deck design and construction at Decks Unique, but we also specialize in creating extra outdoor structures, including wood awnings, cabanas, gazebos, pergolas, and porch construction. By adding these structures, you can further enhance your Long Island house's outdoor space, creating an idyllic area for relaxing and entertaining.
Allow Decks Unique to manage all your decking requirements in Commack. Witness the improvement our focus on quality, professionalism, and customer happiness brings to your exterior space. Contact us today to book a free assessment and let us change your backyard into an astonishing piece of art.
Thrilled to provide service for Commack, Baldwin, West Babylon, St James, Sayville, Port Washington, North Valley Stream, as well as other communities in Long Island.
Offering Long Island Quality Deck Designs and Services: